Occasionally you come across something so perfect, so obvious, so right, that you (a) can't wait to share it with everyone you know and (b) can't believe you didn't think of it yourself.
Such is the case with the T-shirt you see above. It was designed by a guy named Yuri Psinakis and is sold by a San Francisco operation called Park Life, which specializes in cool, design-y products. I learned about it from reader Dennis Alpert, who recently brought it to my attention.
I can't get over how ideally suited it is for Uni Watch. Our site is devoted to athletics aesthetics, and here's a shirt that has turned "Athletics" into "Aesthetics"! Uni Watch colors, too. I'm kicking myself really, really hard for not having come up with this years ago.
It's a wonderful shirt — you should probably buy it. Why do I qualify that with a "probably"? Because as great as the shirt is, I think it could be better, because they used an outlined script instead of a solid script. The A's have never used that style on any of their jerseys. Also, the largest size Park Life is offering is XL. Also-also, their price point ($28) is a little high.
All of this got me envisioning a hypothetical world in which all of those issues could be addressed. So I contacted the Park Life folks and had some discussions with them. As a result of those discussions, I'm thinking it would be fun, at least in theory, if "Aesthetics" shirts were available in green/gold on white, green/gold on gray, gold/white on green, and maaaaybe green/white on gold: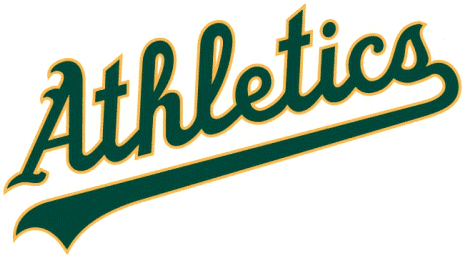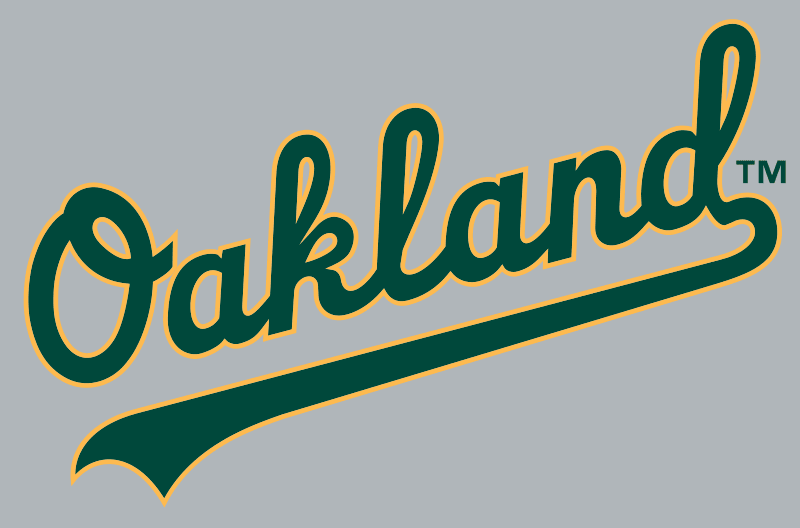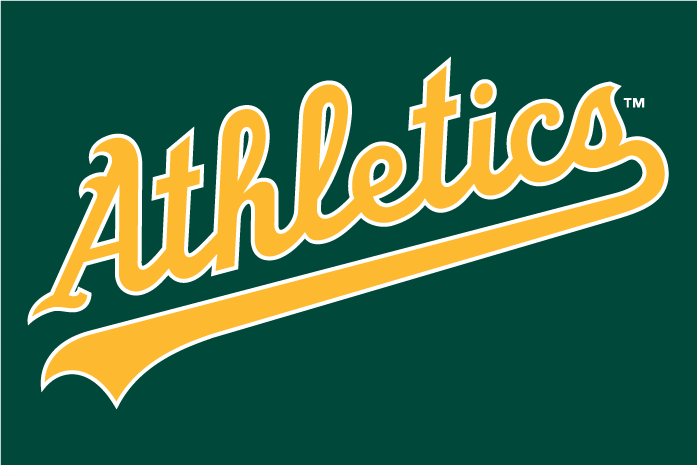 In the hypothetical world I'm envisioning, "Aesthetics" would be available in sizes up to 2XL, and the price point would probably be in the $20ish range.
Would that interest any of you, just theoretically speaking? If so, let's discuss. Thanks.
+ + + + +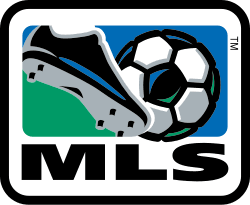 Somebody call a plumber: MLS — aka the League I Don't Know a Damn Thing About — is once again doing its "Jersey Week" initiative this year, with 17 teams slated to unveil their 2014 kits over the course of next week.
It's a fun enough idea — except a shitload of the kits leaked yesterday. Oopsie! I was going to rank them in order of how much I liked them, but then I remembered that I don't know jack about soccer, so it's probably best if I just list them alphabetically: Chicago home, Chivas home, Colorado Rapids home, Columbus home, Dallas home, Houston away, Montreal home, New England home, New York away, Philadelphia home, Portland away and third, Seattle third, Toronto away, and Vancouver away. Whee!
Well, that should make for an exciting time next week, eh?
(Big thanks to Trevor Williams for all the links.)
+ + + + +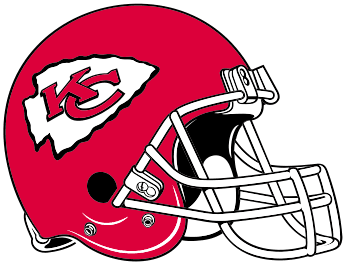 Chiefs update: Yesterday's entry about the Chiefs' logo inconsistencies led to some good responses:
1. The earliest example of the closed-C logo (i.e., the one that currently appears everywhere in the team's branding program except on the helmets) that I'd been able to find was from 1974. But reader Brady Phelps came up with this 1969 program cover, which definitely appears to show the closed C. Compare the inset logo to the logo on the helmet. So we now know that the closed C appeared at least as early as 1969.
2. Around noon yesterday, thanks to a submission by reader Ryan Smith, I added an extra graf to the main entry. In case you missed it, it concerns the carpet in the Chiefs locker room, which features an arrowhead logo with the closed C — but the C is overlaying the K, instead of the other way around. So that's yet another variation!
Several readers posted comments saying that they've taken tours of Arrowhead Stadium and that the tour guides have said (a) that this was the original carpet from the team's pre-Arrowhead Stadium days, and (b) that early Chiefs merch featuring the C-over-K format. I have my doubts about the carpet (for details, see this comment) and none of my visual research for yesterday's piece had turned up any other examples of the C-over-K format. However…
3. Brady Phelps has come through again. He found this photo from the 1969 AFL title game (click to enlarge):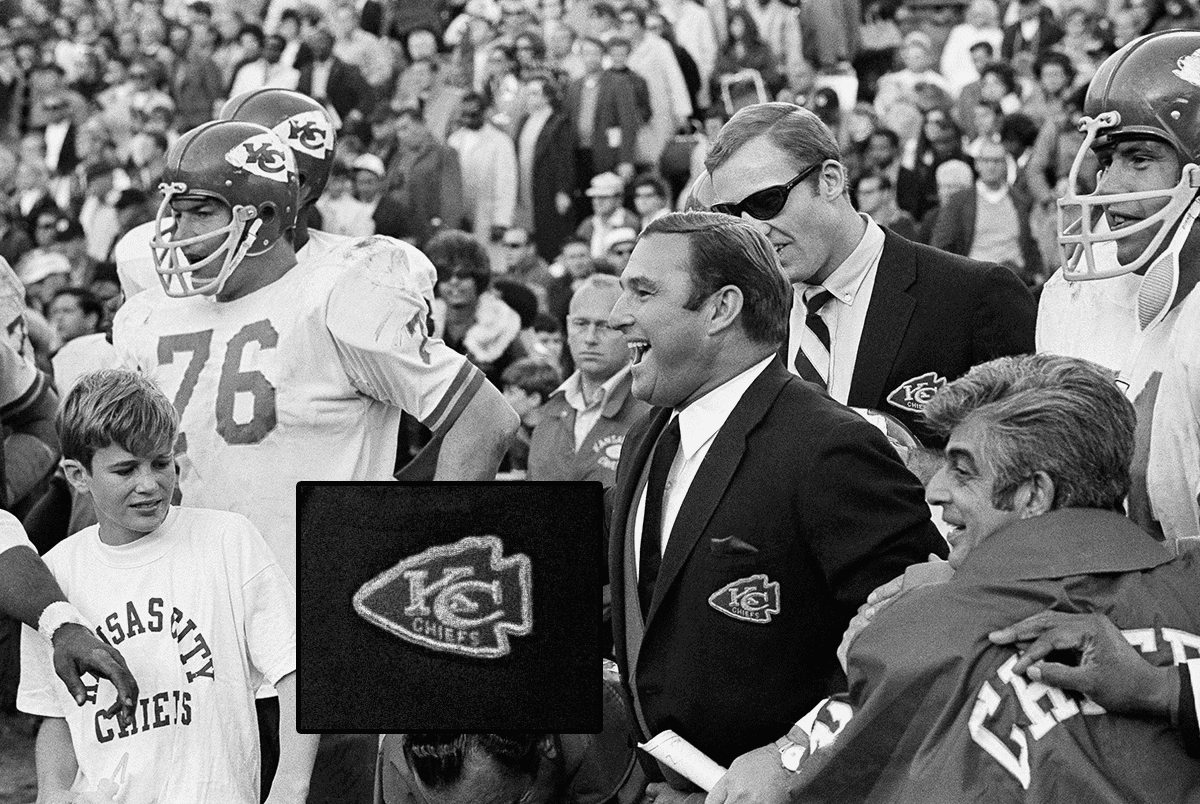 As you can see, Stram's chest patch (and that of the guy standing behind him) features the open C and the C-over-K format — which is yet another version, because the locker-room carpet logo has the closed C and the C-over-K format. You follow all of that?
Bottom line: The Chiefs' logo situation over the years has been a bit of a mess. But most of us haven't noticed, so maybe it doesn't matter.
+ + + + +
Collector's Corner
By Brinke Guthrie
Had this very helmet bank! When we moved to Cincinnati from Dallas in late summer of 1972, we went to Hunter Savings in the Kenwood area of Cincinnati, opened up an account, and got one of these. A bank from a bank! I thought it was the weirdest thing, as I got a Cowboys one exactly like it earlier in '72 when living in Dallas. That one sits on my shelf to this day. The Bengals one is MIA, sadly.
In non-banking finds:
• This Detroit Lions knit ski hat has 1960s-1970s Sears written all over it. An NFL Official Licensed Product, too!
• Here's an interesting auction for a lot of die-cut cardboard cutout NFL helmet shells — without facemasks — pre-1967 era, or so the auction says. The seller states he/she doesn't know what these were created for — perhaps some type of promo sales piece for a soda display in a grocery store?
• They blew up the Metrodome Sunday, and you can commemorate the event by sitting in this Metrodome seat while wearing this Metrodome polo shirt. (And at the other end of the spectrum, here's a photo of fans waiting to be the first ever inside the 'Dome in 1982.)
• It's baaaack — the 1970 Chiquita Nerf Football + complete sticker set. And only $300, too!
• Here's a cute little Padres doll, although the "1970s" descriptor in the auction listing is obviously wrong.
• How about this nice-looking set of 1970s MLB stickers from Kellogg's cereal?
• Take a look at this 1970s California Golden Seals decal — "The Bay Area's Hockey Team"!
• And we conclude with some contributions from reader Zack Garceau, who's found some old Colts pennants. This one is from the team's old AAFC incarnation, and here's an odd one featuring colors the team never wore. And then there's this red one — perhaps a reference to the red alternate jersey that the Colts wore in 1953?
Seen something on eBay or Etsy that you think would make good Collector's Corner fodder? Send your submissions here.
+ + + + +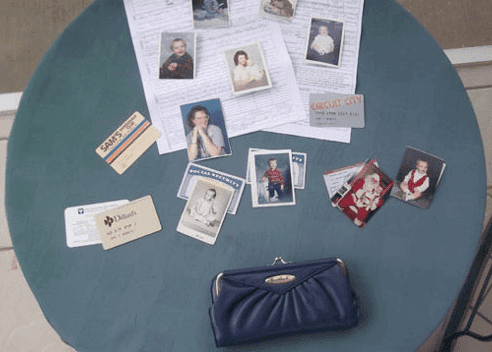 PermaRec update: There's a good roundup of found items being returned to their rightful owners (including a stolen pocketbook and its contents, shown at right, returned after more than 20 years) in the latest entry on the Permanent Record blog.
Design contest reminder: In case you missed it on Sunday, Phil had the latest news regarding the Lewis & Clark design contest. Check it out here.
+ + + + +
Tick-Tock: Today's Ticker was compiled and written by Garrett McGrath.

Baseball News: Opinion Generator: The Lehigh Valley IronPigs (thre Triple-A affiliate of the Philadelphia Phillies) revealed their new bacon-themed uniforms yesterday. Smell the change, indeed. Most readers can't decide if it is the sweet smell of bacon or the byproduct after one consumes said pork. … Most of the San Francisco Giants wore their old gray-brimmed hats during their photo day yesterday (from David Goodfriend and Chris Flinn). … The Yomiuri Giants will wear these "Orange Soul" uniforms for eight games next season (from Jeremy Brahm). … Check out this great photo of a Boston Police Department baseball team from 1929. Why do they all have "9" as their sleeve number? Because this was the Division 9 squad (nice find by Brian Wulff). … In more throwback glory, here is Vin Scully on the 1944 Fordham Prep baseball team. He only graduated 62 years before I did.

Soccer News: The Scotland 2014 away kit leaked (from Trevor Williams). … The Japanese men's and women's away uniforms have been posted online. "Surprisingly, the goalkeepers look normal," says Jeremy Brahm. "¦ More new kits (all of these from Trevor Williams): Chelsea, FC Nürnberg, Bayer Leverkusen, Basel, Universidad de Chile, Galatasaray, SK Rapid Wien, Universidad de San Martín de Porres, and Hamburger SV.

Basketball News: Check out these sweet Pistol (Pete Maravich) shorts from the 1977 NBA ASG (thanks, Phil). … The University of Texas at El Paso will be wearing faux throwbacks on Thursday night.

Grab Bag: Blackhawks netminder Corey Crawford will don this mask for the Stadium Series game on March 1. … Manhattan neighborhoods imagined as corporate logos (from Gordon Blau). … "Noticed on the 7 train this morning an ad for a new show," says Sal Mancuso. "The thing that jumped out to me was the sweet San Francisco Seals T-shirt the guy was wearing."