It had previously been reported that the Lakers would have a BFBS alternate uni this season. Yesterday afternoon, with no advance warning and little fanfare, they let us see how it will look.
Uni Watch 101: It's stupid. It's lame. Black isn't one of the Lakers' colors. Black uniforms are soooo 1997. Why not give the Celtics a black uni while you're at it. Good thing they don't have Shaq anymore. No wonder Dwight Howard left. At least it doesn't have sleeves. Imagine Kareem in that thing. Jerry West is rolling over in his grave. Oh right, Jerry West isn't dead yet, but he would be if he'd known about this. [Some sentence invoking the words "abomination" and/or "monstrosity."] And so on.
All of that is true. But here's something else that's true: It's not a bad-looking design. It's still the wrong design for this team, of course, and it's obviously a cynical ploy. But in strictly aesthetic terms, I think it works pretty well. I'm not defending it or advocating for it, mind you — just saying that it's not bad when viewed in a vacuum.
My favorite thing about the unveiling is this photo gallery, which consists of nothing but super-close-ups that give absolutely zero sense of how the design looks as a complete uniform. And why did they take that approach? Because close-ups of fabric and embroidery make people want to buy things. So yeah, this is obviously just a merchandising move. But you knew that already.
+ + + + +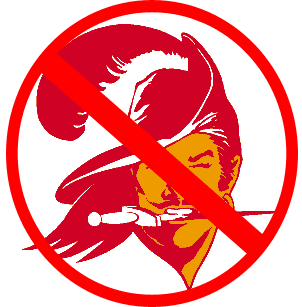 NFL throwback update: Yesterday's fallout from the news about the Bucs scrapping their Creamsicle throwbacks due to a new rule forbidding alternate helmets raised lots of questions. I spent a good chunk of yesterday refuting idiotic conspiracy theories in the comments section trying to answer those questions. You can see the results in this ESPN piece, which was posted late yesterday afternoon. If you're going to post any comments on this topic here on the blog, please read that article first before commenting, just so you're up to speed.
And there's more: I'll have another ESPN piece on this subject, with some very interesting new info, later today. Link coming soon-ish. As always, the best way to know when one of my ESPN pieces has been published is to follow me on Twitter, where I always post my ESPN links.
One thing that's interesting to me, at least based on what I've read on Twitter, in my in-box, and in our comments (all of which are poor barometers of the public at large, but they're the only barometers I have at the moment), is that lots and lots of fans are really angry at the NFL about this. A lot of that anger is based on ridiculous conspiracy theorizing, faulty logic, unfounded conjecture, and a willful sense of entitlement, but the depth of the anger is nonetheless substantial and, on some level, impressive.
From my perspective, the NFL has brought this anger on itself in two ways — one short-term and one long-term. In the short term, the league's messaging on this topic has been terrible. They've done a poor job of communicating their position and an even worse job of explaining the rationale behind it. They've also failed to provide even the slightest acknowledgment that the restriction on throwbacks is a bummer for many fans. A simple "We know this is a drag, but"¦" would have gone a long way.
But I also think the fan anger points to a larger, longer-term issue, namely the widespread perception that the NFL is run by a bunch of corporate hacks who don't care about anything except their profit margin, their PR (which feeds their profit margin), and their legal liability (which could threaten their profit margin). Speaking as someone who's actually, you know, dealt with the NFL personally, I can tell you that this perception isn't completely accurate — there are plenty of good people who work there. Still, it's easy enough to see how that perception has come about. The league often operates in very cynical ways, and cynicism tends to breed more cynicism. So while I think a lot of fan reaction to the throwback helmet story is overblown, I also think it's pretty understandable.
I'll continue to follow this story as it develops.
+ + + + +

'Skins Watch: Rick Reilly wrote a defense of the 'Skins name yesterday afternoon. It has its strong points and weak points, but I don't have time to dissect it today, because I spent all of yesterday working on the NFL throwback story (see above) and was busy in the evening (see below). Fortunately, some good analyses of Reilly's piece have already been published, including this short take by Deadspin and this longer, much better one by The Nation. "¦ Meanwhile, someone finally asked Robert Griffin III what he thinks of all this. According to this story, he responded, "I can't really dive into that. I'm not Native American. We're not in that authority to know what to do with that. [I'm not saying this because of] a team directive. I just don't know what to say about Native Americans." I don't necessarily expect a 23-year-old millionaire who spends most of his time in weight rooms, hotels, and airplanes to be a deep thinker — it's not a very stimulating life — but I wonder if Griffin also has no opinions on gay marriage because he's not gay, or if he no opinions on poverty because he's not poor, or if he thinks white people in 1962 had no opinions on civil rights because they weren't black. "¦ The word "Redskin" has been banned from Apple's Canadian App Store.

Baseball News: BallparkDigest.com has handed out its awards for the best minor league logos of 2013 (from Patrick O'Neill). … Reprinted from yesterday's comments: Keith Olbermann wasn't happy about the Nats only being allowed to wear their Navy tribute caps in BP but not during the game on Monday. … James Ashby came across a gem: a video from the Oakland Oaks' opening day from 1918! Highly recommended. "¦ Disappointing to learn that Mets pitcher Matt Harvey thinks the purpose of a radio interview is to give a stroke job to his corporate sponsor. Sigh. "¦ Brandon Garrett found some interesting old NC State baseball photos, including a color-vs.-color game against UNC from 1988, an ACC championship cake, some great team cardigans from 1910, and a monochromatic (blood clot?) set from 1975.

NFL News: The Bills will wear white at home against the Chiefs on Nov. 3. "Wonder if the Chiefs will go red/red/red again," says Phil. … Somone on Reddit has created new logos for every NFL team (from Ryan Rodriguez). … Just in time for Bucco Bruce's forced retirement, Todd Radom has whipped up a good look back at the Bucs' original branding.

College Football News: Maryland will have a new "pride" uni for this Saturday against West Virginia. The design will be officially released today, but a little birdie tells me it'll look like this. No word yet on the helmet, although I'm told it's a doozy. … When I tweeted that design yesterday, someone responded, "The word 'pride' is rolling in its grave." Agreed — is anyone else sick of the increasing (over)use of the term "pride uniforms"? We need a new term. Hmmm. Third deadly sin uniforms? Hubris uniforms? Suggest away! … Missouri will have a new helmet this Saturday against Indiana. They'll unveil it today at 7pm Eastern. There's a teaser video here, but you can skip that, because a source tells me it will look like so: "It is a black matte helmet with a silver/chrome facemask and silver/chrome tiger on both sides, in the same template as the gold-on-matte helmet they wore last season." … Benji Boyter notes that Clemson has a new end zone this season, going from this to this.

Hockey News: The Coyotes wore commemorative jerseys honoring the fallen Yarnell firefighters for last night's intrasquad game (thanks, Phil). … New practice jerseys for Michigan (from Steve Ceruolo).

NBA News: The Bucks will unveil a new court design next Tuesday evening, Sept. 24. The unveiling will take place at the Milwaukee Art Museum (from Jeff Ash).

Grab Bag: The guy who leaked the USA World Cup kit was apparently fired as a result (from Trevor Williams). "¦ Reprinted from yesterday's comments: Faaascinating and upsetting piece about how logo creep has spread to ultrasound images. Strongly, strongly recommended (from MartyB). … Good piece on the history of the London Underground logo (from Jason Hillyer). … The Feds have busted another jersey counterfeiting operation (from James Ashby). … Rugby note from Caleb Borchers, who writes: "Dan Carter, the All Blacks fly half, tweeted a photo of his jersey from last weekend. Each All Blacks jersey has the player's name, opponent, date, and cap number embroidered on it." … In a shameful and disgusting development, the Florida High School Athletic Association has partnered with a marketing/PR firm to procure corporate sponsorships (from Addarius Bryant). … This is pretty funny: If Sylvester Stallone actually ran the route shown in his training scene in Rocky, it would look like this (from Chase Martin). … College football isn't the only realm that has merit symbols: State troopers in Ohio get lightning bolts on their license plates for recovering stolen cars (fascinating find by Kevin Scullin). "¦ As you've probably heard by now, former heavyweight champion Ken Norton died yesterday. Norton is best known for his three fights with Muhammad Ali, but his most uni-notable fight was probably his 1978 bout with Larry Holmes, which found both men wearing Pony-branded trunks, Pony shoes, and striped socks. Pretty sure that was the first time I'd seen Pony on the side of the trunks like that. It was a great fight, too. RIP.
+ + + + +

What Paul did last night: Maybe we'll make this a regular feature, or maybe just for today. In any case, last night I was a featured participant in Ask Roulette, which was a hoot. I was asked a bunch of interesting questions, including "Have you ever been falsely accused of a crime?" (no, although I've committed some crimes that nobody bothered to accuse me of), "Would you get in the ring with Floyd Mayweather Jr. for one minute for $1 million?" (no, because I already really like my life and a million bucks wouldn't really change that), "What's the worst travel experience you've ever had?" (long story), and a few others things I don't remember. I also got to ask one question: "Do you prefer odd numbers or even numbers, and how does this affect your life?" The woman who fielded this question gave a really good answer about how she generally prefers odd numbers but her favorite number is four, which causes all sorts of internal conflict. Lots of other participants had great questions and answers, too — a very entertaining little event. Afterward, several people approached me and asked to know more about Uni Watch (the host had introduced me and mentioned what I do for a living), which was fun. Hi, new readers!
Then I walked east to Katz's Delicatessen, where I attended a book-release party for a book about Katz's Delicatessen. Yes, that's very meta. No free pastrami (grrrrr), but there were lots of pigs in blankets and other noshables. The book has a small amount of text and over 300 pages of spectacular photographs. If you've been to Katz's, you'll love the book; if you've never been there, or if you only know it from the fake-orgasm scene from that awful Billy Crystal movie, the book will give you a good feel for why Katz's is special. Recommended.