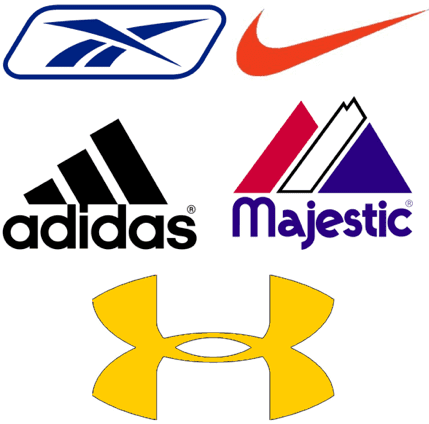 A little behind-the-scenes-drama has been unfolding here at Uni Watch HQ. I'd like to tell you about it today.
As most of you know, I'm often on the receiving end of leaked uniform designs. One instance of this took place earlier this year, when a source sent me screen shots that he said were from a major sportswear company's new online catalog. The screen shots showed several uniforms that one of the big-time American sports leagues would supposedly be unveiling for its next season. (For the purposes of this article, we'll consider college football and college basketball to be leagues, just like the Big Four pro leagues.) The uniform designs represented a significant departure from this league's typical uniform approach and would definitely create a stir if they were publicly released.
For several reasons, I was 99.9% sure the screen shots were legit, so I could have just posted them and written about them and that would have been that. But there was that 0.1% bit of doubt — maybe the source was just messing with me, or maybe he had somehow gotten fashion jerseys in the catalog mixed up with game jerseys. So I did what a good journalist does in this type of situation: I tried to get confirmation. Specifically, I contacted the sportswear company whose catalog had supposedly been the source of the screen shots and asked them for comment.
Their response, which came within a few hours, was to threaten me with legal action based on a claim of copyright infringement, and to demand that I not publish the screen shots.
Well, that certainly answered the question of whether the material was legit, right? (I have since received additional confirmation that has increased my certainty on that point to 100%.)
I've dealt with dozens of uniform leaks over the years, but I'd never been threatened with litigation over one of them. Then again, I haven't always asked a company in advance before publishing leaked material. That's what I get for being responsible.
I was in no rush to publish the screen shots — they'd be just as relevant a few days or a few weeks down the road (indeed, they'd still cause a stir if I posted them right now) — so I took my time and got plenty of legal advice. The basic upshot, which I pretty much knew already right from the start, was this: As a journalist and a critic, I was almost certainly within my rights to publish the screen shots. The sportswear company, despite all the huffing and puffing from its legal department, surely knew this and was likely just bluffing. But there was still some chance that they could file suit against me simply to make my life miserable. Even if I won, as I probably would, the whole thing could end up being a tremendous hassle.
So I decided not to post the screen shots, at least for the time being.
It's never good to encourage or reward a bully, which is essentially what I've done here. For that I apologize, both to those who feel let down by my retreat and to any fellow journalists who may now have to deal with an emboldened bully that feels it can push writers around with impunity. But we all have to pick our battles, and I had my reasons for not picking that particular battle at that particular time.
Now, as longtime readers may recall, back in 2006 I wrote a fairly lengthy piece about uniform leaks. That piece included a breakdown of all the typical arguments not to publish a leaked design and my assessment of each one. It concluded like so:
• "What's the rush? We'll all get to see the design eventually." As simplistic as it may sound, I think this is actually the best reason not to publish a leaked design. Does it really matter whether we see the Diamondbacks' new logos now or [in two months], when they're slated to be officially unveiled? Nah. If a league representative showed me a new uniform design and said, "Listen, you can do what you want with this, but I'd appreciate it if you could just wait and let us handle it our own way," I'd probably oblige.
If the sportswear company had taken this approach ("Paul, please, we don't want to give the Chinese counterfeiters a big head start on these designs," or whatever), there's a decent chance I would have honored their request. Instead, they used scare tactics to try to silence a journalist, which is not a particularly honorable way to conduct business. So while I'm not too concerned about getting a scoop on these particular uniform designs — which are likely to end up on the "What were they thinking?" scrapheap anyway — I'm pretty annoyed by the way the sportswear company handled this situation.
One thing that's very clear to me is that this isn't the last time a situation like this will develop — maybe not even with these particular uniform designs. As teams, leagues, and companies plan things further and further in advance, and as their advance planning is made available to retailers, wholesalers, athletes, video gamers, and others (many of whom are only too happy to leak information on the internet, for various reasons), we're going to keep seeing more and more leaks. This particular leak, and the sportswear company's efforts to suppress it, amounts to one small episode in a much larger game a Whac-A-Mole — a game that the companies and leagues are destined to lose. Indeed, they've been losing it for years, as anyone who follows the uni-verse is well aware.
I also want to make it clear that I take privileged information very seriously. I'm routinely told and shown things on an embargoed basis (i.e., I'm not allowed to talk about it until a certain date), and I always — always — honor those terms. But there were no such terms attached to these screen shots. Remember, I didn't go looking for this leak; it came looking for me. And the sportswear company's beef isn't with me; it's with someone who sent screen shots of their catalog to me.
In the grand scheme of things, of course, a leaked uniform design and the reporter who might bring it to light are both rather frivolous. But it's interesting that this little drama has unfolded while the country and the world have been engaged in several larger debates about leaking. There's Edward Snowden and the NSA leaks, Chelsea Manning and the Wikileaks documents, and New York Times reporter James Risen, who's being threatened with jail time if he doesn't reveal the sources of leaked information. No, I'm not comparing a uniform design to a national security document, I'm certainly not comparing myself to Risen, and I'm not interested in debating whether Snowden and Manning are heroes or traitors (at least not here). I'm just making the point that leaked information, and the competing interests to disseminate and suppress it, is a topic worth thinking about on levels that go beyond the uni-verse.
Meanwhile, I still have the screen shots.
+ + + + +

MLB/MiLB News: Retro jerseys on tap tomorrow for the Brooklyn Cyclones. "¦ David Ortiz had a patched tear on his left pant leg the other night (from Joe Kuras). … Mike Burgess bought a beer at a Royals game and immediately deduced that the image of Royals pitcher James Shields on the cup had been Photoshopped from Shields's time with the the Rays. "The two guys I was with said, 'How do you know?,' and I pointed out the stripe around the neck." I assume Mike has now gotten himself some new friends. … Jerry Wolper found a 5/2/76 Atlanta Constitution article about the Braves' nickNOBs. Doesn't really add any new revelations to our ongoing investigation of this topic, but it's good stuff nonetheless. … This is pretty funny: Rays pitcher David Price throwing a bullpen session while wearing a Vanderbilt football uniform — complete with helmet! … "In 2006 the South West Michigan Devil Rays (class A Midwest League) were trying to get a new stadium in Battle Creek, Michigan," says Eric Leach. "They didn't get the stadium, and the team was sold and relocated. But if they had stayed, here is the first draft of what the rebranding would have looked like. I'm sure they would have tweaked it from this point, but I love the retro look and colors." … With the Astros moving to the American League this year, the National League logo was updated — instead of 16 stars, it now has 15. But the Cubs are still wearing the old logo as a patch on their blue alts. "¦ I didn't watch last night's Mets game, but Phil did: "There was a solid 30 seconds to a minute of talk about [Travis] d'Arnaud's and [Matt] den Dekker's NOBs, and the fact that the Mets use a an upside-down 'P' for d'Arnoud's 'd,' and how the equipment guy is looking into getting some custom lowercase letters made up. Probably won't be until next season, though."

NFL News: Douchebaggery alert from Gil Neumann, who pointed me toward a very amusing, ingeniously simple piece about all the Gatorade product placements in a documentary about Robert Griffin III. "¦ The New Girl and I saw the very excellent Fruitvale Station last night. At one point, two middle-aged black guys are talking about the NFL, and one of them explains why he likes the Steelers: "Black uniforms, black coach — and he's even got a black wife!" "¦ Justin Lee was playing Madden 25 and noticed the following: "For the Vikings, there's a new 'white alternate' set of pants with a Norseman logo on the hip." I was pretty sure the Vikes didn't have any alternate pants, but I checked the NFL Style Guide just to be safe, and sure enough — look what I found! Not sure how I missed that before. Don't know if those will ever make it onto the field, since the team has made no mention of them. Maybe just an option that got scrapped along the way..? In any case, it explains why there's an extra set of pants in Madden. … Another Madden 25 note, this time from Preston Feiler: "Noticed right away that they have new helmets and pants for Miami, but the jerseys have the old numbers and NOBs and one uni set has the old socks."

College Football News: Mississippi State waited until yesterday to announce that they'd be wearing a new alternate helmet this Saturday. … Yesterday I mentioned that Baylor had a new "farewell" logo for Floyd Casey Stadium. Now it turns out they'll be wearing it as a patch. … Small item that I missed in this week's ESPN column: Auburn has scrapped the tramp stamp (from Scott Holcomb). … Many readers pointed out that my ESPN column didn't have any mention of these gold and black helmets for Washington, but I've been unable to get any confirmation about them actually being used on the field. … New uniforms for Penn (from Evan Smith). … Not that this should surprise anyone, but it turns out Johnny Football sure rings the cash register (from Tommy Turner). … New uniforms for North Dakota State (thanks, Phil). "¦ Arizona and Northern Arizona, who'll play each other on Friday, will both wear this memorial helmet decal for the recently fallen Arizona firefighters (from Kevin Wos). "¦ Oklahoma's field now has the Big 12 logo. "¦ Just when we had finally trained NFL fans to know what the green helmet dot is for, there's this: All Vanderbilt players will be wearing green dots on their helmets "in support of violence prevention" (I think that's a fancy way of saying "peace") for tonight's season opener against Ole Miss. No photo yet of the dots, but a school spokesperson tells me they're "about size of a quarter and will be positioned on the back of helmet, in the middle and toward the bottom." It's all connected to this anti-violence initiative, and is apparently also a response to the sexual assault recently committed by five now-expelled Vanderbilt football players. All of which is great, but now the whole country's gonna think every Vandy player is wearing a radio-equipped helmet (thanks to Benton Payne for letting me know about this). "¦ Georgia Tech's Bobby Dodd Stadium hasn't had a midfield logo, but that is changing this year.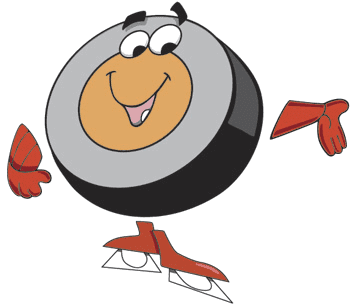 Hockey News: Here's a great retrospective of USA Olympic hockey uniforms going back to 1920. "Especially good for anyone who thinks the new sweaters suck," says Phil. … Slight jersey tweak for Penn State (from Jon Bravard). … The U.S. Olympic team was honored at Nationals Park the other day, and Patrick Kane was given a Nats-themed hockey jersey (from Jason Mott). … Reprinted from yesterday's comments: New uniforms for the Soo Greyhounds.

NBA News: Excellent article on the guy who designed the Suns' new uniforms and has also been involved in lots of other Phoenix-area sports designs. Recommended (from Greg Esposito). "¦ The Bobcats are adding sponsorship patches to their practice jerseys (thanks, Phil).

Everything Else: The New Girl and I recently stopped at an ice cream stand in New Jersey, where I ordered two scoops in a standard sugar cone. It came with one of those paper "cone jackets." The weird thing is that the jacket was festooned with little soft-serve wafer cone icons. In other words, the jacket was intended for use with one kind of cone but was decorated with images of another kind of cone. Odd. … New uniforms for the Marshall women's soccer team. "Love the stripes!" says Jake Keys. … It's hard to be sure, but it looks like all the players in this 1936-37 high school basketball team portrait had uni numbers that were multiples of 11 (from Chris Campolettano). … The Golf Channel didn't exactly score a hole in one yesterday. … Here are the cycling shoes for the US Pro Challenge Stage Race in Colorado (from Sean Clancy). … Slight logo tweak for the Miami (Ohio) athletics department (from Matthew Earley). … Cheerleaders at a Florida high school have been told they can't wear their uniforms to class because they violate the school's dress code (thanks, Brinke).