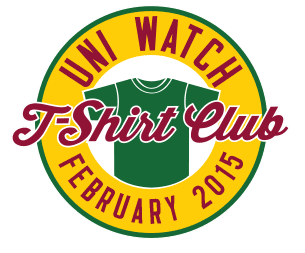 I've always wanted to have a project that allowed me to say, "Collect 'em all!," and now I do: the Uni Watch T-Shirt Club, which is going to feature 12 limited-edition designs, one for each month of 2015.
We got a late start on the January shirt, but from now on we'll launch each month's shirt toward the end of the preceding month. That way you'll get each month's shirt delivered to you no later than the 10th of that month (and often sooner than that). All of which is a lengthy way of saying that even though we're still in January, it's now time to launch the February design.
February, of course, is when spring training starts. And what do players wear during spring training? Batting practice jerseys. That's the inspiration for our February design (click to enlarge):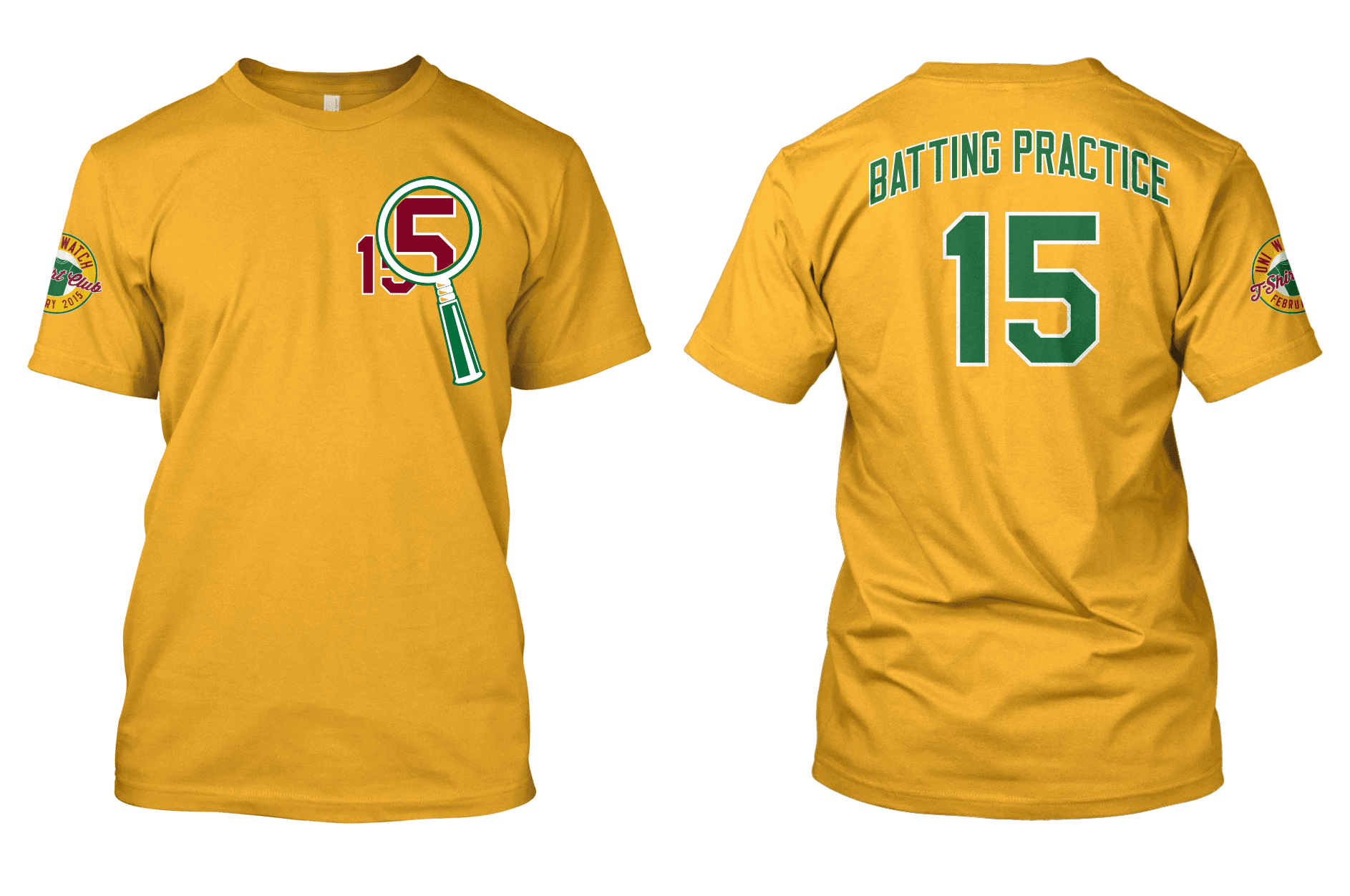 Here's everything you need to know about ordering the shirt and how the rest of the program will unfold:
1. You can purchase the shirt on this page. (Ignore the bits about "reaching our goal" and the "campaign being successful" — that's for Teespring clients who use T-shirt sales as fundraisers.)
2. As you'll see, there's a choice of Hanes ($22.50) or American Apparel ($24.50). Their tailoring and sizing are slightly different, and the Hanes shade of gold is a smidge darker than American Apparel's, so use the "View Sizing Chart" link and compare the colors to be sure you get the shirt that's best for you. Domestic shipping is $3.85 for the first shirt, $1 for each additional shirt; international shipping is $9.50 to Canada, $12.50 elsewhere.
3. This shirt will only be available through next Monday, Jan. 26, 11pm Eastern. After that date, the shirt will not be offered for sale. All shirts ordered by then should be delivered by Feb. 10.
4. There will be 10 more designs — one for each remaining month of the year. Three of those designs are shown here, but those three will not necessarily be the designs that we roll out for the next three months. You can probably guess what some of the other designs will be, although I think a few of them may surprise you. In each case, we'll update the "sleeve patch" to reflect the appropriate month.
5. A new shirt will be made available on the third Tuesday of each month. So the March design will launch on Feb. 17; the April design will launch on March 17; and so on. I'll give you a preview of each new design at some point during the week before it goes on sale.
6. Each shirt will be available for purchase for only one week, from the Tuesday when it launches through the following Monday. Once a shirt's one-week window closes, it will no longer be available for purchase.
7. People who purchase all 12 shirts (collect 'em all!) will be eligible for a bonus prize at the end of the year. I haven't yet decided what this prize will be, although I have some ideas. It may depend somewhat on how many people stay on board for all 12 shirts, and we won't have a sense of how many people that might be until the summer, so I'll likely wait a while before settling on the prize. But I assure you it'll be something good.
I think that's it. Again, the February shirt can be purchased here. If you have any questions, give a holler. Thanks for listening.
———
Here are the shirts we've launched so far…
January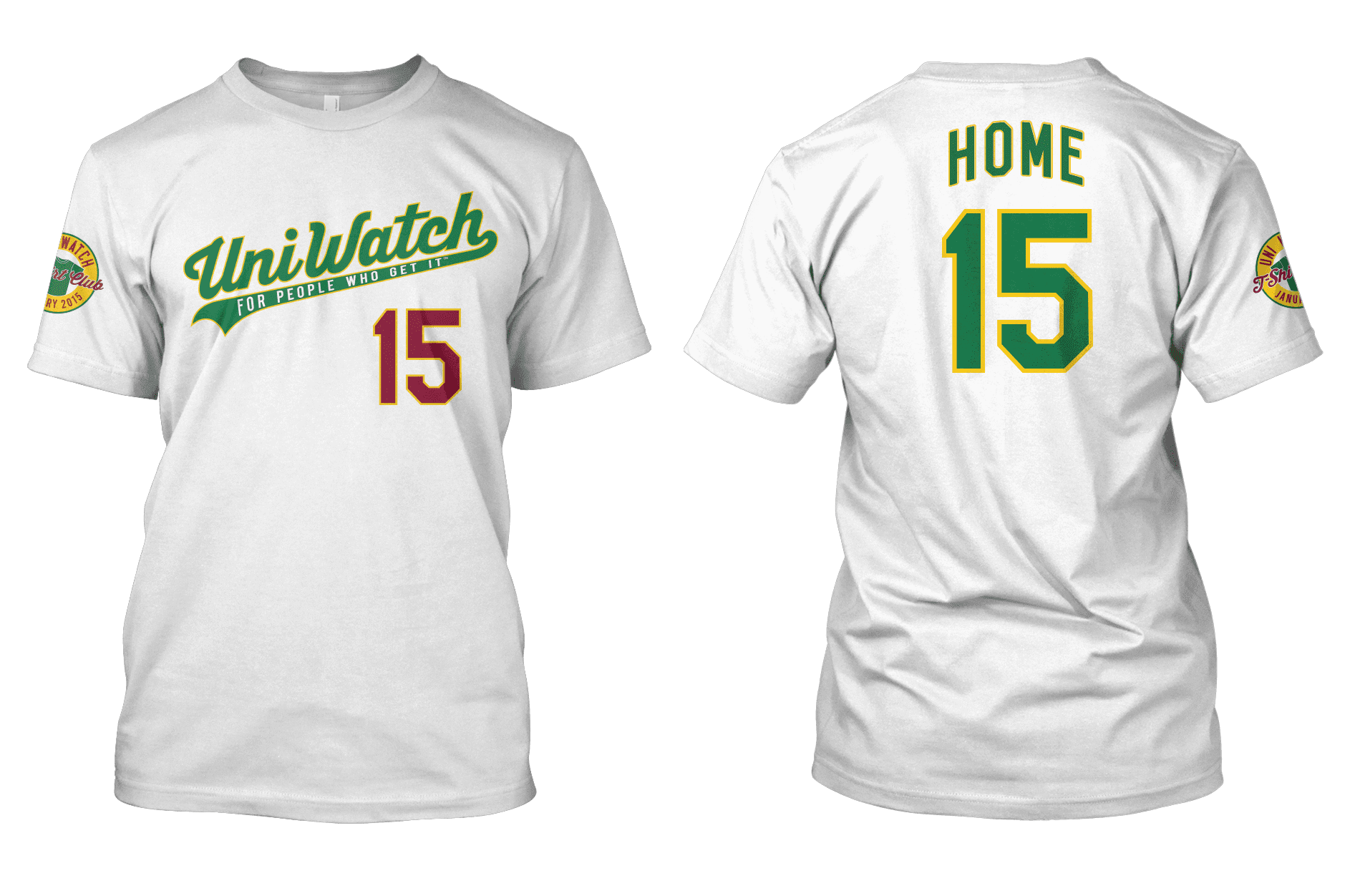 February