By Phil Hecken
And now the moment you've all been waiting for — the vote on the final six concepts for the best Rays Redesign — with the winner to be revealed next weekend. The final six contestants, as determined by you the voters, are below. I'll run them in alphabetical order. (In case you missed the full sets of submissions, you can see Part I here and Part II here. It's pretty simple now — just vote for your favorite design (you can vote one time per day). I'll reveal the winner next weekend. Each design with comments from the concepter is below, and following that, you'll be able to vote. OK? OK!
__________
Kevin Callahan – "Havana Perfectos"

Named for cuban cigar type, "Perfectos" has a classic ring to it. I am proud of incorporating the smoke curl into the "H". Red, white and blue are the national colors and I added cigar band gold. Cool, white unis for the tropical heat and Cuban red for the road.
__________
Sergio DaSilveira – "Montreal Maroons"

If the Rays move I think that it is inevitable that they move to Montreal; though sadly, I highly doubt they would use the name I proposed. That being said, It is still nice to play around with the idea of such an identity. My goal was to utilize an old classic name with a retro & semi modern treatment. I hope you like it!
__________
Drew Fansler – "New Orleans Brass"

Your recent challenge for new MLB teams got me thinking about one of my favorite places in the whole wide world. The Brass is like its hometown: vintage flair, bold and a little flashy. The hardest part was staying away from that third Mardi Gras color that none of you like (and to be fair, neither do I.)
__________
Chris Markham – "Buffalo Rays"

The Buffalo Rays… hear me out on this one. We know Buffalo isn't exactly the poster child for sunshine and warm weather (though it is beautiful during the summer when the majority of baseball is played), but it will be soon home to the largest solar factory in the Western Hemisphere. And with the Rays sun/solar brand already established, why not keep the name? They wouldn't be the only pro team with a nickname that is at least a little ironic (Utah Jazz, Los Angeles Lakers, etc). They can even stay in the AL East. Buffalo is a city on the rise, and Terry Pegula has a couple billion dollars left after buying the Sabres and Bills to purchase a MLB franchise and build a mixed-use, retractable roof stadium to host the Bills and Rays, right?
__________
Ben Polizzi – "Indianapolis Drive"

It's every Hoosier's dream to have a Major League team in Indy. Take a look at a big league team with some racing flavor. Overall Description: All uniforms feature checkered trim on the right pant pocket and racing flags on the left sleeve. The alternate features checkered trim on the hat brim with a "finish line" stripe on the uniform/socks for a classic, clean look. Enjoy fellas.
__________
Nate Smith – "Montreal Monarques"

NAME: Montreal Monarques (i.e. Monarchs), synonymous with "Royals," Montreal's original baseball team.
UNIFORMS AND LOGOS: Similar to the '92-'04 Expos with other cues from Montreal's culture and baseball history. The silhouettes on the sleeve patch are of Mt. Royal, the city's namesake, with the Cartier monument in the foreground.
__________
And now…here's the vote:
+ + + + + + + + + +
+ + + + + + + + + +
Good luck to the final six, and thanks to everyone who participated!
Classic Ballpark Scoreboards
I'm pleased to continue with a favorite weekend feature here at Uni Watch, "Classic Ballpark Scoreboards," which are created by Gary Chanko. You probably know Gary best for his wonderful colorizations, but he has been a solid contributor for many years, and this is his new project. This segment will appear every Saturday on Uni Watch.
Here's Gary (click on image to enlarge):
. . . . . . . . . .
Classic Ballpark Scoreboards – Series II
by Gary Chanko
Cleveland's League Park is perhaps less well known than many of the historic old ballparks, but the venue is no less interesting. It is the subject of this edition of Classic Scoreboards.
League Park

Baseball Home of: Cleveland Indians (also called the Spiders, Bluebirds, Blues, Broncos, Molly Maguires, and Naps!) (1891""1946); Cleveland Buckeyes (NAL) (1943""48, 50)
Opened: May 1, 1891
Closed: September 21, 1946 (From 1936 through 1946 the Indians played games at both at League and Municipal Stadium.)
Demolished: 1951
Restored: August 2014, as public park and historical museum.
League Park was one of the original American League ballparks and home to the Cleveland franchise for over half a century. Built in the late 19th century, the 9000-seat ball field was sited within an existing, narrow rectangular city block at East 66th Street and Lexington Avenue.
The team's owner at the time also owned the Cleveland City Railway Company. The property was conveniently located adjacent to his trolley line. (Recall the siting of Braves Field in Boston was similarly influenced by a trolley line.)
The location and details of whatever scoreboard existed in the original ballpark are unclear. However photos from the 1920 World Series show the scoreboard structure in the centerfield location where it remained essentially unaltered until the ballpark was demolished. It is probable this scoreboard was part of League Park's 1910 expansion and modernization. (For a concise history of League Park, see this SABR article.)
The scoreboard design is nearly identical to that installed in Brooklyn's Washington Park during the same era.
This illustration recreates the scoreboard display at the bottom of the 9th inning of the Indians-Senators game played on May 13, 1943. Cleveland tied the game but lost in the 12th, 3-2.
A Few Things to Know
• League Park was the site of these notable baseball events:
* Indians pitcher Bob Feller's first game (1936)
* The first and only unassisted triple play, and first grand slam in World Series history (1920)
* August 1929: Babe Ruth becomes the first player to hit 500 career home runs
* July 16, 1941: Joe DiMaggio hits safely in his 56th consecutive game
• The quirky 40-ft high right field fence and centerfield scoreboard, aided by surprising ground rules, spawned a few unusual playing situations. Balls hit into the scoreboard bottom structure were in play for scrambling outfielders.
• Although permanent lighting was never installed in League Park, but one night game was played there in July 27, 1931 using a portable lighting system. The Homestead Grays played the barnstorming House of David.
• The ballpark was renamed Dunn Park from 1916 to 1927 after its owner, Jim Dunn a railroad construction contractor.
~ ~ ~ ~ ~ ~ ~ ~ ~ ~
If anyone is interested in purchasing a digital copy of these posters, Gary is working on an online purchase option. In the interim you can contact him directly at Classicscoreboards@gmail.com.
Colorize This!
Occasionally, I will be featuring wonderful, high-quality black and white photographs that are just begging to be colorized.
Just one this weekend, and it's from ManCave (aka Chris Whitehouse)
Enjoy!
~ ~ ~ ~ ~
Hey guys,

Here's another colorized offering. Wilbert Robinson, the longtime manager of the Brooklyn team, which at this time was called the "Robins", after him.

It looks like he really loves that uniform.

(I'm not too sure about the color of the warm up jacket. I could't find any references, so if anybody has any idea, it would be greatly appreciated)

Chris Whitehouse
. . .
That's it for today. Great job, Chris.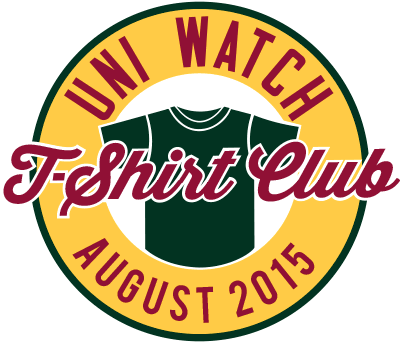 T-Shirt Club reminder: In case you missed it earlier this week, the Uni Watch T-Shirt Club's latest design — the green alternate shirt — is now available. And in response to reader requests, we've added a women's V-neck option, which comes in a slightly lighter shade of green. The men's crew neck and women's V-neck options are both shown below (click to enlarge):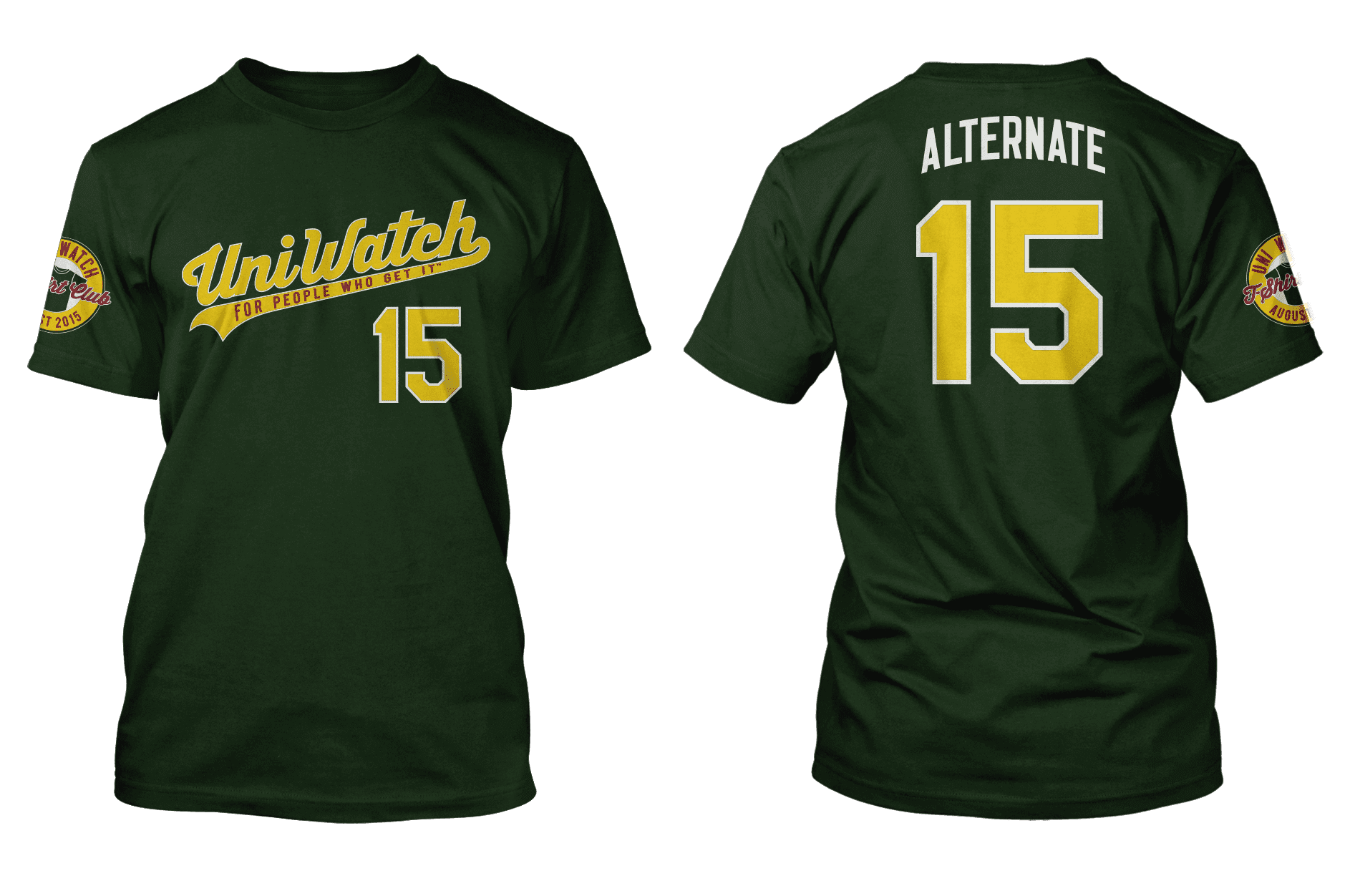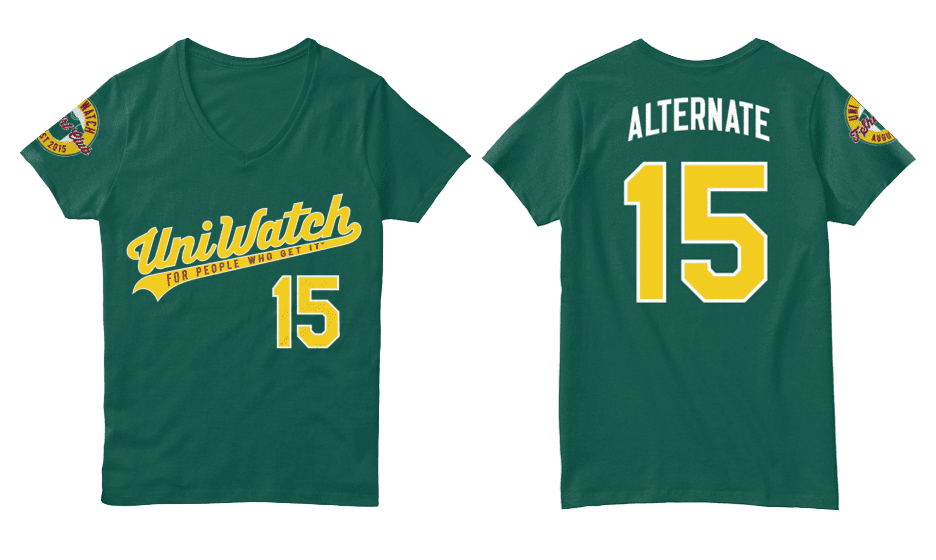 To order, go here, and you can get further info here.
Uni Watch News Ticker:

Baseball News: The official 2016 All Star Game Logo (being held in San Diego) was revealed yesterday — does the blue and gold possibly represent new colors for the Padres going forward? Here's what it looks like against a background. Apparently the arch represents a combo of Gaslamp Archway and Petco architecture (via Jesse Agler). Our friend Chris Creamer had some additional thoughts on the new logo. … Last night, the Erie SeaWolves gave away a bobblehead of "The Big Wheel" Lance Parrish. … The Miami Marlins will have an Italian Heritage Night t-shirt on Wednesday, July 29th — the giveaway looks like this. … In case you're interested, this article lists the best selling jerseys of the NL & AL this year. … Last night the Ceder Rapids Kernels wore Iowa State themed unis (via MiLB Promos). … Check out this beautiful 1942 St. Louis Cardinals World Champions vintage "Old Judge Coffee" calendar premium (from Bruce Menard). … On Sunday, the Bowie Baysox are giving away a Babe Ruth bobblehead, featuring the Babe in a 1914 Orioles minor league uni (h/t MiLB Promos). … The Memphis Redbirds are celebrating Christmas in July on 7/25 & wearing holiday-themed sweater jerseys (h/t MiLB Promos). … Whoa. Check out this photo of David "Big Papi" Ortiz as a member of the Timber Rattlers (h/t Baseball Photos). … The Binghamton Mets had Irish Night and dressed the part last evening (via Tweet Tony Tweet). … "Wednesday night the Triple-A All-Star Game was in Omaha, I was at the game but it wasn't until seeing this photo from photographer Minda Haas that confirmed what I thought," says Mike Vamosi. From my seats I saw everyone wearing the game patch on their chest which had been done in past seasons. After seeing this photo the team had this patch on their shoulder which is like their normal uniform but then a second time which seemed odd. Last year they had a Triple-A national title patch which I almost thought they do for this game since they have a back-to-back Triple-A champ logo." … Holy CRAP: Check out what the Frederick Keys are wearing on 7/31 for 90s Nickelodeon Night! That's a jersey AND pants! (from MiLB Promos). … Great picture here of Rusty Staub as a Tiger, sporting some gorgeous hosiery (h/t Stirrups Now). … Harold Reynolds may not have been too far off when he misspoke about the stars indicating number of ASG selections, says Trent Guyer. "While he was referring to the stars around the back neck, I found this. Were these on the actual jerseys too?" … Ooooohhhh — check out the uni matchup between the Texas Rangers and Houston Astros today (thanks to Mike Rhyner and Jason Bentley). And yes, the Rangers are going full powder (h/t Joe Dewsbury).

NFL/College Football News: Paul is extensively referenced/quoted in this article on the San Diego Chargers uniform history. … I don't necessarily agree with the choices, but here are the 5 worst Rutgers football uniforms. … Did you know that Terry Bradshaw once had his own line of peanut butter? Yeah, me neither (great find by Super 70s Sports). … Check out these new helmets for Jackson State this season. Features chrome & a tiger stripe (h/t Doug 'Bear' Hazard). … Ahead of his induction into the Packers Hall of Fame, the Packers are stocking up on Brett Favre gear. … Florida has apparently changed the look of Albert & Alberta Gators (h/t Caleb Teaches). … In yesterday's ticker there were a couple shots of the new Virginia Tech helmets. here's another look (thanks to Andrew Cosentino). … New football uniforms for Indiana University Of Pennsylvania for the 2015 season. They are division two from the Pennsylvania State Athletic Conference (thanks to Zane Heiple). … Jackson State University's new helmet is matte blue with chrome logos, helmet stickers & tigers stripes (h/t James Farrish).

NBA/Basketball News: According to this tweet from Darren Rovell, the NBA is now selling "ugly" sweater dresses. I'm not sure I'd call them "ugly," but do they really expect to sell a lot of these? Seems like a very niche-y market there. … "LeBron wore a King James NickNOB (or whatever it's called) Indians jersey (yester)day to a Cavs summer league game" says Mike Chamernik. "Another shot," he adds. On that same topic, Joe Giordano notes, "It kind of looks like the Indians jersey LeBron was sporting in Vegas doesn't have the Chief Wahoo logo on the sleeve, which would be a good thing." … Here's a look at the Clippers court design. Says submitter Conrad Burry, "Meh."

Soccer News: We may have seen these already, but West Virginia has introduced new third uniforms, with gold and what looks like a very dark navy gradient (via Christopher Belt). … Reader Aaron Wigg attended a ceremony Thursday revealing the name and logo for the newest member of the Major Arena Soccer League, the Cedar Rapids Rampage. … Sampdoria's "Bizarre New Kit Features Little Speaker In The Badge That Chants When You Press It" (h/t Detroit CSC). More on that: "Sampdoria's kits for the new season have been revealed. Traditional look for Samp, once again," notes Sam Heddle. "More interesting is a feature in the retail replica kits, where tapping the badge actually plays a team chant sung by the players." … "Was reading about the new David Beckham deal to build an MLS stadium next to the Marlins park in Miami," writes Joseph Wingard. "A local news station used last years MLS logo instead of the new MLS Logo." Here's more on that stadium deal. … New jerseys for Troy Soccer (via Ben Whitehead).

Grab Bag: Athletes at a southern Illinois high school will keep the nickname Freeburg Midgets, despite the objections of a group representing people with dwarfism who find the name offensive (from Jason Hillyer). Here's more on that (from Tommy Turner). … The Rugby World Cup gets underway two months today (September 18), and here are some of the jerseys we'll see. … Japanese Prime Minister Shinzo Abe announced on Friday the scrapping of a plan for a controversial national stadium, the centerpiece of the Tokyo 2020 Olympics, after sky-rocketing costs sparked public outrage (that's from Chris Bisbee), who notes that a new venue would not be ready in time for the 2019 Rugby World Cup — "First country to ever do this?" he asks. … This is pretty great. The Open has seen a lot of players go low, so it set up some extra obstacles just to spice things up. … Yesterday at The Open, Sir Nick Faldo wore the same sweater he wore when he won the tourney in 1987.
That's all for today folks — thanks to Gary, Chris and everyone who submitted or tweeted for the Ticker. You guys have a good Saturday, and I'll catch you tomorrow.
Follow me on Twitter @PhilHecken
Peace.
.. … ..
"If you can wear a space helmet, why wouldn't you wear a space helmet?"
–The Jeff