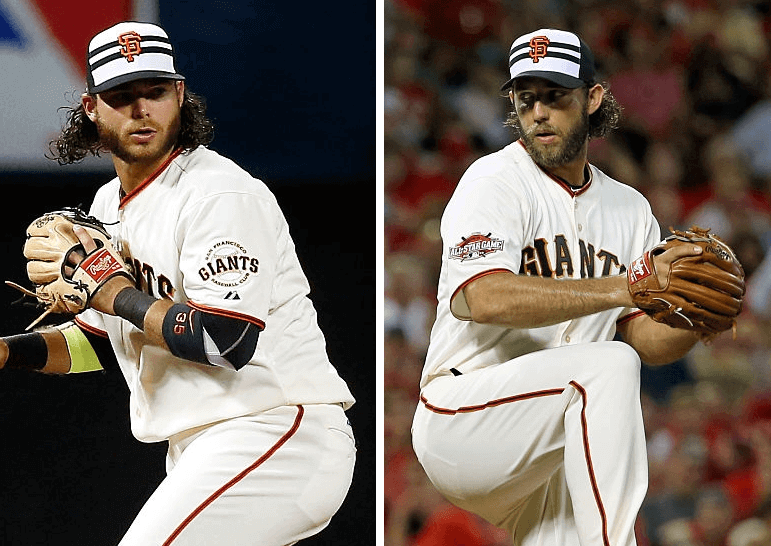 The New Era folks must have thought they had it all figured out. Grey all-star caps for the American League, whose players would be wearing grey uniforms, and white caps for the white-clad National League. As you can see above (and as a surprising number of people on Twitter kept pointing out), there was just one problem: The Giants don't wear white — they wear cream, so their caps didn't match their uniforms. No wonder N.L. skipper Bruce Bochy looked so befuddled throughout much of the game.
Here are some other notes from last nigth's Midsummer Classic, beginning with the pregame festivities:
• Hall of Famer Johnny Bench wore a red blazer and a red tie when being introduced as one of the Reds' franchise four, but he switched to a blue blazer and a blue tie when introduced as one of the four greatest living MLBers. When he caught the ceremonial first pitch from Sandy Koufax, he wore a red glove, something he almost certainly never wore as a player.
• Pete Rose, another of Cincinnati's franchise four, wore white shoes.
• Willie Mays, as usual, wore his favorite outdated BP cap.
• Continuing the protocol of recent years, the game was 100% white vs. grey — no solid-colored alternate jerseys.
• The All-Star Game sleeve patch forced the Cubs' representatives — Kris Bryant and Anthony Rizzo — to wear the Ernie Banks memorial patch on their upper-left chest area: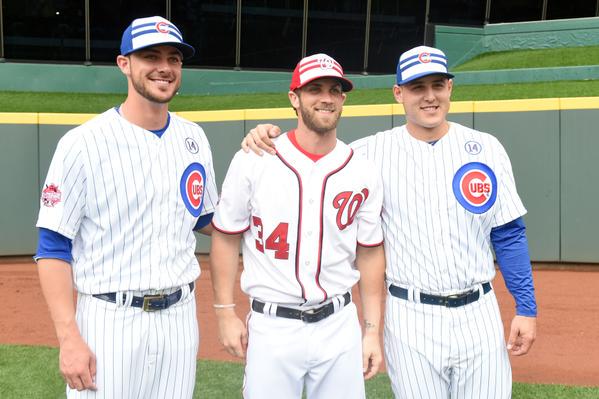 • The Indians' Al Rosen memorial patch moved to the same spot for the same reason.
• Leaving aside the Giants' color-matching issues, the caps were awful. I mean, look at this — does that make you think, "Hey, that's special!" or does it make you think, "Hey, that must be a spring training game!" Just stop trying to milk every last penny out of the game and let the players wear their regular caps.
• Buster Posey wore a gold-toned catcher's mask. Gold accents on his shinguards, too.
• Salvador Perez, not to be outdone, wore a gold chest protector. (So did Yadier Molina, but I didn't get a photo of him.)
• I've noted before that Bryce Harper has variously worn two, one, and zero batting gloves during the course of this season. Sure enough, he wore one glove during one plate appearance and went bare-handed in another. He also went without an undershirt. Too bad he didn't wear stirrups, as he sometimes does.
• The game did feature one hosiery hero, however: Chris Archer. He got my MVP vote.
• This is pretty awesome: We've noted before that David Price usually goes without a squatchee (or, as he calls it, "the ouch button"). So did they get him a squatchee-free ASG cap? Yup. (Big thanks to James Paterson for that screen shot.)
• I'm tired of typing "neon," "DayGlo," "highlighter," "fluorescent," and the like. Let's just say "asinine." For example: Several players wore asinine arm sleeves, including Alcides Escobar, Jose Altuve, Andrew McCutchen, Adam Jones, and Mark Teixeira. Memo to all these guys: Your asinine accessory matches what the vendors are wearing. Not a smart look, no matter how much your shoe company is paying you for it.
• Lots of players also wore asinine footwear, but I got tired of keeping track of that. Let's just say there was way too much of it.
• Nice to see Felix Hernandez going high-cuffed, instead of his more typical pajama style.
• Fox analyst Harold Reynolds mistakenly said that the stars on the jerseys' back neckline were a new feature and suggested that they correlated to each player's number of all-star appearances. They've actually been there for several years and every player gets two of them, regardless of his all-star history.
• White shoes, once a staple of the ASG, were nearly absent this year. The only players wearing them, at least that I noticed, were Frankie Rodriguez and Yadier Molina.
• The baseballs had red and black stitching — Reds colors.
Oh, and Jacob deGrom struck out the side on 10 pitches in his one inning of work. That has nothing to do with his uniform, but it made this Mets fan very happy.
• • • • •
Raffle results: The winner of the Mizuno all-star cleats is Brian Edwards. Congrats to him, and thanks to all who entered.
•  •  •  •  •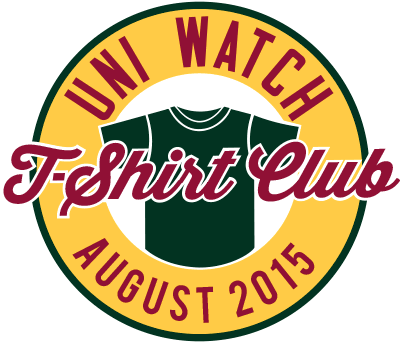 T-Shirt Club UPDATE: In case you missed it yesterday, the Uni Watch T-Shirt Club's latest design — the green alternate shirt — is now available. And yesterday afternoon, in response to requests, we added a women's V-neck option, which comes in a slightly lighter shade of green. The men's crew neck and women's V-neck options are both shown below (click to enlarge):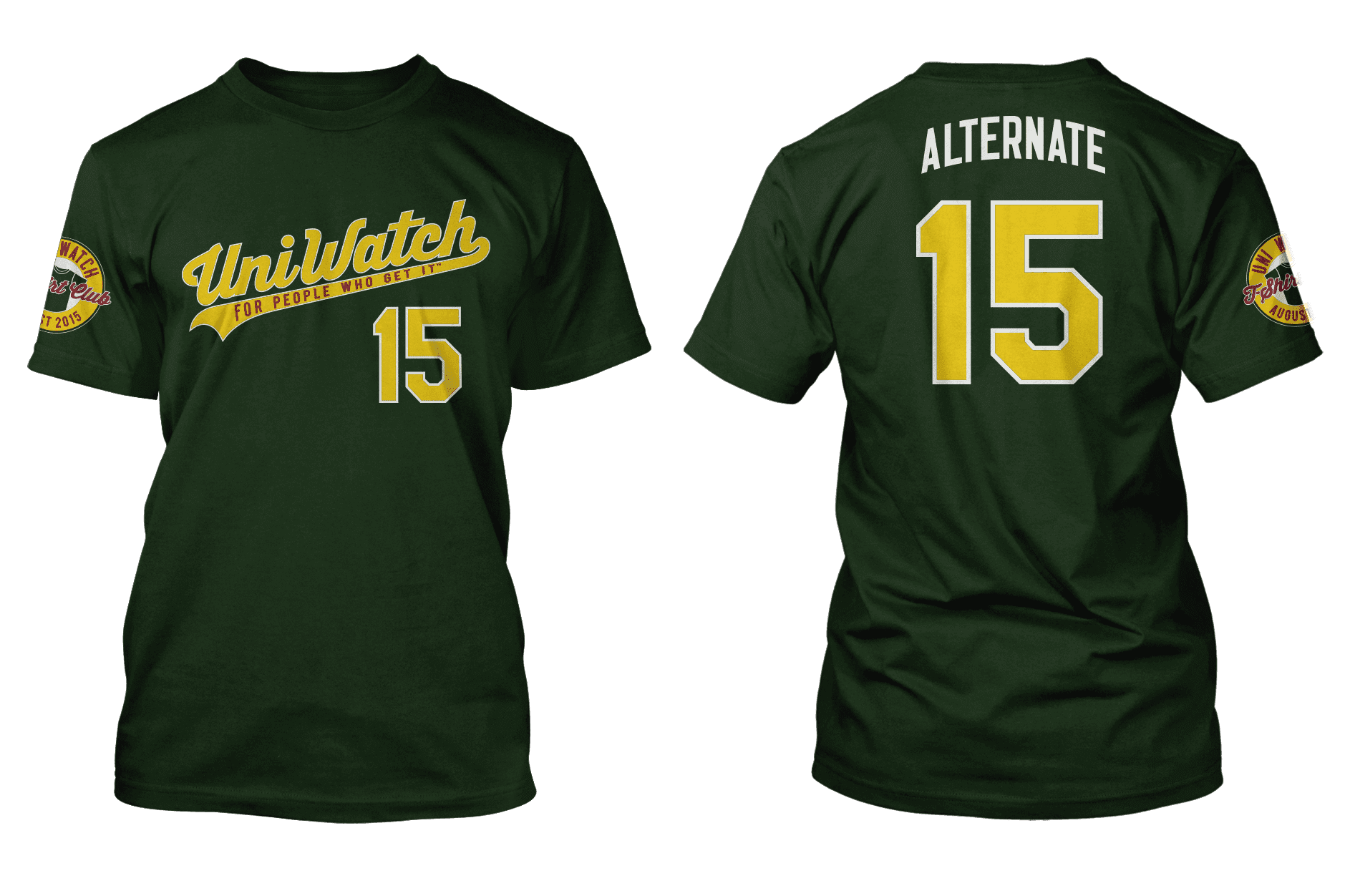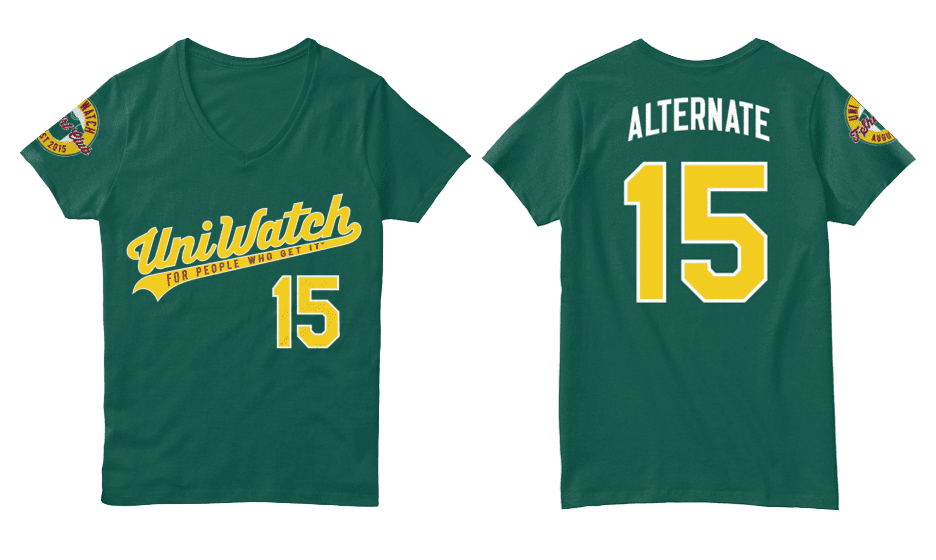 To order, go here, and you can get further info here.
• • • • •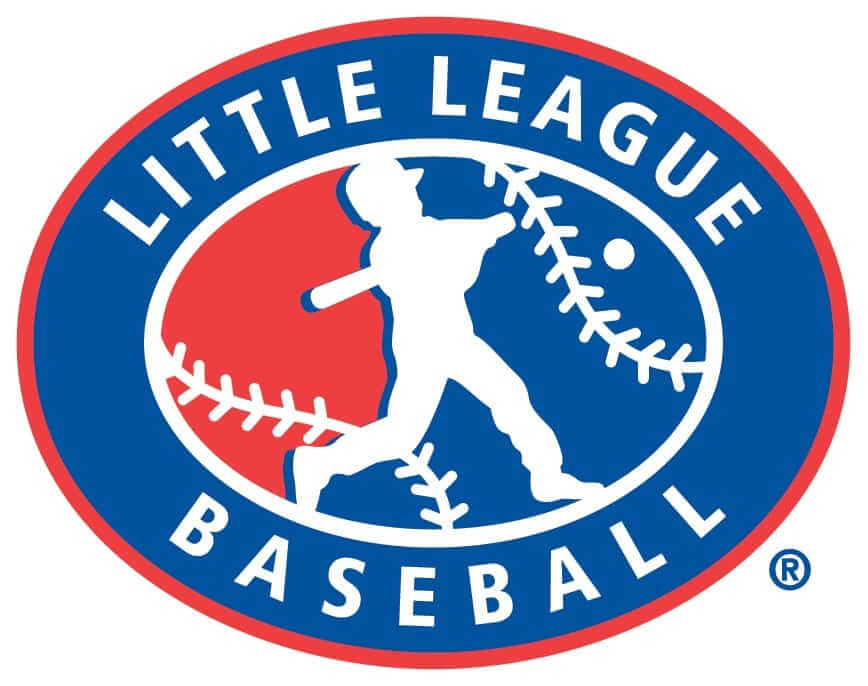 Some thoughts about the Little League World Series: When I was a kid, I loved playing Little League. I pitched (reasonably well), played the outfield (pretty well), and played first base (ridiculous, given how short I was, but my coach liked the idea of having a left-handed first baseman). In my final year, when I was 12, I made my village's all-star team. That team won three or four postseason games on the way to winning our township's championship.
I guess we weren't part of the feeder system that led to the Little League World Series, because that was the end of our postseason. But I usually watched the LLWS championship game on ABC (this was in the 1970s, when Taiwan routinely won), and of course I imagined what it would be like to play in it.
I continued to watch the LLWS in the 1980s and '90s, but along the way I grew increasingly uncomfortable with it. There was too much media coverage, and too much of that coverage didn't feel right for an event centering on a bunch of children. I mean, really, putting a radar gun on a 12-year-old? That just seems wrong. And then there are all the controversies: the Danny Almonte thing, the legal tussle over last year's champions, and so on, all of which just bring more media attention. It all feels like the grown-up world intruding way too much on the kid world.
At some point — I no longer recall exactly when, but I'm pretty sure it was at least five or six years ago, and maybe more — I decided to stop covering or even mentioning the LLWS here on Uni Watch (although I don't think I ever explained why, like I'm doing now). The event takes place in August, when I'm usually taking my annual break, so I've asked Phil not to mention it either, and he's always agreed.
So when a publicist approached me last week and asked if I'd like to have an exclusive first look at this year's LLWS uniforms, my initial reaction was to say, "Thanks, but no thanks." But then I thought the uniforms might give us a good excuse to discuss what you people think of the LLWS. Does anyone share my misgivings about it? Do you think I'm totally out to lunch?
As for the uniforms, they'll be officially unveiled later this morning, but I was permitted to tweet them late last night. Here they are (click to enlarge):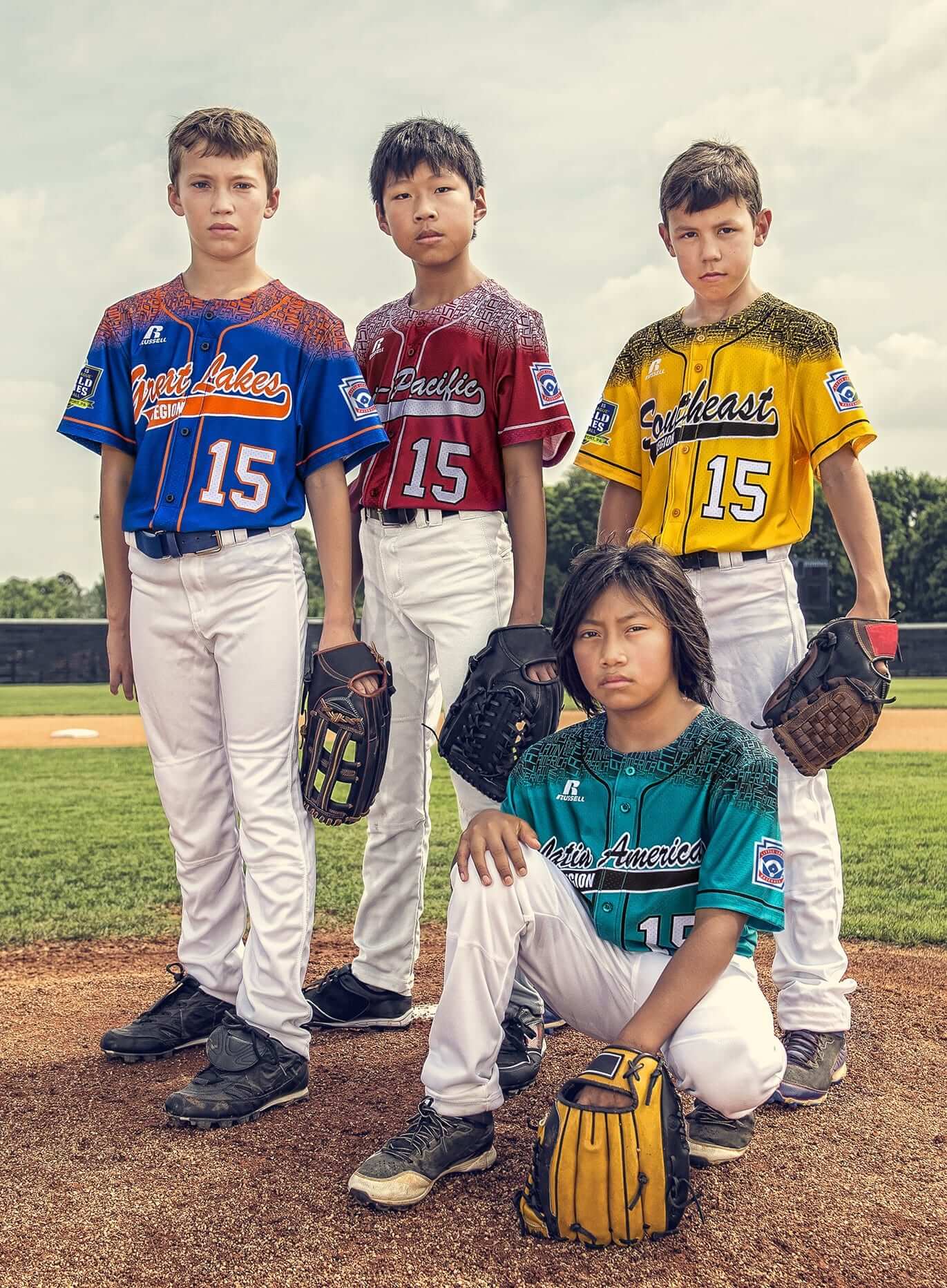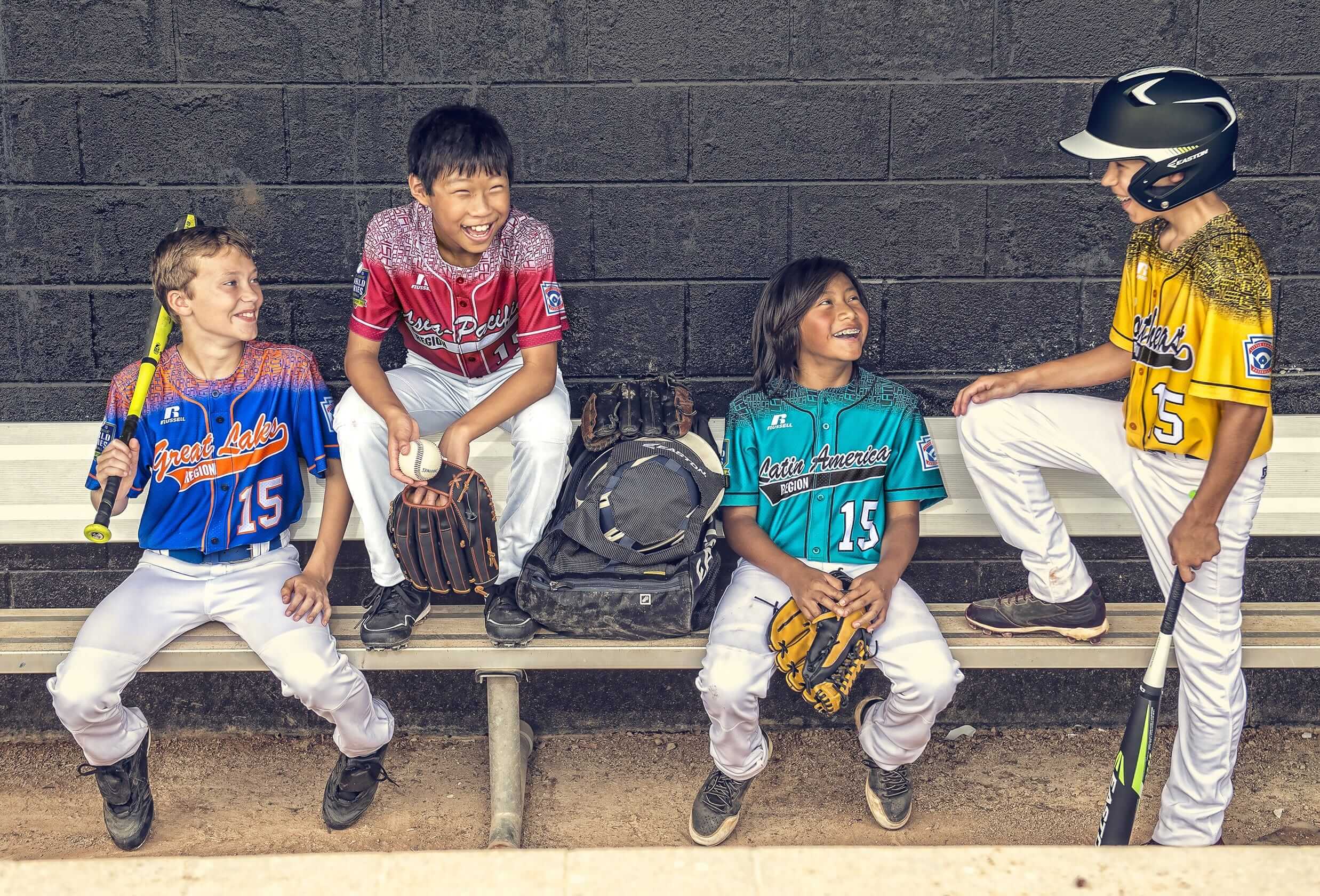 All the graphics are sublimated, except for the Little League patch on the left sleeve, which is sewn. The colored patterns on the shoulders — yes, they look like stains — are actually stylized letters that spell out the name of the region (for the international teams) or the names of regional states (for the American teams). Not my idea of a good design, but whatever — if the kids are too young for radar guns, they're too young for harsh uniform design critiques too.
•  •  •  •  •

Baseball News: This old wool flannel Moose Lodge baseball uni is right up my alley — look at that sleeve patch! — but too pricey. Made an offer but the seller turned it down. Whaddaya gonna do. "¦ Some great photos in this fascinating article about black ballplayers in Japan. "¦ The Cincinnati Fire Dept. came up with a T-shirt based on this year's ASG logo. "¦ This year's ASG press pin is a beauty. "¦ The steakhouse inside of Yankee Stadium (which I wrote about shortly after it opened) has won an award for its staff uniforms. "¦ Here's another article on Majestic's top tailor. "¦ Bryce Harper was wearing slippers with his own "BH" logo in yesterday's all-star parade (thanks, Phil). "¦ Sons of Anarchy jerseys this Saturday for the Stockton Ports (from Richard Paloma).

NFL News: The Ravens are putting former RB Jamal Lewis on their season tickets (from Andrew Cosentino). "¦ Here's a look at all the helmets in Jaguars history. "¦ Check out this awesome Eagles letterhead from 1933 (from Rahul Vyas).

Hockey News: What's better than a skating penguin? A skating penguin carrying barbells (from @seekarete). "¦ New goalie gear for Marc Andre Fleury, Roberto Luongo, and Cam Talbot. Two of them have new masks, too (from Dane Drutis). "¦ Another hockey team that mixed Canadian and Confederate imagery: the now-defunct Roanoke Valley Rebels, whose jersey can be seen second from top-left in this photo (from Brian Mo).

NBA News: Nemanja Bjelica, newly signed by the Timberwolves, will become the first player in franchise history to wear No. 88 (from @holycalamity). "¦ Latest WNBA team to go with jersey advertising: the Connecticut Sun. Of course, the team's name is also a form of advertising, since the team is owned by the Mohegan Tribe, which owns the Mohegan Sun casino (from Kevin Brown). "¦ Should the Celtics un-retire their retired numbers? Discuss (from Phil Lawson).

Soccer News: New uniforms for Hull City (from Ben Karnsh). "¦ Very interesting new third kit for Torino (from Phillip Foose). "¦ Arsenal's new away kit leaked ahead of its unveiling. "¦ New third kit for Newcastle United. "¦ Here's a slideshow of Bundesliga unis for the upcoming season (from H King). "¦ New cleats for Notre Dame. "¦ Kashiwa Reysol supporters tried to re-create their team jersey in the stands (from Yusuke Toyoda). "¦ New kit for West Ham (from @The_Har).

Grab Bag: The NAACP is calling for the Confederate battle flag to be removed from Alabama state troopers' uniforms and vehicles. "¦ Here's what a bunch of Nike-clad golfers will be wearing in the British Open (thanks, Phil). "¦ New Rugby World Cup kit for Ireland (from Eric Bangeman) and also for Argentina. "¦ The next X-Men movie will apparently featured 1980s-style costumes. "¦ Did you know the Minions have their own branded Pantone color? Jeez (from Mark Coale). "¦ Here's a look at some of NASCAR's most notable fast food-based paint schemes (from Ricky Schumaker). "¦ New volleyball jerseys for Purdue (from Kurt Esposito).