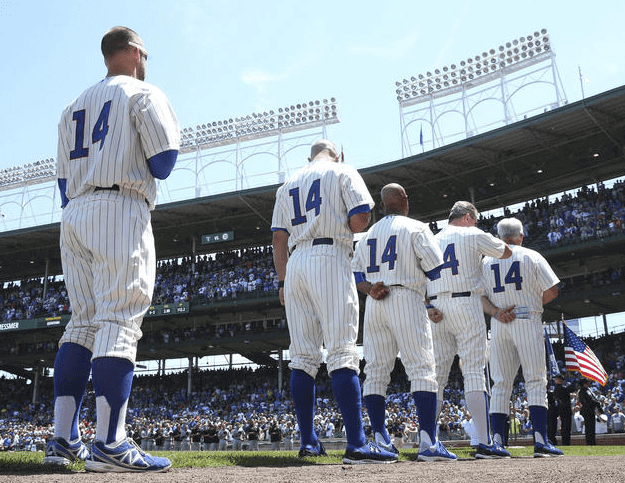 The Cubs and White Sox held the first of their two late-1950s throwback games yesterday. As I explained last week (and as you can see above), all the Cubs wore No. 14 in honor of Ernie Banks. All of the White Sox players will wear No. 9 for Minnie Minoso when the teams again wear throwbacks on Aug. 14.
Interestingly, all of those No. 14s were rendered in the Cubbies' current number style, complete with the red outline. Although I haven't been able to find a good color photo, I'm about 99% sure that the Cubs' numbers during this period did not have the red outlining. If so, that's a surprising lapse.
Turning to the all-important lower-leg region, the good news is that the Cubs all went high-cuffed. The bad news is that they wore two-in-ones — a really disappointing move (click to enlarge):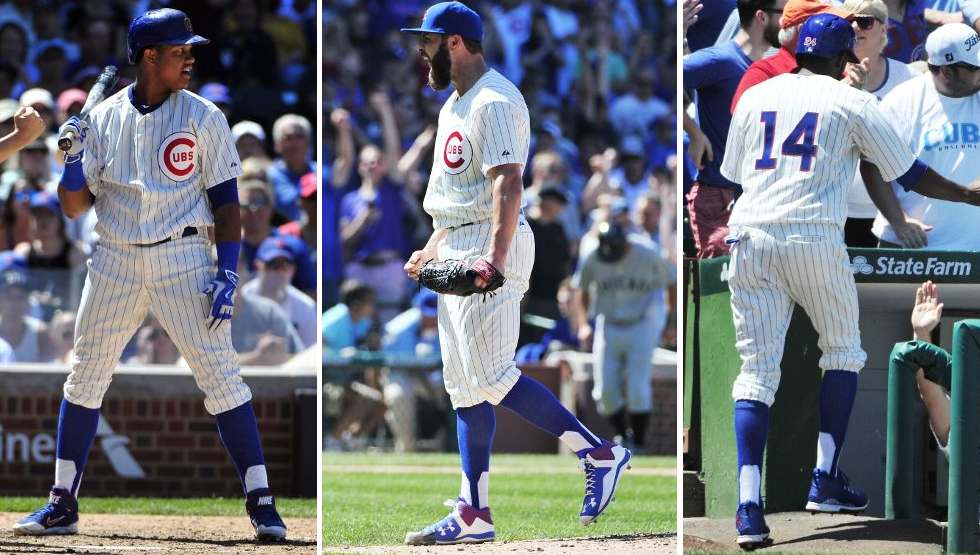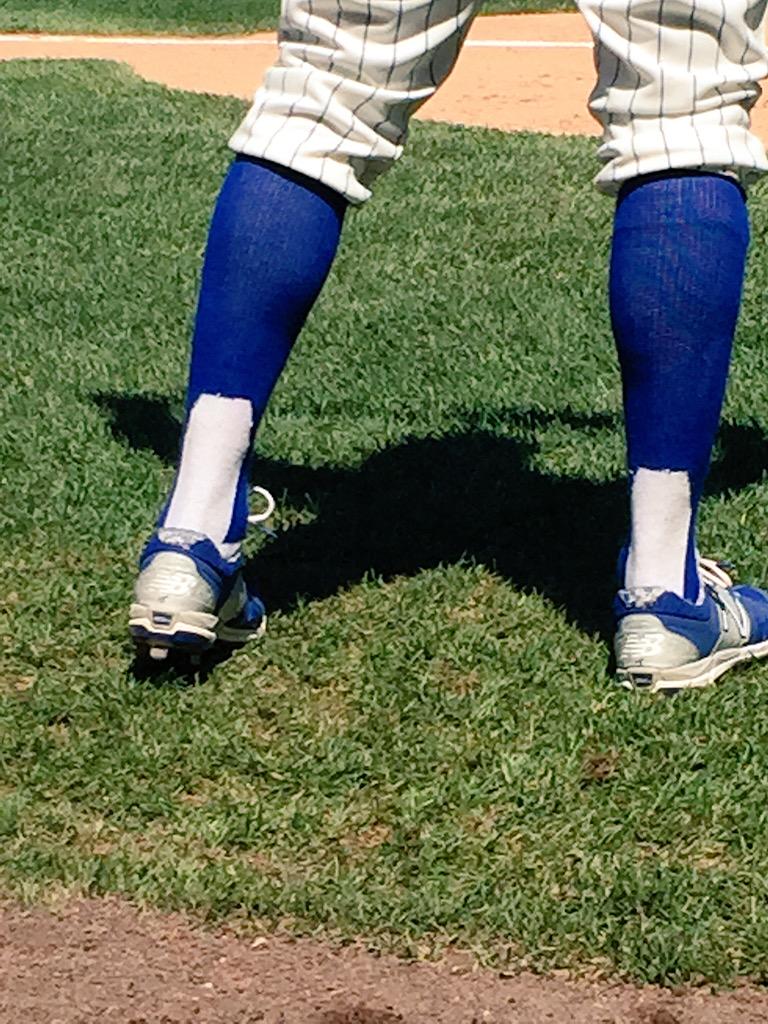 The worst thing about this is that the new Under Armour two-in-ones, while not as good as real stirrups, are much better than the standard Twin City Knitting two-in-ones.
The White Sox also went high-cuffed. Most wore solid black socks, although at least one of them wore genuine stirrups (click to enlarge):
One interesting detail: The Cubs' Ernie Banks memorial patch, which they've been wearing all season long, was omitted. I understand why they did it — after all, they were all wearing No. 14, which was a high level of remembrance — but it's still a bit odd that a game dedicated to Banks will go down as the one time this season that the Cubs didn't wear the Banks patch (click to enlarge):
By contrast, the Chisox's Minnie Minoso patch was included on the right sleeve, where it's been all season long — it'll be interesting to see if they retain it on Aug. 14, when they'll all be wearing No. 9 (click to enlarge):
(Special thanks to Ben Schmuck and Phil for the two-in-one photos.)
• • • • •
And speaking of throwbacks"¦: In case you missed it, Saturday was the 25th anniversary of the first throwback game in MLB history, and I marked the occasion with a big ESPN column on the best throwback uni worn by each MLB team. Enjoy.
• • • • •
Raffle reminder: In case you missed it last week, I'm raffling off a pair of Mizuno MLB All-Star Game cleats, Size 10. To enter, send an email with your name and shipping info to the raffle address by 7pm Eastern tomorrow, July 14 "" the date of the All-Star Game. One entry per person. I'll announce the winner on Wednesday the 15th.
• • • • •

Baseball News: I'm quoted at length, as is SportsLogos.net founder Chris Creamer, in this article about the Hartford Yard Goats' new logos. "¦ Here's something I didn't know: The baselines in the 1965 MLB All-Star Game were red, white, and blue. You can see more of that in this headline video (big thanks to Sean Farrell). "¦ man, it's a big drop down from the MLB ASG to the triple-A ASG. "¦ While I've had more than enough of military appreciation nights, at least the Charleston RiverDogs managed to come up with a uniform theme that didn't involve camouflage. The green unis were supposed to look like plastic green Army men. "¦ Game of Thrones jerseys upcoming for the Staten Island Yankees. "¦ Twins closer Glenn Perkins received a goalie mask from his bullpenmates — you know, because he gets saves, a goalie makes saves, etc. "¦ Blue Jays and Royals and an umpire — all in blue yesterday (from Craig Sarson). "¦ Star Wars jerseys for the Brazos Valley Bombers (from @ballparksocial). "¦ The Pirate Parrot — that's the Buccos' live mascot — has two assistants with "Birdkeeper" NOBs. "¦ Check out this Jackie Robinson Christmas tree ornament, which has his No. 42 but doesn't have the Dodgers script. Interestingly, the listing says the ornament is "Licensed by Mrs. Rachel Robinson, c/o Estate of Jackie Robinson," but I guess it wasn't licensed by MLB (from David Cline).

NBA News: If you tried to create a composite logo for each NBA team, drawing upon each component of a team's visual history to come up with an "overall" logo, it might look like this (from AW Rader).

Soccer News: Man, even if you like green and gold as much as I do, that new Norwich kit is really, uh, something (from Brian Mazmanian). "¦ "The Women's Super League season kicked off this weekend in England," says Yusuke Toyoda. "Most teams are affiliated with top men's teams and wear the same unis — Arsenal Ladies and Manchester City Ladies wore their club's new 2015 kits, but Liverpool (still wearing Warrior instead of New Balance) and Chelsea (with a makeshift shirt sponsor) wore last season's unis." "¦ Also from Yusuke: CD Guadalajara, a third division team in Spain, released a rainbow-themed jersey supporting LGBT rights. "¦ An online petition is urging FC Barcelona to drop Qatar Airlines as its jersey advertiser. "¦ New home kit for FC Shakhtar (from @espitt).

Grab Bag: For nearly 30 years now, the only sneakers I've purchased or worn have been Chucks. But the other day I saw these two-tone Vans at a vintage shop and thought, "Why not?" Broadening my horizons, little by (very) little. "¦ Player badges at the British Open have changed from round to oval (from Chris Flinn). "¦ NASCAR driver Cole Whitt, who's sponsored by KFC, has a Col. Sanders-themed racing suit. "¦ Unusual scenario for Saturday's welterweight title bout between champion Keith Thurman and challenger Luis Collazo, both of whom wore red trunks, red gloves, and red shoes. "¦ Interesting piece on the history of the polo shirt. "¦ New Rugby World Cup uniforms for Japan (from Jeremy Brahm). "¦ Matthew Blinco recently visited the San Diego Hall of Champions and took some swell photos. "¦ Several riders in the Tour de France are using a new time trial helmet design.
•  •  •  •  •

What Paul did last night yesterday: Yesterday was a perfect summer day, at least here in NYC — sunny, hot but not too hot, low humidity, a nice breeze. It was a perfect day, in other words, to go out to my favorite seafood shack out in Sheepshead Bay and chow down on some Maryland-style crabs. So that's precisely what my friends Carrie, Howard, Sujan, Emily, Eric, and I did.
Hot crabs and cold beer — an unbeatable combination on a summer day (click to enlarge):