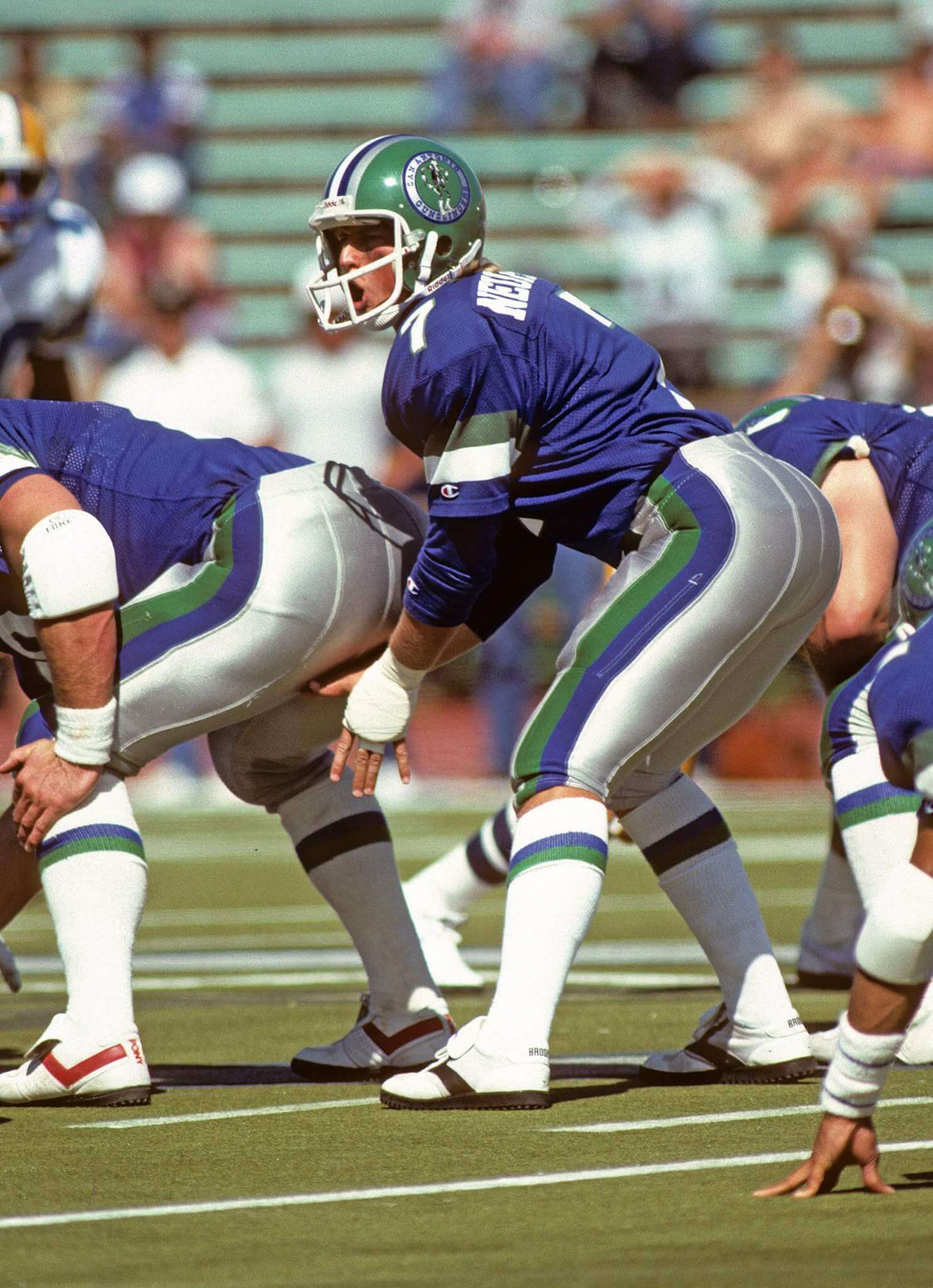 Click to enlarge
Reader Gene Sanny, who you may recall from his sensational WFL-themed electric football project, recently stumbled across Billy Schott on Facebook. Schott was the designer of the USFL's San Antonio Gunslingers (shown above), and Gene had lots of questions for him. The result was a short but informative interview, conducted on Facebook. Here's how it went:
Gene Sanny: Man those uniforms….. That's where I fell in love with green and blue as a color scheme. Sadly, if the league had lasted, with today's trends, I think we'd be looking at forest green and navy blue….. The Gunslingers did it right though
Billy Schott: Thank you, Gene. I designed those uniforms.
Gene: Billy, I'm a graphic artist, so I'd love to hear any stories you have regarding the design of the uniforms. For example, did you also design the gunslinger himself in the logo, was the color scheme your choice, did you have alternate versions that were rejected in favor of what eventually took the field, were you just contacted by the team, or did you do this directly for the USFL, and if the latter, did you do any other teams for the league? That type of stuff.
Billy: The Gunslinger was drawn by a cartoonist/artist/columnist from a local San Antonio newspaper — Bob Dale, I believe. I had a helmet decal of two crossed, smoking Colt six-shooter pistols in mind, with a small Alamo/Lone Star flag combo situated between the pistols. In the end, I had to defer to the owner, Clinton Manges, and his wishes to use a cartoon character instead.
I'm not a designer by trade. I was the team's equipment manager, among many other titles and duties, and having the opportunity to design the uniforms for a football team was something I had looked forward to since I was a youngster.
Clinton [the owner] and I met on the color combinations and he had thrown out several ideas, mostly based on things near and dear to him. We finally decided on royal blue because it was close to the cobalt blue tile in his ranch house. He insisted that we use cobalt blue, so I had to tell him that the uniform supplier, Champion, would indeed change the royal blue just for him. We had to use their stock color of royal, but Clinton was satisfied that the "cobalt blue" the Champion rep and I showed him was "even purtier than the tile in the house…"
We tossed about other ideas for complementary colors, including various shades of gold (Clinton liked shiny gold jewelry), Texas orange (reminded Clinton of the reddish, rust-colored dirt on one of his properties in South Texas), various shades of red (I was pushing for a Texas/Lone Star look), and then came the kelly green because it reminded him of….money. Kelly green and royal blue was a favorite combo of mine simply because it was fairly rare back then on athletic uniforms. I didn't want to replicate the Seahawks' look, and I really liked the color-against-color striping that the Redskins had employed around that time.
On a whim, I added the silver pant and helmet stripe and Clinton went nuts over the first prototype that we modeled for him. He wanted a silver helmet initially, but when I showed him the look with the Kelly Green helmet, he just smiled and said, "I like that one the best. Go with that. That's damn nice."
If we had stuck around for a third season, I had ordered a white pant with the same bold striping that we would have worn with our white jerseys. For many more important reasons, I'm still sad we didn't get to keep playing, but that white jersey and pant combo really looked sweet.
———
Cool stuff. Big thanks to Billy for sharing his story with Gene, and to Gene for sharing it with the rest of us.
•  •  •  •  •
Uni Watch on the air: I'll be appearing on WDET's Detroit Today radio show this Friday. We'll be talking about Michigan's new deal with Nike and about Detroit's assorted uniforms. The segment is slated to begin at 9:40am and should last 20 minutes. You can access the streaming audio here.
•  •  •  •  •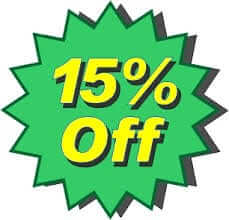 Sponsor shout-out/discount: For about a year now we've been privileged to have American Trench socks as an advertiser on the site, which makes me particularly happy because I'm a big fan of their product line. High quality, great designs, made in America, and free shipping — a killer combo. I'm wearing a pair of their socks right now, in fact.
And now American Trench just got even better, because they're offering a 15% discount to Uni Watch readers. The discount applies to everything on their website — not just socks, but also their namesake trenchcoat, headwear, items already on sale, the works. Just start shopping and use the code UNIWATCH at checkout. Thanks.
•  •  •  •  •

Baseball News: The first-ever throwback game — not just in MLB but in all of big-time pro sports — was hosted by the White Sox 25 years ago this Saturday. Todd Radom has taken a look back at that game. I'll be marking the occasion later this week with a massive ESPN piece that will look at the best throwback uni worn by each MLB team over the years. "¦ Bowling shirt-inspired jerseys tonight for the Florence Freedom. Further info here (from K.C. Kless). "¦ Tris Wykes spotted an American Legion coach who was taking the pajama thing to new extremes. "¦ Here's a look at the Harrisburg Senators' uniforms over the years (from Mike Wissman). "¦ The latest hazing ritual is to send rookies out for coffee in full uniform (from @mrmichael21). "¦ Oh baby, check out this shot of the 1977 N.L. All-Star squad. "Mercy," says Brinke, and I have nothing to add to that. "¦ If you make the All-Star team, you get an All-Star bag. "¦ People think the Nats' latest racing president looks like Paulie Walnuts from The Sopranos (from Tommy Turner). "¦ Nike has a new line of ugly neon accented baseball cleats and they're called — wait for it — the 2K Filth. Yes, "Filth" is now a cool term, at least according to Nike. I assume we'll be seeing plenty of these at the MLB All-Star Game (from Thomas Fleischman). "¦ Vida Blue really put the "ribbon" in ribbon stirrups (thanks, Phil). "¦ The mighty Fleer Sticker Project has taken a look at the 1970 MLB All-Star Game program. Of particular interest in the info on the creation of the MLB "bannermark," which we've occasionally discussed here. "¦ Mets TV analyst Ron Darling noted last night that Giants OF Hunter Pence "has his pants above the knees, like a wide receiver." Not bad, Ronnie. "¦ Ticket stubs may not exist anymore, but parking stubs still do.

NFL/CFL News: Our own Phil Hecken's latest piece for the Sporting News ranks the AFC's uniforms. The corresponding NFC piece will be posted today. "¦ Two Saskatchewan women with life-threatening cancers were given Saskatchewan Roughriders jerseys with pink numbers.

College and High School Football News: "BYU is doing a contest in all 50 states where they're hiding a box of BYU swag and they give hints on where the item is hidden in each state," says Chris Flinn. "This year's swag includes a BYU logo pylon, signed picture, and jersey." "¦ Riddell is making grants available for schools in need of upgraded gear.

Hockey News: The Senators, looking ahead to 2017, have released a 25th-anniversary logo and are hinting at new uniforms (from Moe Khan). "¦ New uniforms and logos for the Mississippi RiverKings. "¦ Herb Brooks's and Murray Williamson's old U. of Minnesota jerseys were recently donated to the university. "Not sure of my favorite element," says Dave Lundborg. "The Minnesota Centennial patch, the old-time Goldy Gopher patch, or the huge number of stitched-up tears in the sweater." "¦ New uniforms for the Huntsville Havoc (thanks, Phil).

College Hoops News: Here's one writer's pick for the ideal sneaker for every Big 10 basketball team (from Chris Flinn). "¦ Lovelovelove what the Texas Longhorns were wearing in 1917 (big thanks to Andrew Baker).

Soccer News: New uniforms for Jagiellonia Bialystok (from Ed Å»elaski). "¦ The U.S. men's national team will wear white while competing for the Gold Cup. Insert obligatory "What, no neon green?" comment here. "¦ NBA player Jrue Holiday, who's married to USWNT player Lauren Holiday, has a good jersey-centric way of showing support for his wife (thanks, Mike). "¦ New away kit for Vitesse Arnhem. "Normally road unis are totally different from home unis, but in this case the road uni has subtle stripes in yellow and black, just like the home unis," says Lucien de Groot. "¦ New logo and colors for Atlanta United FC. … The Col. Sanders statue at a KFC in Kawasaki, Japan, is wearing a Kawasaki Frontale jersey (from Yusuke Toyoda). … Also from Yusuke: 50th-anniversary jersey for Ventforet Kofu.

Grab Bag: Providence College has extended its deal with Nike. "¦ In a related item, Gary Trbovich Jr. notes that Providence's logo looks a lot like Bill Belichick! "¦ Tour de France cyclists have been trying to beat the heat with water-filled tubes, ice vests, lots of fans, and something called Liquid Ice (from Sean Clancy). "¦ Also from Sean: This is what a cyclist's jersey looks like after a nasty spill. "¦ Here's a look at Nike vs. Adidas and the politics of being cool (from Gil Neumann). "¦ NASCAR has announced its new Chase paint scheme for 2015. "¦ The Indiana athletics department, whose contract with Adidas expires next year, is exploring options for a more lucrative deal (from Gary Moore). "¦ Reprinted from last night's comments: SI Kids recently invited readers to submit concepts for ugly uniforms. The results are here and here (from Tyler Haney).