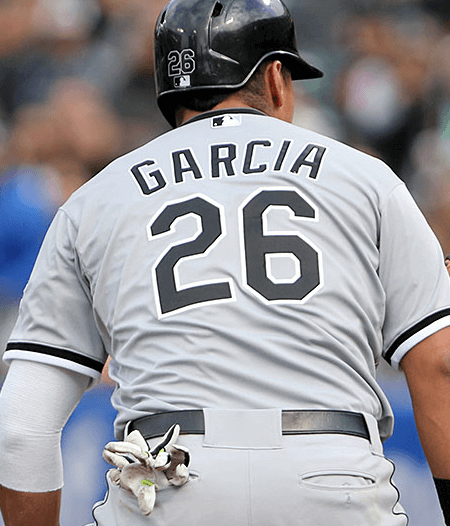 [Editor's Note: Today we have a guest entry from Brandon Brewer, who's going to enlighten us on an interesting statistical metric. "" PL]
By Brandon Brewer
I'm very interested in names. I love finding out how people get them, what they mean, and how they look in print. Watching a lot of baseball throughout the season fuels this hobby of mine. Seeing the NOBs for each player on the field dozens of times, one can start seeing patterns. For example, as my wife has heard me say many times while I'm watching a game, it seems like every team has a Cabrera or a Davis. I'm probably keyed in to those NOBs more than others from watching Tribe games (lots of match-ups consisting of Detroit's Miggy and Cleveland's Asdrubal), and because my wife's maiden name is Davis — and, well, because there really are a lot of Cabreras and Davises playing in the majors at the moment.
I determined that by going through the rosters of every MLB team to find the most frequently occurring NOBs. I left out the Yankees, because they don't wear NOBs, and surnames connected to the Giants and Red Sox have asterisks, because those teams only wear NOBs on the road. With those ground rules in mind, here are the most commonly occurring MLB NOBs as of right now, ranked by frequency, with the number of players shown in parenthesis:
1. Garcia (7)
XXPerez (7)
3. Ramirez* (6)
4. Sanchez* (5)
XXDavis (5)
XXGonzalez (5)
XXHerrera (5)
XXJohnson (5)
9. Martin (4)
XXRodriguez (4)
XXWilson (4)
XXAlvarez (4)
XXCabrera (4)
XXCastro (4)
XXEscobar (4)
XXMartinez (4)
XXPeralta (4)
XXSmith (4)
Individually, this list may not look like all that much, but it represents 85 players sharing 18 surnames in a league that only has 725 players at any given time (again, Yankees omitted). They could fill three complete rosters, with players to spare.
According to the most recent U.S. Census data on surnames, most of the names on this list are proportionate, give or take, to their presence in the general population (Smith, Johnson, Davis, Garcia and Rodriguez are all in the top ten), so it isn't surprising to see them stitched onto the backs of uniforms. Still, there are a few outliers: Escobar is only the 723rd-most popular surname in America; Peralta doesn't even crack the top 1,000. Cabrera? 524th.
Players with these surnames are, more or less, evenly divided between the American and National leagues. The Tigers have the most players with the common names, at seven (two Martinezes and one each of a Sanchez, Wilson, Perez and, of course, a Cabrera and a Davis.
Only two MLB teams don't to have any of the above-listed names on their rosters: the Reds and the Padres, so you could argue that those teams have some of the most diverse teams in the game, at least as measured by their NOBs. Interestingly, the Reds have Burke Badenhop and the Padres have Kevin Quackenbush, two very unique NOBs that are unlikely to be duplicated by another player anytime soon.
•  •  •  •  •

'Skins Watch: Good article/quiz to see if you can tell the difference between defenders of the 'Skins name and defenders of the Confederate battle flag (from Tommy Turner). "¦ Meanwhile, here's the latest article suggesting that the movement to de-emphasize the rebel flag may help the fight against the 'Skins name. "¦ The United Church of Christ has called for a boycott of 'Skins games and merch until the team's name is changed. They want the Indians to change their name and logo as well. "¦ The Obama administration is opposed to the 'Skins returning to DC as long as the team's name remains unchanged (from Tommy Turner).

Baseball News: Longtime Uni Watch pal and Reds beat reporter C. Trent Rosecrans talked to Reds OF Billy Hamilton about why Hamilton wore stirrups the other day. "¦ Looks like the Wisconsin Timber Rattlers have a rival in the "most pandering" category (thanks, Phil). "¦ More bad civics, this time from the Tulsa Drillers, whose for tomorrow shows the preamble to the Constitution, even though July 4th celebrates the ratification of the Declaration of Independence. Sales of the game-worn jerseys will benefit — of course — a military charity. Sigh (from Nathan Harvill). "¦ Always sadly ironic when a team called the Indians — the Indianapolis Indians, in this case — wraps itself in the flag (from Drew Donovan). "¦ This is pretty great: the best bespectacled ballplayers of 1985 (from Brian Mazmanian). "¦ It's a little late to be publishing an article about how today's tickets aren't as satisfying as old-style cardstock stubs — like, no duh — but at least the piece is well-written. "¦ Marlins 1B Justin Bohr has so much pine tar on his helmet that the logo has pretty much vanished (from Justice C). "¦ Grateful Dead jerseys upcoming for the Colorado Spring Sky Sox (from Nathan Wadman). "¦ Seinfeld jerseys this Sunday for the Brooklyn Cyclones (from Christopher Warren).

College Football News: Here's a really nice 1973 Rose Bowl poster (from Douglas Ford). "¦ New gloves for Nebraska and Cincinnati (from Bryan Holdcroft and William Moore, respectively). "¦ New field design for Wisconsin Lutheran College (from Peter Iles). "¦ Here are a bunch of SEC teams rendered in their rivals' team colors (blame Phil). "¦ New helmet for Virginia State (from Michael Girdner).

Hockey News: The Red Wings will consider retiring Sergei Federov's No. 91. "¦ Mike Engle notes that the Canadiens' roster reflects some uni number changes: "Christian Thomas goes from 60 down to 20, and Greg Pateryn goes from 64 to 6. These two have always been farmhands, so the lower numbers are signs of respect. Also, Zack Kassian gets 8 — the closest thing to his normal 9, which is forever Rocket's number." "¦ "The Pens posted a video of Phil Kessel jerseys to pump everyone up about the trade," says Evan Miller. "At first all they show is the black throwback that debuted last year, but then they showed this. That jersey has a gold body and black numbers, something we haven't seen from the Pens in about 25 years. Yes, they do sell CCM Lemieux jerseys of this style, but never any with a current player. Anyways, I hope there is some meat on this bone!"

NBA News: Here's how the Clippers' new uniform looks in a video game (from Andrew Cosentino). "¦ Whoa, check out this old shot of Larry Bird in a Hancock Construction Company basketball uniform (nice one from Phil Lawson).

Soccer News: New uniforms for Sporting Clube de Portugal (from Joey Bertao). "¦ Not uni-related, but good story about how soccer is thriving in the harsh Canadian Arctic. "¦ The U.S. Soccer Store is selling a stars/stripes jersey for Independence Day. I guess they didn't get the word that America's national colors are actually black, white, and neon. "¦ Fun article about proposed MLS team names that didn't make the cut (from AW Rader).

Grab Bag: NASCAR is now officially asking its fans to stop flying the Confederate battle flag at races. "¦ In a related item, nice move by golfer Bubba Watson, who owns the "General Lee" car from The Dukes of Hazard and has decided to paint over the Confederate flag on the roof (thanks, Phil). "¦ Nice piece on U.S. military uniform history. "¦ Apple wants the logo on its devices to be more functional. "¦ Students from the U. of Minnesota helped develop new modesty-centric sports uniforms for local Muslim girls. Further info here (from Braden Claassen). "¦ In a related item, Uniqlo has a new fashion line from a Muslim blogger that shows how modesty can be stylish (thanks, Brinke)"¦. New camouflage pattern for the U.S. Army (from Mike Cooperman). "¦ Aussie rules football news from Leo Strawn Jr., who writes: "The Adelaide Crows' match against the Geelong Cats this weekend has been cancelled because of the tragic murder of Crows senior coach Phil Walsh, allegedly stabbed repeatedly by his own son. Collingwood Magpies vs. Hawthorn Hawks match was the only scheduled Friday game and players on both clubs wore black armbands in memory of the fallen coach." … New basketball court for Western Michigan (from Toby Moleski).
• • • • •

What Paul did last night yesterday: Yesterday afternoon two of my Very Favorite People in the entire world got married, and I was privileged to be there for it. The ceremony was great, the post-ceremony champagne toast was great, the dinner afterward was great, and all the other attendees were great. It was one of those days that make you feel so lucky to have such amazing people in your life.
Here's to you, Matt and Rebecca — you're the best!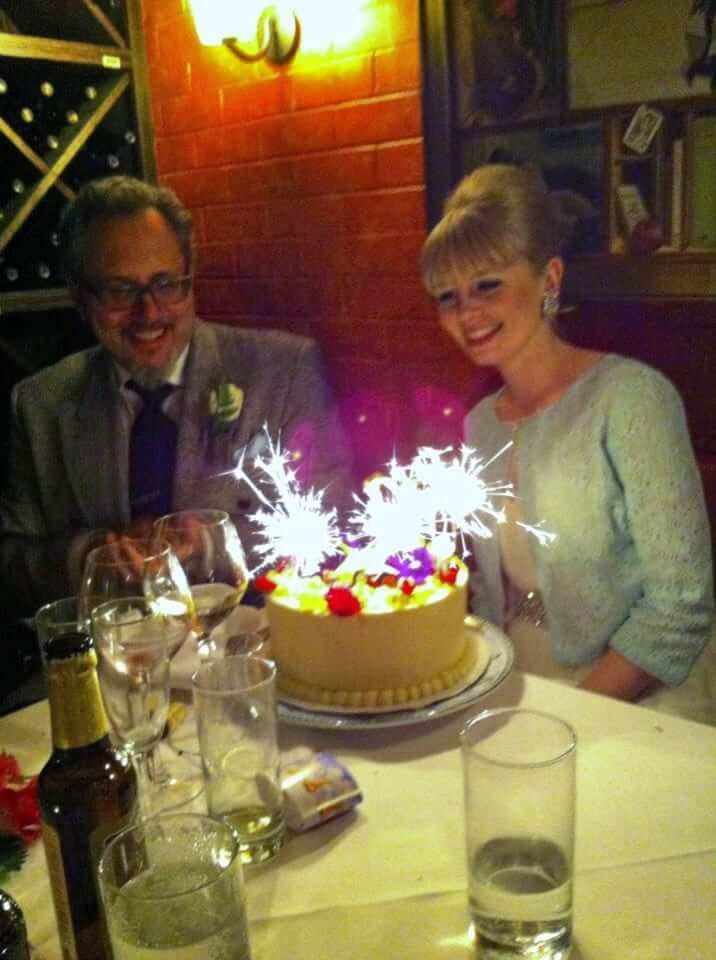 • • • • •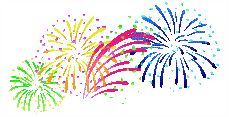 Holiday schedule: Phil is taking a well-earned break this weekend, but Uni Watch will be open for business tomorrow and Sunday, although content will likely be light. See you then.