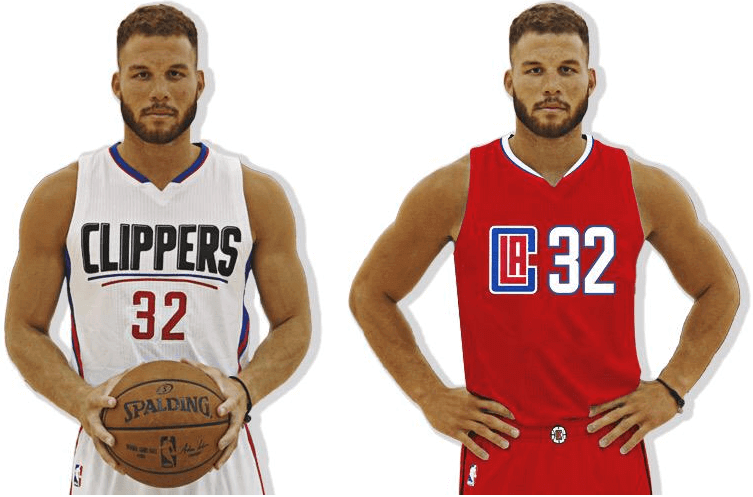 The Clippers finally unveiled their new logos and uniforms — the ones we've all known about since April — late last night. The home and road unis are shown above, there's a press release here, and there's a page with embarrassingly worded explanations of the new visual identity here.
My take on the Clippers' new look can be found in this ESPN piece. Also, I'll be talking about the new Clippers unis and other uni-related matters on The Dan Patrick Show today at 9:45am Eastern.
Meanwhile, the 76ers will be unveiling their new uniforms this evening. I'll have an ESPN piece on that as well, probably around 8:30pm.
• • • • •

Click to enlarge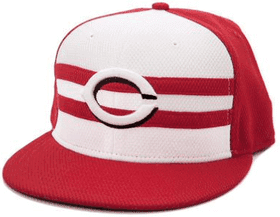 More on the MLB All-Star caps: In case you missed it yesterday afternoon, it turns out that the MLB All-Star Game cap design that first surfaced here on Uni Watch yesterday morning is indeed the real deal.
The full 30-team set is shown above. Sorry, that's the largest version of that image that I have at the moment, but close-up shots of some of the designs are emerging in dribs and drabs (including at least one from a retail setting, even though the caps supposedly aren't going to be available for sale until next Thursday). Yesterday we had the Blue Jays, and you can see the the Reds version at right, plus there are the ones shown below: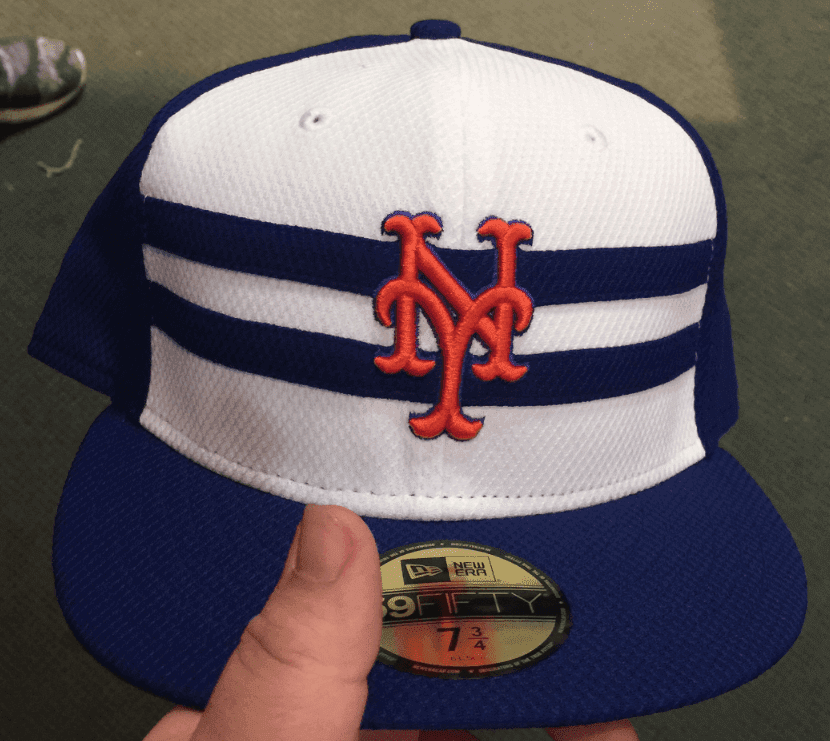 A few thoughts:
• The most important thing to remember about these caps is that there's no need for them to exist. The great thing about the MLB ASG is that the players wear their own uniforms, creating a crazy quilt that we don't normally get to see. It's sad to see the headwear aspect of that go by the boards (although at least they haven't come up with with separate ASG jerseys — yet).
• New Era's press release explains the design template like so:
Over a century ago, Cincinnati's Baseball Club, known as the Red Stockings, wore their first version of a pill box cap, which featured wide, horizontal stripes, commonly known as pleats, around the circumference of the caps. This design, which became the basis for the cap that Cincinnati Reds mascot Mr. Redlegs has worn since his inception in 1956, is featured prominently in the 2015 All-Star Game logo.
That's all very nice, but the stripes on these caps don't go "around the circumference of the caps" — they're only on the front of the crown. And Mr. Redlegs has never worn a cap with a contrasting front panel — he wears an old-school pillbox cap. In other words, the "story" doesn't even come close to matching the reality. They'd be better off saying, "We needed a new design to sell at retail, and this is it" instead of trying to force a square-peg design template into a round-hole rationalization.
• That said, I like the National League versions a lot more than the American League designs, because I think the front panel looks sooooo much better in white than in grey. At least a couple of the N.L. designs, including the ones for the Reds, Giants, and Cubs, are quite nice. Not that they should be worn in the All-Star Game — they shouldn't — but they wouldn't make bad fashion caps. (In fact, as reader Reader Jimmy Lonetti points out, something very similar to this template was the basis for a line of fashion caps back in the 1970s.)
• I still think the fake designs from last month are way better than what the real thing turned out to be.
• If you want to look ahead, the next three ASG hosts are the Padres, Marlins, and Nats. What will their cap motifs be? My choices: Every team in brown, every team in teal, and every team in powdered wigs. (Actually, since the Marlins and Nats have fairly short histories, I suspect those two games will feature designs that reflect the heritage of the host cities, not necessarily the host teams. As for the Padres, there's always the ugly possibility that they'd have everyone go G.I. Joke, but I'll worry about that next year.)
(My thanks to reader Steven Hom for the Mets cap photo.)
•  •  •  •  •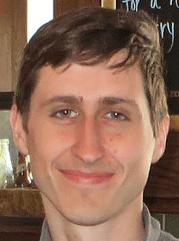 Mike's Question of the Week
By Mike Chamernik
I got a note the other day from reader Liam Fernald, as follows: "One of the great moments I love in sports is watching the Stanley Cup champs skate the cup around the ice. Maybe a good Question of the Week would be to ask about other people's favorite moments that happen each year in sports."
Good question! What are your favorite annual traditions and occurrences in sports? I get a kick out of "One Shining Moment" every year. I also like watching the Lions play on Thanksgiving.
As always, post your responses in today's comments.
•  •  •  •  •
The Ticker
By Mike Chamernik

Baseball News: The Rochester Red Wings and Syracuse Chiefs will wear USA hockey "Miracle on Ice" jerseys on Aug. 1. Next year, the teams should do a basketball throwback crossover and wear Rochester Royals and Syracuse Nationals get-ups (from Phil). … The Nationals are selling team caps that are rendered in the colors of local colleges. … Another day, another blowout, and another single-digit position player took the mound. That's Tampa Bay's Nick Franklin, who gave up a homer to Washington's Wilson Ramos two nights ago (from William Yurasko). … And of course last night, Indians position players Ryan Rayburn (No. 9) and David Murphy (No. 7) pitched the final inning of a 17-0 loss to the Cubs. Didn't get any photos, unfortunately. … My Little Pony has a MLB-themed line of toys that will be available at the San Diego Comic-Con (from Rob Siergiej). … Carew Tower in Cincinnati will have a old-timey baseball player projected onto it for two weeks in July in honor of the All-Star Game (from Patrick O'Neill). … SNY used the 2003 Blue Jays logo in a graphic during the Mets-Jays game yesterday (from Alex Spanko). … The White Sox wore their 1983 alternate throwbacks yesterday. Sox OF Avisail Garcia wore his regular batting helmet in his first at-bat, but from then on he wore the throwback helmet. "Not sure how this happens," says Brian Skokowski. "Why were there even any black ones in the dugout?" … Taj Tedrow asks if a catcher has ever worn gear that matched the uniform, as shown in this mock-up that he made. I'm almost certain we haven't, but it is an interesting concept. … Jeff Ash found a team photo of the Green Bay Fire Department baseball team, which he believes is from 1940. "¦ Worst baseball uni ever? R. Scott Rogers thinks this one is in the running.


NFL & College Football News: The Steelers will wear their 1934 bumblebee throwbacks in Week 8 (from Phil). … Redskins DL Ricky Jean Francois wore Iron Man tights on the first day of minicamp (from Tommy Turner). … Progress is being made on the Vikings new stadium. … OYO Sports' Giants figurines wear red jerseys, which they stopped wearing in 2012 (from Danilo Chaj). … Former Cowboys FB Moose Johnston said that the league was fine with him and his teammates use of silicone on their jerseys. … Looks like new uniforms for Colgate. "¦ Reprinted from last night's comments: Interesting captaincy "C" for Oklahoma Panhandle.

Hockey News: More photos of stick knob decals. Chuck Meisse sent in a shot of the Albany Devils' decals, and John Taylor has decals on his own sticks. "I haven't bought any sticks except Warrior brand for probably five years," he says. "They have always used end plugs like that: The green is the older style and the red is newer. The end plug actually helps balance out the stick so the blade isn't heavier then the rest of the stick." This isn't too surprising to me, because most aluminum baseball bats have a decal or logo on the knob. … I stopped into a Sports Authority in Chicago the other day. The store was selling mugs in NHL-branded packaging, only the mugs had Washington Redskins logos on them (instead of Blackhawks logos, I'm presuming). … The original Panthers gloves had claw designs on them (from Andrew on Twitter).

Soccer News: Costa Rica's Wendy Acosta wore a protective mask against South Korea in the Womens' World Cup yesterday (from Graham Clayton). … Within this story on the history of women in soccer is the line that women players on the Santos club in Brazil "have often had to wear men's team jerseys and have had to make do with leftovers and cold food at the club canteen because the two sexes cannot be in the same place at the same time" (from Phil). "¦ Here are Arsenal's letters and numerals for their non-Premier League games this year.

NBA News: Nike's Phil Knight said that LeBron James's run to the Finals was a "great story" (from Brinke). … The 1947 Philadelphia Warriors had some awesome jackets (from Jonathan Daniel). "¦ Here's a soda display based on the Warriors' "The City" logo (from Mikey Brethauer).

Grab Bag: A logo-clad North Central University team bus is up for bids on eBay (from Jared Peterson). … The design world learned a few things from the Gap and Airbnb logo change flops. And, Helvetica is just one of the most overrated ideas in the industry (both from Brinke). … Here's a 1971 photo album of cyclist Eddy Merckx (from Sean Clancy). … Yale Club members are upset over the decline in dressing standards within the Manhattan-based Ivy League club.