Click to enlarge
Thanks to a source who prefers to remain anonymous, I recently got my hands on the Super Bowl 50 Style Guide, which stipulates how the Super Bowl logos and such are to be used. There's nothing earth-shattering here — no leaks of particularly sensitive information, no big scoops — but style guides are always interesting, and the guide for what should be the biggest Stupor Bowl ever is worth a closer look, if only to see how the NFL is treating the milestone edition of its marquee event.
The cover is shown above, and here's the introduction (for everything in today's entry, you can click to enlarge):
The guide is 117 pages long. Some of those pages are definitely more interesting than others, so I won't bore you with a complete rundown. But here are some highlights broken down by section:
1. Logos. As you might imagine, there are many variations and treatments of the basic Super Bowl 50 logo. Here are some of them (note the typos in the headlines of the third and fourth pages below — "Pritning" instead of "Printing"!):
————————————
2. Acceptable and unacceptable logo use. The guide shows some examples of proper and improper deployment of the logo. Some of the improper examples are so ridiculous, it's hard to imagine that anyone would ever think to try them, but I guess you never know. Take a look:
————————————
3. Photos with the Super Bowl football. The style guide offers a bunch of photos (or "assets," as the jargon goes) for designers to use. Most of these photos include the Super Bowl 50 football in the foreground — I guess that ball really gets around. Expect to see lots of these photos being used this winter:
————————————
4. Colors. As with any style guide, there are specific color specs and guidelines. In this case, the NFL is paying particular attention to the right shade of Super Bowl 50 gold:
————————————
5. Typography. The game has its own typefaces, called Endzone Sans and Endzone Tech. There are also gradients and other custom type treatments:
————————————
6. Line patterns. There's a whole suite of graphics that use parallel lines (primarily to form the number 50, but also for other applications). These are called "field lines" and are presumably meant to evoke yard lines on a gridiron, but they don't work very well — at least not for me — because the lines are too close together. There's page after page of this stuff in the guide, but I'll just show you a few examples:
————————————
7. Merchandise applications. There are several pages' worth of merchandise examples. It's not clear whether these are just mock-ups to show possibilities or if they're some of the actual products that will be sold this winter. Either way, most of them look terrible:
————————————
There's more, but that's plenty for today. Hope you enjoyed this sneak peek at a document most of us never get to see.
•  •  •  •  •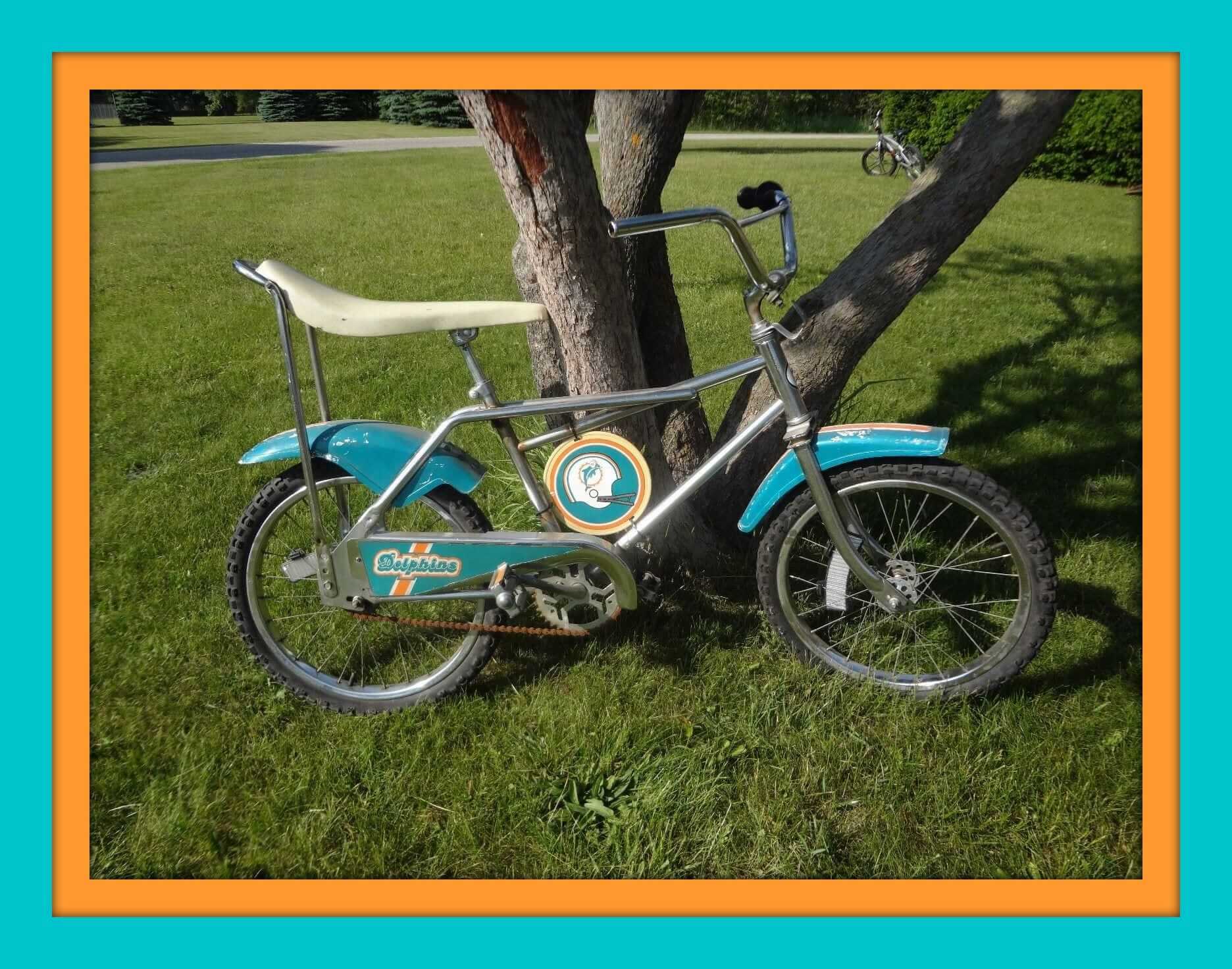 Click to enlarge
Collector's Corner
By Brinke Guthrie
This 1970s/1980s Miami Dolphins bike from Sears needs a little TLC, but it shouldn't be too hard to get this one back into perfect shape. Without a doubt, you'll have the only one on the block!
Now on to the rest of this week's picks:
• The Bird is the word with this 1970s Mark Fidrych T-shirt.
• Here we have a nice-looking Expos gear bag, with a huge "Sergaz" logo on the end. Research shows that's a gas station chain.
• Catch the wave with this 1980s Coca-Cola promo Mets T-shirt.
• This 1970s Portland Trail Blazers basketball bank looks to be in excellent shape. The underside says WDW, the maker of all those 1970s NFL helmet banks. First basketball version I've ever seen.
• Staying in Rip City for a moment, check out these 1970s/1980s Champion brand Blazers shorts.
• The listing says 1960s-1970s-1980s for this Pirates bobblehead– called LOGO MAN. Sure doesn't resemble Roberto Clemente, though.
This 1967 NFL Western Conference Autograph Book (Colts edition) originally cost all of 50 ¢. A bit pricier now. (And why were the Colts in the West?)
• Here's a 1970s promo puck for the short-lived NHL Cleveland Barons, sponsored by WJW Radio850
• I like this 1970s/1980s NY Giants helmet patch for the obvious reason: red facemask!
• If I didn't know better, I'd swear a local sporting goods store whipped up these Vikings T-shirts. "Kokesh Athletic" appears to be out of business, but used to operate right in the Vikes' home base of Eden Prairie.
• Big lot of Cincinnati Bengals stickers and whatnot to be found here. The seller also has the same type assortment for the Niners.
• Interesting look to these late 1970s NFL bed sheets. None of those fonts are what the teams used in their design. A few are close, but none quite matches.
Follow Brinke on Twitter: @brinkeguthrie
• • • • •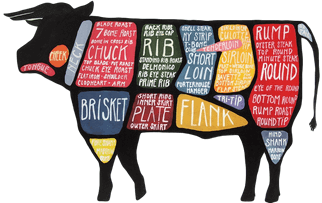 Boston Beefsteak reminder: For you carnivorous folks in Beantown, the Brooklyn Beefsteak is coming to Boston this Saturday, June 20, with two seatings "" 1pm and 5pm "" at the Cambridge Masonic Hall in Porter Square. Further info and tickets are available here.
• • • • •
The Ticker
By Mike Chamernik

Baseball News: A few readers sent this in: Several players in addition to Juan Lagares (as chronicled yesterday) wear wristbands with their cartoon likeness on them. … Some minor league team out there is wearing the MLB logo as its helmet logo. Anyone know what team that is? (From Phil). … The Staten Island Yankees will wear Game of Thrones jerseys for George R.R. Martin Night (from Phil). … "I was watching the broadcast yesterday of the rain delay of the Cardinals and Royals when Ricky Horton brought up a trade that sent Pat Perry from the Cardinals to the Reds in exchange for Scott Terry," says Brian Zilm of the 1987 swap. "The interesting part is that, one, the Cardinals assigned Terry the same number as Perry (No. 37) and two, they had him wear the same game-worn jersey as Perry but just replaced the "P" with a "T". The two were the same size." … The Rockies are holding a University of Nebraska Night, which includes giving away Rockies hats in Cornhusker colors (from Scott Sertich). … Vanderbilt changed unis for the continuation of its suspended College World Series game. … "During the Mets-Blue Jays game, in the top of the third inning, Keith Hernandez criticized Josh Donaldson for wearing blue and green cleats," says Steven Horn. "He said that players should only wear equipment that matches team colors. He said Donaldson looked like 'a member of the Wolverines and not the Blue Jays.' Keith is definitely a Uni Watcher." … If you watch MLB TV, then you've seen the 5-Hour Energy ads with Marlins' logo-free Jose Fernandez. … Phillies C Carlos Ruiz normally wears a backwards helmet while catching, but he apparently had the bill facing forward on Sunday (from Jason Levine). … A hit-by-pitch in the Virginia-Florida game last night caused the Virginia catcher's cheat sheet to fly out of his wristband (from John Furstenthal). "¦ Batman-themed jerseys upcoming on June 27 for the Indianapolis Indians (from Mark Grainda). "¦ A popular T-shirt at the College World Series features a 1970s-style White Sox motif. "¦ White Sox C Tyler Flowers's jersey and pants were two different shades of grey last night (from @bs_brewer).


NFL and College Football News: Here's a 360-degree view of the Patriots' Super Bowl ring (from Kary Klismet). … Also, here's a history of Super Bowl rings (from Brinke). … A couple of people snuck around the nearly-demolished Candlestick Park. … Patriots RB Brandon Bolden has an odd-looking facemask (from Tyler Mason). … Rams LB James Laurinaitis had a different helmet on in practice. "Looks like a Riddell but the impact plate is unique and helmet clips aren't oversized like usual Riddell helmets," says Rocky De La Rosa. "New Schutt? Different brand getting in on impact plates?" … Here's a rundown of the players who have worn No. 90 for the Cardinals (from Phil). … U.S. Bank will have the naming rights for the Vikings' new stadium (from Braden Claassen). … And, the lettering for the Vikings' new stadium has been made (from Mike Menner). … Calvin Johnson (and the rest of the Lions, presumably) took their video headshots while wearing a numberless jersey (from Dave Doop). "¦ Here's a Madden screen shot showing the gold-themed field elements for the coming season. "¦ Here's an article on Syracuse's pre-Nike football uniforms.

Hockey News: Here are six jerseys that will be may be discontinued next season (from Moe Khan). … B. David Zarley wrote a nice piece for Vice on where those giant Blackhawks hockey helmets and jerseys in Chicago come from. … Here's an article on the gear that Stanley Cup winners receive (from Mike in Toronto). … The Stanley Cup went through airport security on its trip from Toronto to Chicago. … Here's what the NHL Draft caps look like (from Jerry Lawless). … Yesterday we found a Caps player with an odd helmet and mask. The helmet wearer is someone in the background of a 1970s hockey card of Ace Bailey, No. 9 in the foreground. Dave Holland, though, found a photo of Bailey himself wearing the helmet and mask. "¦ We've seen bat knob decals in baseball. Is hockey now getting into stick knob decals? (From Chris Fraterrigo and Kevin Murphy.)

Soccer News: ESPN used a University of Georgia logo in place of the flag of Georgia, the Eurasian country (from Ben Fortney). … Real Madrid's new shade of gray, called Silver Glory, has been revealed, as has their new typeface (from Phil). … Also, Real Madrid creatively showed their new white kit in a photo collage on Instagram (from Griffin Smith).

NBA News: Here's a look at what the Hawks new wordmarks might look like (from Phil). … The Hornets will unveil an alternate uniform on June 25. … Phil's latest Sporting News article looks at 10 teams that need a Nike makeover. … In 1959, a benefit game was held in Monticello, N.Y. for Maurice Stokes, the Cincinnati Royals player who suffered a severe brain injury during a game. A clip of the game exists online, and it appears the backboards have something written on them. Can anyone tell what it is? Graham Clayton thinks it could be a team nickname; my guess is a local department store. … Last week we linked to a post about 1970s NFL-themed after-shave decanters. Now the same website has done a feature on the NBA versions of that same product line.

Grab Bag: Rory McIlroy and Tiger Woods have their outfits picked out for the U.S. Open (from Phil). … Under Armour is making its move in the golf world (from Phil). … A couple of notes from the NHRA events this weekend, from David Firestone: First, an ESPN or NHRA monitor had a Raiders logo on it, and second, since the event took place in New England, the Colonial Color Guard dressed in vintage attire for the Army's 240th birthday. … GOP staffers who attended a Hillary Clinton speech in New York were forced to turn their "Stop Hillary" shirts inside-out (from Brinke). "¦ A cricket player in India has been fined for having too many logos on his bat. "¦ Spotify has tweaked the shade of green on its iOS logo, much to the consternation of many Twitterers. "¦ Motorola is marking the 60th anniversary of its logo with a logo design contest.