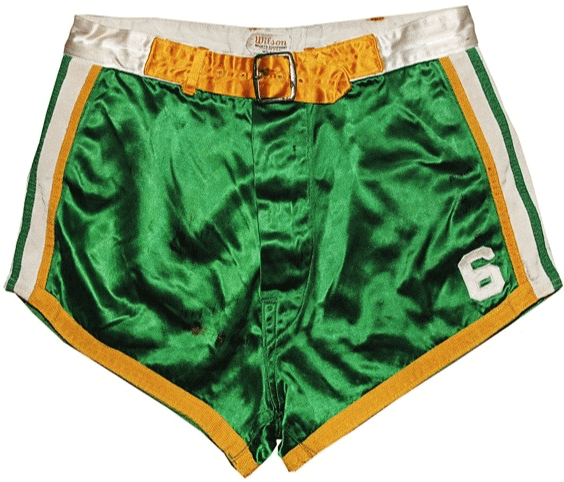 As you may have noticed in the left sidebar, our friends at Grey Flannel Auctions are running another catalog auction. This one has an emphasis on basketball items. Here are some of the most interesting items:
• We've all seen sideline capes on the football field. Until now, though, I'd never seen a basketball warm-up cape.
• Oscar Robertson was nicknamed "the Big O," and he lived up to that name with the nickNOB on this warm-up top.
• We're all used to seeing the 76ers stylized 1970s lettering running horizontally across the chest of a jersey. But I didn't realize they also used the exact same lettering in a vertical format for their warm-ups. Doesn't look so good that way, eh?
• Speaking of unusual lettering orientations, check out the script on this old Dallas Chaparrals jersey. Wouldn't it have been better if the script and numerals were smaller, allowing the script to sit more horizontally?
• Oh baby, how gorgeous are these old San Francisco Dons satin shorts, once worn by Bill Russell? In Uni Watch colors, too! Super-tasty.
• Check out the Hall of Fame blazers — one from the Clemson HoF and one from the South Carolina HoF — that are part of this batch of items from Larry Nance.
• Love this Denver Central Bankers warm-up top, especially the target logo on the front.
• Whoa, look at the crazy stars/stripes warm-ups worn by the Utah Stars for a 1972 promotional tour of Europe.
• This is awesome: In the 1940s, Frank Sinatra personally sponsored a softball team called the Swooners. But that chest lettering sits a bit high, no? Should've gone with the pro-style button placement, which would have allowed for a lower positioning on the insignia.
• Don't think I've ever seen such a primitive-looking version of the Tigers' old English "D" as the one on this 1954 Al Kaline batting helmet. Love the little stenciled "6" on the brim, too.
• Always fun to see one of the Phillies' burgundy Saturday Night Special uniforms.
Want to see more? You can browse through the entire auction catalog here.
• • • • •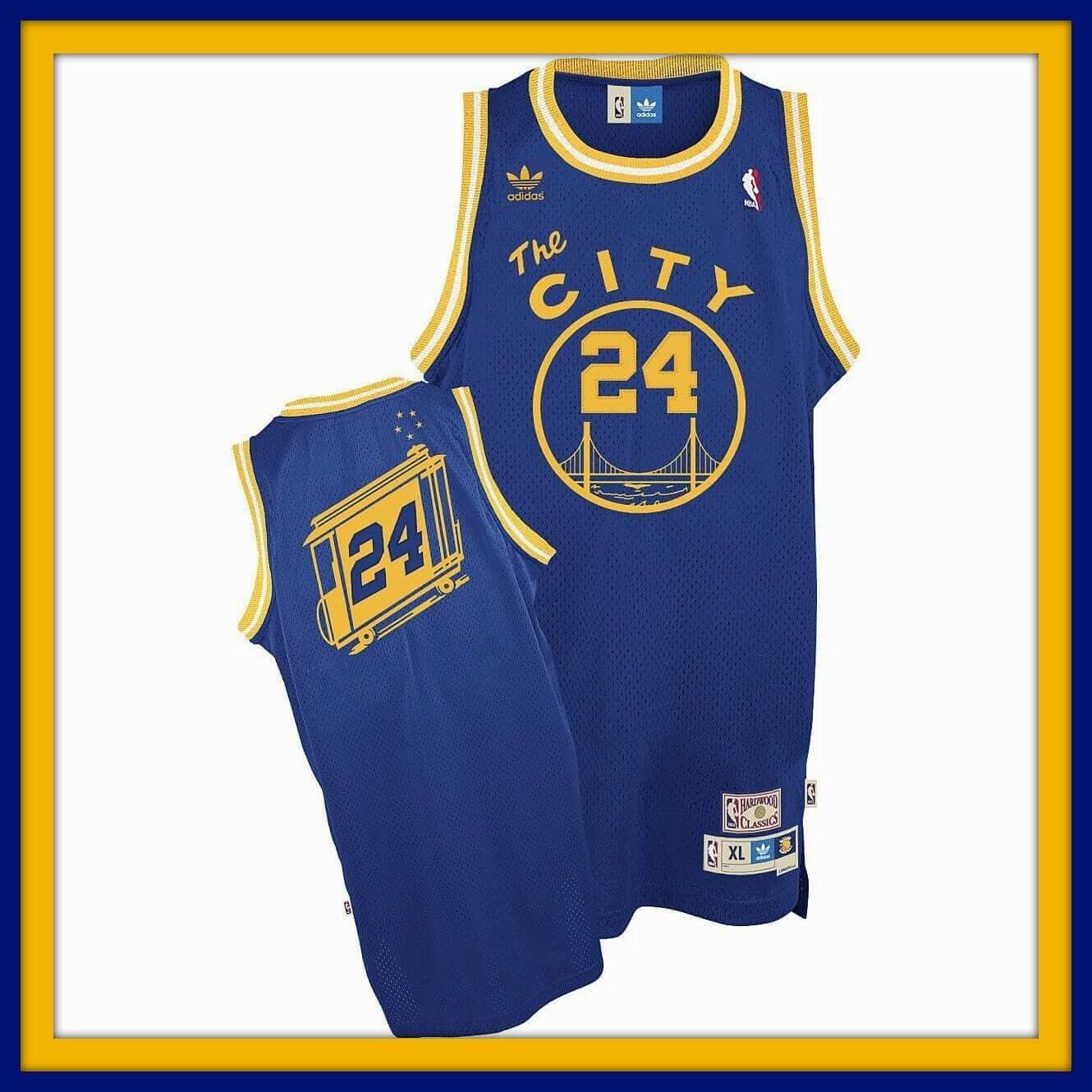 Click to enlarge
Collector's Corner
By Brinke Guthrie
If the NBA Finals are making you a bit nostalgic, here's a Warriors "The City" throwback for you. Will they go back to this if/when they move back to San Francisco? (I'll believe it when I see it built, and not until then.)
Incidentally, I never knew that was a cable car on the back until the last few years. I thought it was — wait for it — a car battery. Why, I do not know.
Okay, while you process that nugget of admittedly shameful info, here are the rest of this week's picks:
• Check out this sign for the 1960s Bart Starr "Jog-Shu" and the best-selling "Mr. Quarterback" shoes.
• Helmet logo looks a bit small on this 1970s KC Chiefs "Button Up Back Pack Nap Sack." Speaking of the Chiefs, what's that creature on this decal — a bunny? [Also: Backwards apostrophe. Sigh. "" PL]
• Classic throwback look to this vintage Dallas Cowboys Starter jacket. Had one of these, a present from Jim Fox, my boss at Q102 in Cincinnati. To this day, he swears the station van and staff jackets just happened to be Cowboys colors, even though Dallas was his favorite team.
• Here's a 1970s Cincinnati Reds gear bag that was property of Reds great Ted Kluszewski.
• Pete Rose used to love him some Gold Star Chili, and used this glass. (Now me, I was a Skyline guy.)
• Someone put their cherished Chiquita NFL stickers on this 1971 NFL poster. Contrary to what the seller says, this wasn't a Chiquita display piece.
• Staying with Chiquita, here's one of those NFL 50th-anniversary pocket radios. Looks to be in excellent shape, but the seller says it will only get one local station. Well, if it gets one, it should get the others. Must live in the boondocks.
• Now, with this 1940s baseball "tube radio," we know it doesn't work. Great design, though.
• Who knew there was an Upper Deck "Mini Jersey" set back in 2005? Okay, maybe you did, but I didn't!
• Bottoms up with this set of 1970s Minnesota North Stars stadium beer cups.
• Nice-looking 1970s L.A. Rams helmet plaque. Prefer the classic white and navy? Sure thing.
• Jose Canseco on the front of this 1980s Starline satin jacket? Uh, no.
Follow Brinke on Twitter: @brinkeguthrie
• • • • •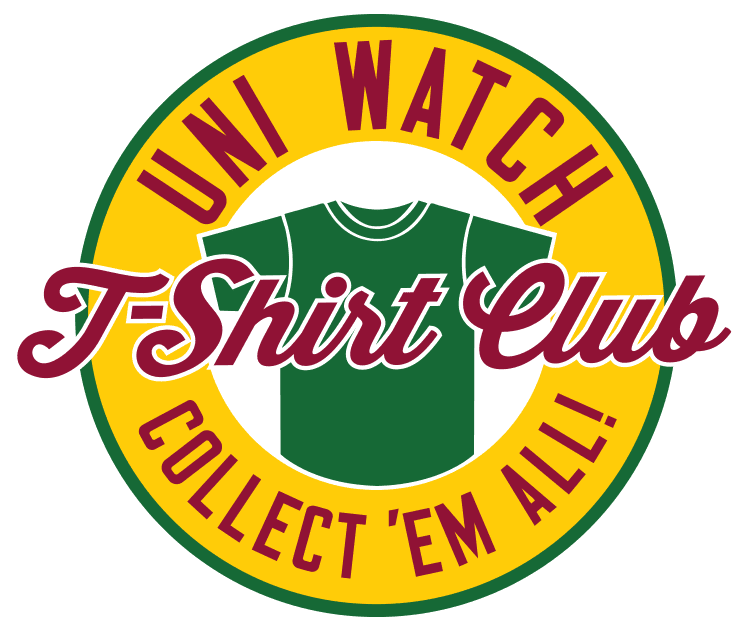 IMPORTANT "" T-Shirt Club query: We've now completed seven of our 12 monthly campaigns for the Uni Watch T-Shirt Club, so I think this is a good time to check in and see how many of you have kept up with the "Collect 'em all" thing. Getting a sense of how many people are eligible for the year-end prize will help me determine what that prize will be.
So: If you've purchased a shirt from all seven months so far, please use this link to shoot me a note. Thanks.
When we finish the December campaign, I will ask the "Collect 'em all"-ers to prove their eligibility by either (a) providing a photo of themselves with all 12 shirts or (b) providing all 12 Teespring confirmation emails (the ones that say, "Congrats on your purchase!," etc.). But you don't have to do any of that now. Today I'm just taking a show of hands to get a rough idea of where we stand. Thanks for your help.
Meanwhile, thanks to everyone who got on board for the July shirts. Despite all the "Pandering" brouhaha, the Independence Day shirt was pretty popular, and the Canada Day design did waaaaay better than we expected — a nice surprise.
•  •  •  •  •
The Ticker
By Mike Chamernik

Baseball News: Kohl's ad for Father's Day is a homage to the MLB logo (from Chris Koury). … San Diego State will give away caps with the Aztec Calendar on the brim (from Brady Phelps). … The Cubs have this uni style guide in their clubhouse. "There are three conditions which apply to 'Memorial Alterations,'" says Mike Styczen. "Those three conditions are listed as (1), (B) and (C). A pretty amusing error for what is otherwise a pretty professional sign." … The Royals will wear 1985 powder blues in St. Louis on Sunday (from Leigh Bellinger). … Inside this piece on over-the-top ballpark food items, it's shown that the Yankees stamp their cap logo into their chicken and waffle sandwiches. … A Redditor created retro Cubs trading cards for current players. … As you've surely heard, the A's now have an ambidextrous pitcher, but at least one newspaper doesn't know the difference between ambidextrous and amphibious (from Phil). … The Oakridge Reds, a 21-and-over baseball team in London, Ontario, has some excellent V-neck pullovers with some decent stirrups, too (from Kevin Dugal). … Here's a good shot of Dave Parker in a flocked helmet (from Rick Porter). "¦ Here's a uniform manufacturer's catalog of themed jersey options. The worst of them are on page 4 (from Rick Cuzzetto).

NFL News: A new HBO show will use NFL team names and logos, legally, without the league's consent. … A Falcons blog is exploring every uniform number ever worn in the team's history. … Peyton Manning is trying out the Speed-Flex helmet. … Also in helmet news, Tim Tebow isn't wearing his usual Riddell Revolution or Revolution Speed, and Nick Foles has a new facemask (from Mike Trautman). … A new Broncos activity book shows their mascot, Miles, without a torso and with arms coming out of the helmet's earholes (from Michael Starbuck). … NFL rookies participated in a photo shoot with NFLPA uniforms, along with the helmets of a few trading card companies (from Eric Wright). … Joe Montana said that the 49ers offensive linemen used to spray silicone on their jerseys, until the refs caught on.

Hockey News: If the video doesn't give you a seizure first, you can see a Stanley Cup being 3D-printed (from Brinke). … A Canadiens fan is now rooting for the Blackhawks, according to this jersey (from Phil). … Steve Johnston attended a White Sox game and saw that the statues were wearing Blackhawks jerseys. … Also, Michael Jordan's statue outside the United Center wore a Jonathan Toews jersey (from Phil). … Jennifer Hayden spotted someone at last night's Blackhawks/Lightning game wearing the oddest Hawks jersey I've seen: BFBS, mirrored nameplate and an upside down T.

Soccer News: Nike is selling men's versions of the USWNT jersey (from Phil). … New jerseys for Hertha BSC (from Ed Å»elaski). … Luis Suarez wore makeshift stirrups in the Champions League Final. … Mikey Traynor counted down the best uniforms at Copa America 2015. … Barcelona's Gerard Pique cut down the goal net to celebrate his team's Champions League Final victory. He started the tradition in 2011 (from Yusuke Toyoda). "¦ C. Peterson says the Nigerian women's team is wearing $30 off-the-rack kits. "¦ USA U-20 goalie Zack Steffen is wearing Under Armour gloves with his Nike uniform.

Basketball News: The Sixers again teased their new uniforms. They will finally reveal them on June 18. … Here's what it might look like if some major fashion brands redesigned NBA jerseys (from Phil). … A few weeks ago I joked that some teams should adopt blue collars, just to drive home how hard-working and serious they are. Well, the Bucks have done just that. … Here's a good piece on the NBA Finals' game balls. … Muslim girls in Minneapolis received form-fitting hijabs so they could play basketball (from Phil).

Grab Bag: New logo for The Late Show (from Brinke). … A group of students at Circleville (Ohio) High School entered a hand-painted shoes contest and are in the running for a $50,000 prize (from Jason Hillyer). … Dean Gemmell sends along some photos of a family curling team from Fort Frances, Ont., playing in the opening spiel at the Raleigh-Durham club. "They said the service station was their father's and their mother knitted the sweaters herself," he says. "The crest is my favorite part. We also talked about how clubs in Canada used to have a color for club sweaters and every team from that club would wear those colors. Different era." … Jaime Galindo found a patriotic soda display at a Walmart in Cedar Park, Texas. … NASCAR created a few pit road uniform changes, and David Firestone broke it down. … A Dallas-area high school mountain bike team is crowdfunding its new bicycle chain-inspired jerseys (from Sean Smith). … Pro golfer Mark Calcavecchia's pants and belt were bacon-patterned the other day (from Phil). … New rule for Chicago police officers: No baseball caps. … The letter "M" is featured in many different iterations in lots of transit logos (from Louie Sherwood). "¦ Here's an article on the jacket worn by cyclist Bradley Wiggins after he broke the hour record (from John Kim).