[Editor's Note: With the Stanley Cup Finals set to begin tomorrow, Mike Chamernik is back with the final installment of his pro team fight song round-ups "" the NHL edition. Enjoy. "" PL]
By Mike Chamernik
Anaheim Ducks – "Rock the Pond"
Written by rock vocalist John Bisaha, "Rock the Pond" was was played before Mighty Ducks of Anaheim home game at Arrowhead Pond, starting in the team's inaugural season.
Fun fact: "'Rock the Pond' was accompanied with an early '90s CGI animation of the Ducks logo and mascot flying over a map of the United States destroying all the other NHL logos before landing at the Arrowhead Pond of Anaheim," explains Charles Eldridge. "The song was later used over the end credits of the Disney movie "D2: The Mighty Ducks" in March of 1994 where they changed the lyrics from "The Mighty Ducks of Anaheim" to "The Mighty Ducks of America" to better fit the storyline of the film."
Buffalo Sabres – "Sabre Dance"
Of all the songs I've unearthed, "Sabre Dance" is the one I'm most confident that you've heard before. It was made by Soviet composer Aram Khachaturian for his ballet Gayane in 1942. Fittingly, the Sabres have used it as the team's official song since its inception in 1970.
Fun fact: The song was a hit in jukeboxes in the 1940s, has appeared in dozens of films, movies and commercials and is even popular music for figure skaters. It's perhaps the catchiest tune of the 20th century.
Calgary Flames – "Red Hot"
Made after the 1987 season, several Flames players, including Lanny McDonald, Brett Hull and Al MacInnis, made cameos in the video for "Red Hot." They pretended playing instruments and they lip-synced the pseudo-motivational lyrics like "You can hear the voices calling/ If the time is right for you/ You can give the second effort/ You can do what you wanna do!"
Fun fact: According to Wikipedia, the song was released on VHS in the late 1980s then largely forgotten about until 2005, when it appeared on the internet. Isn't that just the worst? It was released long ago to a limited audience in Calgary, people found it silly and embarrassing, it went away… and now it's doubly funnier than it was in the first place, and people all over the world have seen it.
Carolina Hurricanes – "Hurricane Warning"
Unlike the jingles, discos, marching band anthems and quickie rap songs of days past, Airiel Down's "Hurricane Warning" is a real song with a real music video. The band is an indie rock group from Raleigh, North Carolina, and the song is played at every Hurricanes home game.
Fun fact: Parts of the music video were filmed at the Hurricanes' PNC Arena.
Chicago Blackhawks – "Here Come The Hawks"
Written by J. Swayzee and produced by the Dick Marx Orchestra and Choir in 1968, "Here Come The Hawks" is yet another classic fight jingle, with lyrics like "Here they come movin', weavin', flyin' high and throwin' spray / Blades flashin' sticks crashin' tryin' for the play."
Fun fact: The original song sounds great, but it's just as good when played on the organ or rendered in a video game.
Colorado Avalanche – "Avalanche"
"Avalanche" was created in 1997 by an indie rock band named the Zambonis. The group, as you may have guessed, primarily makes songs about hockey. The Zambonis summed up the mid-1990s Nordiques-to-Avalance saga in a nutshell in the first verse. Included is the charming lyric, "Jumped in the van and headed West/ Denver, Colorado hadn't seen hockey since '70-something as the Colorado Rockies."
Fun fact: According to the band's website, the Zamboni Company gave them a cease and desist about the name before working out an agreement. Maybe I'm simple-minded, but isn't the name just free advertising for Zamboni? It's definitely a good part of being a genericized trademark.
Dallas Stars – "Puck Off"
It's funny how these song genres are breaking down by sport. Baseball has folksy rock. Football has marching band music. Basketball, as you will see, has rap. Hockey has metal, and the "Puck Off," made by Pantera, is a great example. The heavy rock song is played after every Stars goal.
Fun fact: Pantera had pretty strong ties to the Stars during the team's 1999 title season. Some players were even late to the victory parade after spending four straight days with the band, proving that adding hockey players and rockers equals a good time.
Detroit Red Wings – "Hockeytown"
The song, sung by Rainbow's Joe Lynn Turner, was released on a Red Wings playoff CD in 1997. According to a poster on this message board, fans were able to get the CD at Little Caesar's, which would make sense because Mike Ilitch owns both enterprises.
Fun fact: "Hockeytown" is played after goals at the Joe Louis Arena.
Hartford Whalers – "Brass Bonanza"
This is a really strong instrumental song on its own but it's kicked up a level considering how synonymous it is with the Whalers and what it means to the fans of the now bygone team.
Fun fact: Aspiring musician Jack Say wrote the song in the mid-1970s and sold it to a record library before moving to Austria. The Whalers found the song by happenstance, and it became a hit. What became of Say? A Hartford reporter got in touch with him in 2010.
Los Angeles Kings – "We Are Los Angeles"
The LA band Goon Squad made this anthem in 2013. The song's sound is not an accident, as it was inspired by European soccer fans' chants and songs.
Notable lyric: "We fight!/ Fight fight fight!/ Majestic and strong/ We'll never go down/ We'll die with our blood on the ice!" I certainly hope it doesn't come down to that. Come on guys, it's just a game.
Minnesota Wild – "Minnesota Wild Anthem"
The anthem was created for the team before its inaugural 2000-01 season.
Notable lyric: Hearing lyrics like "A big blue line runs around our state/ A line that can't be crossed/ The day they try to take this game/ Is the day the gloves come off" and considering how important hockey is to Minnesota, it's confusing to me why the North Stars even left in the first place.
Montreal Canadiens – "MTL Stand Up"
I'm not the biggest hockey guy (I once called the crease the "goalie box" a few years ago) but I do know that the Habs are the most accomplished hockey franchise. So, it's weird for me to associate a rap song with them. "MTL Stand Up" was made by Montreal musician Annakin Slayd before the 2011 playoffs. Dude seems to be Montreal through and through.
Notable lyric: Towards the end, Slayd says "This one's for the greatest fans in hockey/ Just wanted to remind the haters/ '77, '78, '79, '02, '04, '08/ Those numbers mean anything to you Boston?" Not only did the Bruins defeat the Habs 4-3 in the first round that year, they went on to win the Stanley Cup.
New Jersey Devils – "Devils Rule"
I really debated with myself whether this lyric-light, 30 second track should make the team song cut, but I went rogue and included it. The shot of Devils fans cheering in front of a gray background reminded me of Kramers' auditions in Seinfeld.
Fun fact: "Devils Rule" is played after goals and was made by local Jersey musician Rich Andruska before this season. A Devils' blog took an in-depth look at the song and why it works.
New York Rangers – "Rangers Victory Song"
"Rangers Victory Song" goes all the way back to 1940, right after the Rangers won the Cup. The tune definitely sounds like it's from the 1940s, because it sounds like a militaristic marching song. The song was also sung by national anthem singer John Amirante in 1992.
Notable lyric: "Just keep your stick on that puck/ And don't lay down on your luck/ That's the Rangers' Victory Song!" I like that the lyrics even references the fact that it's a song. Very meta.
St. Louis Blues – "St. Louis Blues"
Instead of a song based on a team, the Blues were essentially named after a song. W.C. Handy, known as the Father of Blues, composed the song in 1914, and the hockey team plays Glenn Miller's version on the organ before games.
Fun fact: In addition to Handy and Miller, Louis Armstrong, the Dave Brubeck Quartet, Bessie Smith, Duke Ellington and Bing Crosby, Bennie Goodman, Ella Fitzgerald and Chuck Berry have also performed the song.
Toronto Maple Leafs – "Free To Be (Go Leafs Go)"
Alan Frew, the lead singer of the Ontario rock band Glass Tiger, made this song in the late 2000s. Frew sings about his home nation in the song, but the last verse is "Where the memories go on and on and on/ Oh! Oh! Oh! This is Canada's song (Go Leafs Go)/ Oh! Oh! Oh! Where my heart belongs (Go Leafs Go)." Canada and the Maple Leafs are synonymous in some circles.
Fun fact: A few years ago the Leafs went on a losing streak when the song was played before home games. Those poor Leafs, they can never catch a break.
• • • • •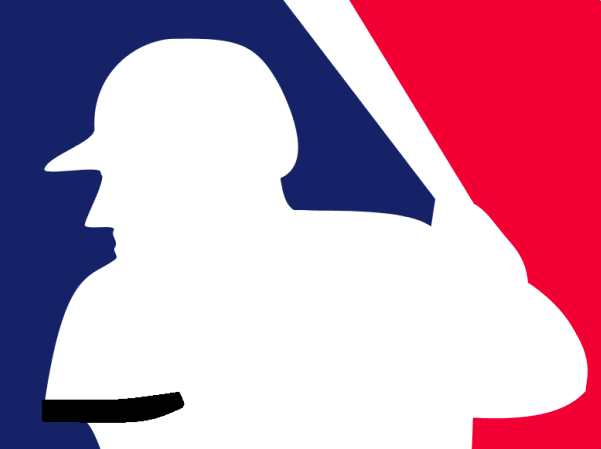 More on Dior: Paul here. As I'm sure most of you know by now, news began circulating on Friday night that MLB logo designer Jerry Dior had passed away. As soon as I heard, I whipped up a little testimonial that became our lede entry for Saturday.
But I wrote that piece in a hurry, fairly late at night, at the end of a long day. In the several days since then, I've had more time to think about Jerry and his legacy, and I've also been interviewed by several other media outlets that have been covering his` passing. (If you're curious, I'm quoted in this Washington Post obituary and this segment from yesterday's edition of NPR's All Things Considered.) I've also had the opportunity to speak with Jerry's widow, Lita Dior, and express my condolences to her. In the course of those interviews and discussions, I realized that I omitted a really important point in Saturday's entry.
And it's this: While I'm glad Jerry was finally recognized as the MLB logo's designer while he was still alive to enjoy that recognition, it's insane that he had to wait four decades for that to happen, and that the logo was unattributed for all of that time. If we care about design as much as we say we do, we need to start pushing for designers to be credited by name and stop having their work attributed their work to institutions ("Nike designed this uniform" or "The Hawks came out with a new logo"). There are human beings behind every single design we see around the uni-verse, and we should know who those people are — not just because that would be the right thing to do, but also because we'd get to learn more about how the designs were created.
Remember my recent ESPN feature about the guys who redesigned the Milwaukee Bucks? We need more situations like that, where the designers are clearly identified and allowed to discuss their creative process. If Jerry's death brings renewed attention to his quest for long-overdue recognition for his work, and if that helps other designers gain more recognition for theirs, that would be a nice addition to his already robust legacy.
• • • • •
Even worse than we thought: A few weeks ago I broke the story of this year's MLB Independence Day caps, which look more like trucker hats. Unfortunately, the Dodgers design shown at the top of that entry was the only example we had — until now. Reader Kyle Arnott spotted the Indians' version at a Lids shop in Ohio, and it's brutal: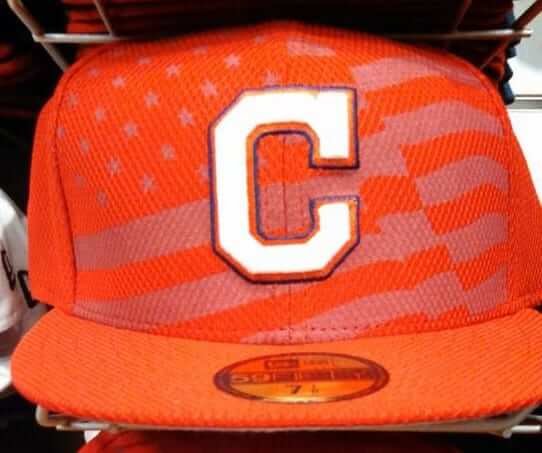 I have nothing to add here — this thing pretty well speaks for itself.
• • • • •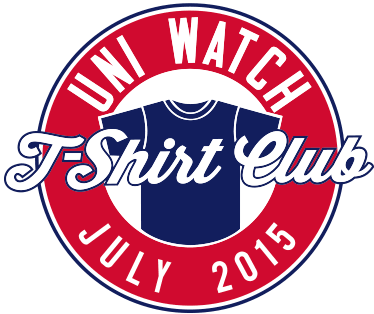 July T-Shirt Club designs NOW AVAILABLE: We're doing an early launch the Uni Watch T-Shirt Club's July designs, because the shirts are tied to a pair of early-July holidays and we want to make sure they ship and deliver on time.
I previewed the two shirts here on the site last week, but here they are again — one for Independence Day and one for Canada Day (click to enlarge):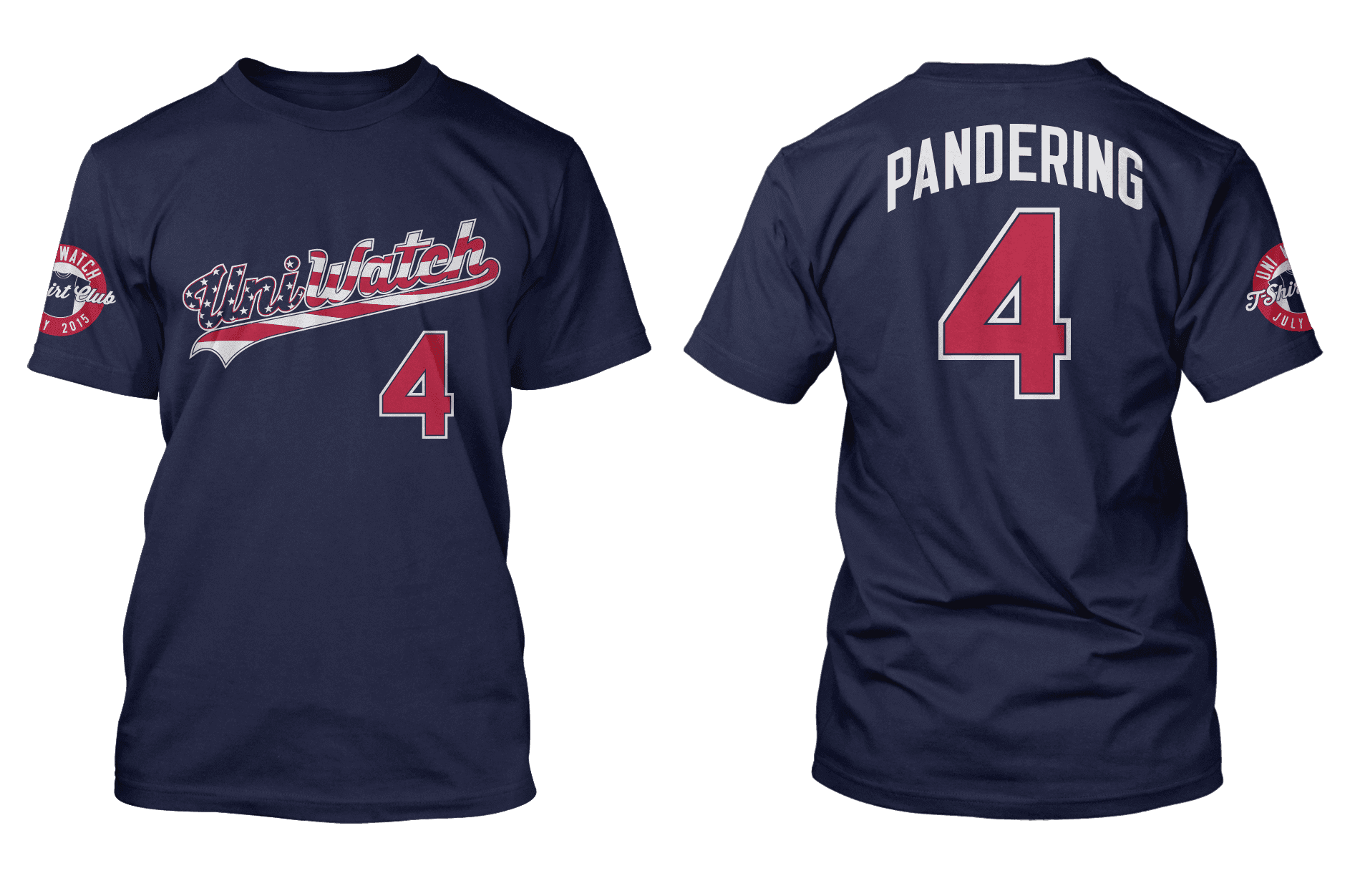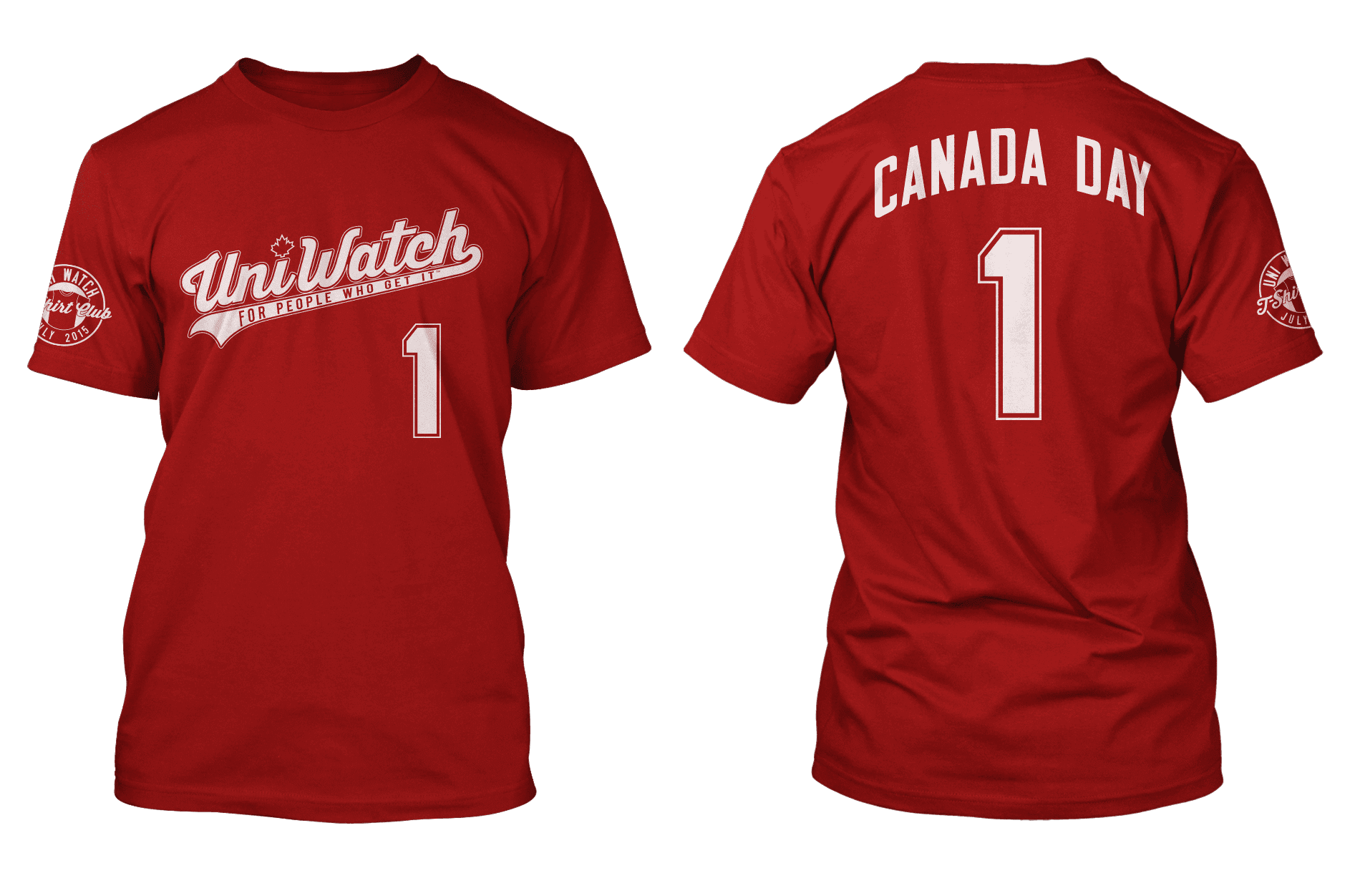 Notes:
• Here are the links to order the Independence Day and Canada Day shirts.
• In case you missed it last Friday, the "Pandering" NOB is unpopular with some readers. I understand their concerns, but the design will not be changing. Instead of repeating that same debate all over again, I've created a FAQ-style page that addresses the most frequently expressed objections.
• If you're doing the "Collect 'em all" thing, you only need to purchase one of these two shirts to maintain your eligibility (although you're welcome to order both, of course). Once we finish the July campaigns, I plan to get a tally of how many "Collect 'em all"-ers we have, at which point I'll begin making more serious plans for the year-end prize.
• Unfortunately, if you buy both shirts (or any two shirts from two separate Teespring campaigns), you do not get a discount on the shipping, because the campaigns will print and ship separately. Yes, I realize that's ridiculous — it's just the way Teespring works. They tell me they're working on it, so here's hoping they get it resolved soon, but of course that doesn't help us for these two shirts. I'm sorry.
• • • • •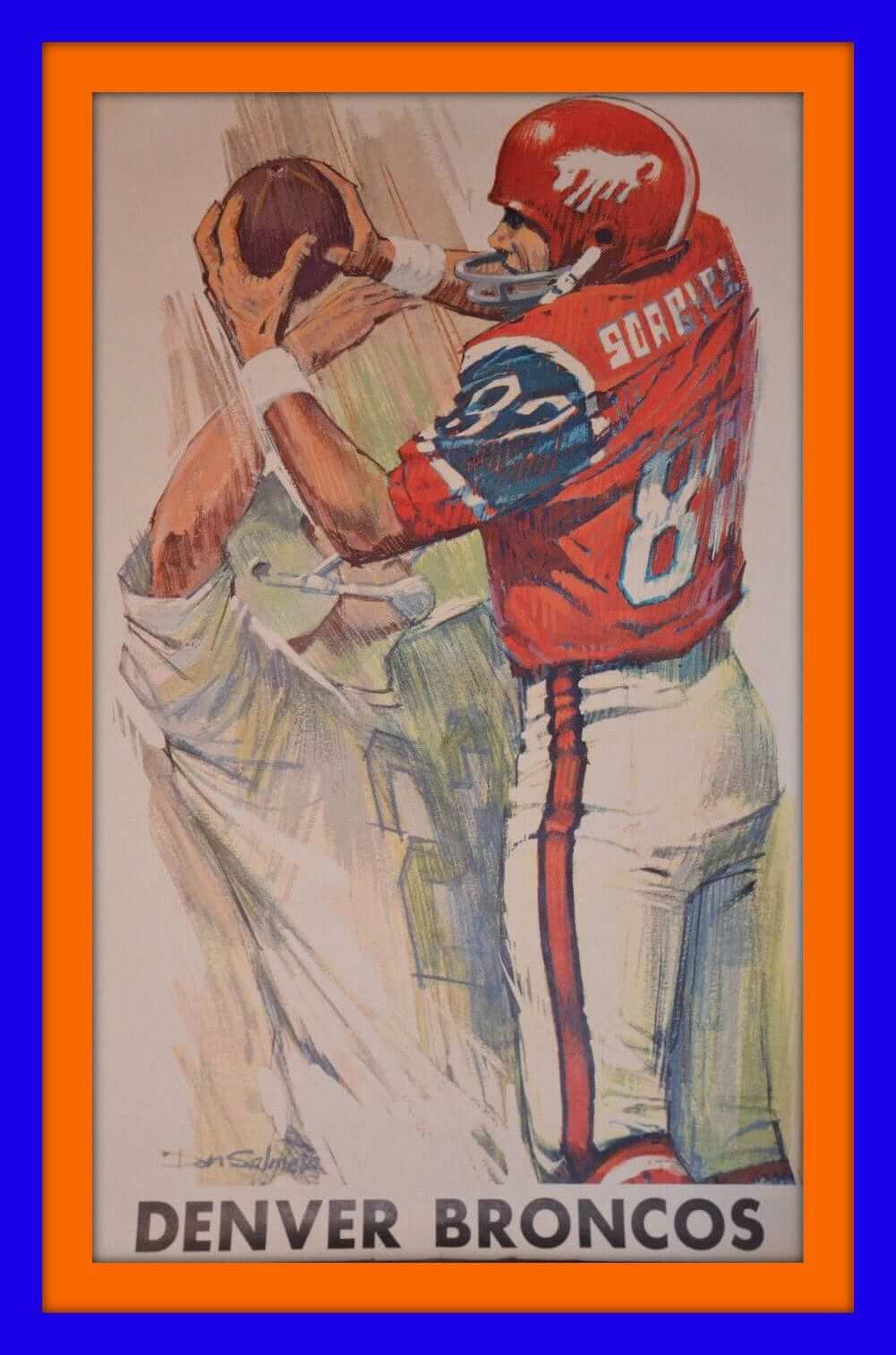 Collector's Corner
By Brinke Guthrie
Now, how about this. We've got a vintage Denver Broncos poster — and it not done by Dave Boss, but by an artist named Don Salmeta! Very similar styles, wouldn't you say?
While you're pondering that one, here are the rest of this week's eBay picks:
• This 1980s Winnipeg Jets "Slap Shot Hockey Stick Toothbrush" is your best shot against tooth decay! When you're brushing, don't get any toothpaste on your Jets cable-knit sweater!
• Check out this 1967 NFL advertising piece for Plenamins Vitamins.
• Here's a 1950s-'60s Montreal Canadiens kids' wool jersey/socks set.
• Here's a rather curious NFL pennant. All it has is the NFL shield and the words, "Ask Us About…" About what?
• Look at the retro logos on this set of 1969 Riddell AFL throwback mini-helmets — including the NFL 50th-anniversary logo and the AFL 10th-anniversary logo!
• Here's a 1980s Philadelphia Flyers sweatshirt made by Nutmeg Mills, one of my favorite brands back in the day.
• Does the design on these 1970s "NBA Athletic Shoes" look vaguely familiar?
• Back to the brown and yellow for this 1978 Padres/All-Star Game cap.
• "Dollar" is the official rental car of the NBA. Says so right on the front of this giveaway fanny pack. Looks too recent to be 1970s-ish.
• And from reader Ryan, here's a great 1970s California Golden Seals mug!
Follow Brinke on Twitter: @brinkeguthrie
• • • • •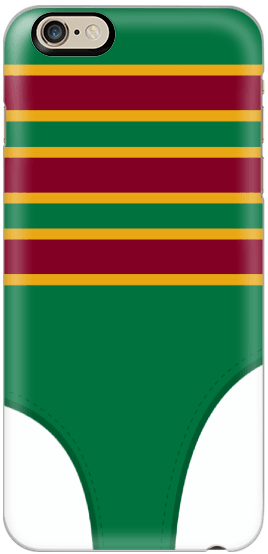 LAST CALL to make a good-looking call: Today is the final day to order the official Uni Watch smart phone case, featuring a nifty stirrup-based design created by reader Matt Beahan. Get yours here.
• • • • •
The Ticker
By Mike Chamernik

Baseball News: A writer came up with some theme nights for the Nationals and their affiliates (from Tommy Turner and Mike Rosenberg). … The Salem Red Sox will wear throwback Salem Avalanche unis on August 15 (from Alex). … I forget if we've seen this before or if this is a trend across college baseball, but Texas has a mismatched front jersey panel (from Andrew Edwards). … This is pretty cool: Lots of people walk Los Angeles's Walk of Fame dressed as superheros. D-Backs pitcher Josh Collmenter walked the route wearing his uniform (from Chris Flinn). "¦ Who's that in the Denver Bears uni? None other than then-Vice President George H.W. Bush. "He got a single off of Milt
Pappas in an old-timers game," says Tyler Kepner.

NFL News: Chargers linebackers wore shirts with "Backers" in the Chargers' font at a recent event. … I dig this team logo that's in JohnMark Fisher's fantasy football league. … The 'Skins continue to remove seats from their stadium (from Tommy Turner). … Candlestick Park is almost completely destroyed (from Brinke). … As was in the Ticker on Sunday, quite a few teams wear shorts with stripes during OTAs (from Eric Wright).

Hockey News: The Coyotes will reveal new uniforms during a NHL Draft party on June 26. "¦ Speaking of the Coyotes, the logo for a brand of vodka looks very similar to their logo (from Steve Seitz). "¦ Here's a good piece on how next year's NHL All-Star logo was developed (from Conrad Burry).

Soccer News: The Russian soccer team Zenit St. Petersburg got regal for a team photo (from Mark Coale). … Yusuke Toyoda is coming in hot with the rest of these soccer notes: Costa Rica's U23 team wore numberless practice jerseys against the Netherlands U21 team at the Toulon Tournament because they left their game jerseys at the hotel. … Sagan Tosu of the Japanese J.League has yellow alternates to match the alts of the Fukuoka SoftBank Hawks, a baseball team. … Wolfsburg wore next season's uniform during the season-ending German Cup Final over the weekend.

NBA News: The Hawks' new logos, which had been leaked, are now official. The team cleaned up the old Pac Man logo and there might be an inspiration behind the new phoenix-like secondary logo. They will unveil their new uniforms before the NBA Draft later this month. … Mitchell & Ness compiled a list of the best players by jersey number. Ron Artest (aka Metta World Peace) made the list four times! (From Austin Glover.) … When President Obama visited Nike's headquarters last month, the company gave him a pair of yet-to-be-released Air Jordan shoes (from Tommy Turner). "¦ John Diaz notes that beginning in the mid-1980s, the radial arching on Dennis Johnson's NOBs with the Celtics began fanning out to absurd lengths. Anyone know why? Did other Celtics get a similar treatment during this period?

College Hoops News: Georgetown is letting fans design a new court for the Hoyas. "Predictably, Syracuse and Georgetown fans have turned it into an opportunity to troll each other," says Kary Klismet. "It's good to see that these two schools' fan bases haven't left shifting conference affiliations get in the way of their hatred of one another!" … The field turf at the Carrier Dome is being replaced, so the original basketball court and indoor track is exposed (thanks, Rick DiRubbo).

Grab Bag: The Salt Lake Tribune explored how sports surfaces, uniforms, and equipment are prepared across Utah (thanks, Brett Crane). … As Paul explored a few months ago, the Rolling Stones are customizing their logo for their North America tour. For their Columbus gig, the poster showed Cleveland's Rock 'N Roll Hall of Fame (from Jason Hillyer). … IHOP changed its logo because the old one looked like a frown (from Aaron McHargue). "¦ Under Armour has filed trademark applications for a bunch of really embarrassing slogans (from Josh Claywell).