Phil mentioned something in both of his weekend Tickers that I think deserves a bit more space, namely that Louisville has new baseball uniforms for the NCAA tourney, and the pants feature something we haven't seen before: big, honking "L" logos on the back-thigh areas (or as Phil has dubbed it, SLOH — school logo on hamstring). It's one of those "It looks so fucking awful, but I can't look away" things. Here, see for yourself: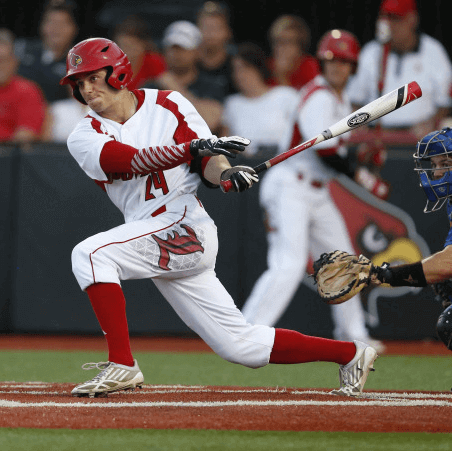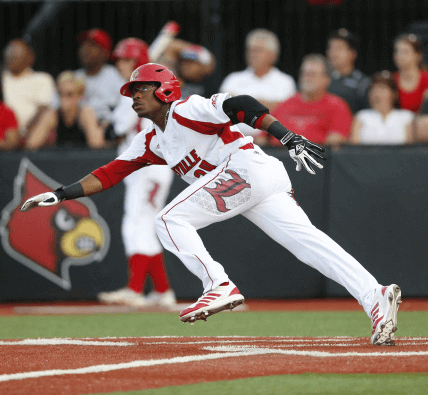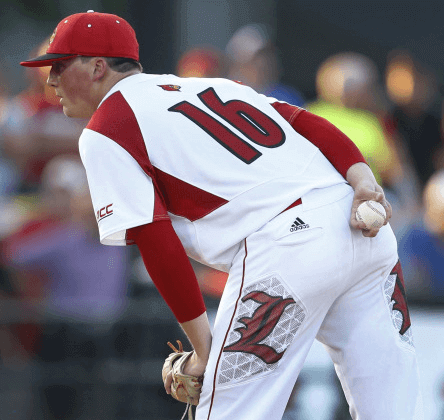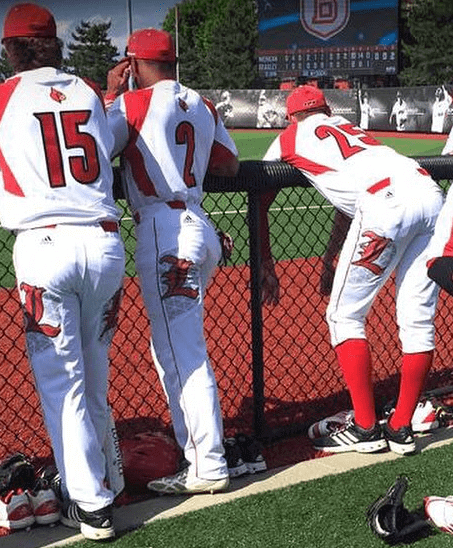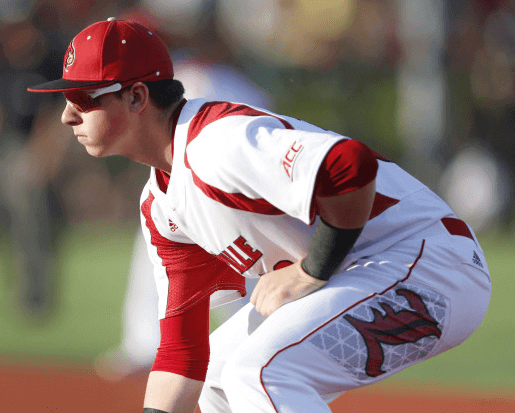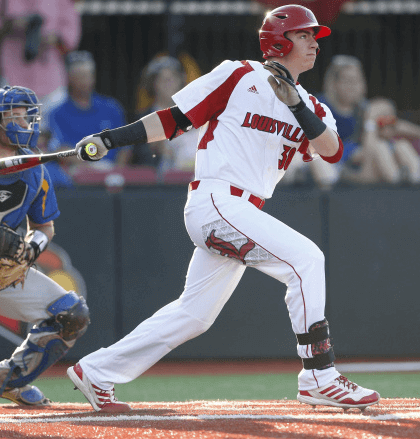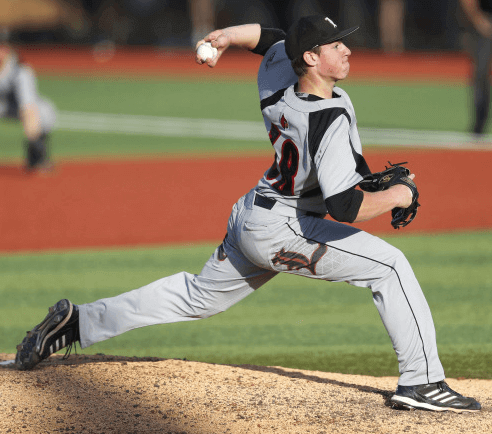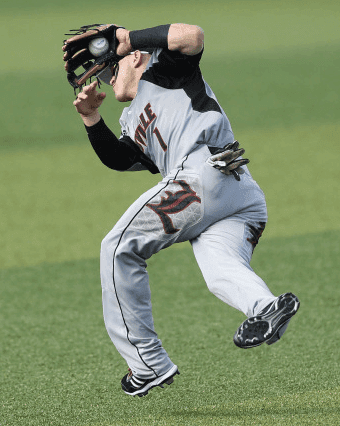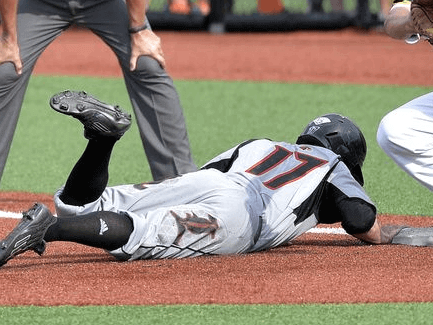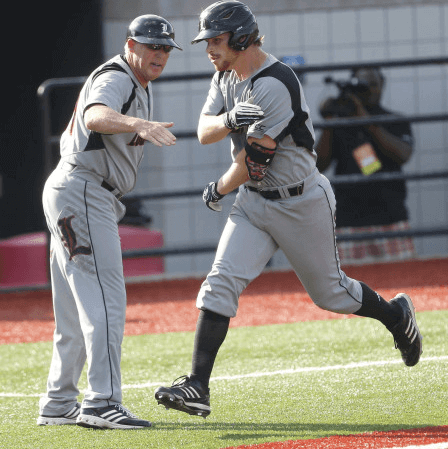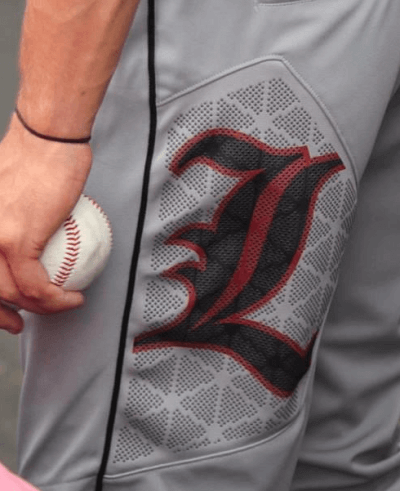 As you can see in that last shot, the logo is printed on what appears to be a mesh panel, which I assume is intended for either ventilation or padding/reinforcement. Texas A&M is wearing the same thing, only without the team logo, so they just have the mesh pattern: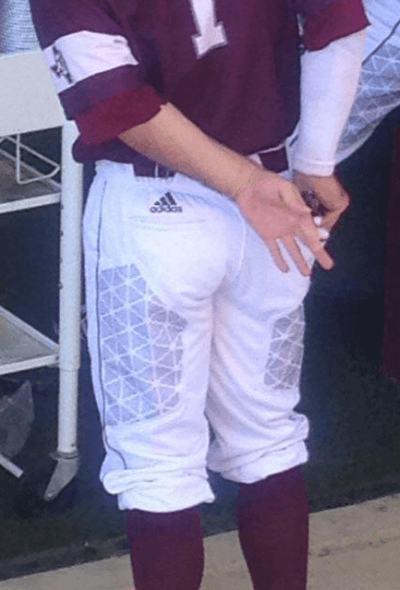 (Update: Reader/commenter Tap says, "The panels on the back of the pants are not mesh. They are ceramic dots applied to the pants to protect the pants from rips/tears in the sliding areas." So there you go.)
They could have done that without making the panel so visible, of course. In other words, this has nothing to do with the teams and everything to do with a manufacturer — Adidas, in this case — making sure we all notice their new "innovation." It's the same stunt Nike pulls with the Nikelace, calling attention to a tailoring detail that could be just as functional if it were less conspicuous. It's a bad move on two levels: It looks like shit, and it lets the outfitter upstage the team, which is not how uniforms are supposed to work.
• • • • •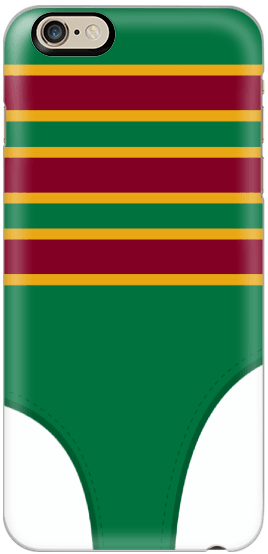 Next-to-last call: The official Uni Watch smart phone case, featuring a nifty stirrup-based design created by reader Matt Beahan, is available for only two more days. You know what to do.
• • • • •

Baseball News: Federal League throwbacks yesterday for the Cubs (who all went high-cuffed and the Royals (who did not). Uni numbers didn't yet exist in the Federal League days, but the players wore them yesterday. Plenty of additional photos here. "¦ Orioles 3B Manny Machado went high-cuffed with striped socks yesterday (from Andrew Cosentino). "¦ The Giants normally wear their orange-brimmed alternate caps on Sundays, but not yesterday (thanks, Brinke). "¦ The Wisconsin Timber Rattlers wore retro-ish unis based on Brewers throwbacks. … USC players turned a bunch of plastic chairs into some highly unusual rally caps. "¦ Speaking of rally caps, Brewers C Juan Centeno wore an upside-down bubble gum bucket in the 16th inning of yesterday's game against the D-backs (thanks, Mike).

Hockey News: Did Rolling Stones guitarist Keith Richards have an assist? That's from Saturday's Blackhawks/Ducks game, when Duncan Keith and Brad Richards assisted on Jonathan Toews's second goal (nice one from Matt Larsen).

Basketball News: Here's further confirmation that my reporting on the leak of the new Clippers uniforms was correct. "¦ Speaking of leaks, it looks like the Hawks' primary logo is now circulating. "¦ I don't know if this is the first time there's been a QR code on a basketball jersey, but it's the first time I've seen it. … Check out this old photo. Anyone know what brand of sneakers are being worn by the guy in the foreground?

Soccer News: Zenit wore special gold jerseys during their final game of the season, since they had already clinched the championship. Here's a close-up of the front (from Alex Cohen). "¦ New home kit for Sheffield Wednesday (from Patrick Barnett).

Grab Bag: Got an interesting note the other day from Doug Sears Jr., who asked, "Have you ever looked into why breathe right strips are exceedingly common in the NFL but never used in any other sport?" Interesting point. Anyone..? "¦ If you like vintage spots graphics as much as I do, here's a Twitter feed that's definitely worth following. "¦ David Firestone has graded all the Sprint Cup paint schemes. "¦ New volleyball ref's uniforms for the FIVB 2015 World League. Here's the old look (from Jeremy Brahm). "¦ Garbiñe Muguruza and Flavia Pennetta wore the same Adidas outfit while facing each other at the French Open (from Drew Stiling). … Reader Gene Sanny has completed his WFL electric football sets — look here, here, and here.
• • • • •

What Paul did last night over the weekend: I saw a ton of really good art over the weekend. First, on late Friday afternoon, my friend Robert and I went to a gallery show of 1920s Constructivist posters, magazine covers, pamphlets, and more, all created to promote the early Soviet cinema industry. I don't know jack about early Soviet cinema, but I know plenty about Constructivism, one of the most compelling and influential art movements of the last century, and this gallery show was one of the best collections of Constructivist material I've ever seen in one place. Here's a small sampling (for most of these, you can click to enlarge):
Great stuff, right? Unfortunately, the show finished its run on Saturday and is no longer available for viewing, but you can check out the catalog (which is where I grabbed all the images shown above) here.
After seeing that, Robert and I went downtown to check out the book party for a collection of early NYC punk/glam photos by the musician/photographer Paul Zone. Lots of great stuff here, some of which you can see in the slideshow at the top of this article. There were lots of first-wave CB's/Max's people on hand (including Debbie Harry herself, who brushed past me at one point), but the room was stultifyingly hot and humid, so I didn't stay long.
The next day some friends and I went picnicking on Governor's Island and then took the ferry back to Brooklyn Bridge Park, where there's a series of installations by the Danish artist Jeppe Hein, endearingly titled "Please Touch the Art." The most interesting piece is a labyrinth of mirrored aluminum planks, which is completely mesmerizing. Here are some photos (by me) and a short video (not by me):