Some interesting MLB patches yesterday, beginning in Kansas City, where the Royals celebrated the 30th anniversary of their 1985 championship team by wearing patches on their caps and sleeves for their game against the Cardianls (click first two photos to enlarge):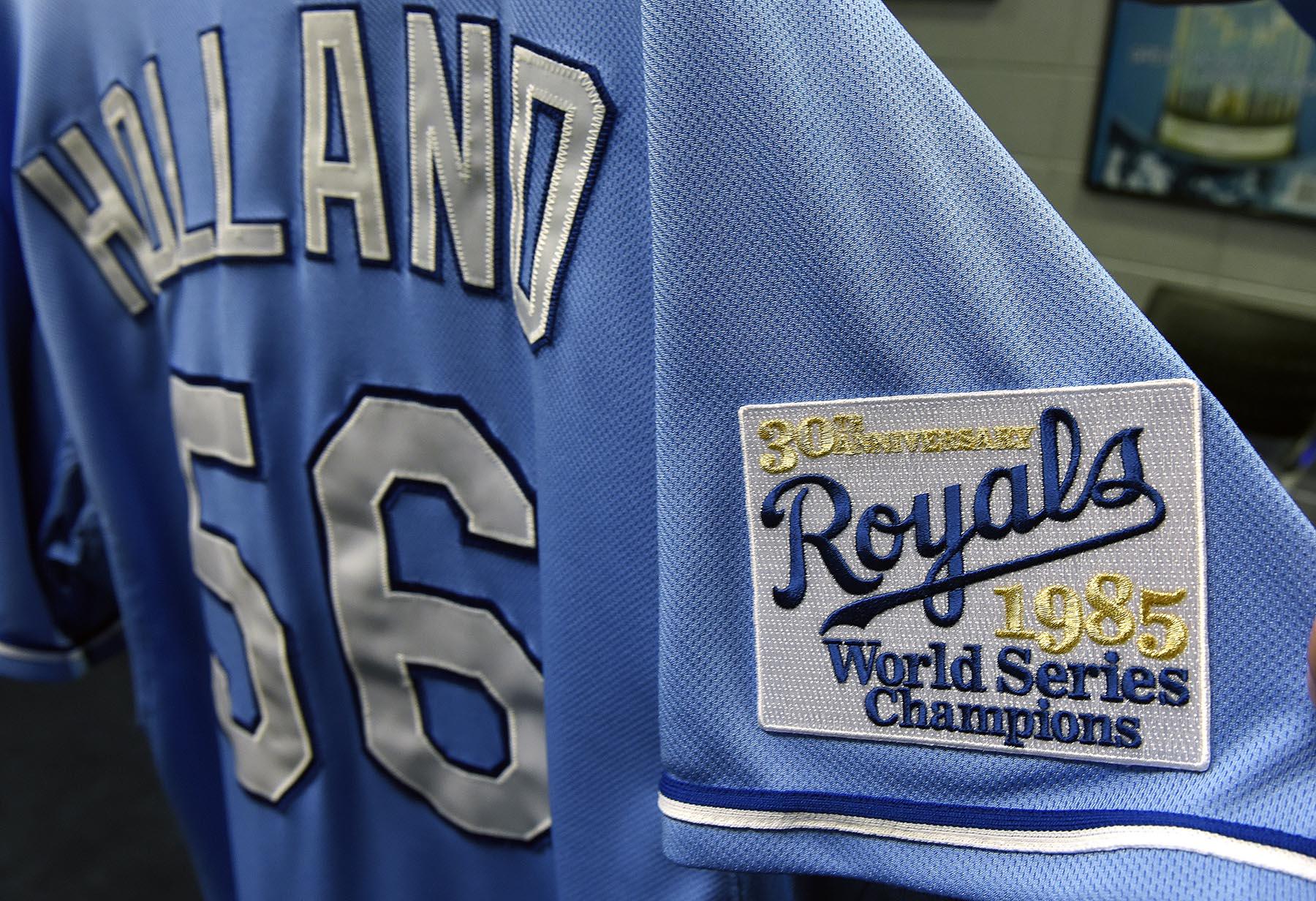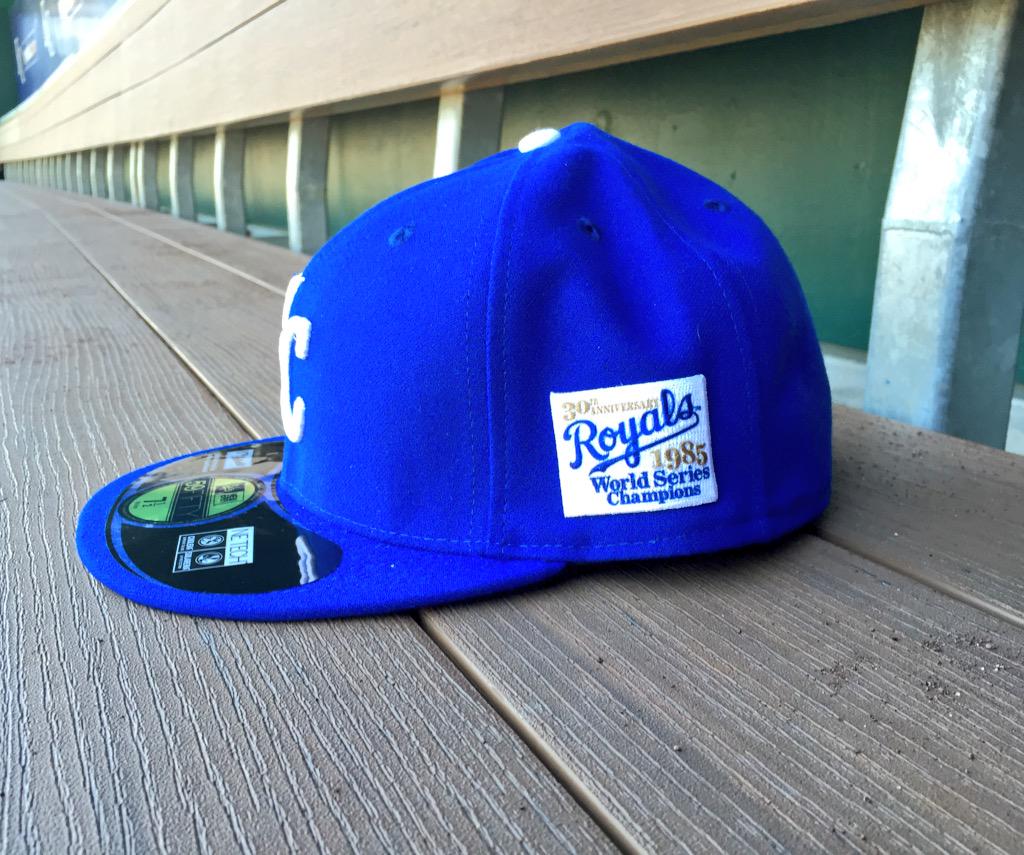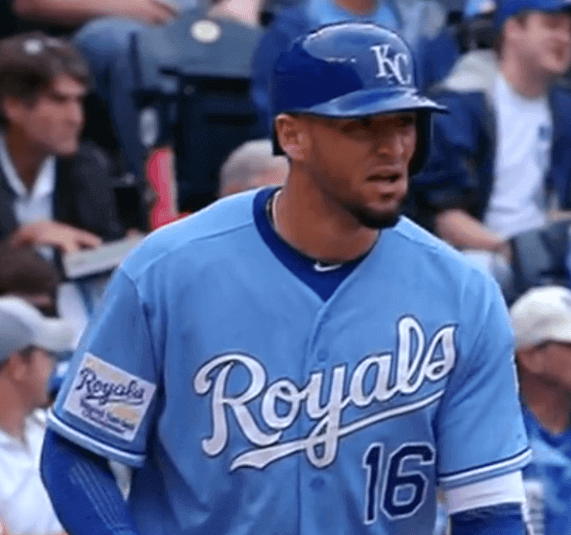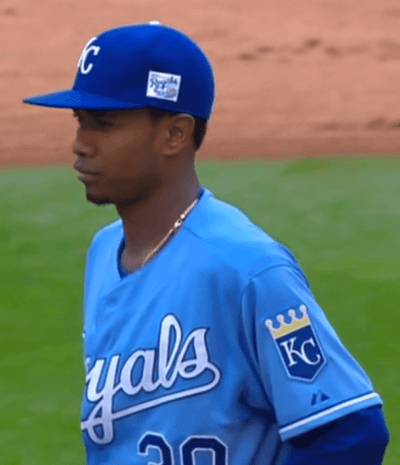 But there were some exceptions. Pitchers Yordano Ventura and Joe Blanton didn't wear the sleeve patch: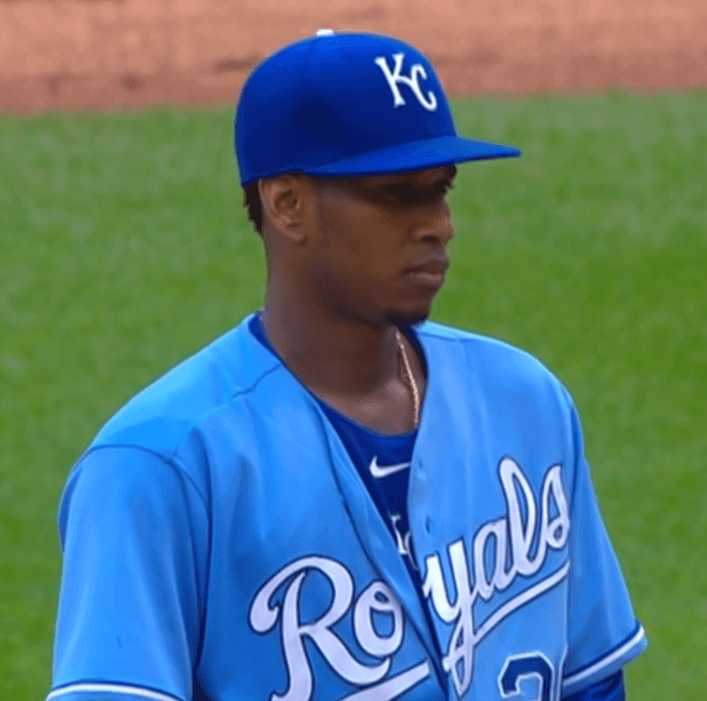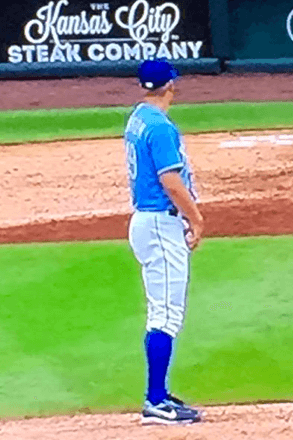 But the best move was by left fielder Alex Gordon. His cap didn't have the patch, so he made his own (click to enlarge):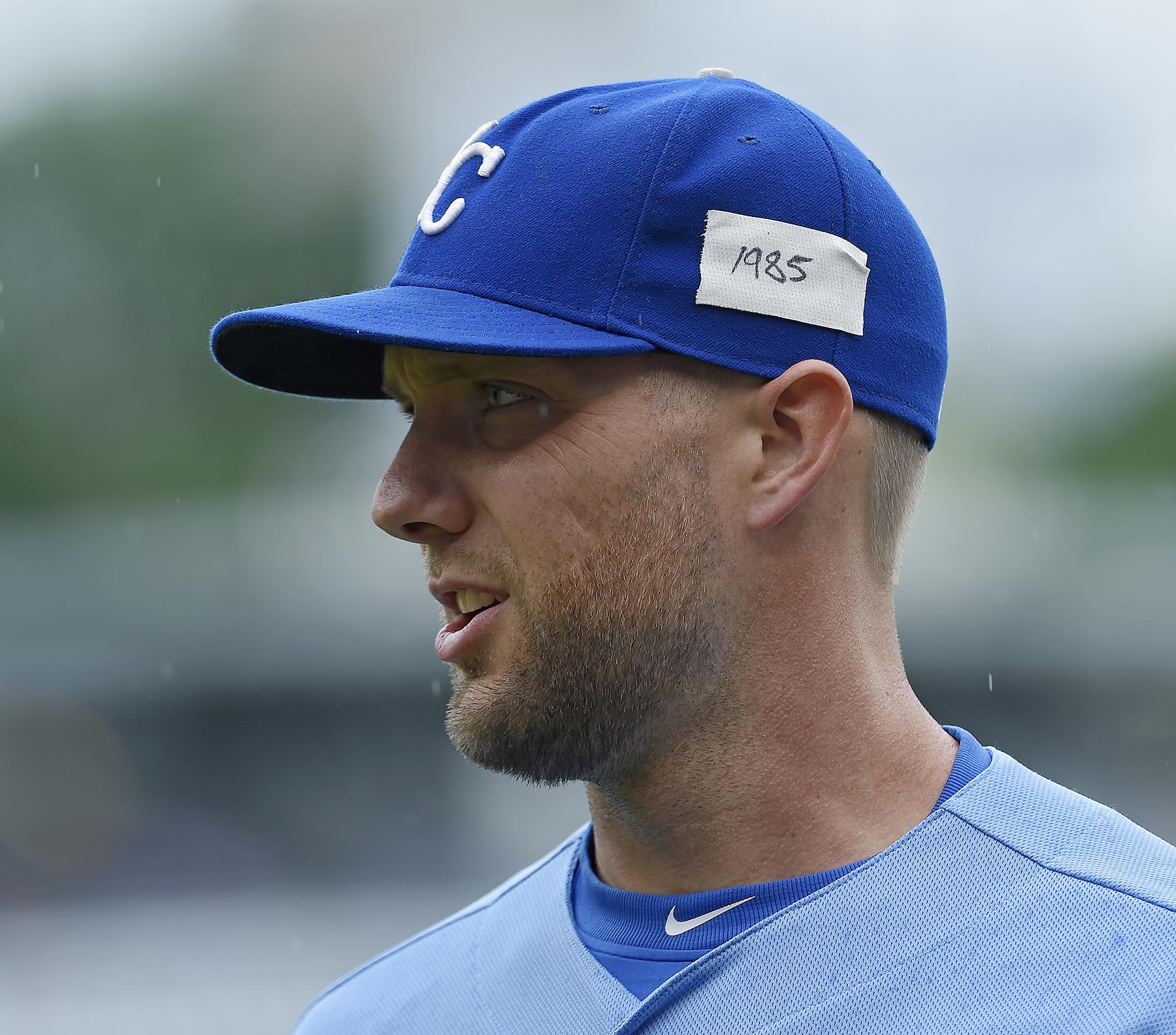 I'm told that this may have been due to Gordon's superstitious nature. In any case, his patch is certainly no worse than all the others, because cap patches always suck — they make the cap look unbalanced and cluttered. At least Gordon's version had a bit of homespun charm. I hereby nominate him for Uni Watch Player of the Day (a new title that I just made up).
It's no accident that the Royals chose to wear these patches for a game against the Cardinals, incidentally — that's the team they defeated in the '85 series. But instead of the patches, why not have both teams wear throwbacks? Hell, you could even get Don Denkinger to throw out the first pitch. Seems like a missed opportunity.
Meanwhile, up in the Bronx, the Yankees retired Bernie Williams's number and wore cap and sleeve patches for the occasion: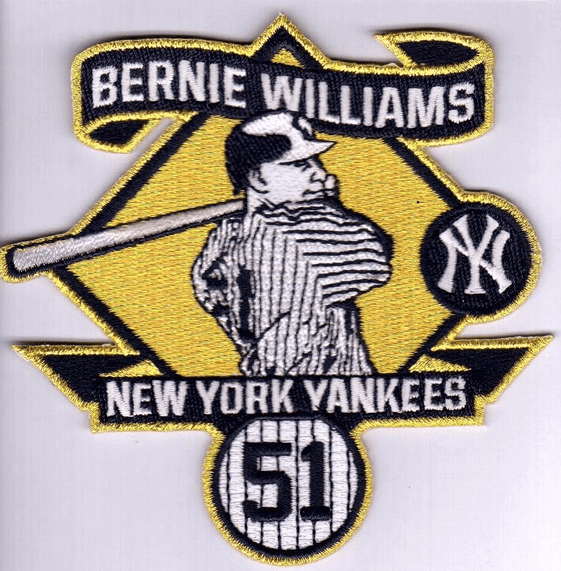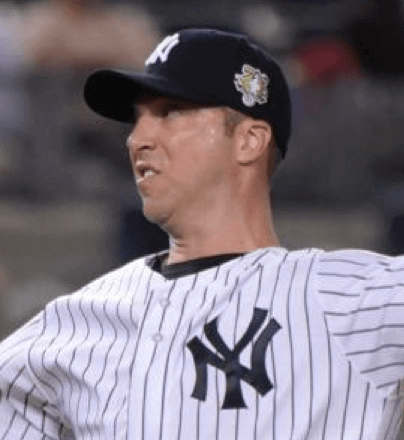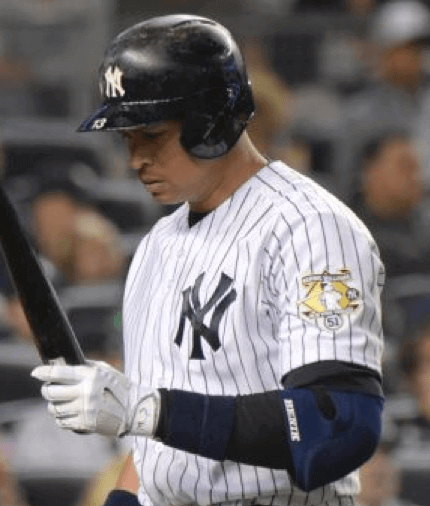 Can't say I'm nuts about this one either. For starters, what's with all the yellow? Not a very Yankees-like color. And since when does a player get a patch for having his number retired? The number retirement is the honor — you don't need to augment it.
Actually, wearing a patch to go along with a number retirement is common in the NHL, but not in MLB. In fact, as Todd Radom points out, wearing a patch for a living MLB player, in any capacity — number-retirement-related or otherwise — is extremely rare.
(My thanks to Mike Koehler and @cDubya242 for their contributions to this section.)
•  •  •  •  •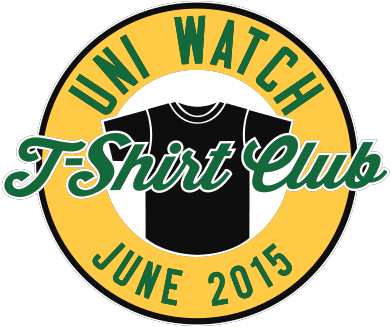 T-Shirt Club reminder: The June offering from the Uni Watch T-Shirt Club — the BFBS design — is available here for two more days. (Today would normally have been the last day, but we're extending the deadline by 24 hours because of the Memorial Day holiday.)
Here's another look at the design, just in case anyone needs a reminder (click to enlarge):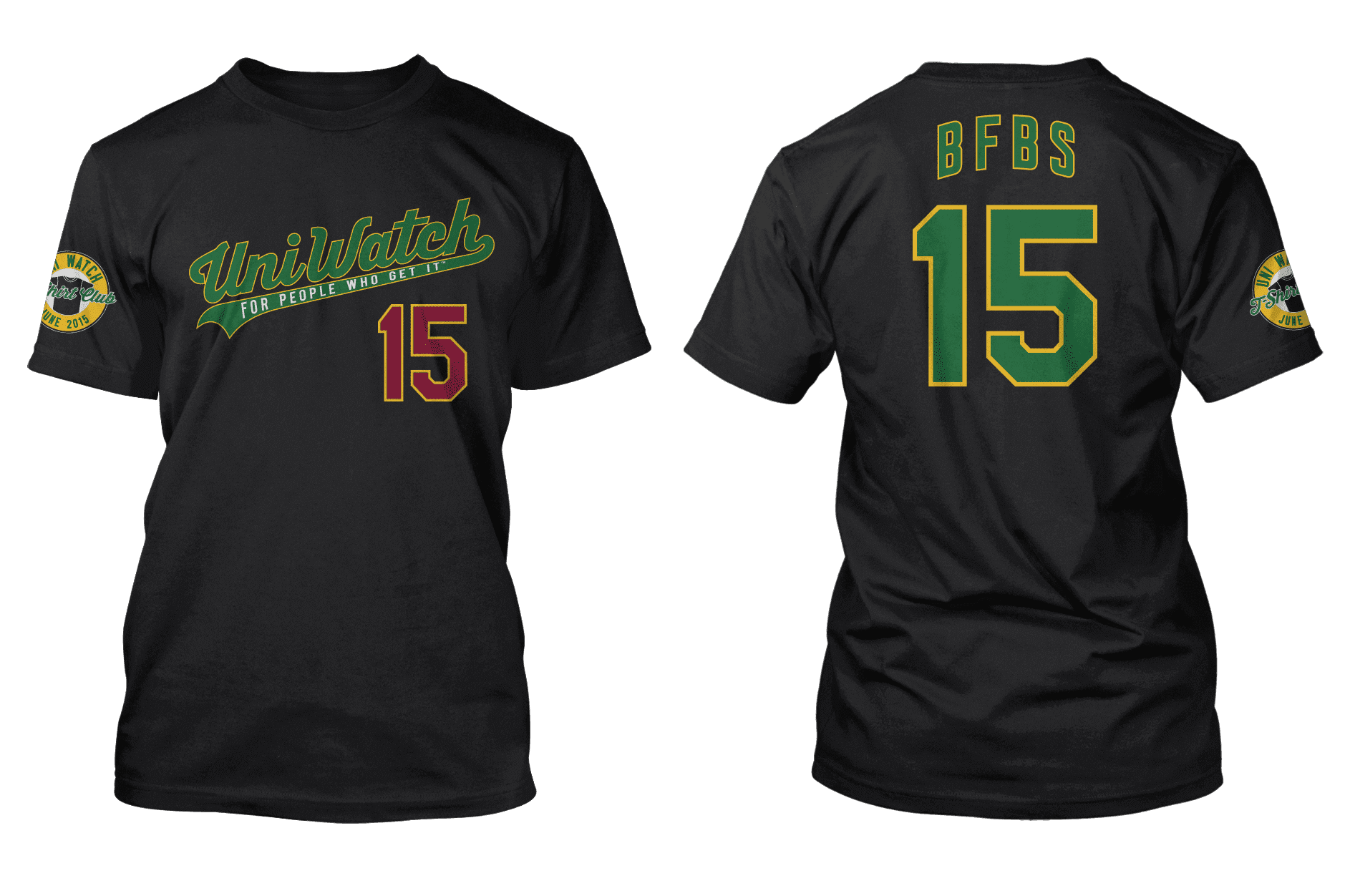 •  •  •  •  •

Baseball News: According to some research by reader Nolan Brett, 21 of 60 MLB catchers — just over a third — wear the hockey-style mask. The others wear the conventional style. "¦ Yet another new uniform for Maryland. "¦ G.I. Joke run amok: The umps for the ACC baseball championship wore camouflage caps (from James Gilbert). "¦ Shriners-based jerseys in the works for the Brevard County Manatees. But come on, forget the jerseys and let's see a team wearing Shriner's hats. "¦ Latest minor league team to go G.I. Joke: the Toledo Mud Hens (from @netillaman). "¦ Love the color scheme being used by Taylorsville High in Mississippi (from John Benal). "¦ Still more G.I. Joke-o-rama, this time for Florida. "¦ Comically bad stars/stripes jerseys yesterday for the Lexington Legends (from Josh Claywell). "¦ Batman jerseys the other night for the Louisville Bats (from Josh Claywell). "¦ Very nice striped stirrups for Columbia, which just won its third straight Ivy League title. "¦ Douglas Ford's local grocery is selling a case of beer emblazoned with the Braves' "A" logo.

Everything Else: Houston Texans RB Arian Foster apparently doesn't like the way his name is being used by Nike — look here and then here (from Matt Hammond). … Here's a new sneaker based on the teal carpet at Portland's airport (from @holycalamity). "¦ Here's a slideshow of the top Premier League soccer jerseys for the upcoming season (from Tim Cross). … The Coke 600 is the latest corner of the sports world that doesn't understand the meaning of Memorial Day (from Matthew Moss). "¦ Flag-desecration helmet this weekend for Tufts lacrosse. "¦ Super-bantamweight boxer Rafael Vazquez has an autistic daughter, so he wears "I Love a Child With Autism" on his trunks and also wears autism-awareness socks. "¦ Someone at the Indy 500 was wearing crocheted checkerboard-patterned shorts (from Jason Mott).
•  •  •  •  •
Today is Memorial Day. If you're mourning the loss of a fallen service member, please accept my condolences. If you have to work today, thanks for keeping the world spinning while the rest of us get to enjoy a day off. Peace. "" Paul