I was toggling back and forth between the Mets/Cards and Yanks/Nats games the other night. While tuned in to the latter, I noticed Nationals infielder Yunel Escober doing something odd during his plate appearance during the bottom of the seventh. After each pitch, he tugged on his left sleeve and sometimes on his right sleeve as well, pulling them up toward his shoulders and creating the odd look that you see above. It looks particularly weird because the Nats have patches on both sleeves this year, so the patches look really out of position.
Once Escobar stopped fidgeting with the sleeves and assumed his batting stance, the sleeves would droop back down to their usual length. Then he'd start the whole routine over again after each pitch. Here are some additional screen shots:
I hadn't noticed Escobar doing this before (admittedly, I probably haven't seen him play very often), so I went on Twitter and asked if this is a regular thing with him. A Rays fan immediately responded, saying Escobar, who played for Tampa Bay in 2013 and 2014, did the same thing when he was with the Rays.
I couldn't find any photographic evidence of that, so I went to MLB.TV and started looking at video. Sure enough, I got this (admittedly crappy) shot from a Rays/Chisox game that took place last September: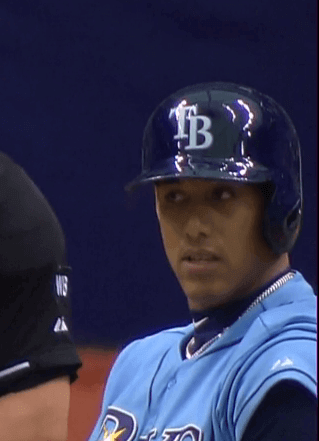 So it appears that Escobar has been exhibiting this quirk for a while. How has it escaped our collective notice until now?!
Whether he realizes it or not, Escobar is following a path blazed by two previous players. The first was Ted Kluszewski, who famously went sleeveless during his days with the Reds and White Sox (and even went undersleeveless when the Reds wore vests).
The other example that comes to mind is Deion Sanders of the 1997 Reds, who wanted to wear his sleeves very short as a tribute to Jackie Robinson. When the National League office (back when such an institution existed) ruled that Sanders' sleeves had to match those of his teammates, the rest of the Reds opted to shorten their own sleeves in solidarity, which had the odd effect of moving the team's sleeve patches up to the shoulder area — which, to bring us full circle, looks a lot like Escobar's patches!
• • • • •
Power Rankings reminder: In case you missed it yesterday, the latest installment of the Uni Watch Power Rankings rates all 32 NFL teams' uniform sets, from first to worst. Check it out here.
• • • • •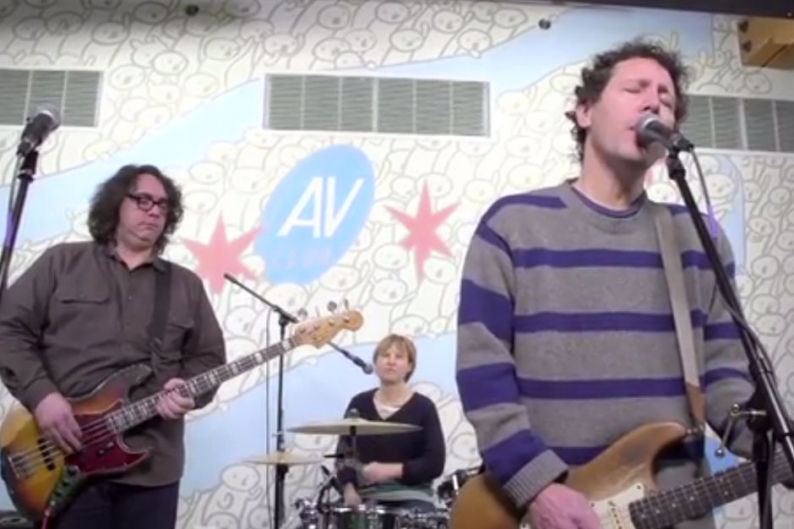 Attention NYC-area music fans: I happen to have an extra ticket for tonight's Yo La Tengo show at Cake Shop. If you didn't realize Yo La Tengo was playing at Cake Shop tonight, that's because they're billed as the Condo Fucks. But "Condo Fucks" is just a Yo La Tengo pseudonym. It's gonna be a great show (the tremendous Antietam are also on the bill), especially since YLT never plays tiny clubs like Cake Shop anymore.
I could scalp the extra ticket at the door for major coin, but I'd rather see it end up in the hands of a Uni Watch reader. So here's what we're gonna do:
If you're interested in acquiring the ticket, email me at this address by 3pm Eastern today. Your email should include two elements: (1) a monetary bid of at least $12 (that's what I paid for the ticket), and preferably a lot more than that, and (2) an explanation of why I should pick you to get the ticket. The highest monetary bid will not necessarily win. I will weigh multiple factors — sincerity, persuasion, wit, intelligence, pathos, and, yes, cash — to choose the winner. I'll choose the winner by 3:30pm, and the winner will then have to meet me in person at Cake Shop at about 8:30pm in order to claim the ticket.
Ready? Go!
• • • • •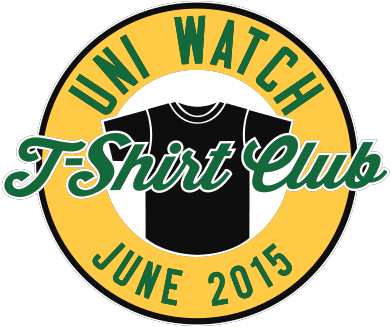 T-Shirt Club reminder: The June offering from the Uni Watch T-Shirt Club — the BFBS design, which is available here — has had a weird week. We got a ton of orders on the first day, so we thought, "Ooooh, this is gonna be one of the most popular ones!" But then orders slowed to a crawl the next day and were at, like, a sub-crawl yesterday. Weird! I'm always happy no matter how many (or how few) we sell, because the design and the project's conceptual consistency are the main things for me. Still, this week's sales pattern has defied all the previous trends, so here's a another look at this month's shirt looks like, just in case anyone needs a reminder (click to enlarge):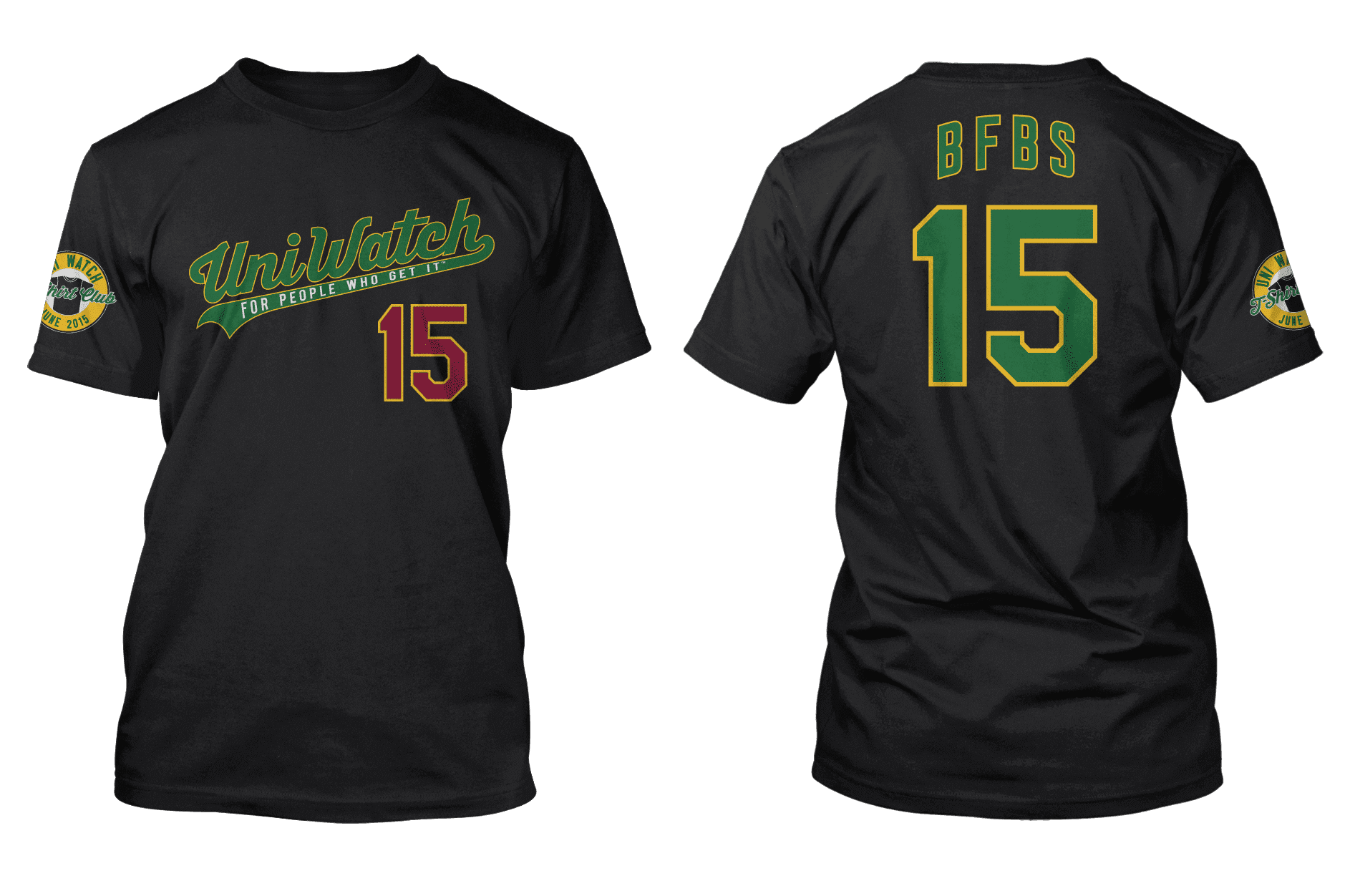 The shirt is available through next Tuesday on this page.
• • • • •

'Skins Watch: The U. of North Dakota continues to narrow down list of potential team names to replace "Fighting Sioux" (from Kary Klismet). "¦ The County Board of Arlington, Virginia, has passed a resolution calling on the 'Skins to change their name (from Tommy Turner). "¦ Here's a good overview and guide to the 'Skins trademark case (from Cassie Hayes). "¦ A trademark squatter is snapping up the rights to possible new team names for the 'Skins (from Tommy Turner). "¦ Good article and inforgraphic on Massachusetts high schools that still use Native American mascots (from Brian Mazmanian).

Baseball News: Bryce Harper is the most uni-inconsistent player I've ever seen. He varies between pajamism, high-cuffery with solid socks, and high-cuffery with stirrups. All three of those photos show him wearing batting gloves, but recently he's gone bare-handed, and now I've spotted him wearing one glove, a style that I thought was unique to Hunter Pence among today's MLBers. "¦ Holy moly, look at the socks on this 1941 college player (from J.G. Preston). "¦ You heard of "Red Red Wine"? Try this: the Reds' red wine (thanks, Phil). "¦ Rays 3B Evan Longoria, a lifelong sneakerhead, has helped design his own New Balance sneaker. "¦ The Potomac Nationals' Star Wars jerseys feature Lando Calrissian (thanks, Phil). "¦ Here's a short article on U. of Minnesota baseball uniforms from the 1920s (from Ryan Barland). "¦ The Orioles will be giving away barbecue aprons on Memorial Day. "It doesn't get much worse than that American flag lettering," says Andrew Cosentino. "¦ Oooh, check out this shot of the Angel Stadium concourse from the 1960s (nice find by Chris Cruz). "¦ Hoo baby, dig this shot of Mike Schmidt wearing the 1976 National League all-star team's pillbox BP cap (major thanks to Mike Williams). "¦ Shin-Soo Choo of the Rangers has his surname on the back of his cleats. "Together they read, 'Choo Choo,'" notes Stephen Hayes. "¦ This year's Independence Day caps really suck, but hey, it could've been worse. "They're not even trying anymore," says Mike. "¦ Here's a good look at Maryland's flag-based two-in-ones. "¦ Check out former Braves star Dale Murphy wearing a hybrid new/old uni in an old spring training shot (from Brian Rowland). … Not uni-related, but the Mets sure do have a flair for bad PR.

NFL News: Oooh, look at this Saints helmet buggy. "I took that photo 15+ years ago," says Russell Goutierez. "It was taken on Manhattan Blvd. in Harvey, a suburb of New Orleans. It was chained up outside an auto body shop." "¦ John Benson did mock-ups of modern uniforms for a bunch of old, defunct NFL teams, like the Duluth Eskimos, Dayton Triangles, Pottsville Maroons, and five more. Further details here.

College and High School Football News: The Illinois High School Association is being sued by a former high school football player over its head-injury and concussion policies. The association says the lawsuit is "a threat to the institution of high school sports." "¦ There were rumors floating around that Cal would wear a white helmet this fall, but the school has nipped that one in the bud (thanks, Phil). "¦ This pamphlet about Nike's graphic identity group, which was distributed to leaders at Tennessee, is fascinating (from Alex Bauer). "¦ Check out the rainbow of helmets in this old scene from The Andy Griffith Show (from Mike Bialas). "¦ Have we seen the new Wake Forest uniforms yet? I think so, but here they are, just in case (from Casey Brown). "¦ While watching video from the 1971 Nebraska/Oklahoma "game of the century," Mike Baucom noticed that Nebraska punt returner Johnny Rodgers didn't have the shoulder stripes on his jersey. Was it a tearaway jersey?

Hockey News: People often forget that the Bruins wore white socks with their black jerseys in the late 1960s (from Patrick Thomas). … Todd Radom has written a good article about how the Mighty Ducks became the Ducks. "Midway through the article there's a discussion about a leak of the then-upcoming logo by a focus group participant, and the subsequent effort by the branding team to leak false logos to discredit the original (correct) leak," says Mike Styczen. "¦ Special Memorial Cup jersey for the Quebec Remparts (from Dane Drutis).

Soccer News: New home kit for Everton (thanks, Phil). … Prince William received an England women's soccer jersey for newborn daughter Charlotte (thanks, Brinke). "¦ The LA Galaxy are starting a "Scarf of the Match" program, and the first one is a doozy. "¦ Barcelona's long-rumored horizontal-striped kit has leaked. "¦ Liverpool's new third kit will debut this Sunday against Stoke City. Also: Liverpool has a new training kit (both of those from @holycalamity).

Grab Bag: Ever wonder what happens if you set a few thousand Ping-Pong balls on fire? Me neither, but here's the answer. "¦ Next year's running of the Indy 500 will be the 100th edition of the race, and they've already prepared a logo for the occasion (from Scott Johnston). "¦ Here's a good article on the costume designer for the new Star Wars movie. "¦ A Pennsylvania McDonald's outlet celebrated a supervisor's 40th anniversary with the company by wearing throwback uniforms. Further info here.
•  •  •  •  •

What Paul did last night: The great singer-songwriter Amy Rigby is doing a Thursday-night residency at HiFi this month, and last night's show was a freakin' all-star affair. For starters, Amy's husband, the late-1970s new wave cult hero Wreckless Eric, was playing bass in her band, plus she also called two guests onstage for a few songs: the wonderful chanteuse Syd Straw and then Lenny Kaye. Lenny fucking Kaye!
Kaye is now 69 but looks healthy and as cool as ever. He has a long mane of grey hair that makes him look a bit like Bob from Twin Peaks. (Sorry, no photos — I tried, but the lighting was bad and the pics all came out like shite.)
Saw tons of friends, lots of drinks and hugs, and the music was sensational. A great, great night.