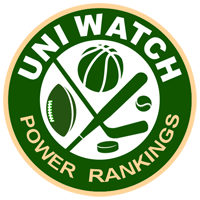 As you may recall, this year we're taking a new approach to the Uni Watch Power Rankings over on ESPN. Instead of ranking all 122 MLB, NFL, NBA, and NHL teams in one shot, we're going league by league over the course of the year (plus I think I'm going to add a new category: best cities, as ranked by their teams' uniforms). We did the MLB rankings a few months ago, and today we're going to have the NFL. I'm not going to give any hints except to say there's a new team in the top spot — find out who it is here.
•  •  •  •  •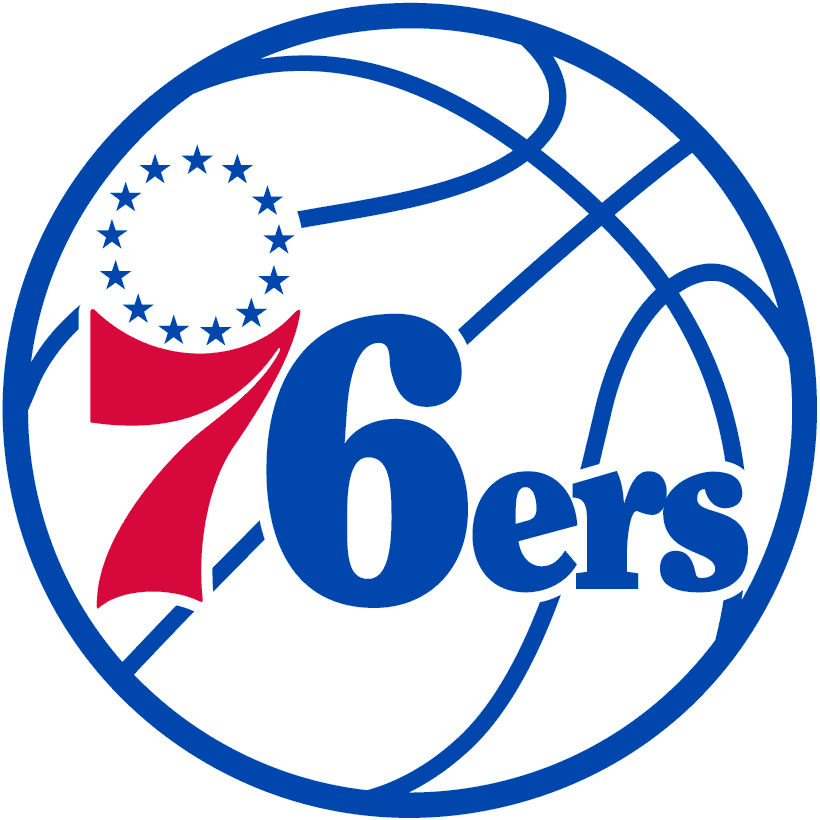 Sixers uni leak, continued: Yesterday I described how Sixers player Nerlens Noel, who was representing the team at the NBA draft lottery, appeared to have the team's new uniforms, which haven't yet been unveiled, sewn into the lining of his jacket. I wondered if this might have been a "scripted leak" by the team and promised to follow up.
Turns out I was right. Nerlens's jacket lining was actually mentioned in an email that the team sent to its fans immediately following the lottery. Here are some additional details from Sixers spokesman Michael Preston:
Nerlens had already seen the jerseys and wanted to know if he could use portion of it for his jacket lining (like he did with his Kentucky jersey when he was drafted).

We thought it would be fun opportunity for him and for us during the lottery, so we sent him blue and white jerseys, which essentially confirm the wordmark that will appear on the uniform (which was already reported last week).

There are still many more elements that haven't been revealed!
And there you have it. The full uniforms will be unveiled on June 18.
•  •  •  •  •
Uni Watch Book Club "" Split Season: When I got to college in 1982, I met this guy named Jeff Katz, who managed the student-run record store on campus. We quickly bonded over a shared love of music and records. By the time he graduated two years later, he had groomed me to become one of the store's new managers. I don't think we ever once talked about sports.
Three decades later, I'm the Uni Watch guy and Jeff is the mayor of Cooperstown, which basically makes him the ambassador for the Baseball Hall of Fame. He's also a baseball author, and his new book, Split Season 1981: Fernandomania, the Bronx Zoo, and the Strike That Saved Baseball, came out this week. Surprisingly enough, it's the first book ever written about that bizarre strike-interrupted season, and it's a really good read. Jeff tracked down tons of former players (Doug DeCinces, Dave Winfield, and many more) and also interviewed the great labor negotiator Marvin Miller before he passed away in 2012. Highly recommended — and not just because the author is an old college chum of mine.
Jeff was in town last night to do a Q&A at the Bergino Baseball Clubhouse in Manhattan. Here he is with Clubhouse honcho Jay Goldberg (Jay on the left, Jeff on the right):
• • • • •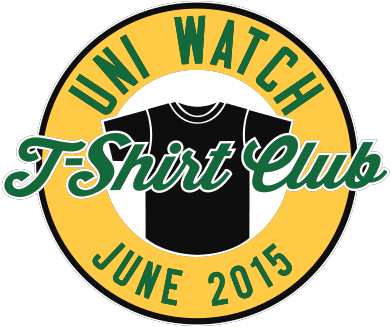 Just give me all your money already: The June offering from the Uni Watch T-Shirt Club — the BFBS design — is now available. Full details here, or go straight to the ordering page.
While we're at it, the Uni Watch smart phone case, with a nifty stirrup-based design created by reader Matt Beahan, is available here.
•  •  •  •  •
The Ticker
By Mike Chamernik

Baseball News: The White Sox will wear 1959 throwbacks in July and August and 1976 throwbacks in late July. For the 1959 set, "I cross-referenced the dates that they say it will be worn (July 10 and Aug. 14) with their schedule," says Brendan Hickey. "It looks like they will be doing a home and home throwback series with the Cubs with each team wearing a home throwback and road throwback in their two series this year. [The 1976 throwback listing] did not list a set date on this one so I couldn't find an opponent for them." … A TV cameraman at Monday night's Mets/Cardinals game was watching the Rangers/Lightning playoff game (from John Ekdahl). … Grantland did a 30 for 30 short on the Giants' Crazy Crab, perhaps the worst mascot ever. … The Nats celebrate wins by pouring chocolate syrup on the team's best hitter for a given game. After hearing that, Hershey's sent the club 108 bottles. Oh man, those poor folks that do the team's laundry. … Both Yan Gomes and Derek Norris talked about their catcher's gear with Esquire (from Tommy Turner). … Speaking of Norris, he changed his locker room nameplate to read "Norrisaurusrex" (from Phil). … A Brewers fan made an excellent Miller Park grill. … The Nashville Sounds scoreboard is shaped like a guitar. Putting the linescore on the neck of it was a nice touch. … Mike Napoli has an extra button on his jersey, between the "Red" and "Sox" (from Ben Marciniak). … Illustrator Andy Friedman likes to draw baseball cards (from Amanda Punim). … A few years ago, Paul wrote a piece about how some Dodgers coaches wore red caps in Spring Training in the 1950s and 60s. One of those caps was up for auction last month (from Chris Cruz). … Brewers C Martin Maldonado had a hall of fame-sized plug of tobacco in his mouth last night. "¦ The WVU team uses football-style merit decals on their batting helmets (from Dan Medina). "¦ Here's a better look at the Raisin Eaters throwback that the Fresno Grizzlies will be wearing tomorrow night.

Hockey News: The New York Times took a look at how goalies stretch. … Nick Foligno was introduced as next year's Blue Jackets captain. He was presented a jersey with a captain's "C" — and also the patch for this past season's All-Star Game (from Nick Hatch). … New unis for the SPHL's Peoria Rivermen. The look is similar to the one the team had in the 1980s. … Alexander Ovechkin wears bracelets when he plays. Jean Labbe snapped that shot while watching a highlight video of the Rangers/Caps series, and I found a pic from a few months ago. "¦ The Lightning try to create a larger-than-normal home ice advantage by selling tickets only to Florida residents and by not allowing fans to wear opposing teams' jerseys in certain parts of their arena. Key passage: "The policies are clearly stated on the Lightning's Ticketmaster site. One affects mostly season-ticket holders in the Chase Club and Lexus Lounge areas. 'Please note that for all 2015 N.H.L. playoff games at Amalie Arena only Tampa Bay Lightning team apparel (or neutral) will be permitted in these club and adjoining seating areas,' the statement reads. 'Fans wearing visiting team apparel will be asked to remove them while in these areas.' Spectators who do not comply are offered similar colored apparel to wear; if they refuse, they are moved outside the club area to another available seat."

Soccer News: Here's what Germany's Euro 2016 home kit might look like. … A Spanish publication counted down the 10 best dressing rooms in soccer (from Neil MacLeod). … Also from Neil, new kits for Dundee United of the Scottish Premier League. … "I noticed something recently about Chelsea's Eden Hazard," says Jean Labbe. "He cuts a pair of socks about mid-shin and puts it on on top of another full sock. It reminded me of what some NFL players do but I had never seen something comparable in soccer. I do not know when Hazard started doing that but he seems to have been doing it every game recently." "¦ Barcelona and Juventus will both wear their home jerseys in the Champions League final (from Drew KB).

NBA News: The Hawks encouraged fans to dress like TNT sideline reporter Craig Sager last night. … After seeing a collection of minimalist NHL logos, Redditor peanutpickle10 created his own set for the NBA.

Grab Bag: UGA makes a fair bit of money from its apparel deal with Nike (from Jacob Moore). … Here's a great site that showcases typography from urban environments (from Phil). … Howie Lewis found a site that sells team logo floormats. … A line of snake-proof hunting boots has been recalled (from Jason Hillyer). … "Not sure this is a welcome development for a sport where sportsmanship is so prized, but Kodiak now offers gloves that let curlers imitate football's logo-palm-flash thing," says Scott Rogers. "Though it's nice to see that anyone doing the palm flash would just be showing a curling house, not a club logo or anything." … Chicago's Big Ten 10K allows runners to wear shirts based on their Big Ten school (from Kenneth Traisman). … Here's another case against headgear in girls' lacrosse (from Kurt Esposito). … An Oklahoma City attorney has been evicted from her office because of her creative skull and crossbones logo. … In 2012, New Zealand rugby player Carl Hayman lost his shirt during a match (from Eric Bangeman). … A Brazilian clothing company is in a little bit of trouble for making a Maori-inspired gi (from Phil). … "NHRA Pro Stock Biker Sean Gann likes to dress up as superheroes while he drag races his motorcycle," says David Firestone. "Last year, he dressed up as Batman, and this year he dresses up as The Flash." … Also from David: A roundup of sports most unique trophies. … Camouflage-trimmed Memorial Day lacrosse helmet for the Denver Outlaws (from Jared Buccola). "¦ New state logo for Tennessee. … I was watching In Living Color on FXX late the other night and Kris Kross was the musical guest. I just felt the need to remind you of their sportswear stylings.