Click to enlarge
As we all know by now, I care mostly about what players wear on the field, not fan merchandise. Every now and then, however, a merchandised product line comes along that totally pushes my buttons.
That's the case with this line of NHL adult onesies being sold by the Canadian firm Hockey Sockey, which was brought to my attention the other day by reader Andrew Lind. (You can purchase them here.) These have apparently been available since at least last fall, but they're new to me, and I'm officially smitten.
Why do I like these so much? A big part of it, frankly, is that they're called onesies. Not pajamas, not singlets, not all-in-ones, not jumpers, not bodysuits, not full-body hoodies — onesies. Who wears onesies? Babies (duh). In our increasingly rough-tough macho sports culture, it's funny — endearing, even — to encounter a product that's essentially infantilizing.
And even without the name, these things are, let's face it, a bit goofy, and I mean that in a good way. Imagine a whole room full of fans sitting down to watch a playoff game while wearing these things. It's just ridiculous enough to be perfect.
Although there's no rear-view photo, Hockey Sockey's online shop says the onesies feature a "back door 'five hole trapper' flap" (you can see a hint of the flap here), which means these are really pajamas. But the listing then says, "Wear it to the game, to a party, to work and even to bed." I love that — they're PJs, but the bed function is almost an afterthought.
The onesies are available for 19 of the NHL's 30 teams (not sure why the other 11 aren't offered), and all of the designs are based on the colored home uniforms. I'm on record as preferring the white jerseys for most NHL teams, but the carnival of colors somehow feels right for this product line. White would almost look too classy, too formal.
My only gripe is that they don't have any photos of actual human beings wearing the onesies, which doesn't seem right. Fortunately, I was able to locate someone who owns one of the onesies: Gregoire Venier, a Canadiens fan who lives in San Francisco. Here he is wearing his Habs onesie at a game:
I asked Gregoire if he'd be willing to do an email interview, and he agreed. Here's how it went:
Uni Watch: That photo shows you wearing the onesie at a game. How many times have you done that? What sorts of reactions did you get?
Gregoire Venier: I have now worn it to two games. Everyone who noticed it came up to me and asked where I got it and how much I paid and overall really loved it. I took a few pictures with people — mostly diehard Habs fans.
UW: Where else have you worn it? Like, at home, to go to a bar, or what?
GV: I did wear it to my local sports bar here in San Francisco during the Canadiens/Senators playoff series. On cold nights here in the city I will lounge around in it since it's super-comfy and provides easy access for bathroom use.
UW: What's the deal with the back flap? Is it like the flaps on old-fashioned pajamas? If so, is it weird to be wearing something with a pajama flap in public?
GV: The back flap is pretty much covered so it doesn't seem like it has one. There are three Velcro parts and stays intake very nicely. I usually wear shorts or boxer briefs underneath but never thought much about it when wearing the onesie in public.
UW: Do you find it odd that they call this product a "onesie" (which is usually a term for a baby product), instead of something more adult-like?
GV: The term "onesie" seems to be making a big comeback, especially for Gen X/Y people who had them when they were kids. I know I have done many searches for "Adult Onesie."
UW: Do you know any other people who've bought the onesies? Do they like theirs as much as you seem to like yours?
GV: I know a few of my fellow Canadiens fans have purchased them and absolutely love them.
———
Faaaaaascinating. Anyone else out there have one of these things?
•  •  •  •  •
Lined with a leak: The 76ers aren't scheduled to unveil their new uniforms until next month, but we may have gotten a sneak peek at them last night.
It happened at the NBA draft lottery. Sixers player Nerlens Noel, who was representing the team at the event, opened his jacket and revealed something very interesting (click to enlarge):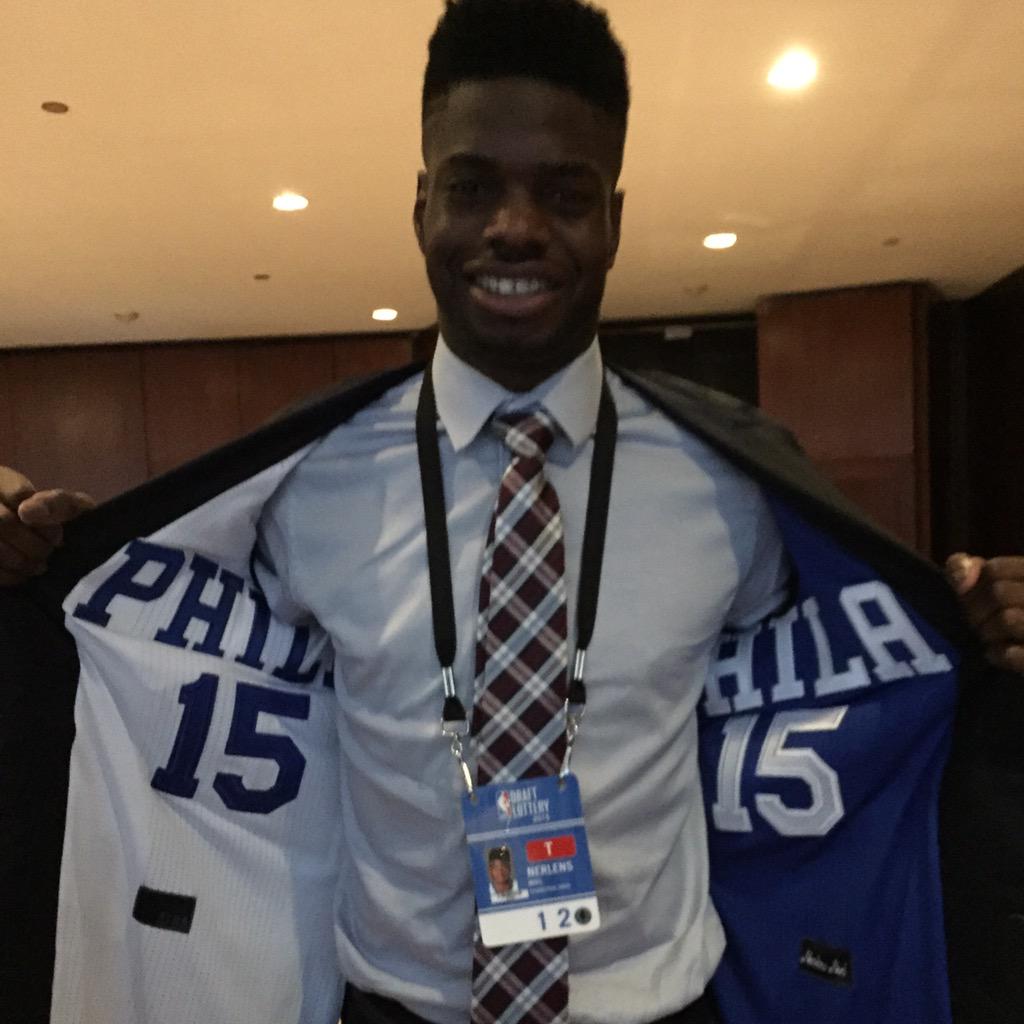 Social media pounced on the photo. One fan, instead of speculating or wondering, went right to the source and asked Noel if these are the team's new jerseys. Noel said yes. Of course, this still doesn't tell us anything about the side panels, the shorts, etc., but at least it gives us a sense of the new look.
Was this "leak" actually planned? It seems unlikely that Noel would show up to this type of event with the team's new jerseys stitched into his jacket lining unless the team knew about it or even encouraged him to do so. I've asked a team spokesman about that — will advise.
• • • • •
T-Shirt Club reminder: In case you missed it yesterday, the June offering from the Uni Watch T-Shirt Club — the BFBS design — is now available. Full details here, or go straight to the ordering page.
While we're at it, the Uni Watch smart phone case, with a nifty stirrup-based design created by reader Matt Beahan, is available here.
•  •  •  •  •
Uni Watch News Ticker
By Garrett McGrath
Baseball News: There was a bit of a dust-up yesterday when reports indicated that the Cubs threw away a bunch of personalized bricks from the stadium's exterior that they sold to the public back in 2006. But then it turned out that the Cubs had notified the brick sponsors months earlier and will be replacing the bricks with new ones. … Milwaukee Brewers player Jonathan Lucroy talks about his equipment in a recent interview with Esquire (from Tommy the CPA). … Here's a comprehensive slideshow of historic Seattle baseball uniforms (thanks, Phil). … The BuzzFeed softball team has nice company uniforms (thanks, Paul). … We've all seen Giants reliever Sergio Romo wearing triple-striped socks, but teammate Hunter Pence had quadruple-striped socks prior to last night's game against the Dodgers.
NFL News: It looks like the Titans are now using a raised nose bumper logo on their helmets (from Jerry Lawless). … "LeGarrette Blount instagrammed an interesting college-pro mashup of him and Tom Brady today," Bobby Pinkham says. "I count at least two mistakes: Blount never played in the Pac-12 (it was the Pac-10 when he left in 2009), and he never wore the winged helmet with the O on the back. Oddly enough, it looks like they got the Belotti Bold font correct, though." … "I came across this wire story from August 17, 1966 where the first set of numbers were handed out to the Miami Dolphins and No. 51 was missing," Bob Gassel says.
College Football News: Syracuse has un-retired No. 44, a number worn by three football legends at the university: Jim Brown, Ernie Davis, and Floyd Little (from Rick DiRubbo). … Cal football is rumored to have white helmets for next season (thanks, Phil). … No pictures but more background information than we had yesterday on Pitt's new uniforms for 2016 (thanks, Phil).
Soccer News: The Arsenal 2015-16 home kit has been leaked (from Conrad Burry). … Real Madrid's 2015-16 home, away, and alternate kits have leaked online (thanks, Phil). "¦ Thanks to a logo change by the payday lender Wonga, Newcastle's newly unveiled home kit now has an obsolete sponsorship logo (from Mark Coale).
Grab Bag: Neighborhoods as brands: parts of Houston are holding contests in order to brand certain neighborhoods (from Cort McMurray). … Here's a photo gallery of America's best vintage bowling alleys (from Brig Slaughter). … NikeCourt has unveiled their French Open 2015 collection (thanks, Phil). … NHRA Watch: "In 2015, Courtney Force switched from Ford to Chevy and lost Castrol as a sponsor, yet on Saturday night's telecast, ESPN showed a graphic of her with her Ford helmet with Castrol logos on it," David Firestone says. … For this Sunday's NASCAR race in Charlotte, teams will be replacing the driver's name on the windshield with the name of a fallen U.S. soldier (from Chris H.). "¦ A Native American high school student in Nebraska will be allowed to wear an eagle feather on her graduation cap. The school board had initially ruled that she could not do so because of a rule banning "bling" from the caps (from Chris Bisbee).