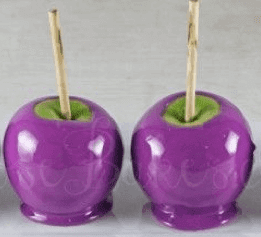 Welcome to 2015's installment of Purple Amnesty Day — or the Purp Walk, as I'm calling it this time around — the one day of the year when we grudgingly acknowledge the world's most accursed color. I'm getting hives just typing this, so let's get started.
People sometimes say I have "purplephobia." But as I explain to them, that's not the case, because "phobia" means fear. I don't fear purple; I loathe purple. If anything, purple should fear me.
So then people ask why I dislike purple so much. As I always explain, I actually think purple in nature is quite nice — violets, plums, eggplants. But purple as a human-imposed design element has always struck me as tasteless and tacky. It's the diva of colors, the Celine Dion of colors — loud, abrasive, never content to do just enough when it can do way too much.
And I'm not alone. As a culture, we seem to understand purple's tackiness. Not a single U.S. state uses purple as one of its official colors, and only one country on Earth does so (that's Finland, and they only use purple as a secondary color). It's no accident that we rarely see a purple house or a purple car. Now if we could just eradicate purple clothing, accessories, and yoga mats too.
But do I think teams like the Vikings, Rockies, and LSU should stop wearing purple? No, of course not — they chose their colors and now they're stuck with them that's part of who they are. And so today Uni Watch grits its collective teeth and salutes this most loathsome of hues and its adherents with a three-pronged purple program, as follows:
1. As always, Purple Amnesty Day is the one day of the year when I'll accept orders for Uni Watch membership cards with purple-inclusive designs. So if you've been waiting for your chance to order a card with a Ravens, Kings, or Northwestern motif, now's your chance. As of 3am Eastern tonight (to allow a full day's worth of ordering opportunity for folks on the west coast), the door will slam shut and you'll have to wait until next year's Purp Walk.
2. If you look very closely, you may notice that a few elements of the website that usually appear in green — my favorite color — are purple today. I find this more than a little distressing (think of battery acid being poured in your eyes, then multiply it times 1,000, and then imagine that happening all day long), but I'm trying to tell myself that it's a therapeutic form of torture or something like that. Assuming I don't slit my wrists in desperation, the site will revert back to normal tomorrow.
3. Teespring designer Bryan Molloy, who's been working with me all year to create the Uni Watch T-Shirt Club designs, has created a spectacularly hideous Purp Walk shirt. It is not part of the T-Shirt Club program (no sleeve patch, no back design) and does not have to be purchased in order to qualify for the "collect 'em all" year-end bonus prize. It's just a little something for all you purple-philes out there. Dig (or shudder, as the case might be; click to enlarge):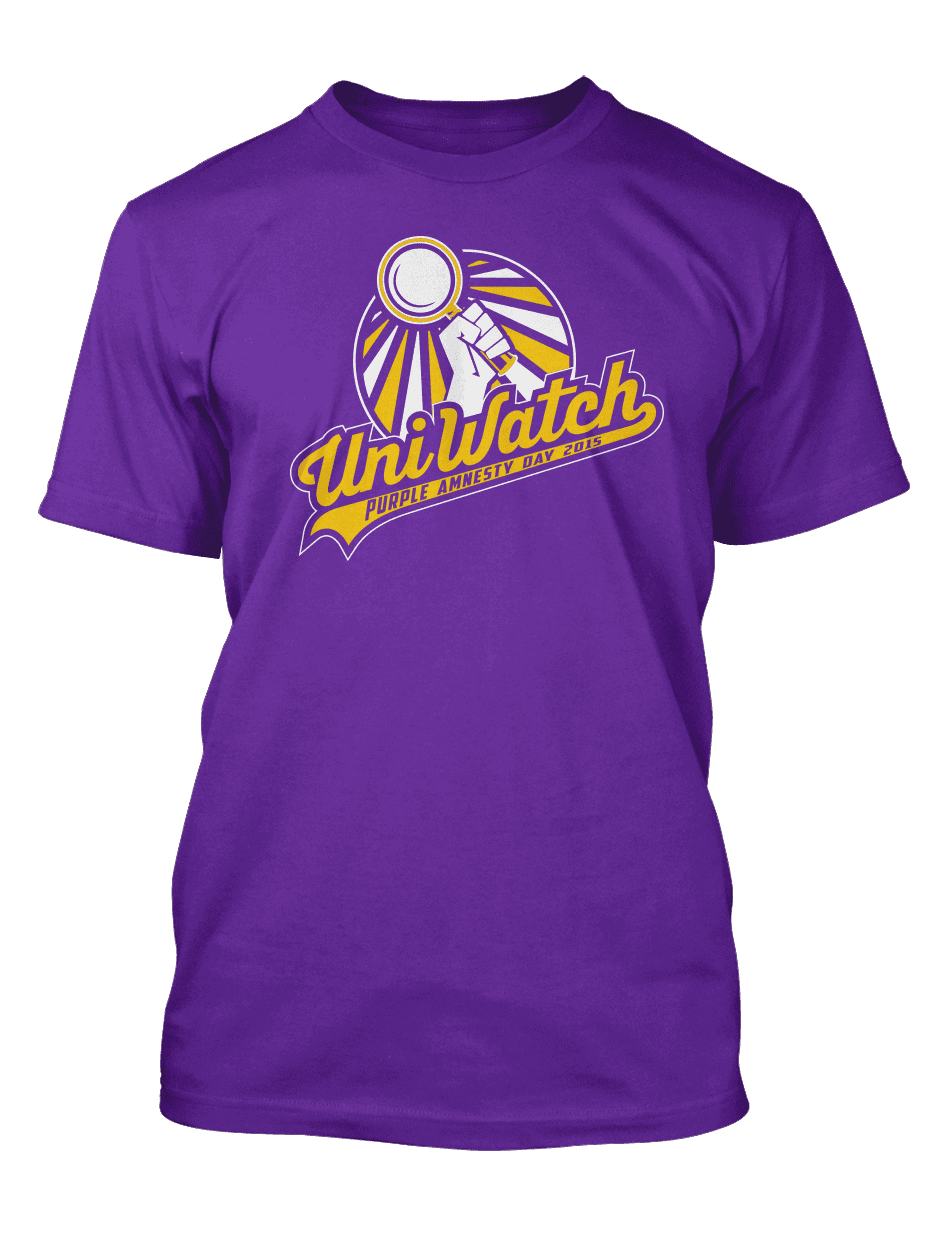 Appalling, right? The shirt is available here until 3am Eastern tonight (again, to allow a full day of opportunity for west coasters). And then I'm going to do my best to forget it ever existed.
That's it for this year's Purp Walk. If you need me, I'll be over in the corner, curled up in a fetal ball and slowly rocking back and forth.
(Major thanks to Scott M.X. Turner for coming up with the term "Purp Walk," and to webmaster John Ekdahl for his assistance in changing the site's look for today.)
• • • • •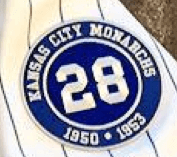 A very interesting memorial patch: The Royals wore Kansas City Monarchs throwbacks yesterday as part of their annual salute to the Negro Leagues. For the most part, it was a very nice production: The uniforms were beautiful; they had added visual interest provided by uniform numbers on the upper-left thigh; everyone went high-cuffed with stirrups (although some of them appeared to be two-in-ones); the team went the extra mile by providing Monarchs batting helmets (and those helmets were matte, which felt like the right move, because the real Monarchs didn't even have batting helmet); and even the groundskeepers had throwback outfits. Here are some photos from the game: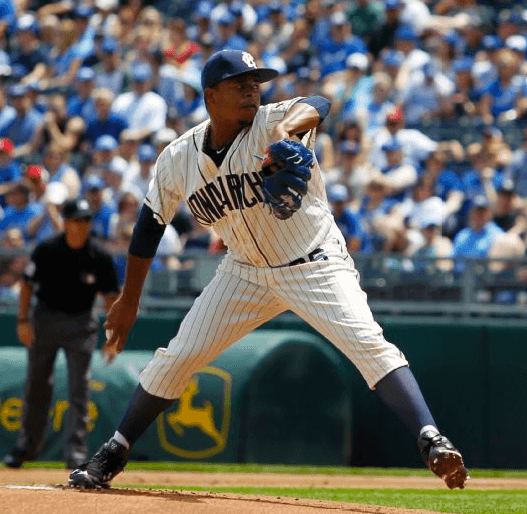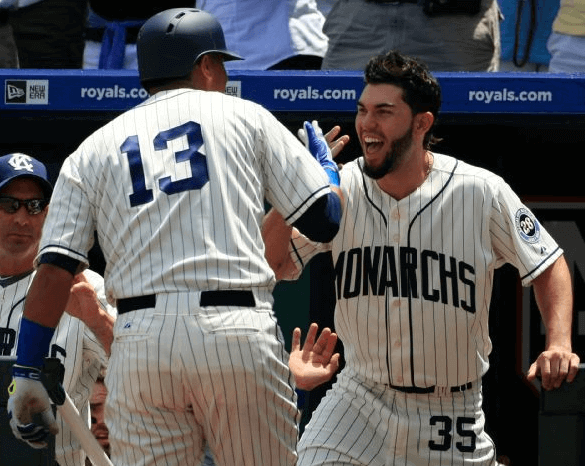 The Royals asked their opponents, the Yankees, to take part, but the Yanks declined, opting instead to make a donation to the Negro Leagues Museum. Both teams, however, wore a "28" sleeve patch (click to enlarge):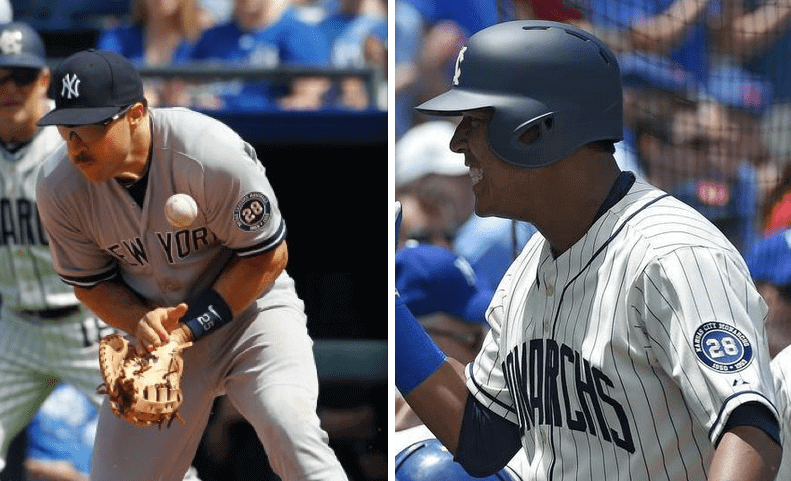 That patch was a memorial for Ernie Banks, who played for the Monarchs in the early 1950s before joining the Cubs (and who, of course, died last winter). So the Royals and Yankees added a sleeve patch for a player who never played for either of them, and in the process imposed a contemporary sleeve patch onto a throwback uniform even though that patch was never worn by the original team. I don't think we've ever seen a patch that fit those descriptions before.
I'm not opposed to any of this, especially because I suspect many people didn't know Banks had played in the Negro Leagues, so the patch is educational. But it's definitely a different approach than we're used to seeing. Thoughts?
•  •  •  •  •
PermaRec update: I've written about all sorts of found objects over the years. But until now, I've never written anything about a found coffin (shown above). Get the full story over on Permanent Record.
• • • • •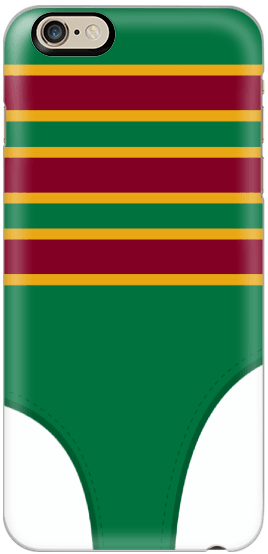 Phone case reminder: In case you missed it last week, the Uni Watch smart phone case, shown at right, is now available. Additional details here, or just go straight to the ordering page.
• • • • •

Baseball News: LSU softball helmets have inspirational messages along the brim. The first letter of each words spells out "Tigers" (from Jay Vean and Jimmy Thomas). "¦ 1971 throwbacks yesterday for the Rochester Red Wings. "¦ The newly relocated West Virginia Black Bears will unveil their new uniforms today. "¦ Tristan Ridgeway notes that former MLBer Hubie Brooks used to wear Brooks footwear, which had the company's name — which was also Hubie's surname — on the back of the shoe. "Must have looked nice with his NOB," says Tristan. "¦ The Mets will be going G.I. Joke for tonight's game against the Cardinals. Fortunately, I already have other plans for the evening. "¦ In a related item, Kansas desecrated the flag over the weekend. "¦ Josh Hamilton, working himself back into shape in the minors wore mismatched pants yesterday (and, yes, also a mismatched helmet, but that's standard for MLBers who are rehabbing in the minors, because all MiLB helmets are double-flapped and the MLBers are allowed to keep wearing their single-flapped big league helmets while rehabbing). "¦ I like this Nashville baseball jersey display, which is apparently at a local library (from Lee Wilds). "¦ The Pensacola Blue Wahoos wore really cool alternate jerseys on Saturday. The sublimated artwork on the jersey was created by local artist Guy Harvey. The jerseys will be auctioned off to benefit the Pensacola Museum of Art — a nice change from the usual charities (from Kourage Kundahl).

NFL News: More and more colleges and high schools are using impact-recording sensors in their players' helmets, but that technology hasn't yet been used in the NFL, in part because the players' union has some concerns about it.

Hockey News: Looks like Alexander Ovechkin has been wearing his Capitals gear under his Russian uniform at the World Championships. "¦ Sometimes kitsch crosses over some invisible tipping point and becomes beautiful, as in the case of this Blackhawks fan.

Soccer News: Everton's new kit has leaked (from Andrew Rader). "¦ Another problem with DayGlo uniforms: They fool the ad boards (from Timothy Burke). "¦ "Liverpool players all took their end-of-season lap of honor wearing Steven Gerrard's No. 8 jersey in honor of the departing captain (and wore next season's New Balance jerseys instead of this year's Warrior shirts)," says Yusuke Toyoda. "¦ Also from Yusuke: "A British radio commentator creates a detailed — and beautiful — pre-match cheat sheet for every match."

Grab Bag: A play currently on Broadway features a lot of spanking — like, really hard spanking — so the costume director had to come up with padded underwear that could protect the actors' derrieres while also preserving the authentic sound of a spank. "¦ Saturday night's middleweight title bout between Gennady Golovkin and Willie Monroe Jr. took place at the Forum in Inglewood, California, so Golovkin wore Lakers-colored gloves, trunks, and footwear. "¦ Over in the UK, the Liberal Democrats party may scrap their logo after their recent poor showing at the polls. "¦ The Rochester Knighthawks — that's a box lacrosse team — are wearing NY Rangers-inspired jerseys and shorts this season. "¦ My friend Lara Cohen informs me that the Brannock Device — aka my Very Favorite Object, which I like so much that I have it tattooed onto my arm — appears in the new Mad Max movie as the gas pedal on the "war rig." I was kinda on the fence about the movie, but now I might have to see it. "¦ Love this bike with a design inspired by the five Olympic rings (thanks, Brinke). "¦ One observer thinks Aussie football teams have too many alternate jumpers. "¦ Speaking of Aussie football, the Greater Western Sydney Giants have unveiled their jumpers for the Indigenous Round, to be held on the last weekend of May (from Graham Clayton). "¦ Someone out there has gotten himself a Yankees-Jets-Devils mash-up tattoo. … Here's weird one: In China, Michael Jordan is losing a fight for the trademark rights to his own name (thanks, Brinke).
• • • • •

What Paul did last night yesterday afternoon: I love Staten Island pizza. In fact, my Very Favorite Pizza in all of New York City is in Staten Island (that would be the very wonderful Joe & Pat's), and there lots of other Staten Island pizzerias that I also like. But last July I read a New York Times article about a Staten Island pizza joint I hadn't been aware of. It sounded good, so I put it on my list. And yesterday, accompanied by my friends Jon and Karen, I finally went to check it out.
The short version: It was good but not amazing. Afterward, we went for a few beers at Liedy's Shore Inn, the century-old tavern on Staten Island's north shore that has a bit of a David Lynch vibe. As we were parking down the block, I noticed two adjacent businesses with interesting signs. The first was for a tire repair shop whose sign painted apparently had some sort of problem with the uppercase "I":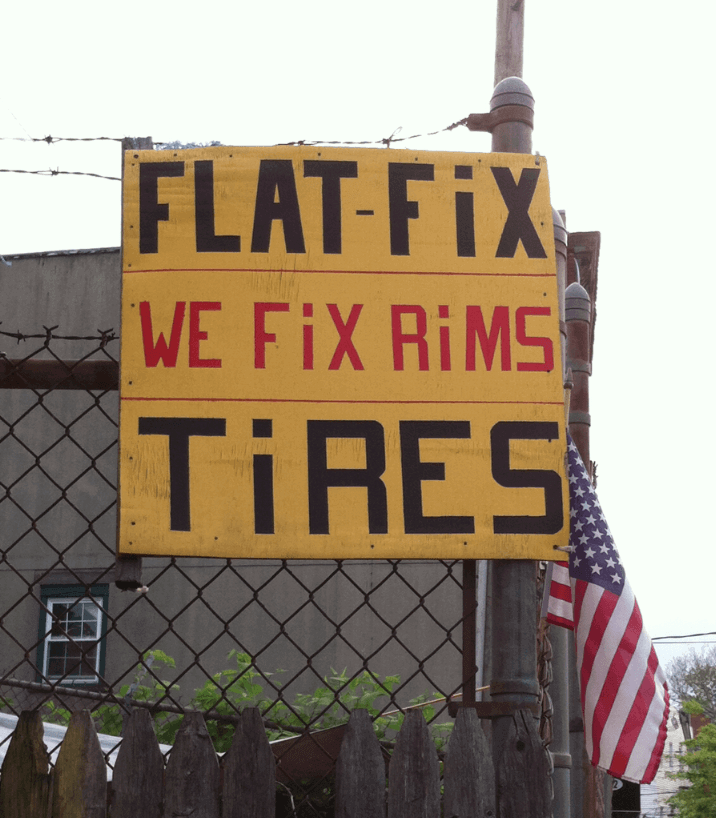 I've seen signs where all the vowels were lowercase, but I think this is the first time I've seen one specific letter singled out for the lowercase treatment. And I kinda like it, because the dots on the "i"s make the whole thing feel more playful. I like.
Next door to that was an auto body shop with the worst (read: best) name ever:
All in all, a fine outing — good pizza, good drinks, good signage sightseeing!