It's been a helluva week for leaks. On Monday I broke the news on MLB's Independence Day caps. Then on Wednesday I had the scoop on the NBA's Christmas uniforms, plus someone on SportsLogos.net leaked an Adidas catalog with all sorts of NBA news.
And now there's more, because last night a gent named Nik Wallenda (pretty sure that's a pseudonym) provided our first look at what he claims to be this year's MLB All-Star Game caps by tweeting out a link to the caps to me and to Phil. I was out seeing music at the time, but Phil ran with the story and it began spreading from there.
Disclaimer: I have not yet confirmed the legitimacy of this leak or its source, although I'm endeavoring to do so as we speak. I'm about 85% sure it's legit, though — stay tuned.
Update, 8:40am: Darren Rovell is now saying that these designs will not be worn in the All-Star Game. I'm trying to confirm and get further info. For now, the rest of today's main entry is suspect, so I'm giving it the strike-thru treatment.
Update, 9:40am: I can now confirm that these caps will not be worn in the All-Star Game. No official confirmation on whether they'll be worn in other contexts (BP, Home Run Derby, etc.), but Rovell says they won't be worn at all. I'm leaving today's main entry text in place, but with the strike-thru treatment, as a reminder that it's never a good idea to get carried away with leaked info until we've confirmed it.
Update, 12:10pm: Turns out they were just concepts. Details here. Phil will have more details on this tomorrow.
So: As you may recall, last year's ASG was in Minnesota, so MLB came up with Twins-inspired caps, most of which looked like shite. With this year's ASG taking place in Cincinnati, there's been longstanding speculation that the caps would be pillbox-style, because that's what Mr. Redlegs wears, plus it's what's shown on this year's ASG patch. And sure enough, that's apparently what they're doing — sort of (click to enlarge):
A few thoughts:
• As you can see, they're half-assing it, trying to impose pillbox-style stripes on a standard six-panel crown. Lame. If you're going to do something, do it right or don't bother. And why are they half-assing it? Wait, let me guess: They don't wanna go full-pillbox because they think people won't buy real pillbox caps. They're probably right about that, but since when does the merchandising tail wag the on-field dog? Oh, right — ever since they made the mistake of selling caps and jerseys to the public.
• As many of you may recall, there's precedent for pillbox all-star caps. In 1976 — the National League's centennial year — the N.L. all-stars wore pillbox BP caps. Those were genuine, non-half-assed pillboxes, because nobody worried about selling them to the public. They only worried about making them look good.
• The half-assery is particularly disappointing given that MLB and Fox plan to promote the game with very old-timey imagery, some of which shows players wearing genuine, non-half-assed pillbox headwear: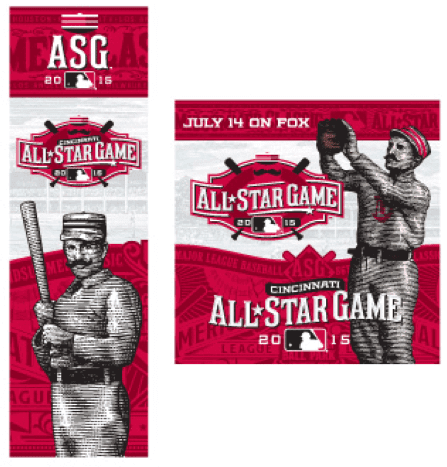 • If you look at the first two images of the caps, there are some inconsistencies. In the first image, the crowns for the Orioles, Yankees, and A's are white; in the second one, the crowns for those teams (and for all of the American League teams) are dark. Phil thinks the second image shows what teams will be wearing in the game — white for the National League, color for the American League.
• When viewed in a vacuum, without the faux pillbox context, I think a lot of the white ones look pretty good. Not as fond of most of the colored ones.
• The Marlins appear to be the only team whose two stripes are two different colors. I like it.
• Man, nothing says, "old-timey pillbox cap" like a big honking All-Star Game logo patch on the side, am I right?
• For the Indians cap, the way the red stripes bleed into the red "C" looks awful, and there are similar problems with the orange star on the Astros cap. They would have had that problem with the Tigers cap too, but they changed the orange "D" to a reverse-field navy. Similarly, they added navy outlining around the red "C" on the Twins cap to provide some definition between the "C" and the striping. Why didn't they do something similar with the Indians and Astros designs?
• There are several teams whose brim and squatchee colors don't match. Doesn't really bother me, but I know that's a dealbreaker for some of you folks.
• Overall, these definitely look better than last year's crop, but let's not allow that to obscure the larger issue, which is this: There's no need for special All-Star Game caps to begin with. Just let the players wear their regular caps along with the rest of their regular uniforms. (Indeed, I was remiss in not saying something similar about the NBA Xmas uniforms. Sure, this year's template is way better than the previous ones, but there's still no need for an Xmas template to begin with.)
• Next year's ASG is in San Diego. Will the caps all be brown? All camouflage? All boring?
Meanwhile, more All-Star Game news: Reader Nicholas Schiavo has gotten his hands on the two BP jerseys. Take a look: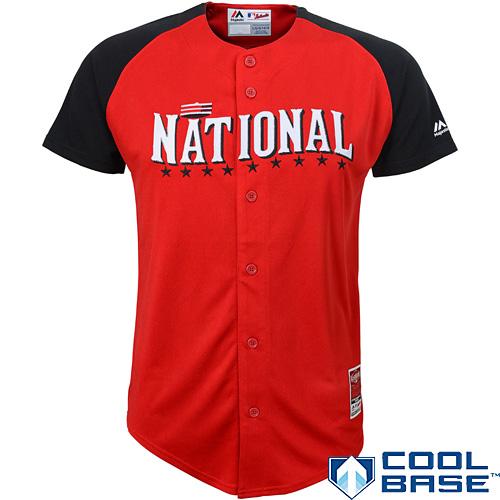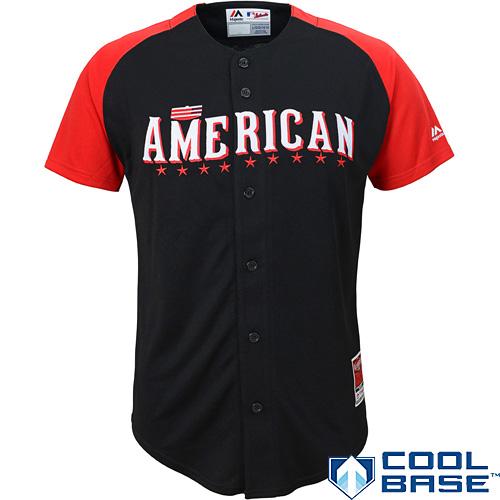 Not very old-timey, but whatever — I can never get worked up about BP jerseys, and that goes double for the ASG. No sign yet of the BP caps.
(My thanks to reader Jerry Areola for additional contributions to this section.)
•  •  •  •  •

Accursed color reminder: Purple Amnesty Day is normally May 17, but that date falls on a Sunday this year, so I'm moving Purple Amnesty Day to Monday the 18th — three days from today. That will be the only day this year when you can order a purple-inclusive Uni Watch membership card. So if you're a fan of the Vikings, Rockies, Lakers, LSU, or any other purple-clad team, mark your calendar.
Also: There will be some new wrinkles to Purple Amnesty Day this year, and believe me when I say it will be gloriously hideous and hideously glorious in equal measure. You'll see.
• • • • •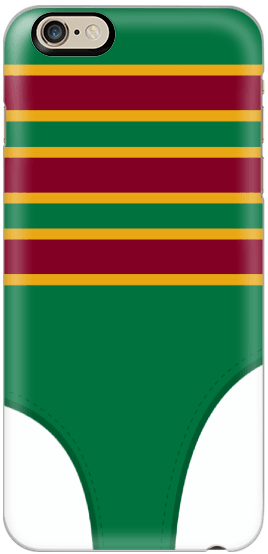 Phone case reminder: In case you missed it earlier this week, the Uni Watch smart phone case, shown at right, is now available. Full details here, or just go straight to the ordering page.
• • • • •

'Skins Watch: After much debate, a Maine school district has decided not to change its team names from "Indians" (from Paul Dillon). … Jeez, you think the Braves have enough Native imagery on their bullpen bag? (Thanks, Phil.) "¦ Also from Phil: Senate minority leader Harry Reid thinks NFL bigwigs should be as concerned with the 'Skins name as they are with Deflategate. "¦ Students at Lancaster High School, outside of Buffalo, have come up with seven new mascot options to replace "Redskins." A final vote will be conducted later this month (from Timothy Tryjankowski). "¦ DC Mayor Muriel Bowser, who had stopped saying the 'Skins name, has gone back to using it in public comments. "¦ This is pretty fucked up: The Exeter Chiefs, who play in the top level of English Professional Rugby Union, have an Indian head logo, an in-stadium "war chant,", and a fan base that dresses up in Indian headdresses — all in the UK! "I guess the average UK resident doesn't get why this could be insulting," says Ben Armstrong, who lives in England. "Perhaps the level of inappropriateness is inversely proportional to distance from those being stereotyped." "¦ The U. of North Dakota has registered a shitload of domain names in preparation for the school's team names changing from Fighting Sioux to, well, whatever they change to (from Denver Gregg).

Baseball News: Here are the results of the voting for Michigan's best high school baseball cap. "¦ Love this 1940s NYC Dept. of Sanitation uniform (from Ray Wroblewski). "¦ Indians INF Carlos Santana had his pants hiked up to outrageous heights yesterday (from Chip Awah). "¦ The Royals' Negro Leagues throwbacks on Sunday will include retro unis for the groundskeepers (from Ryan Donaldson). "¦ Love this old Bob Feller candy ad. "¦ Tuxedo jerseys on tap for the Visalia Rawhide. "¦ Nick Postorino has made a logo-based map of all the ballgames he and his buddies have attended since 2002. "Being a uni/logo stickler, I made sure each logo pin represented the active logo from the year we visited (including Chief Wahoo)," he says. "¦ The Mariners are starting a run of four games with four different uniforms (from @EazyE17_). "¦ I don't know what the Durham Bulls are doing here, but it doesn't look good. "¦ A fan at yesterday's Mets/Cubs game in Chicago was dressed up as the Wrigley Field ivy (thanks, Mike).

Pro Football News: New 40th-season patch for the Buccaneers. Disappointing that they couldn't wait one more year for a 40th-anniversary patch — anniversaries are always better. "¦ Speaking of the Bucs, here's something I'd forgotten: They intentionally misspelled Mike Alstott's NOB at his number retirement. "¦ A Broncos fan has gotten the team's logo tattooed on the inside of his lower lip. "¦ The IFAF — that's the International Federation of American Football — has a Danish team with an interesting helmet design. Reminds me a big of Millard North, the Nebraska high school with the tape-wrapped helmets (from Joanne Mann).

College Football News: New field design for Kentucky. "First time with blue end zones," says Robby Aces. And James Gilbert adds this: "I'm struck by the irony that Bluegrass State's flagship university is playing on synthetic turf. But there is blue 'grass.'"

Hockey News: Twentieth-anniversary logo/jersey design contest for the USHL's Lincoln Stars. "¦ New center-ice script for Maine (from Hans Hassell). "¦ Great unis on view in this California Golden Seals documentary trailer. "¦ A new bridge from Detroit to Canada will be named after Gordie Howe (from Joshua Inwood). "¦ How cool would it be if NHL refs went back to dressing like this! They should at least do it for the Winter Classic (from Brian Wulf).

NBA News: The Chicago Sky have become the latest WNBA team to have jersey advertising. "¦ Here's a slideshow of the NBA Europe headquarters in London. I especially like the signage on the men's and women's room doors (from Graeme Peacock). "¦ Interesting piece on Ballin' Ben, Father Knickerbocker, and the Celtics' leprechaun (from Christopher Jones). "¦ Several media outlets are reporting that this week's Adidas catalog leaks included images of new Raptors alternates, but that's not accurate. The images that are circulating are speculative mock-ups that Chris Creamer created back in February after getting a glimpse at the team's new uni set. Chris has clarified the whole situation in this post. Ignore all the other Raptors news and just read that. "¦ Meanwhile, Conrad Burry, delving deeper into that Adidas catalog, has found a hint that the Wizards will have a Chinese New Year alternate.

Soccer News: New kits for Crystal Palace (from Chris Cruz). "¦ New kits for Nigeria (thanks, Phil). "¦Here are some photos of Tottenham Hotspur players wearing the team's new kit.

Grab Bag: Kudos to Nik Streng, who's the first reader to send in photos of his Uni Watch watch. Not bad! If you want one for yourself, you can order it here. "¦ In the wake of the revelation that many military "tributes" at NFL games are actually paid advertising, a Kansas City Star columnist found that many military members never wanted to be tributed in the first place. Which just reinforces what I've been saying all along, namely that these tributes are just cheap pandering (from Patrick Karasek). "¦ A few days ago I Ticker-linked to a story about the Australian band 5 Seconds of Summer having to change their logo. Here's the new one. "¦ Good story about the development of Google's Android logo. "¦ If you want to add the Apple logo to the face of your Apple Watch, here's how. "¦ A St. Louis fan got a Cards/Blues mash-up logo tattoo (from Joe Kellogg). "¦ A London graphic designer has created some cleverly minimalist posters to help teach his daughter complex vocabulary words (from Jason Hillyer). "¦ Ooh, check out these vintage Indy 500 ticket stubs. Some really nice designs there. "¦ Good TED talk on on badly designed city flags (from Roger Faso). "¦ Lots of great old photos of University of Manitoba Medical College sports teams. If you click on a thumbnails and then click again on the resulting photo to enlarge it, you'll see that many of the teams used skull and bones symbols (from Will Scheibler).
•  •  •  •  •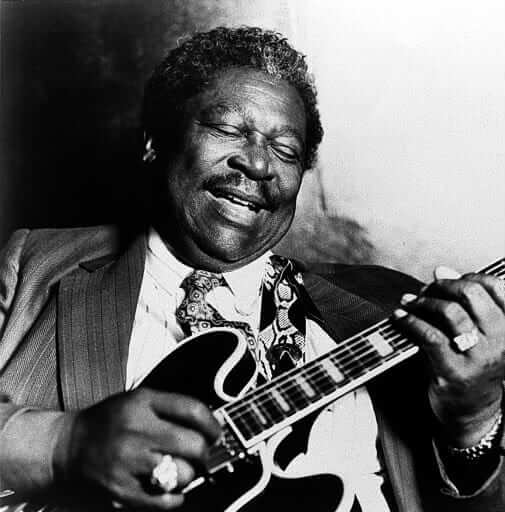 R.I.P., B.B.: As I was about to post today's entry I got the news that B.B. King died late last night. I didn't think he'd live forever, of course, but he had seemed to settle into a sort of eternal agelessness in recent years, so his death stings a bit more. In addition to being an all-time great singer and guitarist, he was one of the blues' last living links to its rural Mississippi origins.
Unlike most of his contemporaries, King crossed over from the chitlin circuit to commercial success with white rock audiences, for the most part without compromising his sound, and in the latter stages of his life he essentially became a global brand. He earned every bit of his success (in 1956 he played 342 dates in 342 venues), so good for him. I'm sure he'd want us to celebrate his life, not mourn his death, so let's go out with one of his best feel-good tunes, "Let the Good Times Roll":