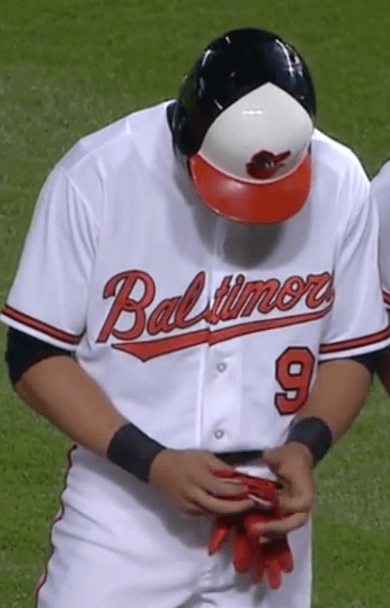 Interesting move by the Orioles, who took their "Baltimore" script, which normally appears on their road greys, and put it onto a set of home whites for last night's game against the Blue Jays (plenty of photos here).
This was the Orioles' first game at Camden Yards since the "empty stadium" game on April 29. That game, of course, had been preceded by two games being cancelled by the riots that engulfed Baltimore in the wake of Freddie Gray's death. So last night was the team's first on-field opportunity to address the crisis in its hometown. Putting the city name on the home whites was a simple but effective move.
In a refreshing change from the way things are usually done in the sports world these days, the Orioles provided almost zero advance hype. The news of the new uniforms was kept under wraps until about 15 minutes before gametime, when the team issued the following tweet: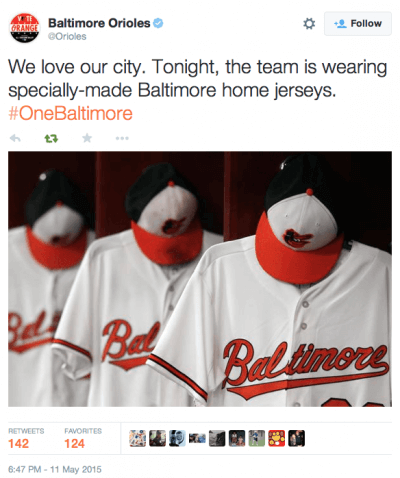 Good for them for not overselling it.
The Orioles have worn "Baltimore" at home before. In fact, they did it just last September, when they wore a stars/stripes "Baltimore" script to mark the 200th anniversary of the writing of "The Star-Spangled Banner." But that was more of a gimmick jersey — it didn't even include the O's team colors. I'm pretty sure last night's jersey marked the first time the team went "Baltimore"-clad at home with an otherwise normal O's jersey.
There are at least two recent precedents for an MLB team responding to a hometown tragedy by wearing its road insignia on its home jersey. The first and most obvious one is the Red Sox's "Boston Strong" jersey, which was first worn on April 20 and 21, 2013, in the wake of that year's Boston Marathon bombings. That jersey has now become an annual part of the Bosox wardrobe, trotted out each year on Patriots Day (which is also when the Boston Marathon is held).
The other example is one you might have forgotten about: After 19 firefighters died while combating the Arizona wildfires in June of 2013, the Diamondbacks created a home "Arizona" jersey, which they wore for a 10-game homestand in July.
The interesting thing about these jerseys is the way they turn baseball's usual insignia protocol on its head. Most of us have been taught that a team should wear its team name at home and its city name on the road. I learned this myself when I was eight years old, when my father explained to me, "When you're a guest in someone else's house, you should be humble. Don't shout your name at them — just tell them where you're from." (Two years later, the Mets changed their road insignia from "New York" to "Mets," which I found very confusing and my father couldn't adequately explain.) Obviously, not every team follows this rule, but most of them do, and my admittedly unscientific impression, based on years of communicating with people about uni-related issues, is that most fans like it that way.
But the implicit message of these jerseys worn by the Red Sox, D-Backs, and now the Orioles is that the city name can be transformed from second-tier status to something Very Special if circumstances dictate. But why wait for special (or tragic) circumstances? If wearing your city name at home makes sense in the wake of a crisis, what about on a normal day? I hope I'm wrong about this, but I have a feeling we may start seeing teams mixing and matching their home and road scripts across their various jerseys.
A few additional thoughts and notes, in no particular order:
•  How symbolically important was this jersey to the Orioles? So important that we were treated to the extremely rare sight of O's skipper Buck Showalter wearing a jersey instead of his usual windbreaker: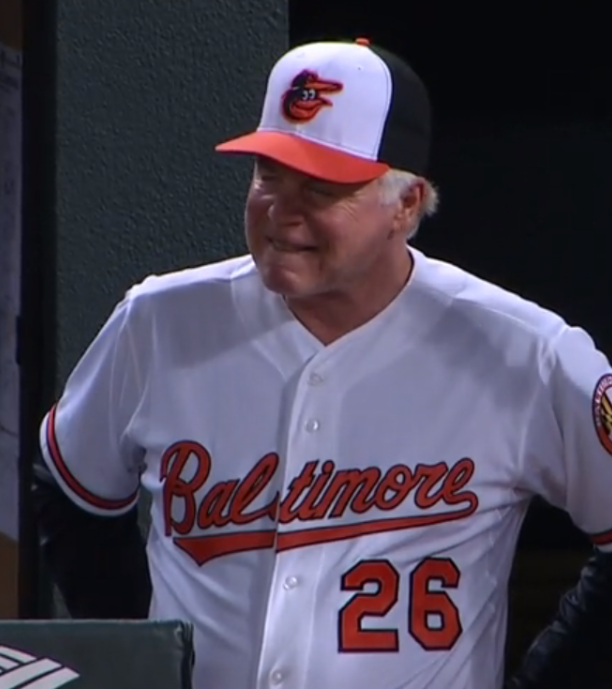 • In a way, putting the city name on the front of a baseball reminds me of college sports, where teams are primarily referred to by their school names, not by their team names. In the NFL, we say the Broncos are playing the Patriots; in the NCAA, we say Illinois is playing Michigan. Wearing "Baltimore" at home kinda feels like that.
• Will the Orioles wear this jersey again tonight? I hope not. If you try to make every game special, you end up with none of them being special.
• Many people have told me over the years that they think the "Baltimore" script is too unwieldy on the road greys — too many letters, not enough space across the chest. For those of you who've expressed that thought over the years, what do you think of the "Baltimore" script on the home white?
• Finally, it'll take a lot more than a nice jersey gesture to heal Baltimore's wounds or solve its problems. As my brother mentioned to me while we were driving out to Long Island on Mother's Day, what happened in the wake of Freddie Gray's death had to be unsurprising, or even predictable, to anyone who's watched The Wire. Obviously, I don't expect a baseball team to be the savior, but Orioles COO John Angelos appears to have a more intelligent public perspective on America's urban challenges than most of his fellow MLB execs. It'll be interesting to see what else, if anything, the Orioles do in terms of community outreach.
•  •  •  •  •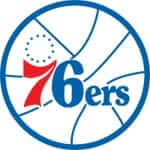 Spirit of 76ers: The 76ers will be unveiling a new logo set this morning at about 9:300am Eastern. I'll have a reaction piece over on ESPN as soon as the new designs go live — link coming soon. have unveiled their new logo set. Full details here.
In other NBA news, the Bucks will be unveiling their new uniforms on June 6. I've seen the uniforms and like them. I think most of you will like them too.
Also: SportsLogos.net honcho Chris Creamer has seen the Raptors' new uniforms. He described them in this discussion thread. No word yet on an unveiling date.
And while we're at it, I'll be breaking some major NBA news later this week, possibly as soon as tomorrow — stay tuned.
•  •  •  •  •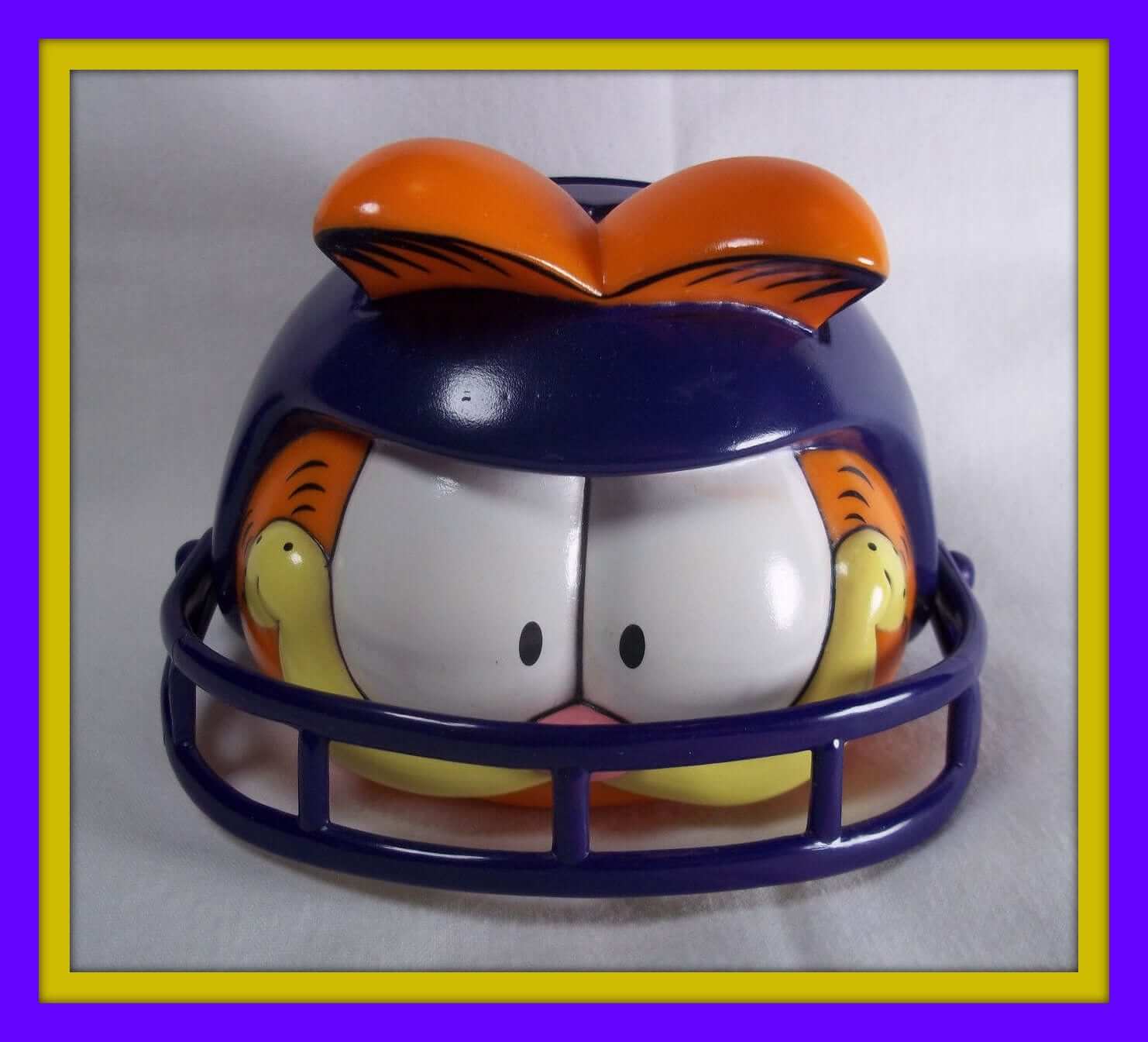 Collector's Corner
By Brinke Guthrie
I have a Bengals Christmas ornament just like this one of Garfield wearing a Vikings helmet, which doubles as a bank. The eBay listing says it's from the 1970s, but I believe this is early 1990s, which is when I got mine. Now on to the rest of the week's stuff!
• I had this very item (where could it have gone?) — a beer mug from the Pro Football Hall of Fame in Canton, Ohio.
• Also had this exact item: a rather abstract-looking mid-1990s Cowboys polo shirt from Nike. This was Nike's first go-round with the league, and Dallas was their first effort, as I recall.
• Here's a T-shirt commemorating Hank Aaron's 715th home run. You have to wonder whether this was licensed, and did Hammerin' Hank ever see any of that cash. Then again, the shirt maker was "Hanko," so maybe he did.
• Some bold geometry on this 1990s New York Giants polo shirt from Apex.
• This Bobby Orr "Jigsaw Puzzle In A Can" screams 1970s. Look at that font!
• I always liked how the NFL parkas from Sears had a nice big tag inside where you could write your name, address, and phone. Of course, 1) you'd use a marker that was too fat so the lines would bleed, thus making your text illegible, and 2) if someone stole it (or "found" it, that is), that tag wouldn't be much of a deterrent. Doubt that many Dol-fans wore these in South Florida, but there you go. More likely they'd wear this Pro Line embroidered Dolphins sweatshirt from Russell. The best.
• Here's a baseball sticker with a nebulous marketing slogan. The Padres urge you to "Let Yourself Go!" Go……where? To the game? To the corner market?
• Never seen this before — or at least not in this combo. We've all seen the NFL book The First 50 Years, but did you know it also came with a poster and a two album record set?
• Speaking of NFL posters, here's a 1969 poster of NFL posters! Very meta.
• You know that Mr. Met has Mrs. Met. But did you know that Mr. Red once had Rosie Reds? Here she is on a leather beach bag.
Follow Brinke on Twitter: @brinkeguthrie
•  •  •  •  •
Uni Watch News Ticker
By Garrett McGrath

Baseball News: The Yankees will wear this Bernie Williams patch when they retire his number on May 24 (thanks, Brinke). … Royals 3B Mike Moustakas wore pink batting gloves last night because he was on the bereavement list on Mother's Day (thanks, Paul). … "Several years ago Uni Watch wrote about red caps worn by the Dodgers coaches during spring training in the '50s and '60s," Ernest Reyes says. "Well, an example recently came up for auction and I wrote about it. Recently, it sold at auction for $845." … Ogden, Utah's Standard-Examiner posted vintage photos of the Ogden Reds from 1939-1955 (from Ben Hatfield). … Matt Duffy of the Giants has switched his uni number from 50 to 5 (thanks, Brinke). … New batting helmets for the Oregon Ducks softball team (from Alex Allen). … The Orix Buffaloes are going to wear ugly uniforms for five home games in June and July (from Yusuke Toyoda). … "I'm in post-production on a documentary on the 1875 independent professional base ball club the Covington (KY) Stars," says Cam Miller. "I have been researching the Stars for the last 20 years. There are no known existing pics or images of unis but thanks to the outstanding descriptions in newspaper accounts of the day, I was able to sketch out and render the uniforms and players for my doc. Here is a logo I designed and the replica tobacco cards that I'll give out at the premiere on June 14." … "The Cubs fixed one of my biggest pet peeves on the new video board," Jeff Ryder says. "They poorly tried to replicate electronic "white dot" number for the batter to start the year. They have fixed this."

NFL News: Thank you for your service? The Department of Defense has paid 14 different NFL teams a total of $5.4 million over the last four years in exchange for patriotic displays at games (from Phil and Andrew Cosentino). … Here's a photo gallery of the Chargers rookies getting fitted for equipment (from Eric Stangel). … "I noticed that the Rams rookies were wearing a lighter shade of blue for their rookie mini camp," Tyrell McDowell says. "Is this foreshadowing the move to LA by going back to the LA Rams original color scheme?"

Hockey News: On Saturday, Eric asked about this picture of Isles' John Tonelli wearing a blue helmet with the team's home white uni. The caption indicated that it was a home game on Oct. 16, 1979, at Nassau Coliseum. He had never seen this blue helmet-white uni combo. The backstory came from reader Danny Green: Before a 5-1 win over Atlanta, the Flames complained that Isles goalie Billy Smith was wearing a white helmet while the rest of the team was wearing blue. Since Smith did not have a blue helmet readily available, the Isles wore white helmets and then pounded Atlanta. Rookie Yvon Vautour scored the game-winning goal in his first NHL game"" it was the first of three goals he would score in an Islanders uniform.

Soccer News: Gerard Pique of Barcelona is showing his impressive haul of swapped jerseys on his Twitter feed (from Yusuke Toyoda). "¦ New home kit for Leverkusen. "¦ Is having a good uniform important to a team's success? You bet it is (from Sean Walsh). "¦ Tottenham Hotspur will unveil its new home kit on Friday (from John Muir).

Grab Bag: Coca-Cola has created a line of specially designed cans with braille for blind customers (thanks, Brinke). … Here's a collection of 50 style guides for large companies (from Ryan Patrick). … Saint Mary's College of California has announced a multi-year apparel deal with Under Armour. … President Obama received these special Jordan IVs with the presidential seal on the tongue from Nike (thanks, Phil). … Bicycling magazine has a new logo (from Sean Clancy). … This guy is going for the worst case of logo creep ever (from Neil MacLeod). … "The Allen High School (Texas) lacrosse team has NOBs below the numbers, uses the Philadelphia Eagles' logo, and has wings on the shoulders," Kenneth Singer says.