For all of today's photos, click to enlarge
[Editor's Note: Today we have a guest entry from Brian Crago, who recently got to attend the second and third rounds of the NFL Draft. Enjoy. "" PL]
By Brian Crago
My buddy was selected in the online lottery and won two tickets to attend the NFL Draft for the second and third rounds last Friday night. He asked me to be his plus-one, and I happily obliged.
There were plenty of things to check out at Draft Town, a separate outdoor fan-fest set up in Grant Park. There were two giant makeshift airplane hangars, one filled with activities and another filled with a secondary outdoor stage:
There were several Combine-style activities set up for anyone to try: kicking field goals, the 40-yard dash, etc. I tried my hand at the high jump, and let's just say that my 28.5″ was adjusted for inflation:
The activities hangar had several uni-notable items. There was a history of the Bears uniforms on display, which I think are typically on display at Soldier Field, and there were also busts of the Bears' Hall of Famers:
Wilson, the football manufacturer, had an area where a woman was making actual footballs from leather and laces [I bet she works at the Wilson factory in Ada, Ohio, which I wrote about back in 2011 "" PL], and there was also a display of all of the previous Super Bowl logos. In addition, each team had a tent with a replica player locker and a few other displays.
Once inside the actual auditorium, I was given a swag bag with several goodies inside. The bag itself was of pretty good quality — it looked like a jersey and was made of actual jersey mesh, with an NFL Draft logo on the "collar" (and, unfortunately, a Skittles ad patch). It seemed more durable than the typical plastic/vinyl backpack variety that are often given away at games. Inside were the typical samplings, such as granola, Skittles, a chip clip, a car charger, a lapel pin, football cards, a draft cheat sheet which was similar to an MLB scorecard, and a one-ear FM radio:
The radio actually came in very handy. Inside the auditorium there were two giant display screens, one featuring the NFL Network broadcast of the event and another featuring the ESPN broadcast. The radios were tuned to each of the broadcasts on different channels, so you could switch back and forth in real time to hear what the pundits were saying. Great idea.
Naturally, lots of fans were wearing jerseys. One of the weirdest ones was this Brett Favre Packers/Jets mash-up:
Finally, here's a video of Dick Butkus announcing the Bears' second-round pick, which I think does a good job of taking the temperature of the room:
All in all it was a good experience. Glad I went.
•  •  •  •  •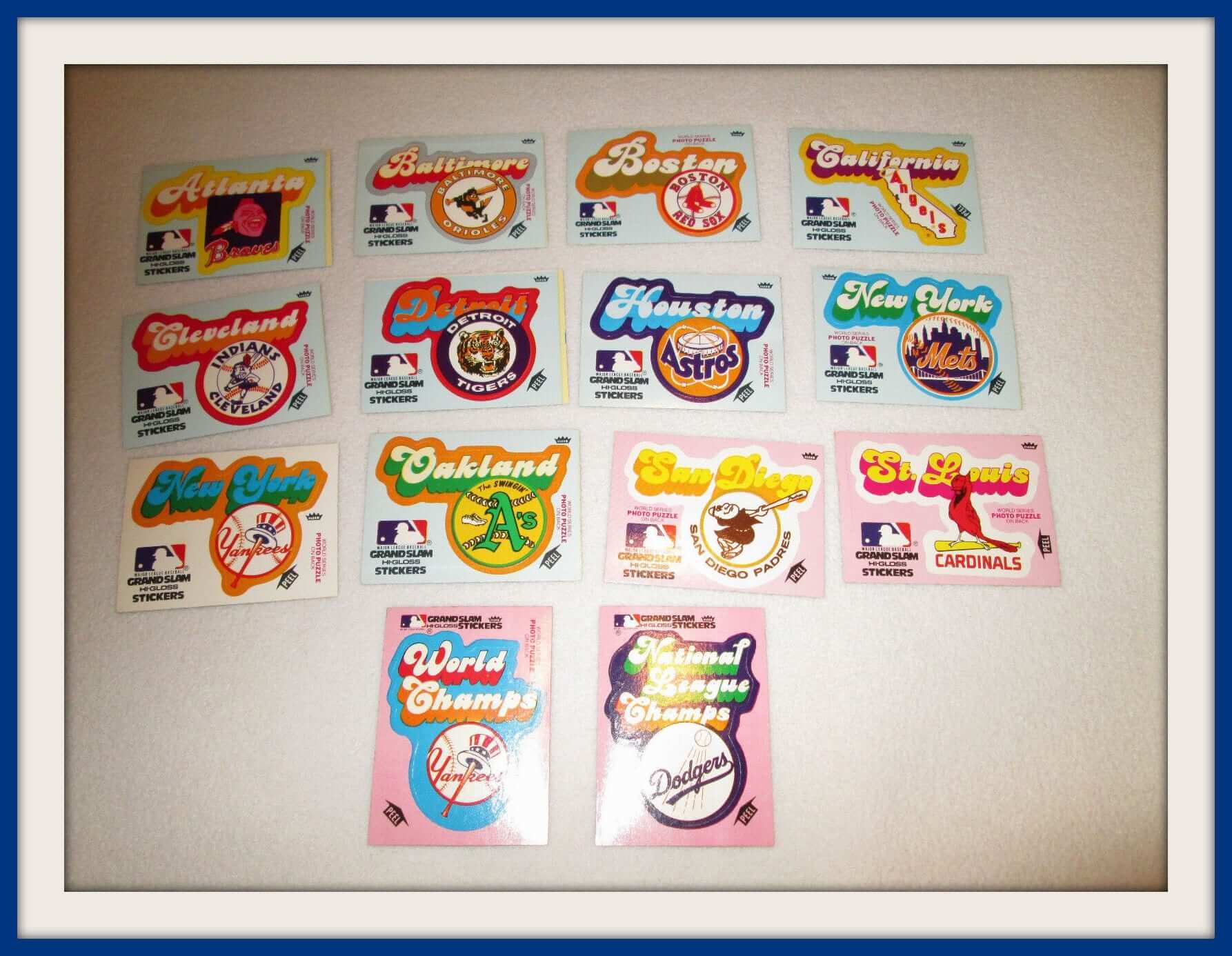 Click to enlarge
Collector's Corner
By Brinke Guthrie
Check out this set of "Hi Gloss Grand Slam" stickers from Fleer. Love the typography, eh? This set would be spring of 1978, I believe, since it references the "National League Champion Dodgers" and the "World Champs" Yankees. Now on with this week's finds:
• Look at this Kentucky Colonels photo. Some player named Pierre Russell, who looks rather serious in his blue suede Adidas. I was a Colonels nut and don't recognize this guy, but he joined the team fall of 1971, which is right when I moved to Dallas and became a Chaps fan.
• The 49ers have been in the uni news recently (ahem), so this is a good time to reflect on the glory days of John Brodie, Gene Washington, and Ken Willard with this 1972 Niners poster.
• Here's a 1970s Saints bicycle reflector! Just snap this onto your Schwinn Spyder's spokes and go, daddy, go!
• Didn't you hate it when a product would come out and the manufacturer didn't have the rights to the team logo? Like this Icee cup with Dave Parker of the Pirates — looks like he's wearing a Twinkie on his head. At some point the logos did eventually appear, as seen on this one with Dick Ruthven of the Phillies.
• I believe I did in fact own one of these: a nice 1970s conservative brown tie adorned with the original Bengals helmet logo.
• The Swingin' A's want you to Make It Happen with this 1970s button. I guess they mean a Series title?
• The 1970s Braves are a little more to the point with their bumper sticker slogan. "Wait 'Til This Year."
• Here's a National League canvas tote bag. The seller says it's from the 1960s, but it looks more like 1970s.
• Never get tired of the look of these vintage Cubs game programs, like this 1960s edition from a game against the Cards.
Follow Brinke on Twitter: @brinkeguthrie
• • • • •
Click to enlarge
Blissed out on lists: A friend of mine was recently doing some spring cleaning, tossing things out, etc., and said she was going to chuck a big pile of to-do lists (shown above), which she had saved several years' worth of. I often make to-do lists myself, but it's never occurred to me to save them, in part because my cross-out style is to completely obliterate an item from a list, to the point where it's completely illegible. So if I saved my lists, they'd just be rows of indecipherable cross-outs.
Anyway, my friend's habit of saving her to-do lists seemed like an intriguing confluence of two obsessive tropes "" listmaking and collecting "" so I asked if I could have the lists, and she agreed to give them to me. Now that I have them, I'm not sure what to do with them, but it feels like an art project waiting to happen. A website? A gallery show? A zine? Hmmmmm.
• • • • •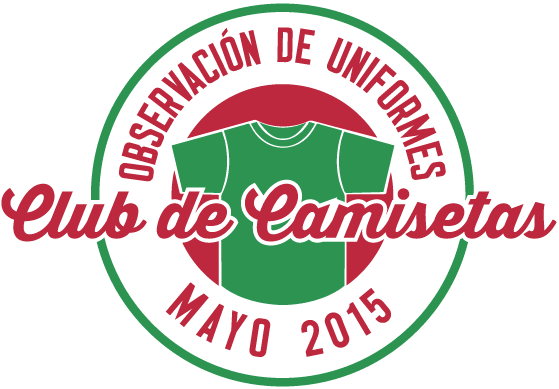 T-Shirt Day! Today is Cinco de Mayo, and I figure many of you who ordered this month's design from the Uni Watch T-Shirt Club will be wearing your shirts. If you want to share a photo of yourself in your T-Shirt Club finery, feel free to post your photos on Twitter, using the hashtag #UWcinco, okay? Okay.
• • • • •
Uni Watch News Ticker
By Garrett McGrath

Baseball News: "I don't like the way many players dress," says former Dodgers manager Tommy Lasorda. Scroll down to No. 12 on that list for further details (from Kurt Esposito). … "Cute bat knob decals for Matt Adams," says Elena Elms. "Big City is his ironic nickname, since he's from a very small town in PA." … Washington Nationals player Michael Taylor's flattop is the star of his bobblehead (from Tommy Turner). "¦ Yellow versus yellow: high school softball game in Harrisburg, Oregon. Harrisburg is at bat and Pleasant Hill is in the field (from Alex Allen). "¦ The Cubs haven't yet worn their alternate grays this season. "¦ Looks like Cardinals skipper Mike Metheny has been wearing an Under Armour undershirt (from Tommy Schmidt).


Pro and College Football News: Former Raiders RB Marv Hubbard died yesterday. Here he is wearing one of those exterior-padded helmets that were briefly popular back in the day (from Ryan Dowgin). "¦ Here's a graphic that shows the Canadian college football jerseys for the upcoming season (from Jim Mullin). "¦ The areana team the Las Vegas Outlaws wore jerseys designed by the artist Michael Godard for last night's game against the L.A. Kiss (from Tim Capper).

Hockey News: The Manitoba Moose have announced their return to the AHL and unveiled new logos and uniforms. The jerseys are basically the same thing worn by their parent club, the Winnipeg Jets, but with the Moose logo on the chest (thanks, Phil). "¦ Someone showed up at last night's Caps/Rangers playoff game in a Winter Classic blazer.

Soccer News: FC Bayern Munich player Robert Lewandowski is wearing one scary mask (from Mike Raymer). … New kits for the Celtic Football Club (thanks, Paul). … This photo could be of Chelsea's new kits for next season (from Gene Traxler). "¦ "Juventus Turin clinched the Italian Serie A title last weekend while wearing a shirt advertising Expo 2015, the World's Fair taking place in Milan this summer," says Bern Wilms. "Turin and Milan are rival cities in close proximity to one another, so it would seem a bit odd to see the Expo advertised by Juventus rather than AC Milan or Inter Milan. As usual, it's all a question of corporate interests: Juventus are owned and sponsored by Fiat, who are also a global sponsor of Expo 2015 and decided to surrender the space on the shirt usually occupied by Jeep."

Grab Bag: Here's an online guide to North Carolina's college mascots (from James Gilbert). … "I've seen high schools borrow college and pro logos before, but this is a new one for me," says Chris Thiele. "A high school using the EA Sports logo from the Roosevelt Relays in Dayton, Ohio, this past weekend." … Here's a blog post about rugby referees wearing pink (from Roberto Santiago). … Finally, pre-stained printed T-shirts are available for all the slobs out there (thanks, Mike).
•  •  •  •  •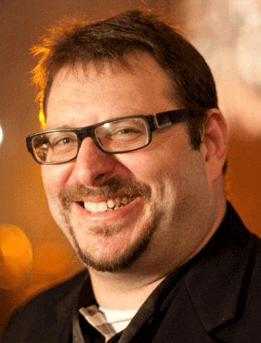 Get out the black armband: As I was getting ready to go to bed last night, I got the news that Josh Ozersky — the only person I've ever met who liked meat more than I do — had died. He was only 47.
I first met Josh about a dozen years ago, when we were both up-and-coming food writers. But for me, food writing was just one gig among many; for Josh, it was his calling and his ambition. In recent years he'd become one of the best-known and most influential food scribes in the profession.
Josh cultivated relationships with a wide range of chefs and restaurateurs, and he was knowledgeable about all sorts of cuisines, but his first love, his true love, was meat. He wrote a book about the best meat in New York (under the pseudonym Mr. Cutlets), another about the history of the hamburger, and another about Col. Sanders. He also organized and hosted Meatopia, which began as his annual private birthday party in New York (I was lucky enough to be invited to some of the early ones — here I am at the 2007 edition) and grew to become a nationwide series of meat festivals.
When I met Josh, he lived just a few blocks from me. We'd hang out, cook, eat, drink, talk about girls. I'd invite him along with me if I was reviewing a restaurant and he'd return the favor. He could be irascible and unpredictable, but he was also a formidable intellect (he had a Ph.D. in American history), and he had some serious writing chops. As his food-writing career took off and my work became dominated more and more by Uni Watch, we didn't see as much of each other. He eventually moved to Manhattan, and then to Portland, but I kept following his writing and media projects. I last spoke to him about 10 months ago, when I got a few quotes from him for a business article I was writing about the hot dog industry.
Josh died in Chicago, where he was about to attend the annual James Beard Awards. The cause of death is unclear, with an autopsy planned for today. He was a real New York character, and one of the most distinctive personalities I've ever known. He'll be missed. R.I.P.