Photo taken yesterday; click to enlarge
Uni Watch mascots Tucker (left) and Caitlin turn 10 years old today — or 56 in feline years. Aside from their steadfast refusal to look at the camera at the same time, they're pretty damn awesome, and it's no exaggeration to say that Uni Watch wouldn't be possible without the endless stream of entertainment and affection they provide for me each day. They're the best cats in the uni-verse and the universe, and I can't imagine life without them. They'll be getting lots of catnip and other birthday treats today. Good kitties! "" Paul
•  •  •  •  •
Tommy and Paul; click to enlarge
Tommy time: If you're a longtime reader of the site, you're probably familiar with the name Tommy Turner (or as he's sometimes known, Tommy the CPA), who's been contributing a steady stream of Ticker items, most of them DC-related, for many years now. Tommy and his lovely wife, who live in Richmond, Virginia, are vacationing in NYC this week, and I had the pleasure of meeting up with them yesterday evening at a midtown tavern.
Like so many Uni Watch readers, Tommy's a bit of a character. He says he has "prodigious amounts" of jerseys, helmets, and other collectibles, and he seems to remember exactly what he paid for each of them (usually at a steep discount).
Interestingly, Tommy is a camo-loving Marine Corps veteran and a lifelong 'Skins fan who has no problem with the team's name. He's aware of my positions on those issues, obviously, but that hasn't dampened his enthusiasm for Uni Watch — or, more importantly, his tremendous graciousness and generosity of spirit — because he's a true gentleman who doesn't little differences of opinion get in the way of the big picture. And the big picture is that he's a uniform guy, so we had plenty to talk about. He also insisted on picking up the tab at the end of the evening, which was completely unnecessary but very much appreciated.
Thanks so much, Tommy. It was a privilege to meet you — enjoy the rest of your time in NYC.
• • • • •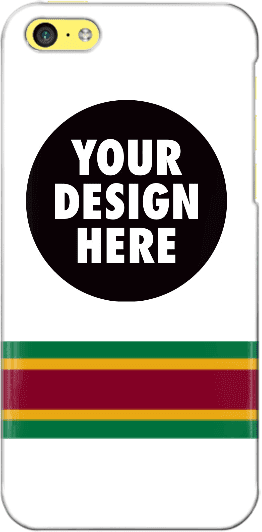 Design contest reminder: In case you missed it, I'm currently running a contest, with a cash prize, to design a Uni Watch smart phone case. Full details here.
As an aside, many of the designs that have been submitted so far feature a white background. As you can see, I used a white background for the mock-up shown at right, so maybe people were following my lead, but I want to stress that the base color does not have to be white. If you go to this page and click on "Layout," you'll find a link that will show all of the available background colors.
•  •  •  •  •
Uni Watch News Ticker
By Mike Chamernik

Baseball News: Yesterday, the White Sox and Orioles faced off in front of an empty ballpark in Baltimore due to the riots around the city. It was the lowest-attended baseball game ever and it was quite a weird sight. The players had some fun with it though. Sox OF Adam Eaton cracked a joke, O's C Caleb Joseph signed autographs for invisible fans, O's 1B Chris Davis tossed a ball into the stands, and O's broadcaster Gary Thorne called an Adam Jones double like a golf announcer. Here's a photo gallery of the game. And as an extra touch of video game realism, the online "The Show Live" O's/Sox matchup on MLB The Show 15 featured an empty stadium. … In a related item, the Orioles' weekend set against the Rays is being relocated from Baltimore to the Trop this weekend, but the O's are still the home team and will wear white uniforms. Also, Rays players will not have their usual walk-up music or other rah-rah moves that they'd normally have if they were the home team (from Andrew Cosentino). … Not only did the Padres wear their Wednesday throwbacks yesterday, their game notes were retro, too (from Brady Phelps). … I believe we've seen this before, but just in case: Chicago's St. Rita High School wears 1980s White Sox beach blanket uniforms. "They're still wearing the same style stirrups that we started wearing while I was there in 2000," says Marc-Louis Paprzyca. … Staten Island's Tottenville High School wears tequila sunrise jerseys (from Alan Borock). … A Rangers fan zinged Josh Hamilton with a modified jersey (from Cody the Chicken). … One more from Cody: The Indians put a team-themed Grateful Dead logo on their lineup card yesterday. … Former Cubs and Bears trainer Andy Lotshaw wore a great dugout jacket (from Christopher LaHaye). … Douglas Ford found a video of a few members of the London-based band Jungle performing in MLB gear. … Hanley Ramirez's helmet ocasionally falls off when he swings. "¦ A pickoff throw from Pirates P Gerrit Cole tore a hole in 1B Pedro Alvarez's glove last night (from Chris Flinn).


Pro and College Football News: The 49ers will unveil a new alternate uniform at their draft party tonight. Paul will have full coverage on this tomorrow. … New uniforms for UConn and UNLV. As many people have already noted, the UNLV set looks a lot like Rutgers', and the uni numbers on the black and red jerseys are going to be very difficult to discern. But maybe everyone will forget about that and just focus on the "Welcome to Las Vegas" sign that will now be appearing on the back of the helmet.

Hockey News: Fans voted for the best uniform in Chicago Wolves history (from Jeff Wilk). … A fan at last night's Wings/Lightning Game 7 wore a Steve Yzerman Lightning jersey. Yzerman played more than 1,500 games for Detroit, but he is currently Tampa Bay's GM (from Matt Larsen).

Soccer News: New all-white third kit for Sporting Kansas City. The team will wear the uniform this Sunday against the Chicago Fire. … FC Bayern renewed its contract with Adidas through 2030. "It's not the biggest surprise since Adidas owns an 8.33% share in the club," says Yusuke Toyoda. … Montreal Impact forward Dominic Oduro had a fleur-de-lis shaved on his head (from James Nagasawa).

Basketball News: New court and slightly different logo for Kentucky (from Jon Arthur). … Georgetown is holding a contest for fans to design a new court for the Hoyas. … After attending the Bucks logo unveiling with Paul a few weeks ago, I came up with a uniform idea. When a team changes its look nowadays, the colors, logo and uniform alterations all represent something. There's a story to be told. What's a great way to show that a team is tough, gritty and professional? Literally… blue collars! Teams should totally start wearing blue collars and playing up the symbolism. Bonus points if blue isn't even in the regular color scheme. My other idea is that teams can sew heart patches on their sleeves.

Grab Bag: Here's a look at the history of U.S. Postal System uniforms (from John Henderson and Andrew Rousch). … Both Maryland governor Larry Hogan and Baltimore mayor Stephanie Rawlings-Blake have worn Under Armour gear during public appearances over the last few days. UA is based in Baltimore and even sought to produce the city's police uniforms a few months ago (from Scott Szymendera). … Here's a great bunch of old ads featuring women playing sports (from Will Scheibler). … GoDaddy will not sponsor Danica Patrick next year. … Douglas Ford thinks the Mayweather/Pacquiao poster looks familiar. … "A fan of VFA Australian rules football club Werribee has created his own scoreboard memorial of the club's biggest score, against Coburg in 1993," says Graham Clayton.
•  •  •  •  •

What Paul did last night late yesterday afternoon: I had to make a stop in the East Village yesterday while I was on my way to meet Tommy Turner and his wife. It was a beautiful spring day, and I was in a great mood as I passed a work crew painting a Modelo Especial ad onto the side of a building at the corner of 12th St. and Ave. A. That's when I noticed something interesting — take a look (click to enlarge):
As you can see, the painter was using a print ad as a guide for the painting. I watched him work for a few minutes and it was really fascinating to see how he'd look at the print ad and then make a small adjustment based on what he saw there. So cool!