Click to enlarge
[Editor's Note: Back in 2012 I ran an entry about how Marquette dropped its "Warriors" team name in 1994. Today we have a guest entry from Brent B, who has an fascinating story about another chapter in Marquette sports history. "" PL]
By Brent B
Back in 2005, while I was still in school at Marquette University, the board decided to change the mascot from the Golden Eagles to the Gold. Backlash from alumni and students was intense, and the mascot reverted back to the Golden Eagles in about a week.
It just so happened that I was interning with a clothing retailer at the time. And since we were local to the Milwaukee market, some samples with the new name were created. I made friends with another intern in the men's athletic apparel department and, when it was clear these shirts would never get into stores, convinced him to get me the samples. Those are the two T-shirts you see above.
The shirts had official NCAA tags on them (they finally tore off in a move) but the trademarks on the screen printing remain: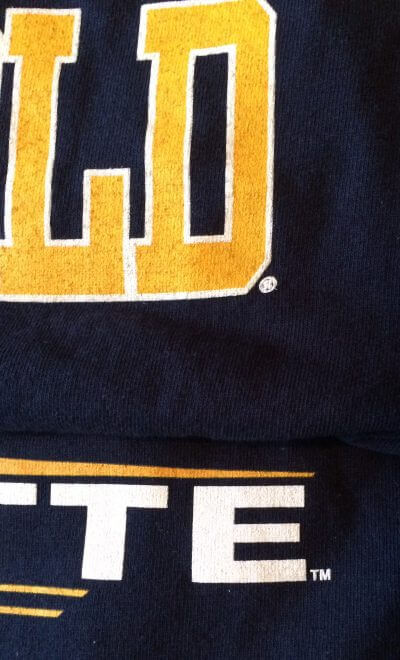 The "Gold" name didn't last long enough for a mascot to be designed, so one of the shirts had the Golden Eagle logo that was current at the time:
I've never come across any other "Gold" apparel, either in stores or as samples, so as far as I know these are the only two pieces that exist. I've never had the desire to wear them to a game for fear of ridicule, so they remain in like-new condition.
• • • • •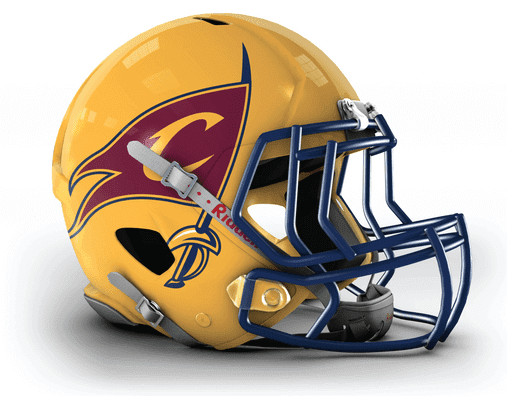 Right, me neither: Ever wonder what it would look like if NBA teams had football helmets? A pair of graphic designers named James Politi and Luke Daly did, so they created helmet mock-ups for all 30 NBA teams.
Frankly, this kind of exercise generally leaves me cold (maybe if it had been done with colored markers or something like that, then I'd be more into it), but a lot of readers seemed to like this one once it began circulating yesterday afternoon, so I thought I'd give it a little showcase. Check out the full set here.
(Footnote: Of course, one NBA player — Calvin Murphy of the Rockets — actually has worn a helmet on the court. But it wasn't a football helmet.)
• • • • •
Click to enlarge
Absolutely essential: Longtime Uni Watch pal Bill Henderson has just put the finishing touches on the latest edition of his definitive Game Worn Guide to MLB Jerseys. As its title suggests, the guide was originally intended just for jersey collectors, but it has become an indispensable visual database for MLB uniform scholars. I usually consult my copy several times a week.
Like its predecessors, the new edition covers pretty much every jersey design worn in the post-flannel era (i.e., 1970 to the present), with detailed team-by-team info about NOB lettering, patches, throwbacks, BP jerseys, tagging, manufacturers, and more. Uni Watch's highest rating!
You can see a sample chapter and get your copy of the new edition here. Even better, Bill is offering a 33% price break to Uni Watch readers who use the discount code "purple100" at checkout. You know what to do.
(And if you want a fun little blast from the past, check out this piece I wrote about a previous update to the Henderson guide.)
•  •  •  •  •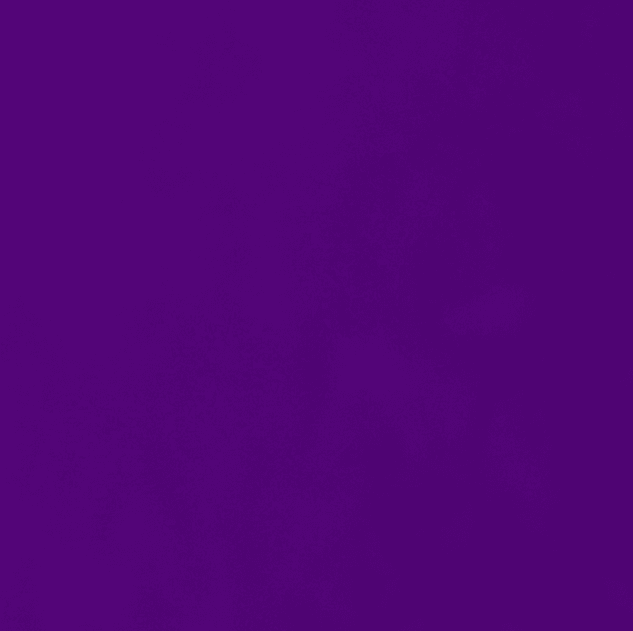 Accursed color update: As longtime readers are aware, May 17 — the anniversary of this site's launch — is Purple Amnesty Day. That's the one day of the year when I'll accept orders for Uni Watch membership cards that include purple.
Last year May 17 fell on a Saturday, so I moved Purple Amnesty Day to Friday the 16th. This year May 17 is on a Sunday, so I'm once again moving Purple Amnesty Day, this time to Monday the 18th. That will be the day when all you Vikings, LSU, and Rockies fans can order your membership cards. Mark your calendars now!
Also: Purple Amnesty Day will have a new wrinkle this year. Not ready to tell you the details just yet, but I think you'll enjoy it. Stay tuned.
•  •  •  •  •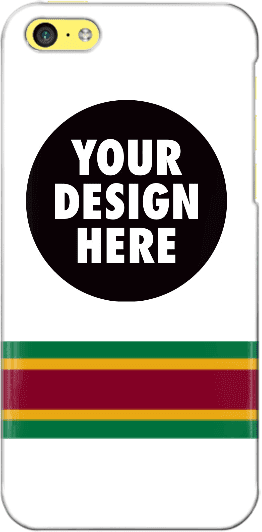 Design contest reminder: In case you missed it, I'm currently running a contest, with a cash prize, to design a Uni Watch smart phone case. Full details here.
As an aside, many of the designs that have been submitted so far feature a white background. As you can see, I used a white background for the mock-up shown at right, so maybe people were following my lead, but I want to stress that the base color does not have to be white. If you go to this page and click on "Layout," you'll find a link that will show all of the available background colors.
•  •  •  •  •

Baseball News: With all the Royals-related brawls we've seen this season, Indians P Trevor Bauer wore boxing gloves in the dugout for Monday night's Cleveland/KC game. "¦ The MLB Network ran a Tigers graphic that mistakenly showed the team's cap logo on the jersey. "¦ Riker Lynch did a 1920s baseball-themed dance and wore a baseball uniform on Dancing With the Stars the other night (from Kelby Phillips). "¦ Due to the unrest in Baltimore, this afternoon's Orioles/Chisox game will take place in an empty stadium. Poor weather and other factors have led to plenty of MLB games taking place in near-empty ballparks, but has there ever been a previous instance of a game being closed to the public? "¦ Beginning with yesterday's game, Maryland is wearing five different jerseys in a five-game span — plus there's that sixth jersey at bottom-right, but it's not clear when they plan to wear that one (from Ryan Bowles). "¦ Whoa, check out what the Serra Padres wore back in 1982. That's Barry Bonds on the right, incidentally. That '82 design is the basis for the team's current uniform (from @The_Treal_Jay). "¦ Beau Schott got himself a full set of the Mariners' new striped legwear. "¦ Disappointing to see G.I. Joe uniforms down at the Little League level. That's a team from Madison, Alabama (from James G.). "¦ Here's what an eBay seller purports to be a waitress uniform from one of Pete Rose's restaurants. "¦ Here's a weird mix of a jersey and a tuxedo jacket (thanks, Mike).

NFL News: The Bills' practice jerseys will now have NOBs. "¦ Nike has unveiled a new line of NFL cleats. Key quote from the press release: "[The three new designs are called] the Nike Vapor Speed, Nike Alpha Speed and Nike Strike Speed. As the game continues to get faster, now athletes at every level can choose their style of speed, whether explosive, elusive or relentless." Yeah, I can just picture a player thinking to himself, "Hmmm, do I want explosive speed or relentless speed?" Typical boys-with-toys nonsense from the swooshkateers. "¦ The helmet and shoulder pad manufacturer Xenith is moving its factory operations to Detroit.

College and High School Football News: New uniforms for East Tennessee State. … The Colorado equipment staff is tweeting teaser images leading up to Friday's uniform unveiling (from Jeff Alexander). "¦ Key quote from this article about Ohio High School Football Coaches Association North-South All-Star Classic, which took place on Saturday: "Identifying players by their helmets was near impossible. As has become customary at all-star football games, players decorated their helmets with their opponents' decals." "¦ Nebraska's offensive coordinator is among those who'd like to see college teams start using NFL-style wireless helmet communication. "¦ Penn State coach James Franklin was at Yankee Stadium last night. He wore a PSU baseball jersey and gave a PSU helmet to Yanks skipper Joe Girardi. "¦ UNLV will unveil new uniforms today, and they'll apparently include an upside-down wordmark on the pant legs. Fortunately, no wordmark for the red and black pants.

NBA News: While looking for something else, I came across this old shot of Jerry West wearing a serious wrap on his thigh. … "On Monday night's Inside the NBA, Charles Barkley was presented with two custom-made beds for his dogs, Mango and YooHoo," says Mike. "One dog bed had a Barkley 76ers jersey, one had a Suns jersey. It really upset me that Shaq went over and broke one for no real reason. Like, was that an attempt at humor? Man, he sucks." "¦ In case there were any doubters out there: Good job by Chris Creamer, who notes that the Clippers have trademarked the logos that I first broke earlier this month. "¦ Meanwhile, a designer named Ian Bakar has come up his own Clippers-redesign proposal. "¦ Are the Rockets teasing a new logo design? Shmaybe.

Soccer News: New home kit for Atlético Madrid. "¦ Arsenal's new kit has leaked (from Nate Farrer). "¦ Bournemouth clinched promotion to the Premier League on Monday night and for some reason the club chairman celebrated with a sombrero (from Yusuke Toyoda). "¦ Also from Yusuke: "Another day, another kit manager profile. This time it's Barcelona's equipment manager's meticulous pre-match preparation." "¦ Brazilian team Ponte Preta used to wear neckties as part of their kits. "¦ Looks like FC Barcelona is changing from stripes to hoops.

Grab Bag: Texas A&M's board of regents is voting on a new school logo today. Lots of discussion among Aggies fans here, here, and here (from Greg Keith). "¦ The Delhi Daredevils — that's a cricket team in India — will wear lavender cancer-awareness jerseys on Friday. "¦ Here's your chance to vote on the best New Jersey high school lacrosse helmet. "¦ A new logo to celebrate the Canadian sesquicentennial is causing some controversy. "¦ A series of racist killings carried out by a German neo-Nazi group appears to have been plotted so that the murders' locations create the group's logo when plotted on a map. "¦ Very cool article on paper clip design (big thanks to Mark Coale). "¦ With same-sex marriage being argued before the U.S. Supreme Court yesterday, presidential candidate Hillary Clinton changed her Twitter and Facebook avatars to a rainbow version of her campaign logo, leading to the observation that the Clinton design is becoming the Empire State Building of campaign logos. "¦ "The Japan Rugby Football Union has reached an agreement to have Astro Boy be a supporting character for the team for the 2015 Rugby World Cup in England," says Jeremy Brahm. "Astro Boy is owned by Tezuka Productions, which can now say that they have agreements with baseball (Seibu Lions [current] and Yakult Swallows [throwbacks]), volleyball (Japan Volleyball Association), and now rugby." "¦ One of the horses running in Saturday's Kentucky Derby is named Itsaknockout, and the Mayweather/Pacquiao fight promoters are using the horse to promote the big fight (from Jody Michael). "¦ New cycling jerseys for the Tour d'Azerbaidjan 2015. "¦ Canada's uniforms for the Pan Am games will be unveiled today.