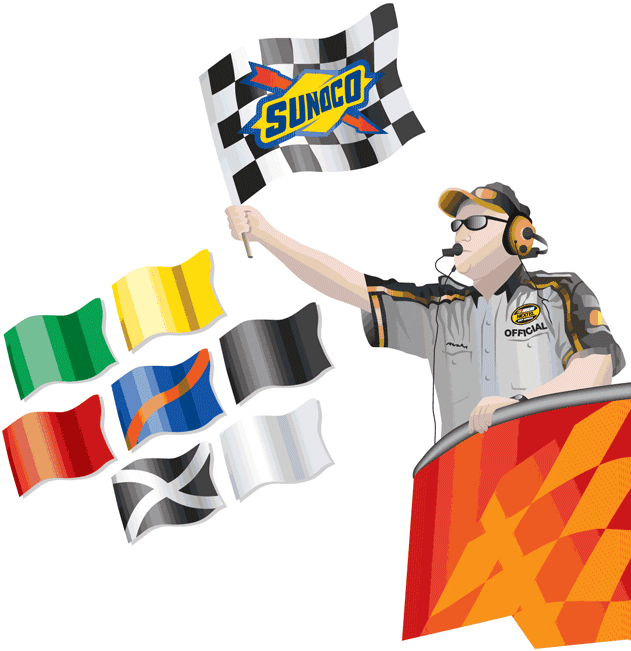 [Editor's Note: Phil and I are both indisposed today, so we have a guest enry from David Firestone, who's going to enlighten us on the subject of auto racing flag designs. "" PL]
By David G. Firestone
Flags and sports have long been associated with each other. And from the penalty and challenge flags in football to the scoreboard at Wrigley, flags remain a big part of sports today. But when it comes to motor sports, flags are even more iconic because they are used not just for one small part of the races but for almost every aspect.
Each flag design conveys a different signal to drivers, but there are differences between Formula 1, IndyCar and NASCAR — not only in what they mean but in how and where they are used. Let's look at some of the most common flags and see the differences in how they're used by different racing circuits:
• Green flag: In NASCAR and IndyCar, the green flag is used to start the race, or practice session. Formula 1 uses a series of lights to start the race, so the green flag is used to indicate that the driver has passed a localized caution. In IndyCar and NASCAR, green flags carry the American Ethanol logo.
• Yellow flag: Used in NASCAR and IndyCar to slow cars down to a predetermined speed due to unsafe condition on the track. Used in F1 to indicate an unsafe condition in one specific area of the track. This is referred to as a localized caution. If track conditions mandate a full-course caution, officials will hold up white "SC" placards, to indicate the safety car has been deployed.
• Red flag: Used universally to indicate that the race has been stopped, usually due to poor track conditions and/or an accident. In NASCAR and IndyCar, no work may be done on cars while the race is under a red flag; in F1 there is no such restriction.
• White flag: Used in NASCAR and IndyCar to signal that the last lap of the event has started. Used in F1 to warn of a slow-moving vehicle on track.
• Checkered flag: The most iconic flag in motor sports is universally used to indicate that the race has ended. Its exact origins are unknown, but the first picture of a checkered flag being used to end a race was at the 1906 Vanderbilt Cup on Long Island. NASCAR and IndyCar checkered flags carry the Sunoco logo.
• Black flag: Used in NASCAR and IndyCar to inform drivers that they have to serve a penalty or that they have a mechanical problem. In F1, a driver being shown this flag has been disqualified.
Now let's move on to some of the lesser-known, but just as important, flag designs:
• Blue flag: Used in F1 and IndyCar to signal that a faster car is trying to overtake the driver and that the driver should clear the way. If three blue flags are ignored, the driver will be shown a black flag, and his/her race will be over. Used in NASCAR to indicate that the track is blocked and/or there are slow-moving cars on the track.
• Blue flag with a yellow stripe: Used in NASCAR. Similar to the blue flag, but not heeding this flag will not result in any penalties.
• Black flag with a white cross: Used in NASCAR and IndyCar to indicate that a driver has been disqualified, same as a black flag in Formula 1. NASCAR uses an X pattern whereas IndyCar uses a cross pattern.
• Black flag with an orange circle: Used in F1 to indicate that the driver has a mechanical problem and must return to the pits. Unused in NASCAR and IndyCar.
• Black and white flag: Used in Formula 1 to indicate an unsportsmanlike conduct by a driver. If this flag is not heeded, a black flag will be displayed.
• Red and yellow striped flag: Used universally to indicate that there is debris, oil, or fluid on the track.
• Red flag with a yellow cross: Used in NASCAR and IndyCar to indicate that the pit lane has closed. Green flag will be displayed when pit road opens.
• White flag with a red cross: Used in IndyCar and Formula 1 to indicate that there is an ambulance on track. Not used in NASCAR.
• • • • •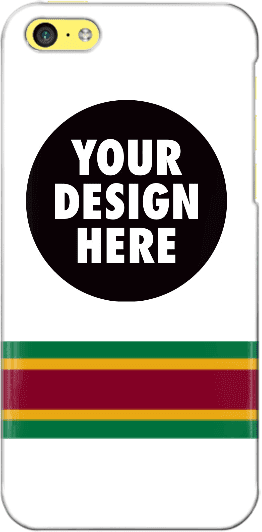 Design contest reminder: In case you missed it, I'm currently running a contest, with a cash prize, to design a Uni Watch smart phone case. Full details here.
As an aside, many of the designs that have been submitted so far feature a white background. As you can see, I used a white background for the mock-up shown at right, so maybe people were following my lead, but I want to stress that the base color does not have to be white. If you go to this page and click on "Layout," you'll find a link that will show all of the available background colors.
• • • • •

Baseball News: The Cubs and Reds wore 1990 throwbacks last night. Lots of photos here and here. There was an unfortunate moment during the Reds' broadcast of the game when announcers Jeff Brantley and Thom Brenneman felt the need to break out the Telestrator to explain what stirrups are (from Jonathan Daniel). "¦ Orioles OF Adam Jones wore 1960s-style O's stirrups last night (from Matt Malinoski). "¦ If you've been wanting to vote on the best baseball cap among New Jersey high school teams, today's your lucky day (from @OhHeyItsTodd). "¦ White Sox leadoff man Adam Eaton went high-cuffed last night as a slump-buster move (from Ryan Lindemann). "¦ The Bridgeport Bluefish unveiled two sets of alternate uniforms on Thursday. This "Magic City" set comes with striped stirrups. Unfortunately, the other alternate set features a big, honking apostrophe catastrophe. Sigh.


Pro and College Football News: Patriots owner Robert Kraft wore sneakers for the team's recent visit to the White House (from Tommy Turner). … Oh man, check out this article about a 70-year-old Miami Hurricanes orange jersey. What a beauty! Love the green numbers (big thanks to Eric Wright).

Hockey News: Check out this 1966 booklet, sponsored by Coca-Cola, teaching kids to play hockey (from Chris Mizzoni). "¦ Here's more on the proposed Vegas team's color scheme (from Mike Engle). "¦ There's a club team in Austin called the Shamrocks, and holy moly do they have gorgeous uniforms (from Joey Breeland).

NBA News: The broadcast of the1982 NBA draft featuring an amusing typo (from Douglas Ford). "¦ Also from Douglas: A cross-dressing shot of former Hawks player Dan Roundfield wearing a Braves cap. "¦ NBA commish Adam "Inevitable" Silver was at last night's Rockets/Mavs game, and it looks like his seatback was festooned with American Airlines logos (from Chris Perrenot).

Grab Bag: Nike products have been banned by ISIS. Insert joke about evil empires here. "¦ Very interesting look at how corporate logos might look if they were drawn by hand (from Andrew Moeschberger).
•  •  •  •  •
Today is ANZAC Day, so let's take a moment to salute our Australian and New Zealander readers. If you or your family are mourning a fallen soldier today, my thoughts are with you.