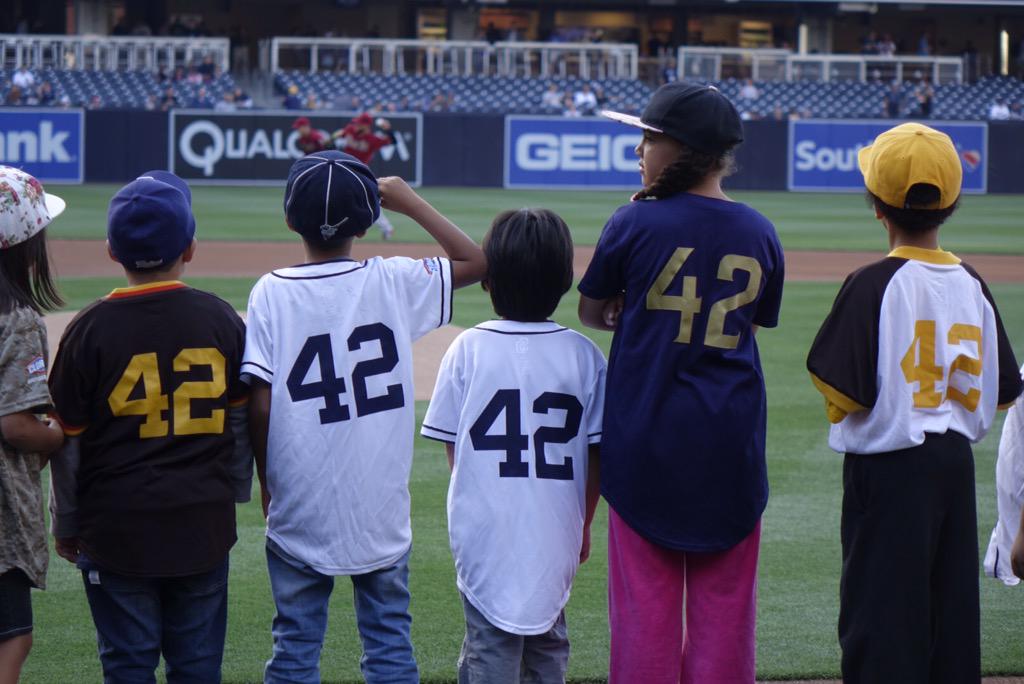 Click to enlarge
As many of you know, the Padres provide jerseys — Padres jerseys — to San Diego-area Little League teams. They had a bunch of those Little Leaguers, all wearing No. 42, on hand yesterday at Petco Park for Jackie Robinson Day. Very cool move on their part.
As per MLB's annual custom, all uniformed personnel also wore 42 and went NNOB yesterday. I know some of you think this makes a mockery of the very notion of uniform numbers or some such, but I love it. As I've said before (and will keep saying), it strikes me as the one unqualified success from Bud Selig's tenure as commissioner.
A few Jackie Day notes:
• Several players who usually go with pajama pants went high-cuffed yesterday, including Cubs outfielder Dexter Fowler; Marlins infielder Dee Gordon; Blue Jays outfielder Kevin Pillar; Red Sox outfielder Hanley Ramirez; Astros outfielder George Springer (who as you can see went the extra mile by wearing stirrups); Nats pitcher Drew Storen (great blousing there); and Mariners pitcher Taijuan Walker. I'm sure there were others, but those were the ones I'm aware of.
• Part of the fun of Jackie Day: Teams' online rosters listed all players wearing No. 42. (They're back to showing their regular numbers today.)
• In a related item, the Mets recalled utility man Eric Campbell from the minors yesterday (to replace injured David Wright on the roster) and announced that he'd be wearing No. 29. But of course Campbell actually wore 42, just like everyone else. He'll wear 29 tonight.
• Another fun element: mismatched helmet and jersey numbers.
• Several players wore specialized footwear — not sure how many of them actually wore them), including Pirates third baseman Josh Harrison; Mets outfielder Curtis Granderson; Mariners outfielder Alex Jackson; Orioles outfielder Adam Jones; Nationals outfielder Michael Taylor; and Pirates minor leaguer Cole Tucker.
• The Dodgers and Mariners played the annual Civil Rights Game, so they wore sleeve and cap patches.
• Hmmm, should the Indians have changed their Al Rosen memorial patch from 7 to 42? (Just kidding. Mostly.)
• Astronaut Terry Virts, currently serving on the international space station, wore a Jackie jersey and cap in space! Here's a video clip.
• The baseball team at Robinson's alma mater, UCLA, will wear Jackie-era throwbacks for today's game.
• Finally, I was happy to see that lots of Uni Watch readers wore their Jackie-themed Uni Watch T-Shirt Club tees (if you can't see the slideshow below, click here):
(My thanks to Andrew Cosentino, Pat Costello, Susan Freeman, and Mike Nessen for their contributions.)
• • • • •
Sloppy work: With no advance fanfare, the Wizards unveiled a new primary logo yesterday (you can click on the image at right to enlarge; further info here) and announced that they'll be discontinuing this logo. So now the Wizards will have no imagery that shows a wizard.
The new design is okay, although the current trend toward roundel logos is starting to feel clichéd. The bigger problem, though, as pointed out by reader Kris Kolob, is that there are four spots on the logo where thin lines of red are leaking out from the silver border (click to enlarge):
That's some seriously sloppy execution. It's like that on the team's new style sheet, too. For all you folks in the NBA office who are reading this, you might wanna do a little touch-up work on this one. (And you're welcome.)
•  •  •  •  •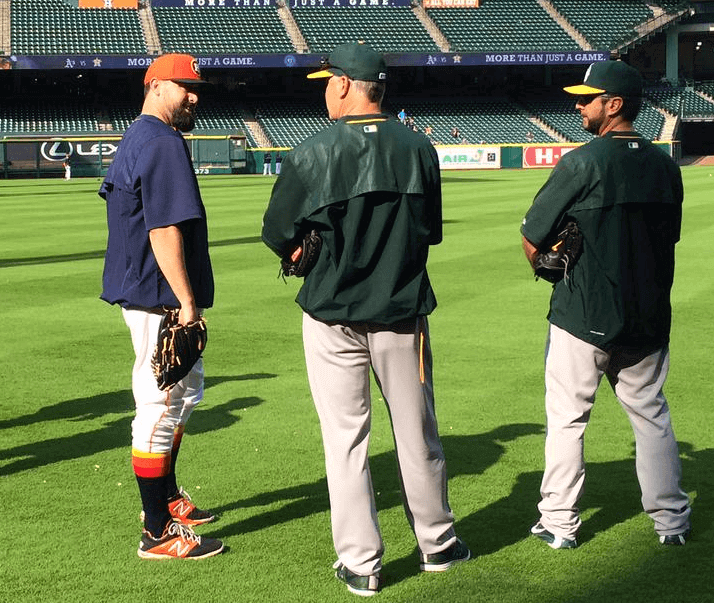 Rainbow coalition: Astros pitcher Pat Neshek wore rainbow stirrups during batting practice yesterday, and therein lies a tale. Neshek got those 'rups from Uni Watch reader Al Gruwell, who got them from our own Comrade Robert Marshall. Al explains the backstory like so:
As you might be aware, Neshek is a fan favorite for his accommodating nature with fans (his website, he trades with fans, he has a unique signature). He used to sell T-shirts with his image, with the promise he would toss a ball to you if he spotted you wearing one. I have this huge (really huge) blue glove, and he's tossed me a few whenever I've seen him play over the years.

So I have those rainbow stirrups, which I won as the Stirrup of the Week a couple of years ago. I was attending the game at Minute Maid Park on Sunday, so I waved him over with the Big Glove (it's pretty famous at the park, has its own Facebook page, I pose for photos all the time) and tossed the stirrups to him as he was heading in from BP. I thought he would wear them for the game that night, but he didn't. Glad he finally wore them!
Great story. The 'Stros sometimes wear their BP rainbow-side-paneled BP jerseys, so let's hope Neshek wears the stirrups for one of those games.
• • • • •
Photo by Heather McCabe; click to enlarge
Fiberglass Menagerie: As some of you may recall, last November I wrote a piece for the design website re:form about the Wisconsin company FAST Corp., whose name stands for Fiberglass Animals, Shapes, and Trademarks. That article has now been repurposed in the print and online editions of Wisconsin People & Ideas, the magazine of the Wisconsin Academy of Sciences, Arts, and Letters. Given my longtime crush on Wisconsin, I'm pretty excited to have an article in this magazine — feels like a badge of Badger State legitimacy.
• • • • •
Uni Watch News Ticker
By Mike Chamernik

Baseball News: Marlins OF Giancarlo Stanton is still wearing his facemask attachment against right-handed pitchers but not when facing lefties. … Here's a good piece about a subculture that continues to update rosters, uniforms and stadiums for the MVP Baseball 2005 video game. … Yesterday we saw the new Cardinals scorecard cover, and today we have a nice feature on its illustrator (from Vernona Elms). … Braves closer Jason Grilli could use a new belt (good spot by Neal Bowers). … The Tigers' logo has been difficult to draw over the years (from Kary Klismet). … MLB is monitoring irregular ball bounces on Rogers Centre's turf. … Here's what it looks like when teams keep moving the fences in. Empty space galore. … The Indians wore their midnight blue alts Tuesday night, but they wore red undershirts with them. In previous years the Indians wore blue undershirts with the blue tops (from Tom Juettner). … The Japanese girl band Gambare Victory (which translates to the fantastic name "Do Your Best Victory") has a bit of a baseball theme to it. When the members signed their record contract they held a press conference in baseball uniforms and one of their music videos is set on a baseball field (thanks, Jeremy Brahm). "¦ Two Kentucky high schools — Central Hardin and Elizabethtown — both wore navy jerseys and white headwear when facing each other yesterday (from Josh Claywell).

NFL News: The new Browns jerseys remind Stephen Santangelo of the youth NFL jerseys from a 1984 Montgomery Ward catalog. … Former linebacker Dhani Jones has a modest proposal to improve the sport get rid of the helmets (from Phil).

College Football News: The grounds crew at Auburn's Jordan-Hare Stadium mowed a series of Northwestern stripes onto the field. I always wondered how groundskeepers put patterns onto grass, so I finally looked it up: It's a process called lawn striping, and here's a video that breaks down how it works (from Jonathan Lancaster).


Hockey News: Here's a short list of the best jerseys of defunct NHL teams. The author missed the California/Oakland Golden Seals/Seals, the Colorado Rockies and, well, the entire World Hockey Association.

Soccer News: Both Paris Saint-Germain and Bastia wore gold numbers in Saturday's French Cup final. … The USL's Austin Aztex will wear camo jerseys on May 6. … New unis for the USL's Arizona United SC (from Marc Altieri). "¦ The 1972-73 Manchester City change kit had TV numbers on the sleeves (from Graham Clayton).

Basketball News: The Pacers wore their 1990s throwbacks for their season finale last night. … In that same game, the ads on the scorer's table were turned off. "¦ Maybe this is well-known already, but Allen Iverson wore No. 6 in the 2002 All-Star Game, in honor of Julius Erving. … People like to wear old basketball jerseys to the Coachella Festival.

Grab Bag: Marco Rubio's campaign logo has some kerning issues (from Jordan Cutler). … Lindström, Minnesota, a town known as America's Little Sweden, will be getting back the umlauts on its town signage (from Barry Brite).