Click to enlarge
Who was that yesterday afternoon at the Miller Time Pub & Grill in Milwaukee? From left, that's me, Uni Watch intern Mike Chamernik, and SportsLogos.net impresario Chris Creamer. We were all in town for the unveiling of the Bucks' new logo set, which took place last night. You can read my assessment of the logos here, and I have an additional feature with exclusive behind-the-scenes details on how the team's new design was developed. Enjoy.
The unveiling event was interesting. The Bucks were on the road in Philly last night, but the team had an open house, with fans invited to come to the Bradley Center to watch the game on the scoreboard. Everyone was allowed to wander onto the court if they wanted (or they could sit in the seats), and lots of former Bucks players were on hand to pose for photos with fans. There was free popcorn, face-painting, and so on — a nice fan-friendly vibe.
When the televised game got to halftime, three big easels were put on a stage at center-court. Then three artists came out and "speed-painted" the team's three new logos, which was actually pretty cool to see. I videotaped the whole thing — do yourself a favor and mute the volume (there were these awful singers performing onstage while the painters did their thing), but the process is worth checking out. Below the video are some snaps of the finished paintings, which you can click to enlarge:
They did all of that freehand and from memory — no pencil tracings to follow, no templates. Afterward, I asked several Bucks execs how many practice rounds the painters had to do, but nobody seemed to know. I thought it was pretty impressive. I also thought it was pretty ballsy of the team to present its new logos in such an unpolished format. Of course, the official versions of the logos were also on display (and available for sale) throughout the arena, but the painted versions, with all their drips and minor imperfections, were definitely the showcase. I liked that.
Later on, while jibber-jabbering with a few people, I spotted something odd on the floor — a Bucks gong (click to enlarge):
Why the hell do the Bucks have a gong? I asked around and was told that whenever someone in the team's sales office sells a full season ticket, he or she gets to bang the gong (and, I'm guessing, everyone else in the office quietly goes out of their fucking minds). The gong was on hand last night because they had been selling season tix to the open-house attendees earlier in the evening. Interesting backstory, but now they're gonna have to get a new gong with the updated logo.
One final note about my time in Milwaukee: An interesting historical event took place on the site of my hotel, and another one took place one block away:
You know that time some crackpot shot Teddy Roosevelt and he kept on giving his speech with the bullet still lodged in…

Posted by Paul Lukas on Monday, April 13, 2015
Thanks to Chris C. for letting me know about the Teddy Roosevelt plaque and to Mikey Powers for letting me know about the American League plaque. Thanks also to the several Uni Watch readers who recognized me at the arena and said hi, and doubleplusthanks to reader Brett Tomczak for buying me a beer. (Here's a link to his graphic design operation, which seems like the least I can do in return.)
Okay, now I'm off to Cleveland to cover tonight's Browns uniform unveiling. My colleague Jeremy Fowler, who's ESPN.com's Browns beat reporter, will have a news story in response to the unveiling, and I'll have a reaction/assessment piece — both of those will go up tonight. And just so you know: I have not been given an advance peek at the Browns' designs, and I have no idea if the leaks currently circulating are legitimate (although they seem fishy to me — I sense some deliberate misdirection at work here). We'll find out for sure tonight.
• • • • •
Maybe he should've stayed in the D-League Embarrassing situation last night in Los Angeles, where the Lakers signed guard Vander Blue from their D-League affiliate and assigned him uniform No. 12. But apparently they didn't have a jersey with that number, so they had him wear a No. 2 jersey with a hastily added "1," resulting in a number that was laughably off-center: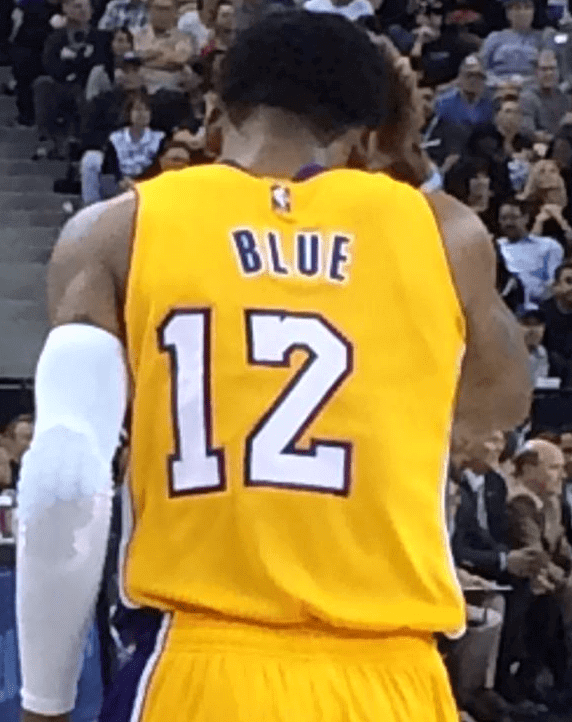 The situation was the same on the front of Blue's jersey, although it didn't look quite as bad because the front numerals are smaller and can sort of hide beneath the umbrella of the team's wordmark: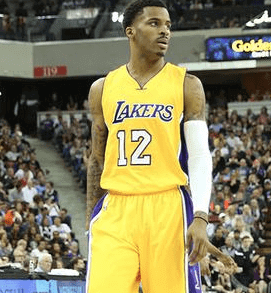 Lakers beat reporter Mike Trudell confirmed that the number snafu was due to a last-minute scramble to provide Blue with a jersey. That's an explanation, but it's not a justification. Seriously, how is it possible that a top-level team would have to resort to such an amateur-hour move? Kinda sums up the Lakers' season, eh?
(Thanks to Chris Chaussee for tipping me off to this one.)
•  •  •  •  •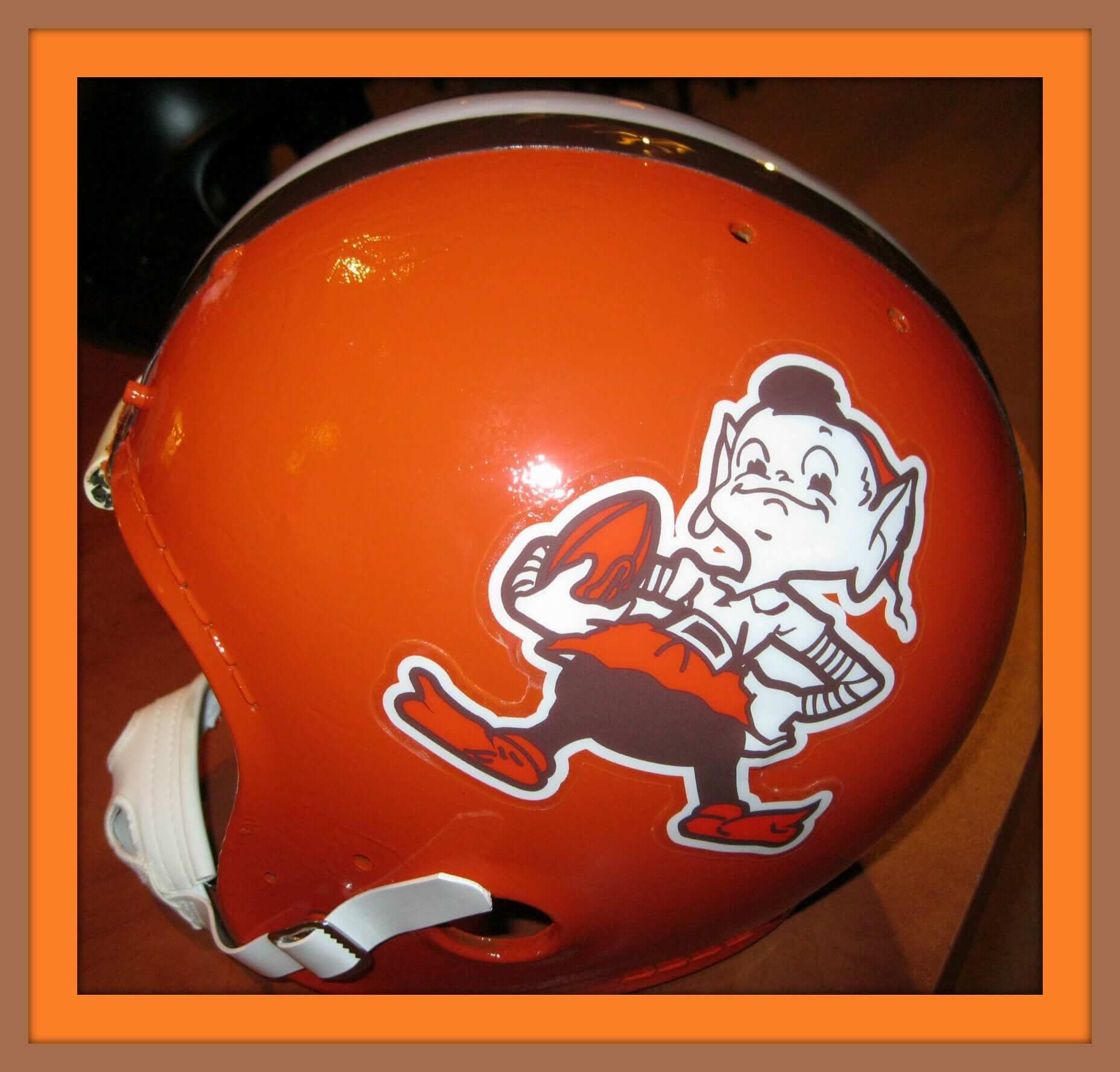 Collector's Corner
By Brinke Guthrie
Leading off with the Brownies today, in honor of their impending uniform unveiling tonight. Ever seen that Angry Brownie look on this mini helmet (shown above)? He looks even rougher and tougher on this 1950s pennant. We've also got a 1970s window sticker, a 1970s table lamp without the white stripe (oops), a 1970s ceramic helmet bank, a 1960s/1970s helmet radio, a 1970s Brownie "Acrometal" plaque, a 1970s helmet desk set, and a mini-helmet with the ill-fated "CB" logo.
Phew, that's a whole lotta Browns! But you say you're not into the Browns? No worries — here are the rest of this week's picks:
• Now is that a totally groovy cover on this 1970 Falcons Fact Book, or what.
• Speaking of groovy, how about this 1970 yearbook from the Eagles! I couldn't figure out why there were depictions of the four seasons? Then I looked closely- football is the "Fifth Season." Far out.
• Nice design on this 1975 MLB ASG program cover.
• I had of course heard of the "Terrible Towel" in Pittsburgh, but I didn't know about being a "Steeler Stalwart," as this Mutual Radio Network sticker suggests.
• Some primo logo action on this 1970s NBA toy chest. Buffalo Braves!
• Love the look of this 1960s Chargers pennant.
• Great looking 1960s NY Football Giants bobble. Usually you see some decay/cracking along the helmet neckline, from bobbing up and down — not the case here.
• Terrific artwork on this 1970 Broncos poster.
• Used to love ICEEs back in the day (Cherry Smash on the bottom, Cola on top — always). I'd try to beat my dad putting on the golf course at the Harmony Landing Country Club in Louisville for an ICEE. Check out the logo art on this 1970s Phillies/ICEE cup.
• Remember "Baseball, Hot Dogs, Apple Pie and Chevrolet"? I hear echoes of that in this 1970 baseball promo pin. Has to be from 1976, right?
• Pckers fans, here's a 1960s Football Beer Stein and 1976 Helmet Radio combo for you.
Follow Brinke on Twitter: @brinkeguthrie
•  •  •  •  •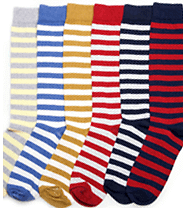 Special deal on striped socks: If you're a regular visitor to the site, you're probably used to seeing the ad for American Trench striped socks in the right-hand sidebar. Now American Trench is offering a special deal available only to those who are reading this text right here: the "Go Big or Go Home" multi-pack, which features seven pairs of rugby-striped socks for $49 — a really good deal.
I have several pairs from this series myself (I'm wearing one of them right now, in fact), and I can attest to their quality. You know what to do.
•  •  •  •  •
Uni Watch Hit Parade: If you were a political science major like I was, you may be familiar with the historian Richard Hofstadter and his highly influential 1964 essay "The Paranoid Style in American Politics." And you may therefore also appreciate the name of a DC indie group called the Paranoid Style, which is almost certainly the only band to name itself after a Richard Hofstadter essay.
But even if you've never heard of Richard Hofstadter, you should definitely hear the Paranoid Style, because they're hot stuff (which is probably the first time Richard Hofstadter and the term "hot stuff" have appeared in the same sentence). Built around a husband/wife team who sound really, really smart, a guitar sound that totally delivers the goods, and a vocalist who sort of glides above the sonic chaos, they make it sound easy. Here are the three best songs off their new EP, which I've been playing non-stop for the past week or so:
•  •  •  •  •
Uni Watch News Ticker
By Garrett McGrath

Baseball News: The Giants have added a memorial patch for broadcaster Lon Simmons (thanks, Paul). … "During the World Series banner celebration yesterday, Madison Bumgarner delivered the Giants' championship flag astride a SFPD horse," Chris Schoenthal says. "I thought it was even more interesting that the logo painted on the horses appears to be the rounded Giants 'SF' from the '83-93 years, rather than the angled one that is currently in use." … Here is a nice roundup of MLB promotions going on this season (thanks, Phil). … The Diamondbacks are still asking fans behind the plate to not wear opposing team gear (from M. Skuz). … According to Angels beat writer Mike DiGovanna, it seems that the team has pulled Josh Hamilton merch from its team store (thanks, Brinke). … A bobblehead of Wally the Green Monster was installed at Fenway Park (From Paul Dillion). …Yesterday, Paul posted about the Braves having five players named Johnson over the past three seasons and asked if that was a record. It appears that it is not. ""The Pawtucket Sox had five players named Rodriguez on their 1994 roster -"" Steve, Carlos, Frank, Tony, and Ruben," says Joe Kuras. "In 1995, all but Ruben returned and were joined by Victor (currently Boston's assistant batting coach). All five Rodriguez players appeared in the same game once in 1995." "¦ Mike Delia had attended 11 consecutive Opening Days at Fenway Park but was unable to attend this year due to a new job he took with the San Francisco Municipal Railway. But he was there in spirit, thanks to these cool Bosox stirrups that he wore (courtesy of Uni Watch's own Robert Marshall III). "¦ Actor Kevin James wore a Mets jersey to the premeire of Paul Blart: Mall Cop 2 (from Chris Flinn).

NFL News: The Browns have set up webpage complete with a live stream for their uniform reveal tonight at 7:30 PM EST. Nine current players and nine alumni will model the uniforms for the reveal (thanks, Phil). "¦ There was another leak of the new orange uni yesterday. … The Giants posted a photo of a behind-the-scenes mock draft board completed by Amani Toomer that used outdated logos for the Buccaneers and the Jaguars (thanks, Phil).

NBA News: Kobe Bryant has released a new sneaker. That link also has multiple photos and information on all of the colors. … A gallery in Rip City is having a Trail Blazers-themed art show next month.

Grab Bag: Contrary to what had previously been reported, Army's sports teams will still be called the Black Knights. Further info on the school's redesign here, here, and here. … "The Essendon Football Club (the Bombers/Dons) is running TV advertising around the concept of their very traditional uniform," James MacNeil says. "It's rare for teams to promote themselves in TV adverts, but they just emerged from a PED/PR nightmare, so perhaps that's why." "¦ "The Vermont men's lacrosse and Champlain Valley Union boys lacrosse teams have worn this 'Scotch 30' decal for the past two seasons," says Tris Wykes. " It honors former UVM player and youth coach John Scotnicki, who died of cancer in June, 2013." "¦ "I wrote a piece on my beer blog highlighting Modern Times Beer and their amazing brand design," writes Ryan Lindemann. "The can design reminds me of a baseball jersey and stirrups, with the overall uniformity, script logo, and colored stripes at the bottom of each can."