Click To Enlarge
By Phil Hecken
As many of you are aware, the Women's World Cup is taking place in Canada this summer (June 6 through July 5), and unlike in the Men's version, the United States actually has a chance to win. It hasn't been around as long as the Men's tournament, and it's not as prestigious, but it's still some high quality women's soccer. If you're interested in the short history, click here. The US Ladies won two of the first three tournaments (including in 1999 as host, which included the Brandi Chastain moment, which put women's soccer on the map for many), and was runner-up in the last one.
A few weeks (ok, about 2 months) ago, I received a bunch of concepts from Saurel Jean, Jr., who posts in the comments as "El Duderino," for the Women's World Cup. I try to run the concepts in the order they're received, and if there as many (and as high quality) as what you're about to see, then I'll try to feature them as a lede.
El Duderino didn't provide too much of a backstory/set up with these, but you'll get the idea pretty quickly. I'll just leave you with his short writeup, and then run the concepts below that. Click any image to enlarge. Enjoy!
. . . . . . . . . .
Phil,
I decided to tackle the FIFA Women's World Cup as my first uniform design project. I made primary and secondary sets (w/ auxiliary items in case of possible clash) for all the competing countries except Canada.The primary sets correspond with the font color of the country's name. I also have an attachment where I have all the group stage matches worked out.
-Thanks
El Duderino
. . .
. . .
Australia:

. . .
Brazil:

. . .
Cameroon:

. . .
China:
. . .
Colombia:

. . .
Costa Rica:

. . .
Ecuador:

. . .
England:

. . .
France:

. . .
Germany:

. . .
Ivory Coast:

. . .
Japan:

. . .
Mexico:

. . .
Netherlands:

. . .
New Zealand:

. . .
Nigeria:

. . .
Norway:

. . .
South Korea:

. . .
Spain:

. . .
Sweden:

. . .
Switzerland:

. . .
Thailand:

. . .
United States:

. . . . . . . . . . .
Nice job, El! Great stuff. OK, readers, what do you think?
EPL Tracker
Each Saturday or Sunday, Alex Gerwitz will be tracking the kit combinations (shirt/shorts/socks) of the teams in the English Premier League from the previous weekend and the current weekend.
Here is the EPL tracker for Weeks 30 & 31 (click to enlarge):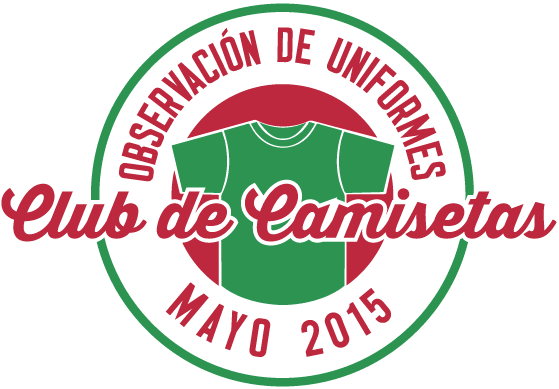 T-Shirt Club reminder: The Uni Watch T-Shirt Club's latest limited-edition design, jointly inspired by Cinco de Mayo and the Brewers' "Cerveceros" jerseys, is available from now through Monday. Full details here, or go directly to the ordering page.

LAST CALL For The Latest Contest
In case you missed it or were distracted by Paul's ESPN contest to design a uniform for the future Las Vegas hockey design, Jim Vilk & I are hosting another uniform re-design contest on UW.
You can read the full details here, but basically the idea is to "free up the great names, colors and logos of the USFL and reuse them" for other teams in current leagues — all teams/leagues are open (except football, since the USFL was a football league).
I've received a few submissions over the past week and a half, but not the usual number I receive for a contest such as this. If I don't receive any more, I'll just run all the ones I did receive in one contest. The deadline is April 15th, so you still have time to get your concepts in.
Uni Watch News Ticker:

Baseball News: On Friday night, there was an epic hosiery battle going on in Oakland (from Spencer Cooper). … "NESN is the channel that broadcasts the Red Sox games, and they have a lot of stupid commercials, including one where a guy fakes sick and calls in to work for the home opener every year," writes Stephen Hayes. "This commercial shows him doing this in 1998, however the screen grab attached has a Red Sox logo in the background that wasn't used until 2009." … The Phils AA squad in Reading has seemingly replaced the navy blue ostrich caps with the red the 'F-fist' logo, reports Michael Trautman. "(I)t's a plus considering how little navy blue is actually in their home uni. They look so much better! How they used to look. And here's the (formerly alternate) cap in navy blue." … Here's your First Look at the Toledo MudHens Veterans Appreciation Jerseys coming 5/23 (thanks to MiLB Promos). … I got three really awesome old photos from Bruce Menard (who else?) that need to be seen: April 12, 1950 – 87 yr old Connie Mack in a full A's uniform!; also 1912 (April 11) Cincinnati Reds >Opening of the New NL Ballpark Panoramic. At the time it was renamed Redland Field, wouldn't become Crosley until 1934. Bruce enhanced the color a bit, made the grass green; and, April 12th, 1909 Opening Day Program Washington Senators vs NY Highlanders, featuring Walter Johnson on the cover. Just awesome, Bruce! … "This always bugs me," says Pat Costello. "Since Fordham baseball and football share a field the logo on the 50 is awkwardly placed in left center. It's very strange looking."

College Football News: I'm not entirely sure what this Autism-themed jersey is for — but submitter Clark Ruhland is a big Virginia Tech guy, so maybe it's for them. … Joining the anthracite-for-anthracite's-sake brigade is the Purdue Boilermakers (from Rob). … Here's another look at the TCU Horned Frogs' new uniforms, with mis-matched pants, which look much better (h/t Sam Parnell). It also looks like they may have a gray helmet as well.

Hockey News: The Syracuse Crunch Hockey Team honored the 60th anniversary of the Syracuse Nationals NBA Championship, notes Rick DiRubbo. The players were never given rings when they won 60 years ago so the Crunch gave them rings and also a piece of the original court they played on.

Grab Bag: "This is an 2 or 3 year old photo gallery on the Tribune website, but I don't remember if it ever hit the Uni Watch ticker" writes Joshua Held. "It just bubbled up on a Northwestern forum, because it's got quite a few sports photos included. The 1869 baseball team!" … "Not sure if this is corporate douchebaggery," writes Douglas Ford, "But my local dunkin donuts topped some donuts with the Atlanta Braves' "A"; also not sure if I screwed up that apostrophe." … From Brinke we have this: What Women Used to Wear to Play Sports. … From the New York Times, Paul sends this 10 Sports Prizes Stranger Than the Masters' Green Jacket. He adds, "The coat is one of the most coveted prizes in sports. Unusual? Yes, but it does not even make the top 10 when it comes to the strange things presented to the winners of other events."
That will do it for today — due to traveling, I apologize there is not a full ticker. Big uni stuff ahead with the Army and Bucks unveilings tomorrow, and then the Browns on Tuesday.
Everyone have a great week. Peace