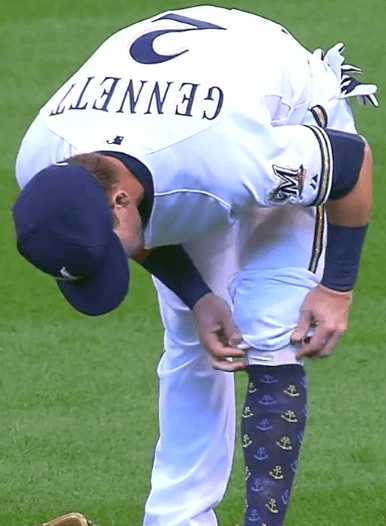 Lots of uni-notable moments in yesterday's Opening Day games, none better than when Brewers second baseman Scooter Gennett (who already has the best name in the bigs) adjusted his pants and revealed a set of anchor-patterned socks! You can click on that photo to see a larger version, and here's a bigger but blurrier close-up. Maybe this should be a rule: If you insist on being a pajamist, you should have to wear interesting or even absurd socks, just so we can have a little surprise when you futz with your pants.
Other notes from yesterday's season-opening games:
• The Phillies debuted their "SLB" memorial patch for co-owner Sara Buck and, as per their recent custom, positioned it over the heart. They've really painted themselves into a corner with this protocol — if they use a sleeve patch, it'll be perceived as a lesser tribute than the heart placement, so now they're stuck with it, even if, as in this case, the patch is for someone that nobody ever heard of. (As an aside, this was a weekday-afternoon home game, so shouldn't the Phils have worn their retro alts? Or do they routinely suspend that protocol for Opening Day?)
• In a move that hadn't been previously announced, the Giants wore World Champions patches. It also seems possible that they'll be adding a memorial patch for broadcaster Lon Simmons, who passed away on Sunday. Yesterday the Giants changed their Twitter avatar to this, so that could end up being a patch design.
• Surprise move by the D-backs, who waited until Opening Day to spring the news that they're going with matte-finish batting helmets. Here's how it looks with the rest of the uniform. I'm still kinda processing this one. Definitely doesn't look as good here as it does for the Pirates, but it's not terrible. Interestingly, the the base coaches' helmets were still glossy, making for a good side-by-side comparison. Also still glossy: the batboys' helmets.
• Memo to all teams: Opening Day is no time to be wearing your colored alternate tops. I'm talking about you, Blue Jays, Pirates, Rockies, Rangers, and Twins.
• Speaking of the Twins, last month I wrote about pitcher J.R. Graham, who wears stirrups so his visually impaired mother can more easily spot him on the field. The good news is that Graham made the Twins' roster, got into yesterday's game, and was wearing stirrups; the bad news is that his stirrups didn't have the "TC" logo like the ones he was wearing in spring training.
• Speaking of stirrups, they sure look good when a team lines up on Opening Day. That's Mets pitcher Sean Gilmartin, whose teammates look like total schlubs. (And speaking of schlubs, look at the Indians — woof! And yeesh, Carlos Santana, what a mess.)
• On the other hand, Rays pitcher Chris Archer had a Little League-style stirrup malfunction (and not for the first time!). Meanwhile, the other high-cuffed Rays wore non-striped socks. Come on, people, be consistent about it — either everyone go striped or everyone go stripe-free.
• In a related item, A's starter Sonny Gray wore green socks with gorgeous feather-edged gold stripes. Second baseman Eric Sogard also wore the striped socks (sorry, no photo from yesterday, but he was also wearing them in spring training). It's a great look, but it only works if it's used consistently by all the high-cuffed players, so I asked A's equipment manager Steve Vucinich if all A's hosiery would now be striped. His response: "No. Personal choice." Grrrrrr.
• Reds first baseman Joey Votto appears to have his uniform tailored for a much trimmer fit this season.
• There had been some question as to whether Marlins slugger Giancarlo Stanton would continue to wear his "G" facemask in the regular season. Looks like he will, at least based on yesterday's game.
• Speaking of the Marlins, pitcher Henderson Alvarez wore white shoes.
• Pirates outfielder Andrew McCutchen is still wearing a cross on his armband (something he began doing toward the end of last season).
• Orioles outfielder Adam Jones may be the first MLB player — or at least the first I've seen — with a hashtag on his bat knob decal.
• We'd been promised that Mariners players going high-cuffed this season would have striped stirrups or striped socks. And sure, enough, both of those were on display yesterday. Very nice — now let's hope they stick with it.
• Last week I Ticker-wondered if the Nats would use lowercase lettering for newly acquired outfielder Matt den Dekker's NOB, as the Mets had done. Answer: Yes.
• This is so awesome — check out the new bike lanes on the Clemente Bridge in Pittsburgh.
• Someone showed up at Yankee Stadium dressed as Babe Ruth.
• Blue Jays outfielder Jose Bautista posed for a pregame photo with a kid who was wearing a Yankees uniform and a Jays cap. According to the AP caption, "Bautista replaced the fan's Yankees cap with a Blue Jays cap before the photo was taken."
• Former Dodgers pitcher Fernando Valenzuela threw out the first pitch at Dodger Stadium and wore a jersey with a right-sleeve patch that I don't recognize. Anyone know the story behind that one?
• Someone on Twitter is claiming that Mets broadcaster Gary Cohen said newly acquired reliever Alex Torres will wear a padded Mets cap similar to the Padres version he wore last season. I was watching that game and didn't hear Cohen say that (and Torres didn't get into the game), but maybe it happened while I ran to the john or something.
• Finally, MLB.com posted a very nice uni-centric Opening Day video. I don't know who put that together, but it's a really nice piece of work. Good know the MLB folks can do something classy when they want to. Recommended viewing.
(My thanks to all contributors, including Douglas Adams, Dan Chelgren, Andrew Cosentino, @Ethanhats, Christopher Guy, Joe Janke, Mike McKinnon, @MetsBro, Michael Romero, Nicholas Schiavo, @thefrownyface, @ThePittFan, @TheRealBirdgang, James Venes, Vincent Verhei, Jason Umberg, Jason Wojciechowski, and of course Phil.)
•  •  •  •  •
Military intelligence: Surprising news yesterday out of West Point, where the Army athletics department announced that all of the military academy's teams will be getting a makeover. The unveiling will take place next Monday, April 13, at 8pm Eastern (when I'll be busy attending the Bucks' logo unveiling in Milwaukee, and then the next day I'm heading to Cleveland for the Browns' uni unveiling — that's gonna be a busy couple of days).
But the bigger news came from Army football beat reporter Sal Interdonato, tweeted something that was left out of the official announcement: The Army teams will now be called the Cadets, not the Black Knights, reversing the name change that was made in 1999.
I'm all in favor of this. West Point students are not medieval warriors engaged in some comic book fantasy game; they're officers-in-training. Calling them the Cadets has a lot more dignity (plus it forms a nice parallel with Navy's teams, which are called the Midshipmen).
The only question now is how much camouflage will be included in the new designs.
•  •  •  •  •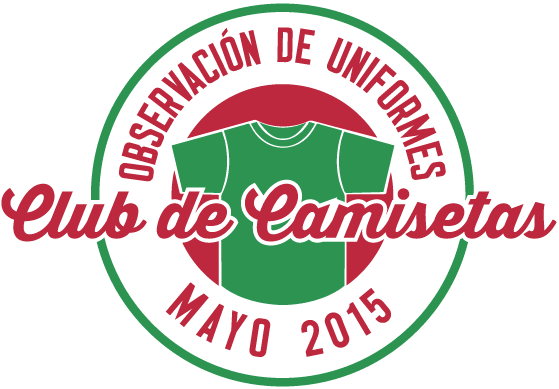 T-Shirt Club launch for May: As I mentioned last week, we're deviating from our usual schedule and doing an early release for the Uni Watch T-Shirt Club's latest release. That's because the May design is inspired by Cinco de Mayo, so we want the shirts to arrive by May 5.
Here's the design, which we're offering in three options — home white, road grey, and a raglan-sleeved baseball shirt (click to enlarge):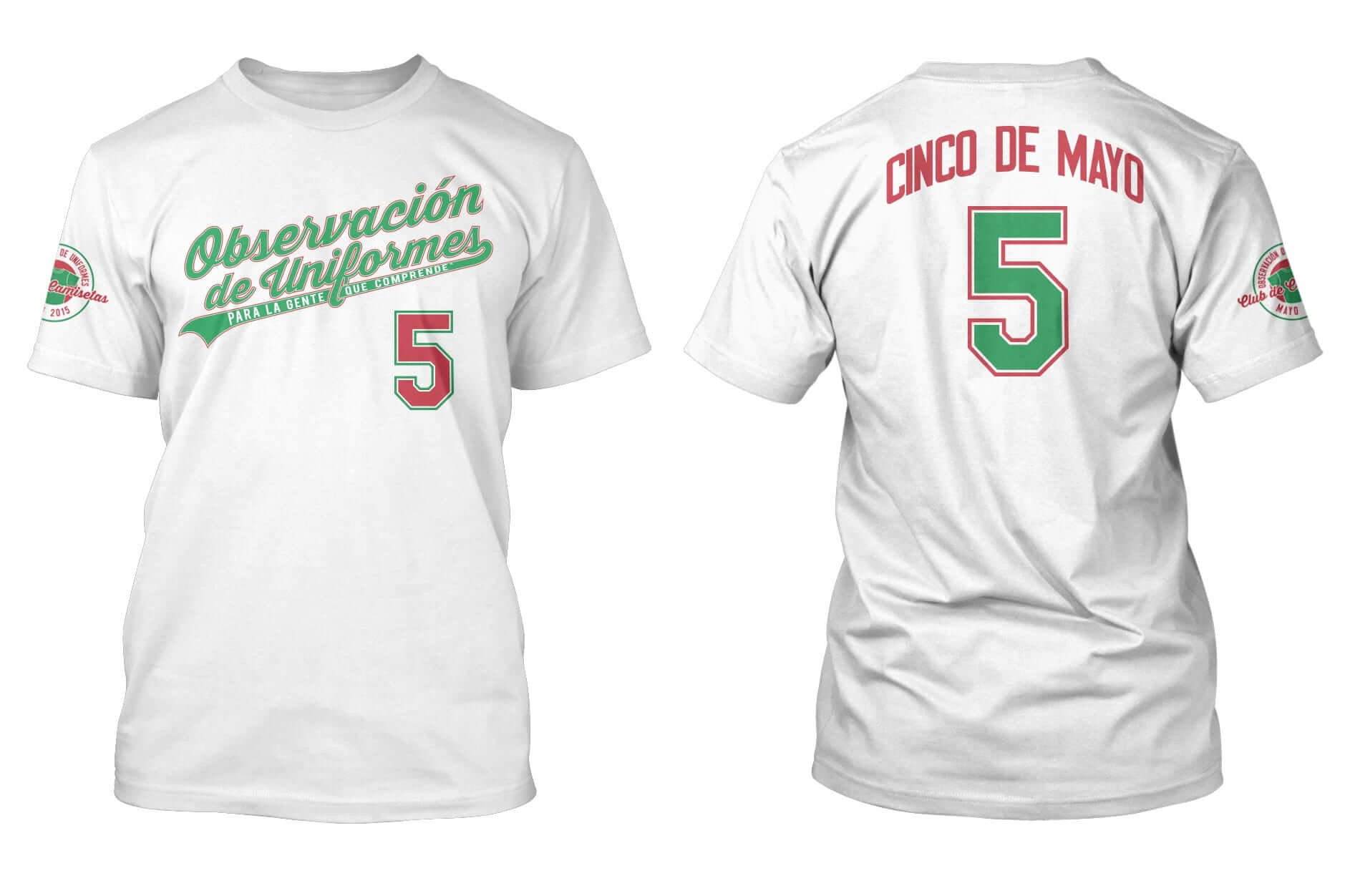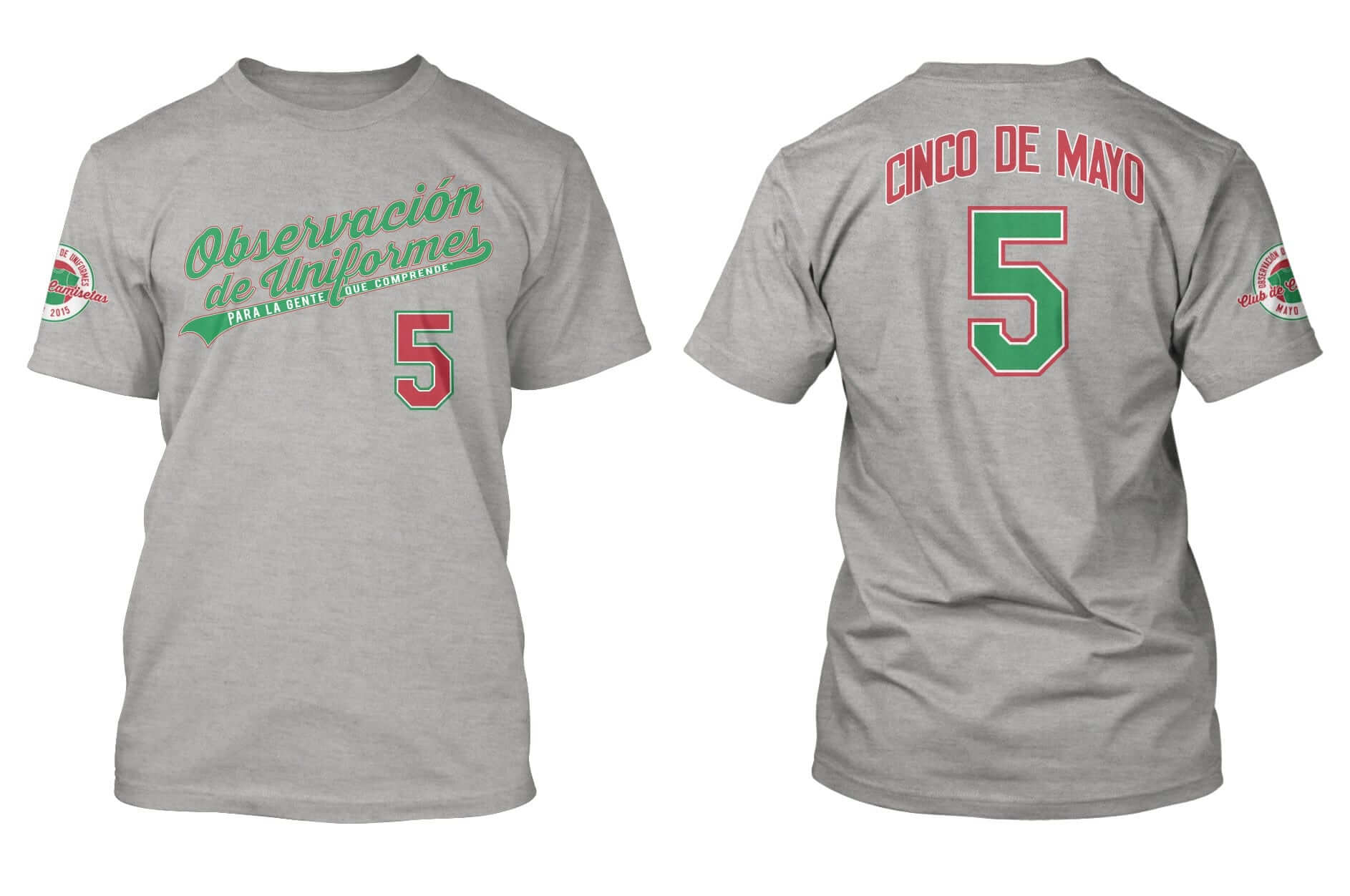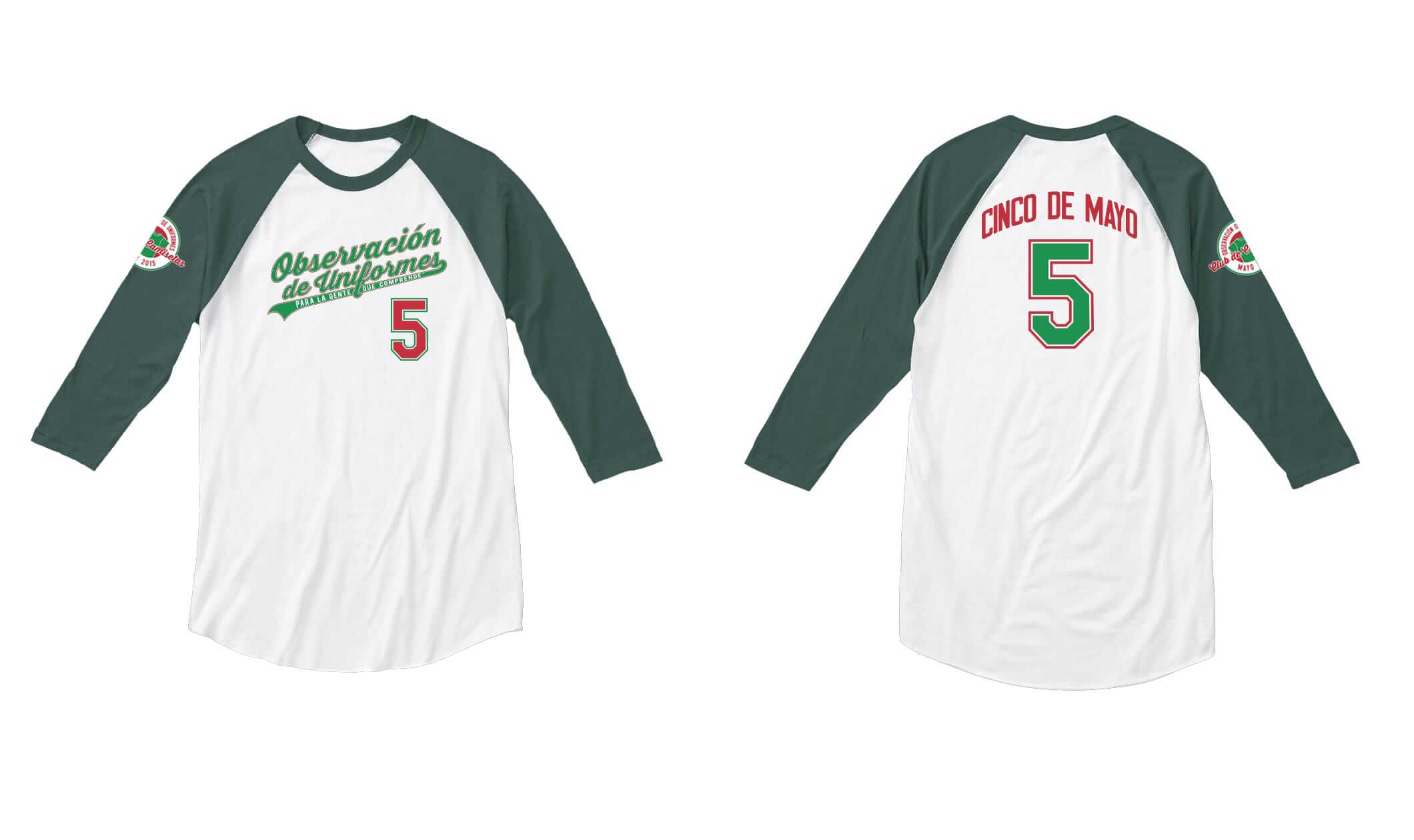 As you can see, we translated "Uni Watch" (which is now "Observación de Uniformes") and "For People Who Get It" ("Para la gente que comprende") on the front of the shirt. On the sleeve patch, the month ("Mayo") and "T-Shirt Club" ("Club de Camisetas") have been translated as well. The uni number is 5, for Cinco de Mayo. And the colors have been tweaked to match those of the Mexican flag.
Here's everything you need to know about ordering the shirts:
1. You can purchase the May shirts on this page. (Ignore the bits about "reaching our goal" and the "campaign being successful" — that's for Teespring clients who use T-shirt sales as fundraisers.) Domestic shipping is $3.85 for the first shirt, $1 for each additional shirt; Canadian shipping is $9.50 for the first shirt, $4 for each additional; shipping to other international destinations is $12.50 for the first shirt, $4 for each additional.
2. The white and grey shirts are available in your choice of American Apparel or Hanes; the raglan-sleeved shirt is American Apparel. The tailoring and sizing vary from brand to brand, so use the "View Sizing Chart" link to be sure you get the shirt that's best for you.
3. This design will only be available through next Monday, April 13, 11pm Eastern. All shirts ordered by then should be delivered by April 27 (and in many cases well earlier than that).
4. If you've been buying each month's shirt in order to qualify for the year-end bonus prize, you do not have to purchase all three of the May formats in order to qualify — you only need to purchase one (although you're welcome to purchase more than one, of course).
I think that's it. Again, the May shirts can be purchased here. If you have any questions, give a holler. Thanks.
(Special thanks to Uni Watch reader Omar Jalife for his assistance with the Spanish translations for the May design.)
•  •  •  •  •
Sponsor shout-out: As you may have noticed in the right-hand sidebar, longtime Uni Watch favorite Jeff Suntala is marking the start of the baseball season by offering a 20% discount on his beautiful ballpark renderings. Check them out here.
• • • • •
Uni Watch News Ticker
By Garrett McGrath

Baseball News: Competing men's style magazines GQ and Esquire both had uni-related features yesterday, about why baseball managers shouldn't wear uniforms and the differences bewtween the Yankees' and Red Sox's uniforms (thanks, Phil). … A new poster has an infographic of Yankees starting lineups from 1995-2014 (thanks, Paul). "¦ Unusual scene on Conan O'Brien last night, as described by Ferdinand Cesarano: "Conan introduced 'Sandy Koufax' to the crowd, and out came a black guy wearing Koufax's No. 32 uniform. Andy Richter objected, saying that that was not Sandy Koufax and pointing out that Koufax is white and Jewish. Conan replied that the man next to him was white, and had him recite the Four Questions of Passover. Conan then denounced Andy as a racist and asked rhetorically why a black actor couldn't portray Koufax in this sketch. A voiceover then announced, 'This has been "Casting Screw-Ups Covered Up by Racial Indignation."' An inset showed a white actor saying, 'I'm Barack Obama, and I approve this message.' Then Koufax trotted off, showing that his uniform was NNOB, but with long pants."

NFL News: Here is the latest Cleveland Browns uni leak. Like all the others, it's not clear how legit this one is, but we'll find out for sure one week from tonight, when they finally do the unveiling in Cleveland (thanks, Paul).

College Football News: Here's thorough pictorial history of Notre Dame's football uniform pants and the debate over their gold color (from Steven Luft).

Hockey News: Good riddance: The Sabres wore their yellow third sweater last night for the final time(from Zach Palvino). … Here's a wonderful Tumblr of terrible hockey sweaters (from Alan Kreit). … "Hockey Hall of Famer Elmer Lach died last week at the age of 97," John Verruso says. "I found this photo, accompanying Dave Stubb's tribute to Lach, on the Montreal Gazette's website. The great Punch Line "" Rocket Richard, Lach, and Toe Blake. Three Canadiens immortals wearing three different sweaters (at practice, I assume)."

Soccer News: Reader Trevor Williams has shared a lot of uni news from the soccer world: Here is a look at the Real Madrid home uniform and the Real Madrid training uniform. … Here is an Inter Milan photo that could be an April Fool's joke, and a more legitimate-looking leak here. … A look at the Turkish team Galatasaray's away and third uniforms. … Here is a better photo of the Arsenal third uni. … Manchester United training jersey from Adidas here. … The new Adidas Juventus 2015-2016 Training Jerseys will debut July. … The new Puma Newcastle United 2015-2016 home, away, and members kits have been revealed. … The new Nike Paris Saint-Germain 2015-16 third Kit. … Sacramento Republic FC has new home and away uniforms. … The 2015-16 away kits from River Plate have leaked. … Morocco has a new home uniform with an interesting crest. … And to close it out here are some fantasy kits inspired by social media companies. Thank you Trevor!

NBA News: No photos but new uniforms are apparently in the works for the Cleveland Cavaliers, according to the owner of the team (from Mike Nessen).

College Hoops News: During halftime of last night's big game, the scoreboard mistakenly showed Kentucky's logo instead of Duke's. "¦ Quinn Cook's Final Four patch went missing during the postgame celebration. "¦ On last weekend's edition of Saturday Night Live, they opened with a Final Four skit, which featured cast member Bobby Moynihan in a Duke uniform (from Chris Flinn).

Grab Bag: Reader Seth LaFleur has imagined a new airline with a Uni Watch livery — nice! "¦ When Scott Brayton attempted to qualify for the 1994 Indy 500, he used Eddie Cheever's backup car, which had a predominantly green livery. After Brayton qualified in the car, it was changed to his red and yellow livery for the race (from Graham Clayton).