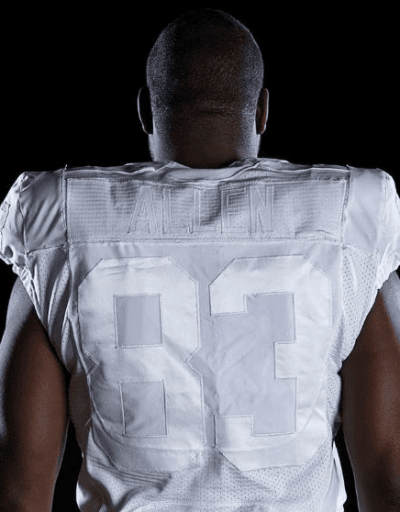 Lots of April Foolery around the uni-verse yesterday. The prize for the most elaborate prank goes to the Colts, who announced that they'd be going with a "white-out" uniform and went to the trouble of doing a photo shoot with tight end Dwayne Allen, who was dressed in a white jersey with white letters and numbers (shown at right), along with a white helmet with white graphics. You can see the whole photo gallery here.
Here's more bogus uni-related news from yesterday, broken down by sport:
Baseball
• The Arkansas Travelers — that's the Angels' Double-A affiliate — are taking the stars/stripes/pandering thing to a whole new level. Unfuckingbelieavably, it turns out that this one was not a joke. Sigh.
NFL
• The Ravens will wear throwbacks, including their original flying-shield helmet, this year.
• The Bengals made fun of the Browns' recently logo unveiling by unveiling a new logo of their own. (On the non-sports front, the Cleveland Orchestra made essentially the same joke.)
College Football
• Penn State is returning to the school's original colors of black and pink.
• Colorado State will eliminate its football program and have the players transition to competitive knitting, where they'll begin by knitting their own uniforms.
•  LSU is going with a purple field.
Hockey
• The Avalanche are getting new minimalist uniforms.
•  The Stars are bringing back the mooterus alternate.
• The Bakersfield Condors are getting a bizarre new logo.
NBA
• The Utah Jazz are going with clamdigger pants instead of shorts.
Soccer
• Everton is sewing iPods into its players' jerseys. The iPods will be playing motivational music tailored to game situations and each player's tastes.
• Orlando City is going with a purple soccer field.
Other
• The UGA softball team will have a Lu'au Day promotion, complete with grass-skirt uniforms.
• The very existence of curling is in jeopardy due to a granite shortage.
• The San Antonio Police Department is going with two-tone uniforms.
• The BC Lions — a CFL team — generated controversy with an "anatomically correct" mascot logo.
Do you know of more uni-related pranks from yesterday? Post them in today's comments.
(My thanks to all contributors, especially Phil.)
• • • • •
The Bucks stop here: After engaging in some April Fool's misdirection of their own, the Bucks posted a teaser video last night (shown above), which reveals the team's new color scheme — green, cream, blue, and black — and also shows a new secondary logo. That logo also showed up on a cap at last night's Bucks game, and it also looks a lot like part of this logo, which is one of the leaks that have been circulating in recent days. And now reader Conrad Burry has come up additional photo leaks. The green/cream color scheme and the typeface match what's shown in the teaser video, so this may be legit.
We'll find out for sure on April 13, when the team plans to unveil the new logo set. As it happens, I was already planning to be in Milwaukee for personal reasons on the 11th and 12th, so I've decided to extend my stay and attend the unveiling on the 13th. Intern Mike Chamernik, whose favorite team is the Bucks, will come up from Chicago to join me.
The following day, April 14, I'll fly to Cleveland, where I'll attend the Browns' uniform unveiling that evening. So it'll be a full-on Uni Watch Rust Belt Unveiling Tour, yee-haw! Then I'll come home on the 15th.
• • • • •
ESPN contest reminder "" last call: Today is your last chance to enter the ESPN contest to name and design a team for a prospective NHL expansion franchise in Las Vegas. Details here.
• • • • •
Confectionary is destiny? Here we have longtime Uni Watch reader/baker Elena Elms. In addition to sending me uni-themed cookies each December, Elena also brings cookies to her office just prior to the start of each baseball season. This year she made jersey cookies for each MLB team (some of them, she admits, not 100% accurate) and arranged them in her predicted order of finish for each division (click to enlarge):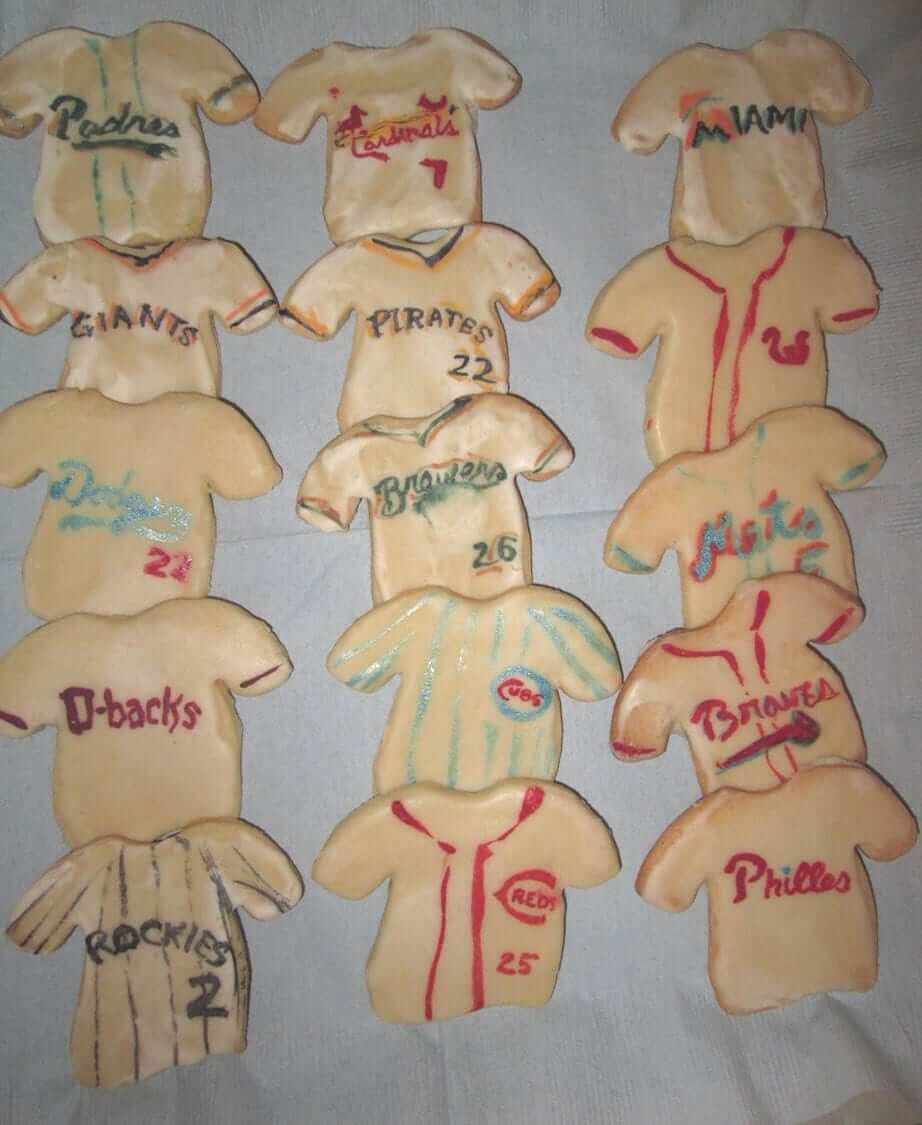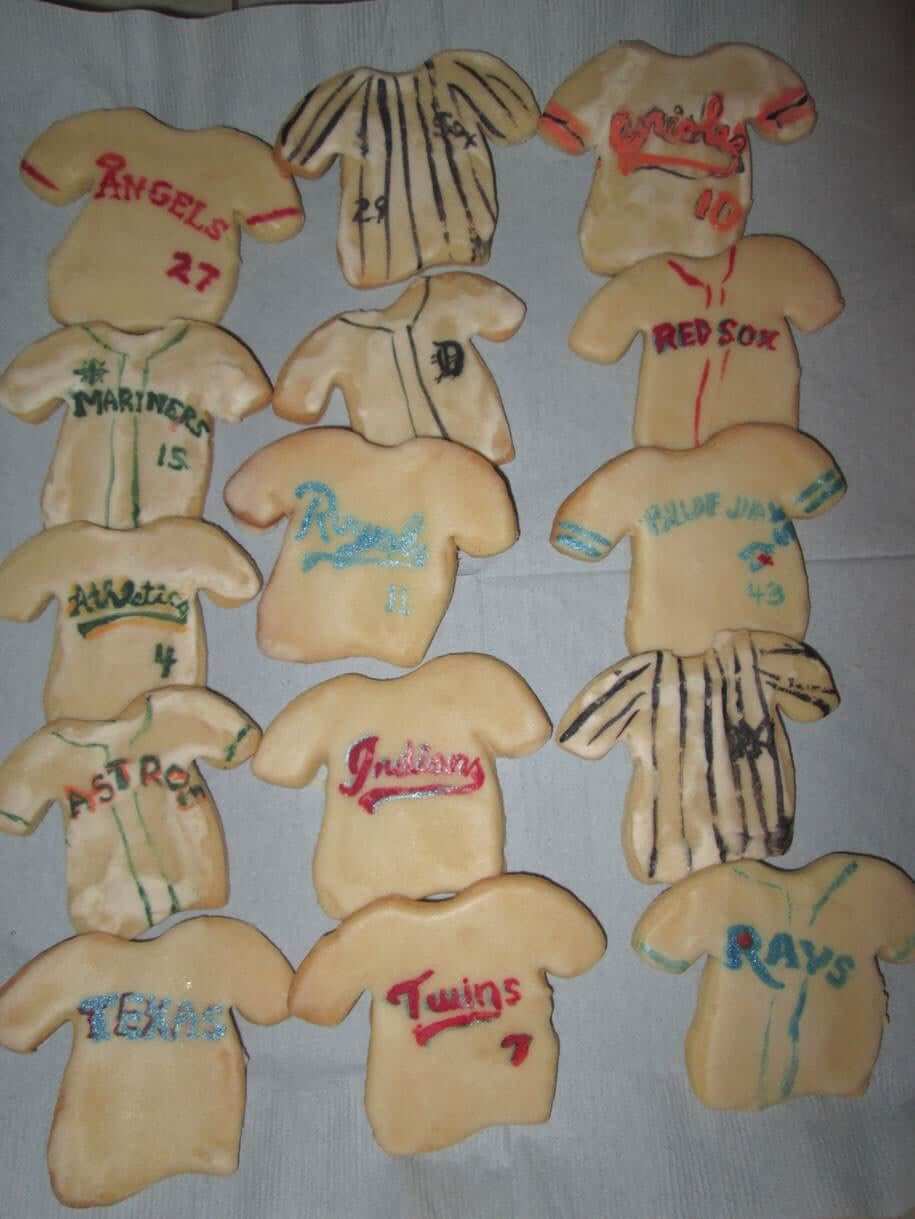 Pretty bold to pick the Marlins atop the National League East, but whatever — anyone who has the Yankees slated for fourth place is jake with me.
• • • • •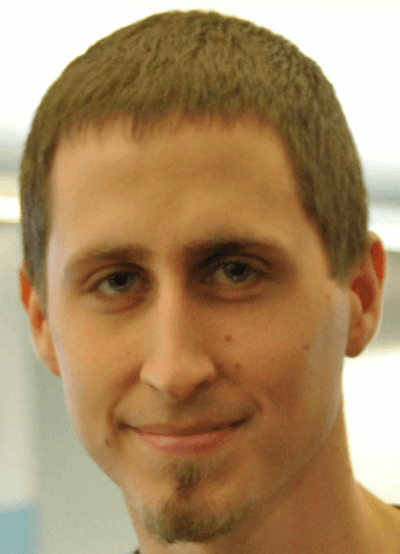 Mike's Question of the Week
By Mike Chamernik
If you could travel back and time to attend any sporting event (without knowing the result once you get there), which one would you pick? And, which game would you choose to attend if considering uniforms?
I would love to go back and sit courtside for the Artest Melee. Not that I'd want to be the guy that Artest and Stephen Jackson thrashed, but the game would have been a sight to see, for sure. Second is the Miracle on Ice game. Third is the White Sox's Disco Demolition Night, which my dad actually went to.
For uniforms, it would be awesome to go back to 1972-73 to see a Virginia Squires vs. Kentucky Colonels game. The afros, the tri-color ball, the old Colonels and Squires uniforms and young Julius Erving and George Gervin as teammates. I am fascinated with ABA basketball. My second choice would be to see the White Sox wear shorts.
How about you? Post your responses in today's comments.
•  •  •  •  •
Uni Watch News Ticker
By Mike Chamernik

Baseball News: The New York Times Magazine has a piece on the history and cultural significance of baseball caps (from John Money). … Yesterday we mentioned that new Mets reliever Alex Torres will wear a protective cap (a different one from last year). He's wearing a regular cap for now, though. … Related, the Yankees' Esmil Rogers seemingly wore the new version of the padded pitching caps yesterday. … Some Tony Gwynn memorabilia is up for auction (from Jonathan Daniel). … Might the Padres be in the process of a redesign? A recent podcast offers some clues. … New fashion items and merchandise specialty shops in Citizens Bank Park for the Phillies. … A broken bat got caught in the protective netting at the White Sox-Padres game yesterday. … A 1967 powder blue White Sox jacket is up for auction (from Matt Malinoski). … D1Baseball is letting readers rate various camo college baseball jerseys (from Ben Harmon). … Wrigley Field's renovation has been a mess so far, but the Cubs' new video board has been installed. "¦ That Mets bullpen buggy, which Sotheby's had estimated to sell for $20,000 to $30,000, ended up selling for $112,500.

NFL News: A Columbus-based clothier is providing suits for some NFL draft picks (from Jason Hillyer). … Doug Ford found a dancing Raiders bobblehead at the Goodwill the other day. The doll is what's known as a Rockin' Randall, and more teams' versions are available on eBay. … Speaking of eBay, Brinke found some cool old helmet phones. "¦ Check out the shark-tank facemask on former Raiders LB Jack Squirek (from Rudy Gutierrez).

College Football News: Yesterday we linked to a LSU-themed fire truck in Baton Rouge. According to David Britt, Chapel Hill's entire fleet of fire trucks is painted in North Carolina's colors. "Apparently, because they serve the campus as well as the town, the university offered to pay for their trucks as long as they were painted Carolina blue," David says. "Given the cost of fire trucks, easy deal to accept. The FD went the extra step with several decals and even a logo."

Hockey News: The Flyers' Zac Rinaldo didn't have an NHL crest on his jersey last night. … A Redditor posted a photo of the entrance to the NHL's head office. "¦ The Sharks' new minor league affiliate will be called the Barracuda, thanks to a sponsorship deal with Barracuda Networks. And no, that's not an April Fool's Day prank. … Good story on what NHL ice crews actually do.

Soccer News: Here's a cool piece on unusual soccer numbers (from Nile Smith). … The Scottish Premier League's Heart of Midlothian will promote Save the Children on its jerseys (from Yusuke Toyoda).

Grab Bag: Jean-Christophe Peraud won the Criterium International cycling race this weekend, and he did so wearing mismatched shoes (from Matt Dowell). … Here's a look at the Norwegian curling team's pants and socks (from Phil). … The City of Minneapolis has had some setbacks in changing its logo. … David Firestone examined some U.S. Olympic memorabilia. … European rally racer Kajetan Kajetanowicz has a new Polish- and Irish-themed crash helmet. … At this year's Rugby World Cup, the US team will wear uniforms with numbers consisting of pictures of supporters' faces. … Ron Covert found a poster of a bunch of shortline railroads. "As you can see, many of them look similar," he says. "That is because most shortline railroads are owned by holding companies and one, in particular, has the logo updated to the standard company logo template after purchase." The largest holding company is Genessee & Wyoming, which redoes the logos of all its holdings into the G&W format. For instance, the Alabama & Gulf Coast railway changed from this to this, which is a generic logo with a nod to its original identity. "There are many examples of this and I thought it was neat," he says. "I thought of Uni Watch because of how some manufacturers standardize professional team's uniforms with maybe some unique qualities, similar to the way G&W designs their new logos." … A high school lacrosse coach in Michigan proposed to his girlfriend by having his players wear lettered T-shirts that spelled out "Will you marry me?" under their jerseys. After a recent game, the players removed their jerseys to reveal the proposal. She said yes.