[Editor's Note: Today we have a guest entry from Wally Campbell, who's written an excellent piece about the one St. Louis Cardinals player to wear white shoes in 1972. Wally sent his piece already laid out in a PDF, so I've chosen to present it as he formatted it. For each "page," you can click to enlarge. "" PL]
By Wally Campbell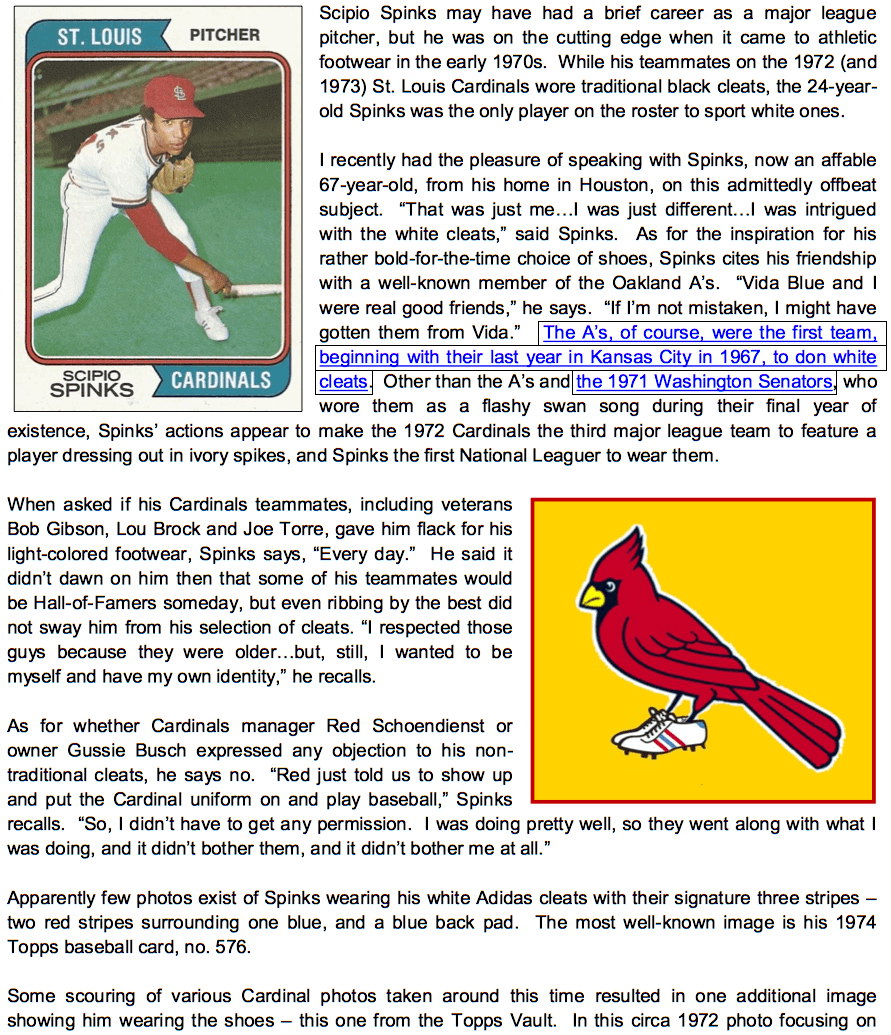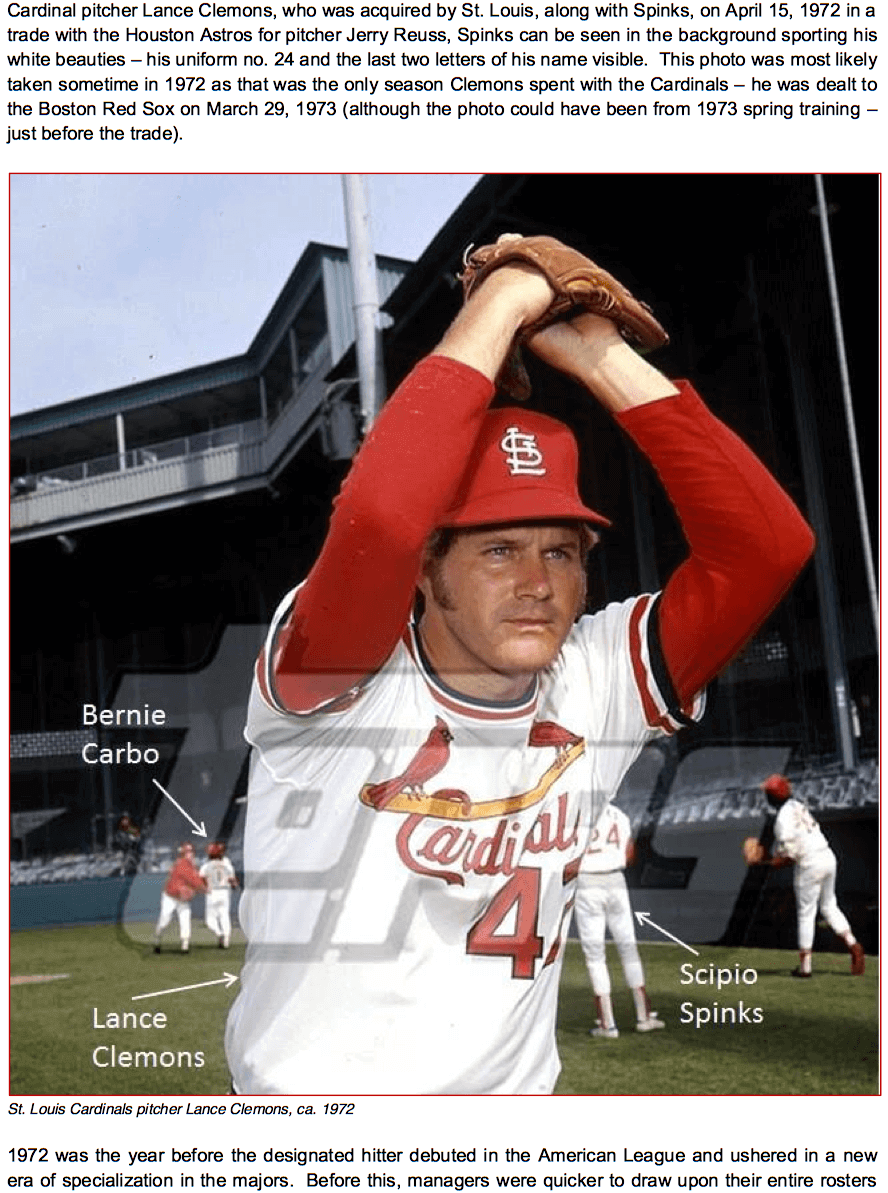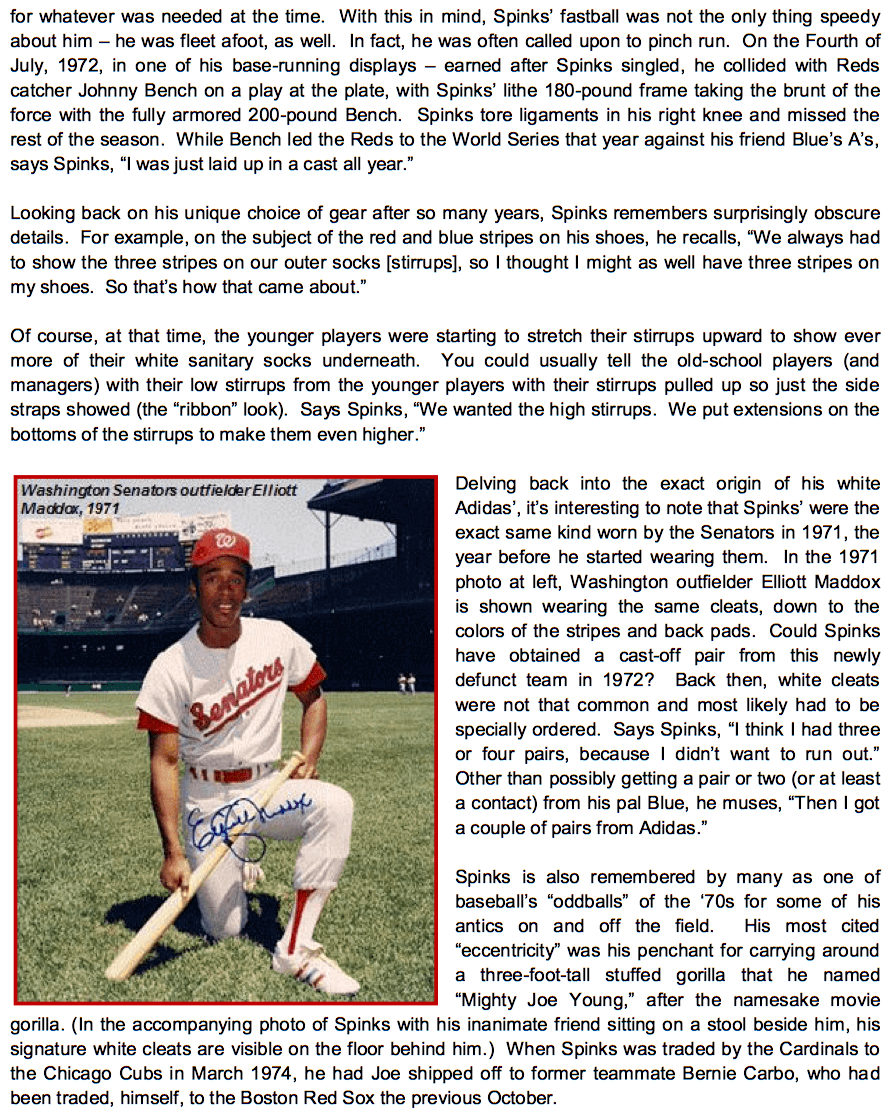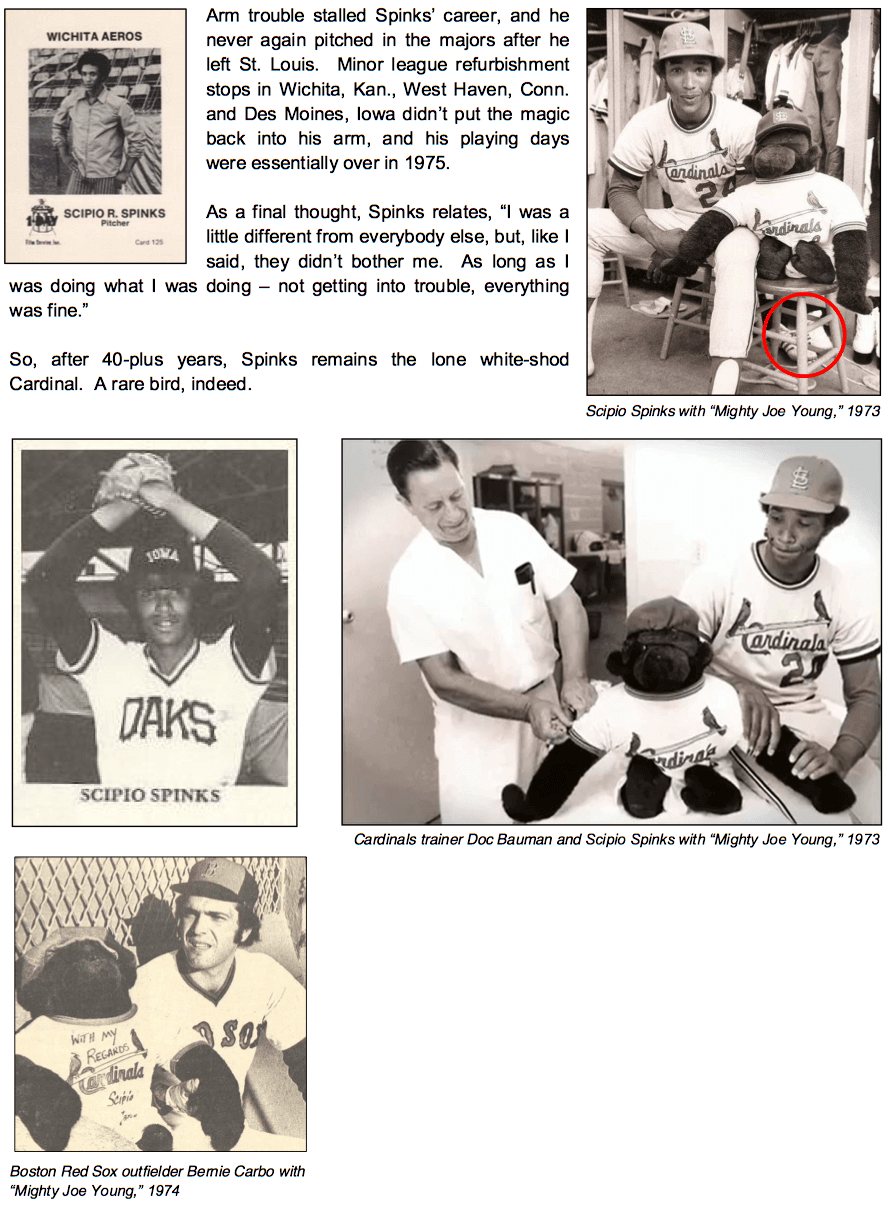 ———
Paul here. Big thanks to Wally for this superb bit of reportage. Wally, incidentally, is a bit of a white-footwear specialist — you can see his extensive report on the A's shoe history here.
•  •  •  •  •
ESPN contest reminder: I'm currently accepting entries for an ESPN contest to name and design a team for a prospective NHL expansion franchise in Las Vegas. Details here.
• • • • •

'Skins Watch: A bill advancing through the Colorado state legislature would require schools to get local tribes' permission to use Native American names or imagery (from John Romero). … The U.S. Justice Department is defending the government's move to strip the 'Skins of their trademark protection, and opposing the team's claim that the trademark is justified on First Amendment grounds (thanks, Phil). "¦ "Last week I caught some spring training baseball at the Reds/Indians shared facility in Goodyear, Arizona," writes Patrick O'Neill. In the main entrance concourse there are exhibits about the Reds' and Indians' previous spring training presences in Arizona and Florida. I never paid much attention to this stuff before, but this time the display for the Indians caught my eye. It featured a 1949 flyer showing Chief Wahoo leading an entire caricatured family, along with Wahoo's head atop a totem pole." But hey, it's a tribute!

Baseball News: Here's a photographer who clearly understood the most important part of the uniform (from BSmile). "¦ Nats 1B Ryan Zimmerman's wife is trying to get him to go high-cuffed (from Matthew Gallagher). "¦ One of the Brandiose guys was recently interviewed on a Padres-centric podcast (from @RJsFro). "¦ Stirrups and sidearming: two great tastes that taste great together. "¦ The A's will be giving away rainbow-patterned wristbands for LGBT Pride Night on June 17 (thanks, Phil). "¦ Eric Sogard of the A's was wearing what appears to be throwback striped socks yesterday (from Domenico Delgado).

NFL News: More gold digging: When Roger Goodell spoke at the NFL owners' meetings the other day, he stood in front of a backdrop of gold NFL logos. "¦ Three men who'd been sought by the police for taking part in a Manhattan brawl while wearing Jets jerseys have turned themselves in. "¦ 49ers TE Vernon Davis went curling the other day (from @makatski). "¦ Major fuck-up by New Era, which mistakenly put the Miami skyline on the underbrim of the Jags' draft cap. "¦ Good story on Greg Pruitt and his tearaway jerseys (thanks, Phil). "¦ A new Bills shirt being sold in Buffalo is based on faulty meteorology.

College Football News: Whoa, check out the first-ever Baylor football team! Just doesn't look right without an illegible custom typeface, am I right?

Hockey News: The Hurricanes wore white at home last night against the Penguins. "¦ The Canucks wore their awesome Vancouver Millionaires throwbacks last night. Here's a good shot of some of the players suiting up "¦ A fan at last night's Rangers/Sens game in Ottawa was wearing a very cool Hoboken Fire Dept. hockey jersey (screen shot by Alan Kreit). "¦ An ad came loose and fell onto the ice during last night's Isles/Kings game.

NBA News: We've previously noted that some NBA players have been wearing gloves while sitting on the bench. Here's an article about why Piston G Reggie Jackson does it (from Jeffrey Sak). "¦ Here's more about how Adidas passed on signing Michael Jordan to an endorsement deal because he wasn't tall enough. "¦ DeMar DeRozan of the Raptors mistakenly threw a pass to Joakim Noah of the Bulls while Noah stood on the sideline wearing a white shooting shirt — the same color as the Raptors' uniforms in that game. "Might we see a rule change requiring sideline apparel to match the team's uni color in the near future?" asks Kary Klismet. "¦ Whoa, check out this crazy old Bullets/Celtics color vs. color game, with Boston in white shorts! After I tweeted that photo yesterday, Todd Radom explained that it was a St. Paddy's Day stunt by Red Auerbach (original photo from Joe Kuras). "¦ Cavs C Timofey Mozgov wore a backwards jersey for a local Cleveland TV commercial (thanks, Mike). "¦ This is pretty good: a historical gallery of NBA warm-up gear (from Mark Roberts).

College and High School Hoops News: The 1954-55 Perkinston Jr. College women's team wore really interesting sleeved/collared jerseys. "¦ The Ohio high school basketball championship featured the Tuscarawas Central Catholic Saints vs. the Tri-Village Patriots, both of which poached their logos from NFL teams (from Justin Kellough). "¦ Some harsh words for Notre Dame's uniforms (thanks, Phil). "¦ Some UNC players wore this sneaker design last night.

Soccer News: West Brom will honor Jeff Astle next month by wearing 1968 throwbacks. "This is only the second time the Premier League has given permission for a retro kit to be worn in a league game, the other being in 2008, when Manchester United marked the 50th anniversary of the 1958 Munich Air Disaster," says Neil MacLeod. "What's particularly pleasing about this is that the West Brom kit will be completely clear of branding and sponsorship, and there will be no names on the back of the shirts.T he shirts of the outfield players will be numbered 2 through 11 rather than the squad numbers in use today, and the goalkeeper jersey will be numberless." "¦ The new Man U away jersey has leaked. "¦ New uniforms for Louisville City FC (thanks, Phil).

Grab Bag: F1 driver Nico Rosberg wears a women's sanitary towel inside his helmet to absorb sweat. "¦ New athletics logo for King's College. "¦ New logo for Billy Casper Golf. "¦ LL Bean boots are a hot commodity at the moment (from Tommy Turner).