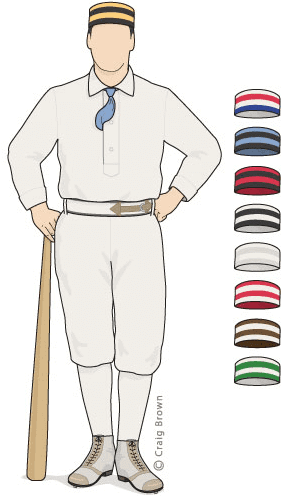 Last summer I did a post on Craig Brown's excellent Threads of Our Game site, which aims to be a Dressed to the Nines-style database for pre-1900 baseball uniforms.
Craig updates the site based on his own research and, especially, research submissions that are sent to him. He's recently made some major finds regarding National League teams that used color-coded uniforms — a specific color for each position on the field. Here's Craig with an explanation (for all the links, I recommend scrolling down past the mock-up to see the background research and documentation, much of which is fascinating):
The driver behind these color-coding experiments was the Chicago National League team and Albert Spalding, who was launching his sporting goods business and securing manufacturing contracts with the league. The concept of players wearing numbers was decades away, so the idea was to identify the players on the field by individual colors, and then have those same colors next to the players' names in the scorecards. Many if not all of these color-coding experiments were abandoned during their respective seasons, though exact documentation of when is yet to be pinpointed.

In 1876, Chicago became the first team to wear color-coded their caps. They did it again in 1877, and then they took it to the next level in 1879, adding color-coded ties, belts, and banded stockings to the mix: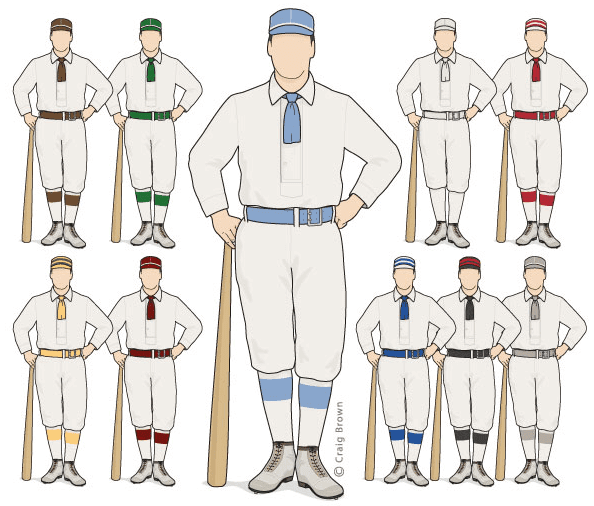 Color-coded caps were also used by Minneapolis in 1877 and Worcester, Mass., in 1879. A newspaper report from the time said, "The Worcesters have decided that each man shall wear an inch band of a particular color about his hat during the season, the color to be printed against the player's name on the scorecard." So now we really need to find one of those scorecards!

Then in 1882, the National League dove head-first into the color pool. These uniforms were made of silk and the players reportedly hated the color schemes. Here is the Detroit N.L. team: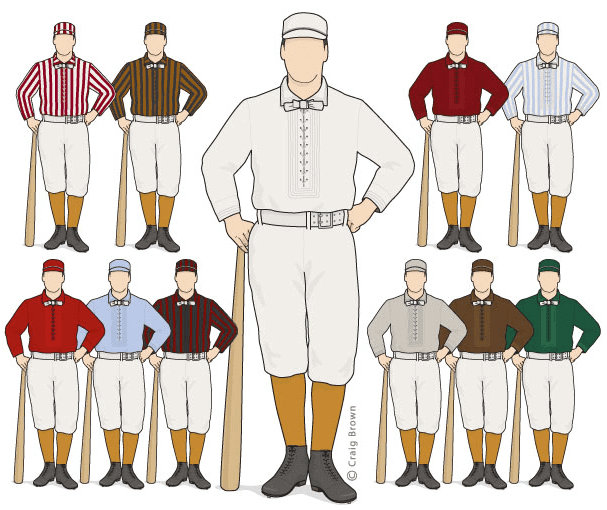 Other 1882 teams with color-coded uniforms included Buffalo, Chicago, and Troy.

And that same year, Cincinnati joined the new American Association but wanted to appear like they were in "the League." So they too went with color-coded jerseys.

And at least two more 1882 teams may have experimented with color-coded caps: New York (which, as you can see, also wore little polka dots) and St. Louis.
I love this color-coding stuff, but Craig has recently come up with some other research finds:
• We all know the 1868 Cincinnati team was the first to wear knickers, but it turns out that another 1868 Ohio team, from Xenia, did the same.
• The 1870 Union team from the Bronx may have been the first to wear detachable sleeves.
• You know how soccer teams will have a separate uniform for the keeper? The 1878 Buffalo baseball team tried something similar: They had a different jersey and belt for pitchers and catchers.
• The 1858 team from Westfield, Mass., had a particularly dressy uniform that looked more like a marching band uni. Imagine someone wearing a throwback of that!
Great stuff from Craig and his research contributors. Explore more of his site here.
• • • • •
ESPN contest reminder: I'm currently accepting entries for an ESPN contest to name and design a team for a prospective NHL expansion franchise in Las Vegas. Details here.
• • • • •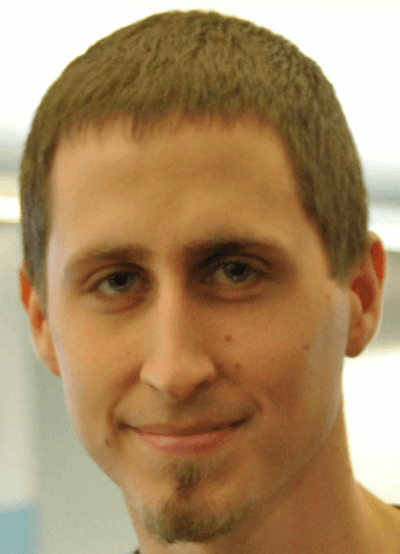 Mike's Question of the Week
By Mike Chamernik
I've had a few extra bucks in my pocket recently, and I've chosen to dispose of that income by buying trading cards. I'm not going to be a serious collector; I'm just trying to get as many cards from the 2014-15 Panini NBA Hoops set as I can.
What will I do with these cards? I don't know. I'll look at them. I'll use them as bookmarks. I'll put them on the reverse side of my work ID. Whatever. I just want to amass as much of the set as possible.
I collected cards as a kid as well. Did you collect trading cards as a kid or adult? Did you keep them in a binder, or display them? What was your favorite card? What lengths did you go to collect cards? What was your favorite card or favorite set? Did anyone actually trade cards with their friends, or was the term "trading cards" just a nicety? Did you ever find any valuable cards (or, conversely, did you ever load up on rookie cards of someone who was a bust)?
This 1999-2000 Richard Hamilton Topps Clear Shot card is the best card I have. It's not worth much monetarily, but I just think it's neat — it's clear, and it has the matched-up front and back view of Rip.
As always, post yours responses in today's comments.
• • • • •
Uni Watch News Ticker
By Mike Chamernik

Baseball News: The Fresno Grizzlies will not give away 2017 Houston Astros World Series rings during their "Back to the Future" promotion after all (from Phil). … The Onion poked fun at people who wear baseball caps in public (from Jeff Funke). … Coleman Mullins was reading the morning paper and spotted a high school player wearing excellent stirrups with gold sannies. … In last night's episode of the 1980s-set ABC sitcom The Goldbergs, the title family visited Veterans' Stadium for a Phillies game, and Jeff Garlin's jersey was missing the ball inside the "P" [the Phils did wear a ball-less "P" from 1975 through 1986, but with a zippered jersey, not button-front "" PL] (from Elan Tavor) … Also from last night's Goldbergs episode, the son on the show sported some bedazzled Philadelphia sports jerseys (from Chris Flinn). … The Cardinals put Oscar Taveras memorial patches on their jerseys. … We mentioned here that Indiana wore cream throwbacks on Tuesday night. But Louisville, the Hoosiers' opponent, wore fauxbacks (from Daniel Bruhn). … Todd Radom wrote about the flags that flew over Wrigley Field in 1946. … Pirates CF Andrew McCutchen cut his hair, which will render his T-shirt moot. … Married Red Sox players have had some minor issues with removing their wedding bands before going out on the field (from Keith Thibault). … In honor of new pitcher Jeff Samardzija, the White Sox will have two Shark Cage sections during his home starts this season. Fans get a hat and shark fin-shaped K card (from Ryan Lindemann). … In his book Imperfect, pitcher Jim Abbott wrote about his stirrup preferences (from Pat Costello). … The Salem Red Sox will wear Virginia Tech remembrance hats on April 16, the team's opener and eighth year since the Virginia Tech shootings (from Phil). … Minor leaguers in Indians camp have vertically arched NOBs. "Pretty interesting, because vertically arched lettering is much more involved and painstaking — not the sort of thing you'd expect minor leaguers to have," says Paul (photo from Jeff Moulden). … Tennessee's catcher wears MLB logos on his helmet and mask. … According to a small note in this piece, Yankees minor leaguers are no longer required to go high-cuffed (from Matt Harris). … The Softbank Hawks will wear these alternates in June and July (from Yusuke Toyoda). … Padres OF Matt Kemp is apparently a very snappy dresser off the field (from Phil).

Football News: The NFL Draft caps will have depictions of the cities' skylines on the underbill. Jacksonville's apparently has issues. … From yesterday's comments: The Lions might have alternate jerseys this season. … With the NFL adding gold accents to everything for Super Bowl 50, Paul Stave thinks that this character could be a good league spokesman. … South Carolina will have new uniforms next year (from Phil).

Hockey News: A fan attended Tuesday night's Panthers/Lightning game in a full space suit. … The Canucks will wear Vancouver Millionaires throwbacks tonight (from Phil). … Before Tuesday night's game against the Blues, the Penguins honored Hall of Fame play-by-play announcer Mike Lange for 40 years of service. He was awarded a jersey, too. … The Villanova piccolo player who was shown crying on TV after the Wildcats' NCAA basketball tournament exit appeared on The Tonight Show the other evening. "She wore her Villanova Band jersey for her performance. This year's design is a hockey jersey, which is the same jersey that the Villanova Roller Hockey team has been wearing for years. That design however is just a variation of the University of Maine hockey jerseys."

Soccer News: New away kit for the U.S. men's team. … Does England have a new BFBS jersey? Unclear if that's real or a fan concept (from Alex Buergey). … New jerseys for Canada's men's and women's national teams (from Yusuke Toyoda). … Arsenal's home and away kits have leaked. "¦ Here's a good, in-depth look at the process of rebranding MLS's Minnesota United FC (from Andy Hart).

Basketball News: The Kings wore Rochester Royals throwbacks on Tuesday night. … Sports Illustrated created a list of the worst uniforms in NBA history (from Phil). … Oscar Robertson wore protective headgear in 1967. … Here's the story behind the Hawks' Pacman logo. … Heat G Goran Dragic suffered a small jersey tear last night (from Stephen Hayes). … The Blazers and Jazz went red vs. green last night (from Phil). "¦ No photo, but Andrew Hoenig reports that with 8:30 left in last night's Temple/Louisiana Tech game, the uni numbers for the players on the floor for both teams were 0, 1, 2, 3, and 4.

Grab Bag: Here's a quick story on the nickname origins of the Padres, Chargers and Akron Zips (from Phil). … Lots of great sports memorabilia will be available at this estate sale on Saturday morning in Indianapolis (from George Carpenter). … "Recently came across an old folder from my youth. Kept all my sports autographs, photos and clippings in it," says Jimmy Lonetti. "Great job by the producer to carefully remove all team logos they didn't have rights to use. I especially love the term 'sport-folio' too."