[CLICK TO ENLARGE]
By Phil Hecken
Everybody's got a bracket, right? So why not one for the NCAA tourney?
There have been some good looking (and some bad) matchups in the NCAA Tournament thus far, and our old friend Jim Vilk will give you his top five "good" and one "bad" matchups down below. But for this exercise, we're going to rank the winners and losers in the round of 64 (or what they call the "second round") by better uniform. Then we'll see how those teams actually fared on the court. Seeds listed after each team are based on their seeding, not uni rank.
. . .
Mid-West Region
Kentucky (1) vs. Hampton (16): Despite having the "ghost" Kentucky, these are nice. Hampton's side panel loses it.
Uni Winner: Kentucky
Cincinnati (8) vs. Purdue (9): Tough uni matchup for the 8-9 seed, as Purdue has ghost lettering, and Cincy has those awful adidas waistband template shorts. Neither is good, but Purdue ekes by.
Uni Winner: Purdue
West Virginia (5) vs. Buffalo (12): In what might be the worst uni matchup of the bracket, Buffalo's BFBS goes down.
Uni Winner: West Virginia
Maryland (4) vs. Valparaiso (13): Some white vs. gold uni matchups look good, and most times, teams wearing gold look good. Neither was the case — Valpo's unis have too much other shit going on.
Uni Winner: Maryland
Butler (6) vs. Texas (11): This was a nice matchup of two unis, and it's very hard to see that gorgeous Texas uni go out, since Butler moved on. But UT wins the uni battle.
Uni Winner: Texas
Notre Dame (3) vs. Northeastern (14): I hate to admit this, but those ND unis are actually growing on me. Unfortunately, the players also love the neon sneaks, so it's a bit jarring. Still, more than enough to advance.
Uni Winner: Notre Dame
Wichita State (7) vs. Indiana (10): Nice (sort of) color vs. color matchup, but is gray a color? And that Indiana uni is one adidas didn't ruin. Maybe the Hoosiers didn't advance in hoops, but they advance in our uni hearts.
Uni Winner: Indiana
Kansas (2) vs. New Mexico State (15): Kansas did about the best thing possible: they ditched the adidas striped pants and wore their 'classic' unis. Is that tiger print sublimation on NM's pants? Easy call here.
Uni Winner: Kansas
So — how'd the actual winners do versus those wearing the better uniform? In this quarter, 5 out of the 8 advancing teams had the better uni:
__________
West Region
Wisconsin (1) vs. Coastal Carolina (16): Wisconsin may be good (some say they may be the only team who can beat Kentucky, should they face them), but those adidas template unis kill them. And CC has some pretty cool colors, and even their weird side panel is OK. Sorry Sconnie. Yer out.
Uni Winner: Coastal Carolina
Oregon (8) vs. Oklahoma State (9): In what may the best matchup of the tourney, Oregon's highlighter yellow looked awesome against OSU's bright orange. Oregon probably won't get to wear these again, but it's good for this win.
Uni Winner: Oregon
Arkansas (5) vs. Wofford (12): Arkansas vs. Wofford. Or should we say woe-ful. Sorry – that whole Wofford uni is a mess, especially the ass-stripe. And Razorback looks pretty good. No contest.
Uni Winner: Arkansas
North Carolina (4) vs. Harvard (13): Harvard would have a hard time overcoming the beautiful UNC whites if they were wearing crimson. But they're wearing black. Buh-bye.
Uni Winner: North Carolina
Xavier (6) vs. Ole Miss (11) Xavier has a really nice basic uni, but that font (Copperplate). But they have the cool "X" on the pants. However, Ole Miss looked resplendent in red, and pulls the uni upset here.
Uni Winner: Ole Miss
Baylor (3) vs. Georgia State: Some teams can pull off black and royal. Ga. State just about can, especially with a nice gold outline around the numbers. Baylor should have been in bright gold. A shocking upset.
Uni Winner: Georgia State
VCU (7) vs. Ohio State (10): 7-10 games on court are gut wrenching. This uni matchup left me with the same feeling. Hey VCU — don't wear white with predominately gold. It's tough to see. Go GOLD! Brutus pulls this out.
Uni Winner: Ohio State
Arizona (2) vs. Texas Southern (15): The Wildcats' unis, especially the white, are really nice. Texas Southern, despite a nice color, just don't quite cut it. Zona advances.
Uni Winner: Arizona
So — how'd the actual winners do versus those wearing the better uniform? In this quarter, a whopping 6 out of the 8 advancing teams had the better uni:
__________
OK — so as we enter the halfway pole — lots of uni winners advanced along with their basketball compatriots. But the better uni can't keep up this pace, can they? Here's the second half of the uni matchups, in the East an South Regions.
East Region
Villanova (1) vs. Lafayette (16): It's tough for a #16 to move on even in the uni bracket. It's tough to see from that photo, but Villanova's still got a great uni, and blends light and dark blue very well. Lafayette was just happy to be there.
Uni Winner: Villanova
NC State (8) vs. LSU (9) How many brackets really get busted by the 8-9 game? Not a lot, since you usually only have that team for one game (since they play the #1 seed in their next game). So this could have been a tossup. I don't have any problem with purple the accursed color of death, and NC State's waist stripes kill them here.
Uni Winner: LSU
UNI (6) vs. Wyoming (12): You know how sometimes gold unis don't look good against white? This wasn't one of those times. Wyoming's unis are gorgeous. Too bad we won't be seeing them again in the real tourney. Yeah — it's hard to vote against any uni that says "UNI" — but it had to be done.
Uni Winner: Wyoming
Louisville (4) vs. UC Irvine (13): Can there be a uni matchup where nobody wins? Yes. This is it. But someone has to move on by default.
Uni Winner: Louisville
Providence (6) vs. Dayton (11): Some red roadies look good (see Ole Miss). Others don't. Dayton is busting brackets all over the place, including the Uni bracket.
Uni Winner: Providence
Oklahoma (3) vs. Albany (14): Another nice white/purple matchup, but this time the edge goes to Oklahoma for their nice crisp whites. Albany doesn't look bad, but Boomer looks better.
Uni Winner: Oklahoma
Michigan State (7) vs. Georgia (10): Sparty might have the best looking wordmark in the tourney, so there wasn't much Georgia (in black) could do here.
Uni Winner: Michigan State
Virginia (2) vs. Belmont (15): Belmont doesn't look bad, but they don't look good either. Those side panels are just a bit too much. Virginia's whites are steady if unspectacular.
Uni Winner: Virginia
So — how'd the actual winners do versus those wearing the better uniform? In this quarter, the winning hoops squad won 5 out of the 8 in uni matchups:
__________
South Region
Duke (1) vs. Robert Morris (16): Duke's ghost lettering almost knocks them out of this matchup, but the rest of the uni is solid and with no bumperstickers. Robert Morris, like so many others, was just happy to be there.
Uni Winner: Duke
San Diego State (8) vs. St. John's (9): Another tough 8-9 matchup, but SDSU's wordmark is too small and the unis are too plain. The Johnnies actually look pretty good in UnderArmour. Not as close as you'd think.
Uni Winner: St. John's
Utah (5) vs. Stephen F. Austin (12): Purple and black are very difficult to combine. SFA failed to convert. Utah moves on.
Uni Winner: Utah
Georgetown (4) vs. Eastern Washington (13): Few teams look as good in gray as Georgetown. That's a modern classic, right there. Sorry EWU. Not today.
Uni Winner: Georgetown
SMU (6) vs. UCLA (11): There may be no other school adidas has done more harm to, uniform-wise, than UCLA (across all sports). Basketball is no exception. They have the light blue right, but those STUPID waist stripes kill this. Fail.
Uni Winner: SMU
Iowa State (3) vs. UAB (14): Wow — UAB didn't just score the big upset on the court, they actually take this uniform matchup as well. It's tough to beat UAB's color, and despite the giant pants stripe, Iowa State's thin non-stripes don't help their cause. Close, but that only counts in horseshoes and hand grenades.
Uni Winner: UAB
Iowa (7) vs. Davidson (10): Iowa may look good (and like the Stillers) in football, but their hoops unis aren't as fortunate. Meanwhile, Davidson's red with white wordmark and numbers outlined just right gives them the uni edge.
Uni Winner: Davidson
Gonzaga (2) vs. North Dakota State (15): The 'zags may be the sexy bet to make a deep run in the tourney, but their magic doesn't extend to their uni run. It's over. NDSU's colors eke this out in a very close contest.
Uni Winner: North Dakota State
So — how'd the actual winners do versus those wearing the better uniform? In this quarter, we had our first 4/4 split in uni matchups:
__________
So there you have it — in the uni matchup of the NCAA first round, the team wearing the better uniform won more than half the time — about 5 out of 8 matchups. We'll see if the better uni winning the game continues at this pace as the tourney wears on.
And now, to give his thoughts on the best overall (and one worst) uni matchups…

Jim "Vilkanova" Vilk's
NCAA 5 & 1 (Part I)
You thought he'd gone and hidden since the NBA All-Star game, didn't you?
Nope — he's back — back for his favorite of all sports, the NCAA Tourney.
Jim's here to bring you Part I (of II) of the best uni matchups of the tourney through round one two (that's what they call the 64 teams who made it from the first 68). That's about the half-way point for uni matchups.
Here's Jimmer:
. . . . . . . . . .
The ball is tipped…and here we are…36/67th of the way through the Tourney.
Honorable Mention to Hampton/Kentucky – My, what big numbers you have, Pirates!
5. Texas Southern/Arizona – Hampton and TSU have me thinking Russell Athletic should go after the NBA contract.
4. Coastal Carolina/Wisconsin – If I did brackets based on uniforms, that teal would be in the Sweet Sixteen, at least.
3. North Dakota State/Gonzaga – Colorful, and the Bison may take my Coolest Font award this year.
2. LSU/NC State – Not every team could pull off that adidas template, but now you've seen two who did.
1. Oklahoma State/Oregon – Happy, Phil?
And the dreaded &1 goes to State University of NEW YORK at Buffalo/West Virginia – It's just coincidence that the swooshies are the easiest things to see on those unis, right?
See you at the end!
. . . . . . . . . . .
Thanks, Jimmer. And yes, I am happy with your Number One.
Uni Tweaks Concepts
We have another new set of tweaks, er…concepts today. After discussion with a number of readers, it's probably more apropos to call most of the reader submissions "concepts" rather than tweaks. So that's that.
So if you've concept for any sport, or just a tweak or wholesale revision, send them my way.
Please do try to keep your descriptions to ~50 words (give or take) per image — if you have three uniform concepts in one image, then obviously, you can go a little over, but no novels, OK? OK!. You guys have usually been good with keeping the descriptions pretty short, and I thank you for that.
Like the colorizations, I'm going to run these as inline pics — click on each one to enlarge.
And so, lets begin:
~~~
First up today is Matthew Blinco with a logo tweak for UK:
Phil,

I've done a little logo alteration for the University of Kentucky. Just watching the game against UNC and got annoyed with how the outline is done on the "UK." The above on the image is the official logo, the bottom one is my take.

Thanks!

Matt Blinco
. . .
Next up is Artur Wrona, with some concepts for the new Raptors:
Hi Phil,

I enjoy the work you guys do over at Uni Watch.

Thought you might be interested in checking out some Raptors concepts I did earlier in the year. With the new logo just released along with colour schemes, these aren't quite as relevant anymore. Maybe some tweaks are in order.

Anyway, the idea here was to create something modern that pays tribute to the team's past. Certain elements that were a little loud or prominent before are treated in a more simplified manner. You can see this in the maple leaf peaking out of the name banner on the back and the pinstripes that are part of the mesh pattern.

I hope you enjoy!

Cheers,
Artur Wrona
. . .
And we close today with Parker Elam who has some tweaks for the Chiefs:
Hi Uni-Watch & Phil,

Hi, the site is great. I believe the Chiefs have a classy look, but I have a few minor changes that I think may improve upon it. First off, both of these designs feature classic, AFL, all white away jerseys. The first example divides the tri-color sleeve stripes into three distinct stripes respectively, and eliminates the number outlines. In The second example I used the same socks, and stripes but applied them using the uniform compression sleeve idea that I found on uni-watch. Perhaps the most dramatic change was made to the logo, I removed the three dimensional aspect of the "KC," and changed the outline of the arrowhead from black to red in order to achieve the look of negative space when displayed on the helmet.

Thanks, Parker
. . .
And that's it for today. Back with more next time.
UWFFL NEWS
by Rob Holecko
Yesterday we brought you the Promotion Bowl — a consolation game between the two losing semifinalists to decide the third UWFFL Division II squad to get promoted into the top-flight this fall.
Today we will look at the two teams that have already punched their tickets to promotion to the UWFFL, the semifinal winners Little Rock and Pontiac, and see which one will be crowned Champion of Divsion II for 2014 in the NyQuil Division II National Championship. Last year's Division II Champion, the Anchorage Orcas went 18-0 in the Premier League this year and completed the first undefeated season in UWFFL history. Both of this year's finalists will be able to challenge the Orcas in UWFFL Premier next season, but first they must decide this title.
The Little Rock Diamondbacks went 8-5 in the Metro South Conference, but after three victories as the underdogs in the Metro South playoffs and a national semifinal win over Youngstown, they find themselves at 11-5 and in the title game. Their opponents, the Pontiac Prowlers, went 11-1-1 in the regular season, won their league championship and defeated British Columbia in the other semifinal. Who will win the Championship? It's time for you to help us decide!
. . .
. . .
Also feel free to go ahead and scroll down to Saturday's entry and continue voting on yesterday's Promotion Bowl.
Head on over to uwfantasyfootballleague.com to vote on two more La Lega playoff games, and we'll see you next weekend for the Maple Leaf Cup Championship, an invitational tournament of all UWFFL teams from Canada, as well as the La Lega Semifinals.
Also be sure to get those prospective expansion teams for the 2015 season in… the deadline for all entries is March 31, after that expansion candidates will have to wait until 2016 to compete. To enter a team/concept, head on over to our Google+ group here.
EPL Tracker
Each Saturday or Sunday, Alex Gerwitz will be tracking the kit combinations (shirt/shorts/socks) of the teams in the English Premier League from the previous weekend and the current weekend.
Here is the EPL tracker for Weeks 29 & 30 (click to enlarge):
I Want YOU!…to talk to me about the 'skins Trademark Case
As some of you know, I'm still deep in my research for my Capstone (basically a Masters Thesis — and YES, I will finish this semester). But the focus of my project has now turned to the current trademark dispute still presently making its way through the courts.
I know there are several readers who are lawyers (or are VERY knowledgeable on the subject) and who I'd love to interview for this project. If you're interested in discussing the trademark case (I don't care how you feel about the name — this is simply about the status of the case and possible future actions), I'd LOVE to hear from you and speak to you. If you're interested, please Shoot me an e-mail (Phil (dot) Hecken (at) gmail (dot) com).
Thanks in advance. It would be a big help to me!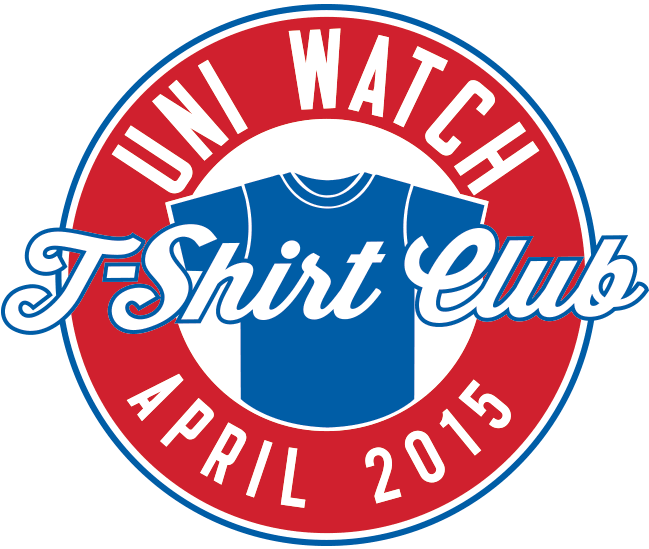 T-Shirt Club reminder: The Uni Watch T-Shirt Club design for April, inspired by Jackie Robinson Day, is now available in home white and road grey versions, with all of Uni Watch's profits being donated to the Jackie Robinson Foundation, which builds on Jackie's legacy by providing college scholarships to disadvantaged students of color. Full details here, or just go straight to the ordering page.
Uni Watch News Ticker:

Baseball News: The great Todd Radom made a very impressive uniform discovery: The 1932 Chicago Cubs wore black & gold, not blue & red. "A spectacularly elegant uniform" says Todd. … There's Grapefruit League ball, and then there's a grapefruit for a ball. That's NYG great Carl Hubbell (thanks to Bruce Menard). Also from Bruce, great 1911 Opening Day shot in the snow (that's Davy Jones at bat vs. the ChiSox). … Jhonatan Solano of the Marlins was wearing crazy socks for yesterday's "#RockYourSockWDSD2015" (World Down Syndrome Day) promotion. He was joined by some of his teammates. … EMU has one nice looking uniform (via EMU Baseball). … Major League movie anomaly? "I noticed this scene in Major League (on Comedy Central) of 'Jake Taylor' is mirrored. Check out Chief Wahoo," writes Chris J. Spisak. … Check out this fantastic photo of a kid about to go to a day game at Yankee Stadium. Wow (via Lost Ballparks). … Nebraska did the camo top thing yesterday (via Nathan Jurgensen). Those may just be BP jerseys (pretty sure they are), but still. … Unlike Gio Stanton, who has a custom facemask, Justin Hayward has his *regular* faceguard with the Cardinals (screen grab by Mike Nessen). … Holy shirt — check out this jersey seen at Cardinals spring training (thanks to Jay Abbott, who said of the photo, "I don't know.") … Looks like the Rangers just put one nameplate right on top of another (grab sent in by StevenO.


NFL/College News: As you've likely heard, Chuck Bednarik, last of the NFL's "60 Minute Men" passed away yesterday. I had a smallish-section on him in this Uni Watch piece on the Eagles 1960 throwbacks a few years back. … Speaking of Bednarik, here's an absolutely gorgeous shot of him in a University of Pennsylvania uniform (great find by Rahul Vyas).

NBA News: Here's a great promo/giveaway: A Suns Jeff Hornacek throwback apron. Thanks to Alexander Benezra), who notes that was from Thursday night's game. … "Last year it was LeBron James not wanting to wear his signature shoe," writes Kyle Hanks. "This year, Kevin Durant switched back to an older model of his KD shoe line after being prescribed an orthotic, and Nike is worried about what that does to their image. Classy."

Hockey News: (Finally), New York Islanders Goaltender Michal Neuvirth has a new mask. You may recall he was recently acquired by the Isles and had been wearing his Sabres' gear. And, um, it glows in the dark (h/t William Kristoph).

Soccer News: Check out Joe Hart MCFC GK rocking the Nike running cap yesterday vs West Brom (nice grab by Joe Webber). … Yesterday, Arsenal's Francis Coquelin went with a blood jersey (h/t Dan Smith). Here's another view (via Mike Campbell). … New MLS team NYCFC went with sky blue shorts yesterday (via Tom Drees). … "Olivier Giroud has scored two goals so far in (yester)day's game," writes Dov Beck. "In the photo of his first celebration, his jersey is fully intact. In his second goal celebration, most of the Puma logo is missing, which can also be seen as he exits the pitch after the first half. In the fourth photo, taken in the second half, the Puma logo has returned. Bonus: Frances Coquelin left with a bloody nose and came back a few minutes later with no name or number on his shirt. Giroud has extras and he doesn't?"

College/HS Hoops News: Friday night's Oregon vs. Oklahoma State game (color vs. color) received a lot of attention on the Twitter, with more than a few calling it the 'highlighter' game. Yep, never gets old. … Some of you have probably noticed that Notre Dame is wearing very bright shoes in the NCAA Tourney (thanks to Ken Traisman). … Interesting jerseys and pants from Dwenger HS in Ft Wayne, Indiana (h/t KP). … Did you know that Division III has an All Star Game? They do, and the players wear their own unis. Nice! (h/t Clark Ruhland). … Good NYT article remarking how players don't have very much exposed skin in hoops anymore (thanks to Kenny Ocker). … Of course, on the opposite side of the coin, there was a time (not all that long ago) when basketball players showed a lot of skin. Jim Vilk approves. … "I hadn't noticed this before, but it looks like Notre Dame's gold shorts are longer in the back," writes Gary Moore. "Here are a few pictures I found that seems to show the tapering. You can see the additional material under the stripe at the rear of the shorts."

Grab Bag: A pair of shoes worn by actress Mae West and white felt wedding dress are two of 100 items on display that explore the power of clothes and fabrics to change an individual, and you can read about them in this article (thanks to TommyTheCPA). … Reader Ted came across this bowling jacket at a vintage clothing store in Toronto. "Note that it is for the 5-pin game, popular in parts of Canada"Ž but I don't believe anywhere else," he adds.
And that's all for today. Thanks to Jimmer Vilk for his first 5 & 1, plus the concepters and Alex for the EPL tracker. And of course, all of you who submitted or tweeted. You guys have a great week and I will catch you next Saturday.
Follow me on Twitter @PhilHecken.
Peace.
.. … ..
"Padres are based on the warm-and-fuzzy Franciscans. Providence's Friars are based on the Dominicans who have been dubbed Domini Canes (the dogs of the Lord "" as in the sense of guard dogs or hunting dogs) and who more associated with the harder virtues of truth and justice."
— Denver Gregg