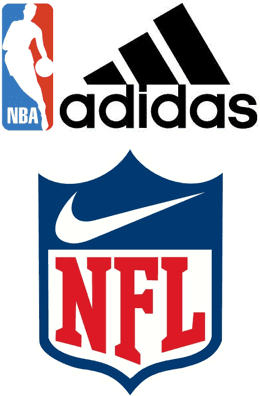 Big day yesterday for league specific apparel contracts in the uni-verse, beginning with the news that Adidas will not be renewing its uniform contract with the NBA when it expires following the 2016-17 season.
I've written an FAQ-style piece for ESPN that assesses the potential implications of this development. If you didn't see it yesterday, you can check it out here. (Later in the day, the NBA announced that it will name its new apparel partner next month.)
As the NBA news broke, there was some initial speculation that Adidas might be marshaling its resources to make a run at the NFL uniform contract, which was due to expire in two years. But then Sports Business Journal reported that Nike had just inked a three-year extension on its NFL contract. (The full article is behind a paywall, unfortunately.) So Nike has consolidated its position in the uni-verse, while Adidas's position appears to be weaker.
•  •  •  •  •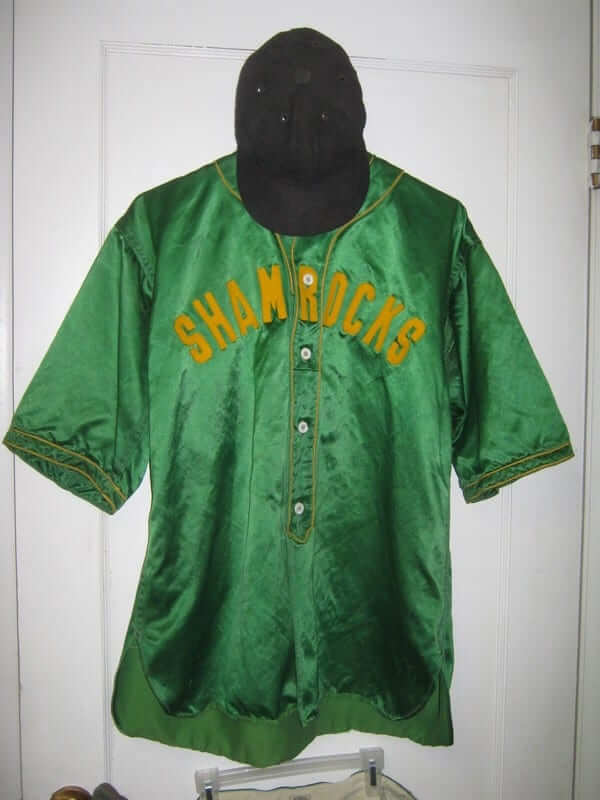 The perfect uni for St. Patrick's Day: Brinke will have "Collector's Corner" later in today's entry, but I want to begin today with an eBay auction for what appears to be the ultimate St. Patrick's Day item: a vintage emerald green satin uniform for a baseball team called the Shamrocks, hot-cha-cha!
Here's the back of the jersey, along with the pants: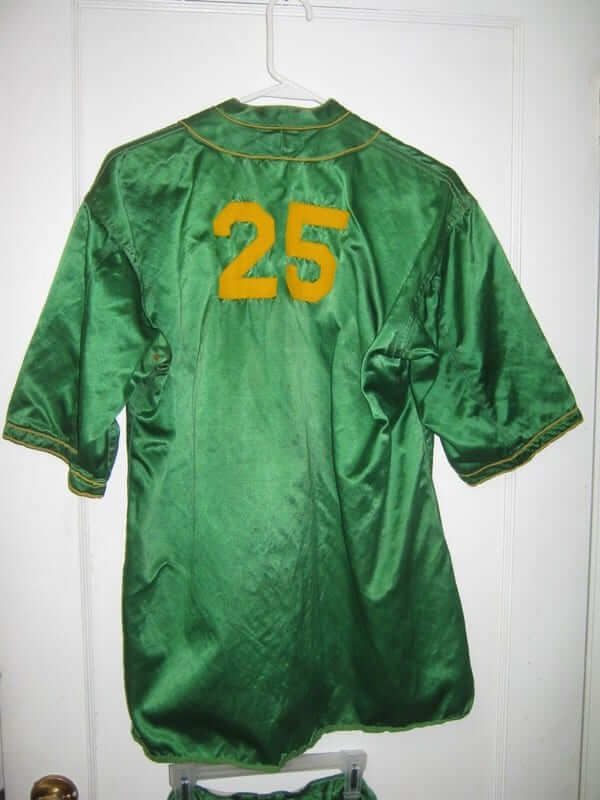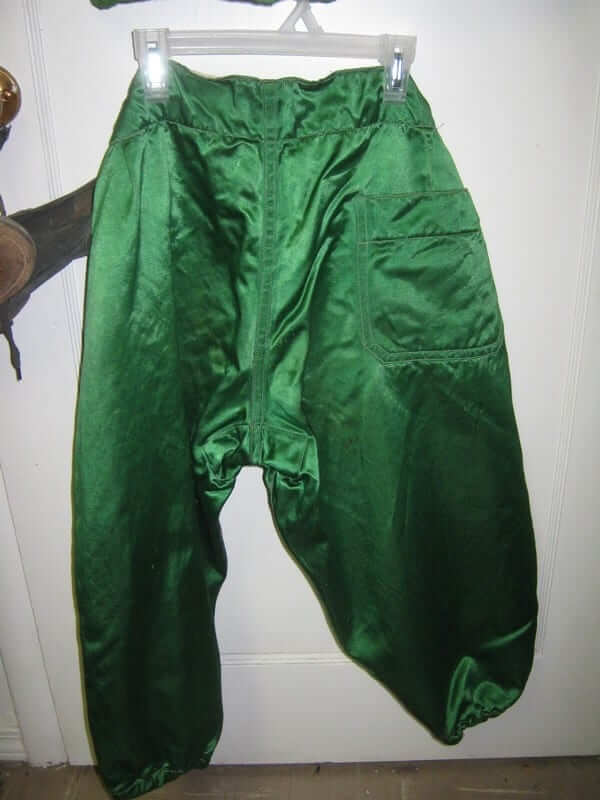 According to the eBay listing, the uniform dates to 1940 (a claim backed up by this photo) and was acquired by the seller at an estate sale. The uniform comes with a cap and a pair of spikes.
Now, I'm not exactly lacking for green items in my life. Green has been my favorite color ever since I was a little boy. I now have a green car, a green-upholstered sofa, a green-upholstered living room chair, green bedsheets, green bathroom towels, green walls in my kitchen, lots of green houseplants, a green-themed website, and lots and lots of green clothing, including lots of green vintage jerseys. So it's not like I need this Shamrocks uniform. But damn — it's a beauty. I want it.
But it's too big for me, so I won't be bidding on it. If it fits you, however, you should totally go for it — what could be more appropriate on St. Patrick's Day?
•  •  •  •  •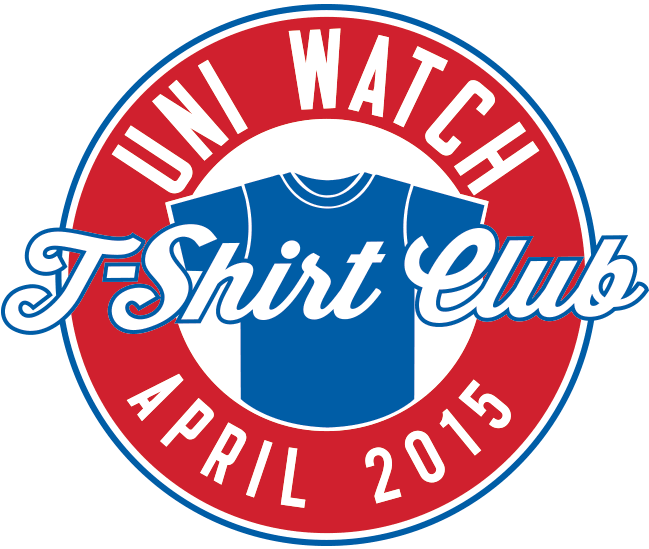 T-Shirt Club update: Today is the third Tuesday of the month, which means it's time to launch the Uni Watch T-Shirt Club's latest design.
So: April 15 is Jackie Robinson Day, when teams teams wear No. 42 to honor the anniversary of Jackie's big league debut. That's the inspiration for the Club's April design, which we're offering in two different colors (click to enlarge):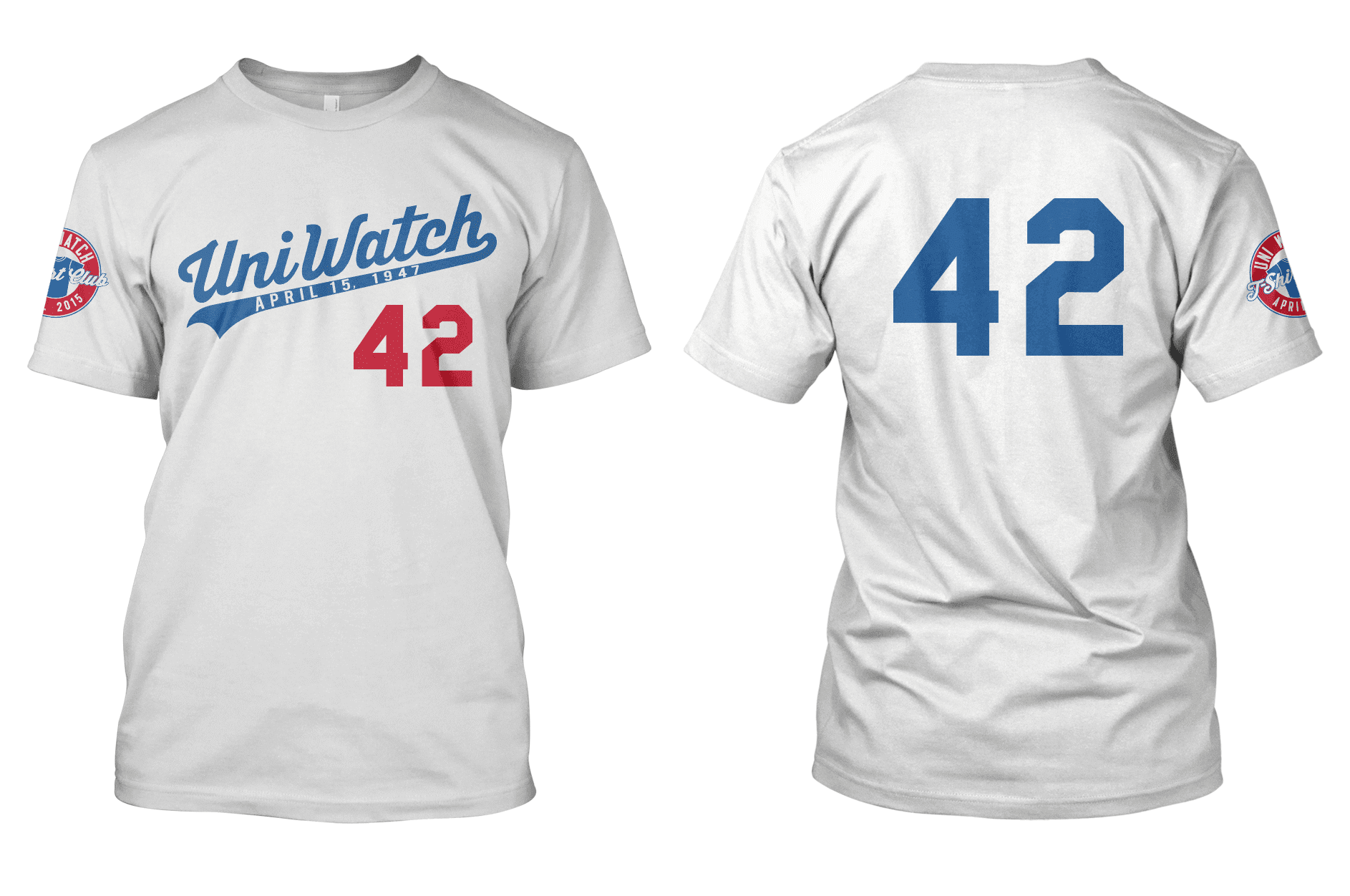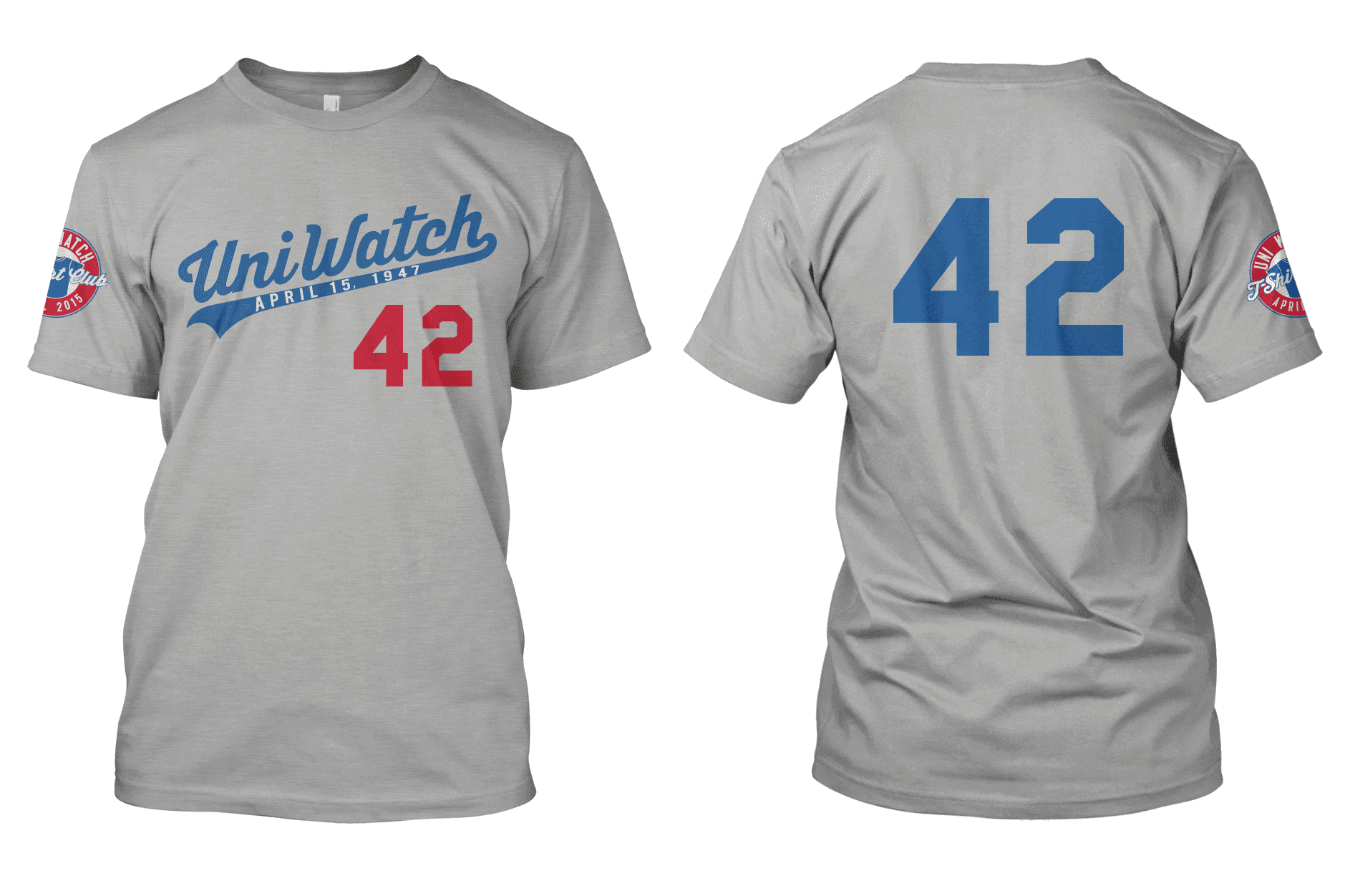 Here's everything you need to know about the shirts and how to order them:
1. You can purchase the shirts on this page. (Ignore the bits about "reaching our goal" and the "campaign being successful" — that's for Teespring clients who use T-shirt sales as fundraisers.)
2. Two design notes: The date under the Uni Watch script — April 15, 1947 — is the date of Jackie's first game with the Brooklyn Dodgers. And we chose to go NNOB because that's what teams do on Jackie Day. This will likely be the T-Shirt Club's only NNOB design.
3. I'm happy to announce that 100% of Uni Watch's proceeds from these shirts will be donated to the Jackie Robinson Foundation, which builds on Jackie's legacy by providing college scholarships to disadvantaged students of color. ESPN will match my donation (that's their policy for charitable contributions), and Teespring may make a donation as well. That's why we're offering separate home and road designs "" to maximize our donation potential. This will likely be the Club's only design to be offered in multiple colors.
4. For both colors, you'll have a choice of American Apparel or Hanes. Their tailoring and sizing are slightly different, so use the "View Sizing Chart" link and compare the colors to be sure you get the shirt that's best for you. Domestic shipping is $3.85 for the first shirt, $1 for each additional shirt; Canadian shipping is $9.50 for the first shirt, $4 for each additional; shipping to other international destinations is $12.50 for the first shirt, $4 for each additional.
5. This design will only be available through next Monday, March 23, 11pm Eastern. After that date, the shirts will not be offered for sale. All shirts ordered by then should be delivered by April 7 (and in many cases well earlier than that).
6. People who purchase all 12 of the T-Shirt Club's designs will be eligible for a bonus prize at the end of the year. Note that you do not have to purchase both of the April shirt colors to qualify — you only have to purchase the home or the road, but not both (although you're welcome to purchase both, of course). I haven't yet decided what the prize will be, although I have some ideas. It may depend somewhat on how many people stay on board for all 12 shirts, and we won't have a sense of how many people that might be until the summer, so I'll likely wait a while before settling on the prize. But I assure you it'll be something good.
I think that's it. Again, the April shirts can be purchased here. If you have any questions, give a holler. Thanks for listening.
•  •  •  •  •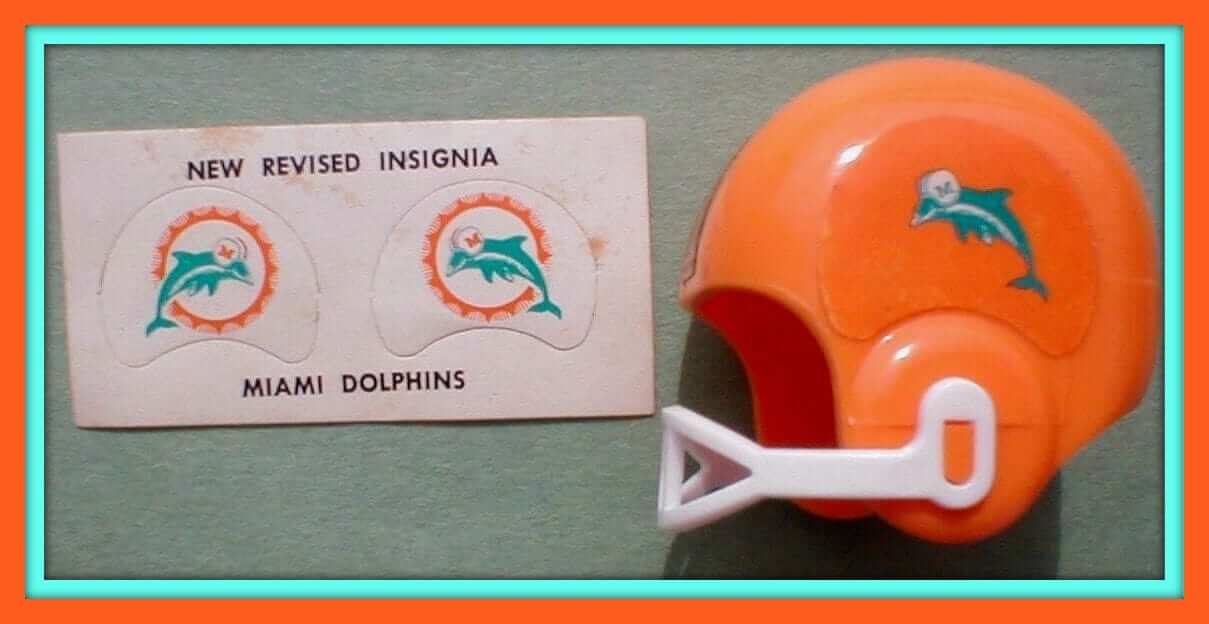 Click to enlarge
Collector's Corner
By Brinke Guthrie
The Interwebs are a small place. I had seen this Miami Dolphins orange gumball helmet on eBay last week and bookmarked it. Then it was coincidentally featured two days ago here on Uni Watch (scroll down to the "Too Good For The Ticker" section). Were the Dolphins really considering doing orange helmets? Who knows?
Okay, here are the rest of this week's picks:
• I know I've seen these NFL helmet cardboard cutouts somewhere before, and I have — at least the full-size helmet version — on This Week in the NFL.
• Philadelphia Flyers fans! Save your pennies in this 1970s puck coin bank.
• Plenty of 1970s MLB logo action on this baseball card binder.
• High-tops. John … Constantine "¦ Unitas. Wrapping up a legendary career with the Bolts in this photo.
• Wow, here's a complete 1971 Gatorade NFL Standings Board with all 26 teams. Have to say, I guzzled a lot of GA back in the day to get these. It was great 'til they yanked out the cyclamates or whatever. My mom would go up to Winn-Dixie, and we'd come away with Chiquita Bananas with the NFL stickers on 'em, and bottles of Gatorade with these caps. I knew how the game was played, even then.
• Here's an Atlanta Braves bumper sticker that actually says, "Bumper Sticker."
• One more 1970s MLB bumper sticker for you: Elsie The Cow Says, "Pour it on, Reds!"
• Here's a massive 1970s Dolphins blanket that looks to be in great shape.
• Great images in this 1968 AFL booklet. But why was Rozelle in this? The commish of the NFL in an AFL promo piece?
• Cheer on your 1960s Los Angeles Angels (not the "Los Angeles Angels of Anaheim") with this nifty T-shirt.
• Here's a nice assortment of 1970-'80s Seattle Mariners patches.
Follow Brinke on Twitter: @brinkeguthrie
•  •  •  • •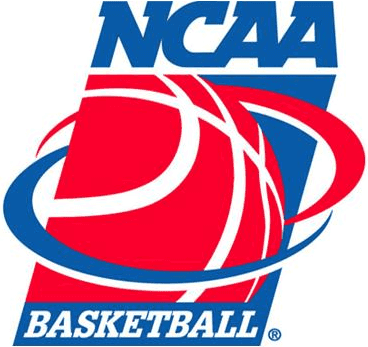 NCAA bracket contest: Big thanks to intern Mike Chamernik, who has set up our annual NCAA bracket contest. To enter, go here and use the password Uni15Watch. If that first group maxes out on the number of entrants, here's a second pool (same password).
Scoring will be as follows: 1 point for a correct pick in the 1st round, 2 for the second round, 4 for the third, 8 for the fourth, 16 for Final Four games, and 32 for the title game. The winner will win a prize from my freebie bag.
• • • • •
Uni Watch News Ticker
By Garrett McGrath

Baseball News: "Look for the Indians to recognize the late Al Rosen with some kind of patch on their uniforms this season," Indians beat writer Paul Hoynes says. Rosen, 91, died last Friday. … The Oakland A's are doing Throwback Thursday buttons again this season (from Tom Lupoff). … The Frisco RoughRiders, the Double-A affiliate of the Texas Rangers, are having a Full House night in June, complete with '90s-style uniforms (thanks, Paul). … The Rays wore light blue socks yesterday in honor of relief pitcher Grant Balfour's late father, the former GM of the Australian Blue Sox team and a key figure in Australian baseball (from Ken Guckenberger). … The Washington Nationals wore green caps yesterday.

Hockey News: Longtime Toronto Maple Leafs defenseman Börje Salming assessed the uni-accuracy of his bronze statue going in Legends Row at the Air Canada Centre in Toronto later this year (thanks, Paul). … The Ontario Hockey League team that's scheduled to start playing in Flint later this year will be called the Flint Firebirds and unveiled their new logo and uniforms as well (thanks, Paul). … The Vancouver Canucks wore their Millionaires gear yesterday at morning skate.

Soccer News: Here's a leaked photo of Real Madrid's 2015-16 home kit (from Conrad Burry). … A lot of successful MLS coaches wear sweaters on the sidelines (from Craig de Aragón). "¦ For Saturday's game between Tottenham Hotspur and Leicester City, Spurs will be wearing special jerseys to show their support for something called the AIA China Youth Football Development Programme.

NBA News: Mitchell & Ness will release Michael Jordan's Chicago Bulls 1994-95 jersey number 45 for sale (thanks, Phil). … The NBA is running ads in support of March Madness where the uniforms of NBA players suddenly revert, with the help of animation, back to that of their college alma maters (thanks, Phil).

College Hoops News: A word from the Washington Post about Maryland's ostentatious postseason sneakers (from Shawn Hairston). … What could possibly go wrong with these Kentucky Wildcats 'White Platoon" T-shirts? (From J. Daniel.) "¦ New March Madness uni for UAB. "Words cannot express how much I love this jersey," says Dustin Semore. "They've been needing to separate the 'Alabama' part of their name for decades, so the simple 'Birmingham' is fantastic."

Grab Bag: Florida lawmakers want to pay schools to require students to wear uniforms to class. A state house committee has approved a bill paying schools up to ten dollars per student in kindergarten through eighth grade if they enact a dress code (thanks, Paul). … A photographer captured the quirky bowling alleys still standing in Middle America (from Lynn Peril). … Cricket players have uniform number superstitions (thanks, Phil).