[Editor's Note: Our anonymous DIYer is back with yet another sensational project. This guy never stops! Enjoy. "" PL]
By Anonymous
Over the next few weeks I'm going to share some projects from the past year that, for whatever reason, never saw the light of day. Either I didn't like the way they turned out, or once I finished them I was just done with them, or I simply forgot about them and moved on to something else. In retrospect, they're all worth revisiting. We're going to start with a felt sleeve that I made for my laptop computer.
The ex-goalie in me automatically saw a goaltender's blocker in the shape, so I decided to make it a blocker-themed sleeve. Here's how I did it:
1. The first step was to cut out the holes for the front of the blocker, to create the traditional "waffleboard" look. (Apparently this was originally done to reduce weight and allow air to escape on impact, reducing stress on the seams.) I based the hole pattern on Terry Sawchuk's blocker that he wore with Detroit (for all photos, you can click to enlarge):
2. I made a "manufacturer's label" from an iron-on transfer that I printed from my computer, using vintage-looking fonts. Then I sewed it on with a zigzag stitch:
3. I cut a white piece of felt the same size as the face sheet, to provide the white backing to the holes. The holes are not sewn around the edges, as on the original blockers the white backing was usually a plastic sheet that was separate from the leather front:
4. For the back of the sleeve, I used a number of pieces to create a 2-D representation of the glove and cuff. The design was based on the classic Cooper GM12 blocker. See the little rectangle of stitching on the thumb? That's because old Cooper blockers had a thin fabric label that wore off when that part of the glove would rub against the goalie's pad, leaving a blank rectangle of stitching:
5. Then I sewed the face onto the back and trimmed the final edge to complete the laptop sleeve:
This piece actually turned out to be pretty practical — I use it every day and it works great.
———
Paul here. As usual, I find these projects to be fascinating and inspiring. And there's more where that came from — I have two more Anonymous projects still the hopper, and they're definitely up to his usual high standards. I'll roll them out over the next few weeks.
•  •  •  •  •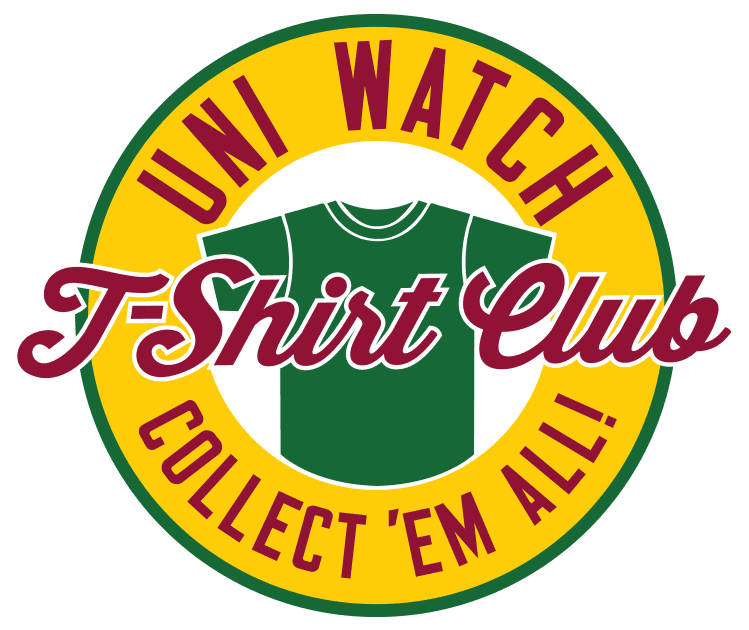 T-Shirt Club update: The Uni Watch T-Shirt Club's design for April will launch next Tuesday, March 17, and today I want to give you a sneak peek.
April 15, of course, is Jackie Robinson Day, when all MLB players mark the anniversary of Jackie's big league debut by wearing his number. That's what we used as the inspiration for our April design — or, rather, our April designs (click to enlarge):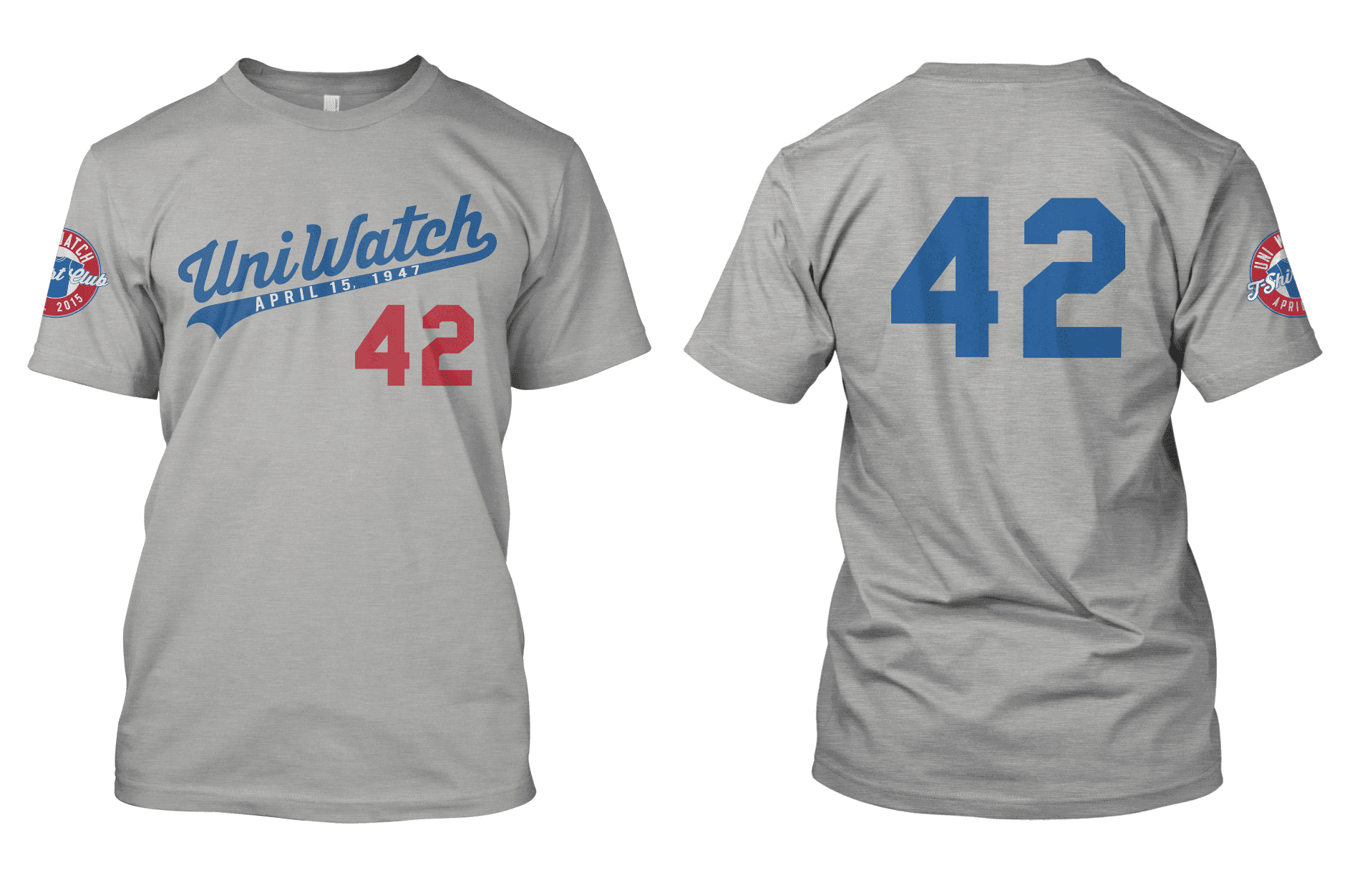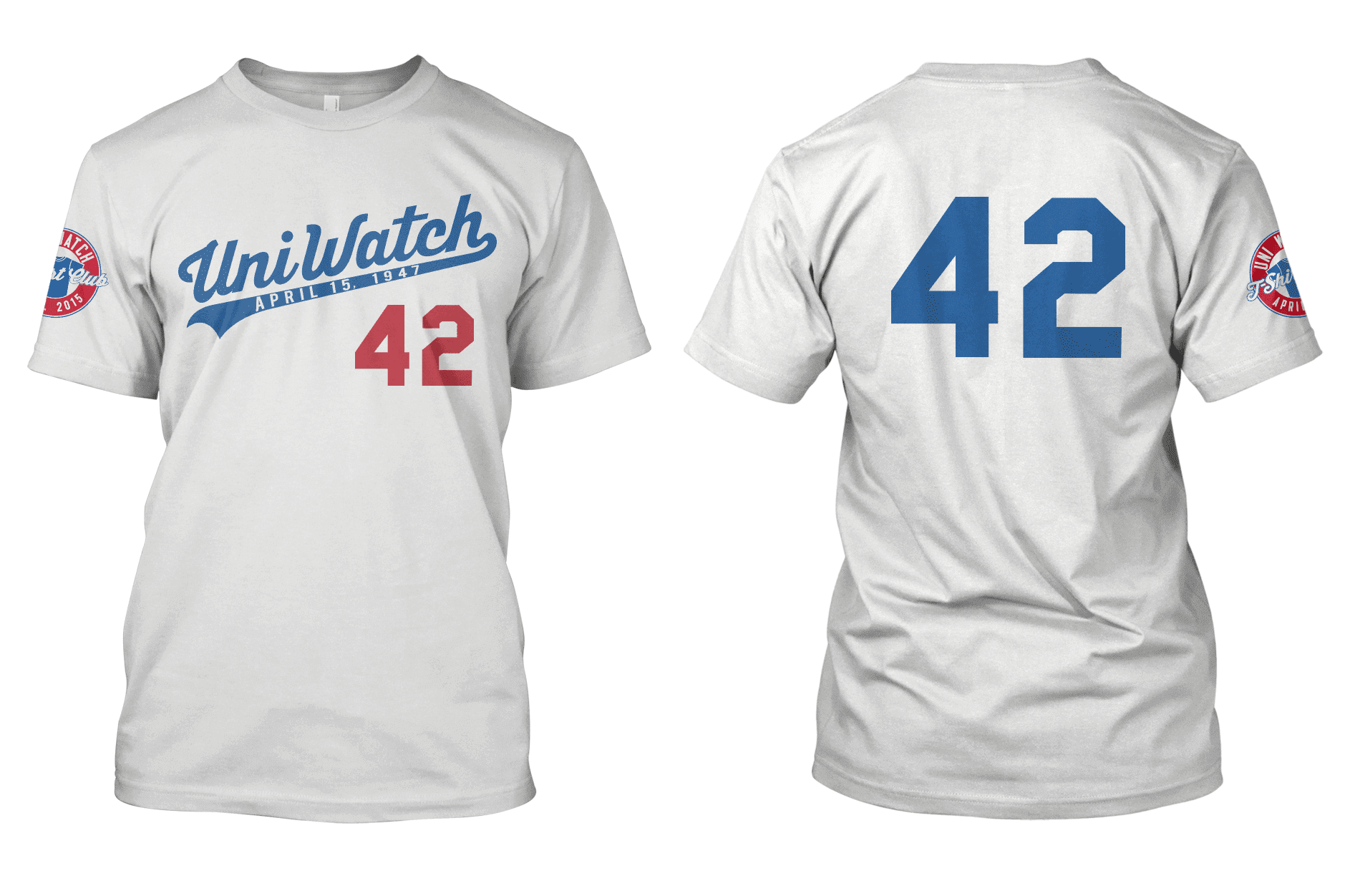 A few notes:
• Yes, we're offering two different versions of this shirt — home white and road grey. This is the first time we've offered two different designs in a given month, and it will probably be the last time as well.
• For those of you trying to "collect 'em all" in order to qualify for the bonus prize at the end of the year, you only need to purchase one of these shirts in order to maintain your eligibility. You do not have to purchase both (although of course you're welcome to do so).
• If you purchase both shirts, you will receive a shipping discount. Details here.
• The date under the Uni Watch script — "April 15, 1947" — is the date of Jackie's first game with the Brooklyn Dodgers. (Big ups to Teespring designer Bryan Molloy for coming up with the idea of adding this element to the shirt.)
• We went NNOB because that's what teams do on Jackie Day. I expect that these will be the T-Shirt Club's only NNOB designs.
• I have no interest in profiting off of Jackie Robinson's name or legacy. So I will donate 100% of my revenue from these shirts to the Jackie Robinson Foundation, which offers college scholarships to disadvantaged students of color. ESPN will match my donation (this is their standard policy for charitable contributions), and Teespring will likely make a donation as well. This is a big part of why we're offering separate home and road designs — I really want to maximize our potential on this one.
• I realize that the Club's last several designs have been calendar-driven, and that we still haven't gotten to several of our "core" designs — the road grey, the green alternate, and the BFBS. We'll definitely do one of those for May, although I'm not saying which one.
As always, thanks for listening.
•  •  •  •  •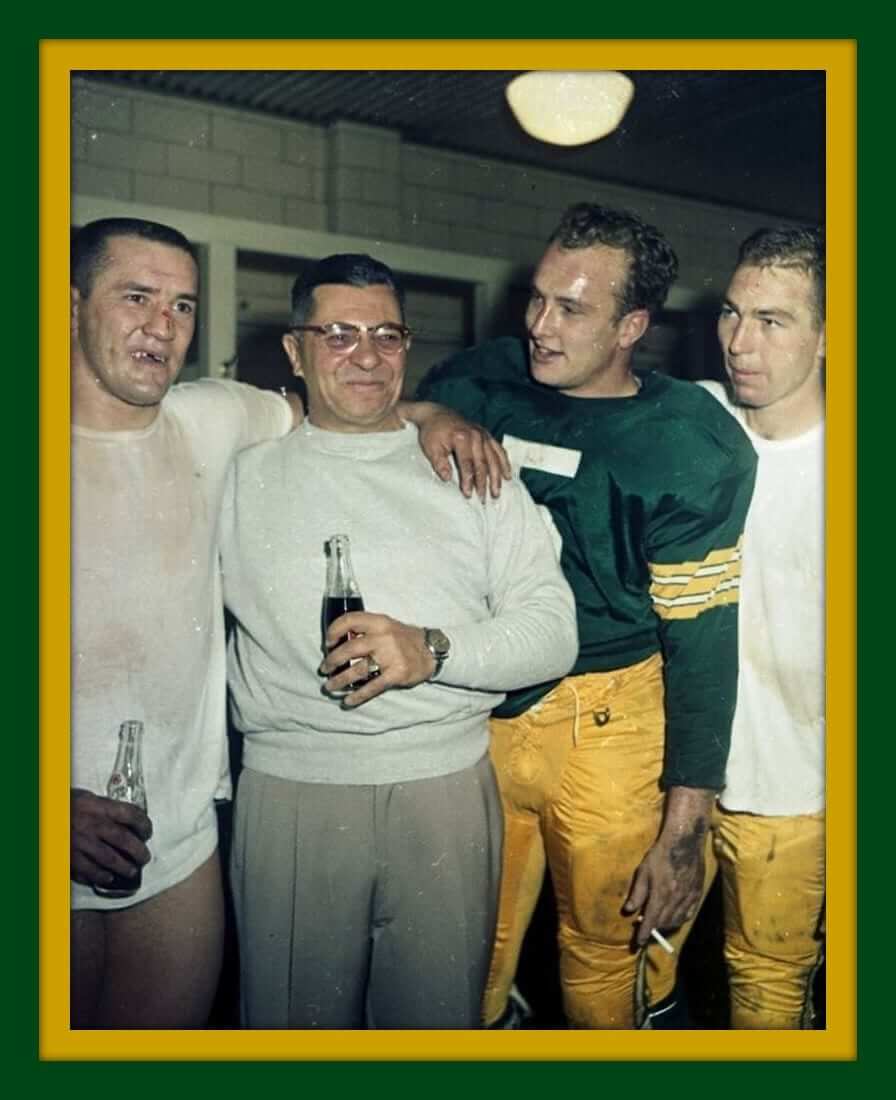 Click to enlarge
Collector's Corner
By Brinke Guthrie
Got some Pack for you today. This photo speaks for itself. Jim Taylor, Coach Lahm-bah-dee, Hornung (who my dad backed up in Louisville high school football) and Starr. (Cue John Facenda.)
This photo says it all, too. And what's going on with the hemmed sleeves and the facemask in this 1960s Bart Starr photo?
We could probably do an entire column on Packers items, but we'll save that for another day. Here are the rest of this week's picks:
• Never seen a Dodgers logo with just a block LA before, as on this 1960s decal.
• You may know about the famous Denny McLain organ LP, but did you know he also had his own line of paint?
• When you're talking retro NFL, it doesn't get any better than this United Airlines print ad from 1969. (The team they are referring to is the Vikes, by the way.)
• Here's what a 49ers "smart watch" looked like back in the 1980s.
• When you made it to the NFL like Bob Trumpy of the Bengals, here's what was waiting for you in 1969 — your face on a Partridge Meats card. "The Meats with Big League Energy." [Odd to see the term "Big League" used in connection with the NFL. "" PL]
• You could have your own official Monday Night Football party by wearing this 1980s T-shirt.
• Here's an authentic practice jersey and shorts combo from 1970s ABA Kentucky Colonels star Cincy Powell.
• Cliff Engle alert! You-know-who wore this on the sidelines during his reign of terror with Da Bears.
Follow Brinke on Twitter: @brinkeguthrie
• • • • •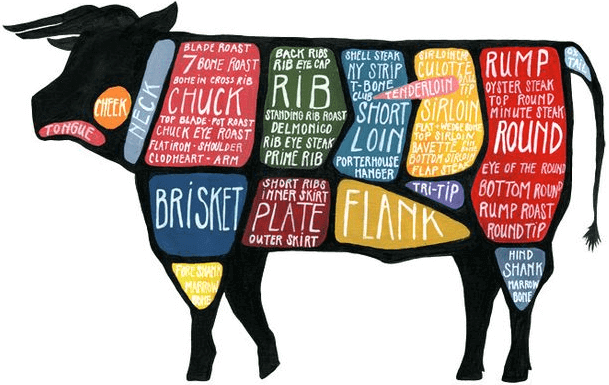 Beefsteak DISCOUNT! Last week I mentioned that the Brooklyn Beefsteak is going on tour this year, with the first stop scheduled for New Orleans on March 29.
Thanks to my beefsteak connections, I'm happy to offer you a special discount: The first 10 Uni Watch readers to purchase tickets with the discount code "MEATSNOLA" will receive a $7 discount. Huzzah!
Just so you know, I have no financial interest in this — I don't get anything, no matter how many (or how few) tickets are purchased. I just like to support the beefsteak. Beef, beer, fun!
• • • • •

Baseball News: Our own Phil Hecken's latest Sporting News article is on each American League team's all-time worst uniform. "¦ Great photo from April 6, 1971, showing the Cardinals changing from button-front/belted flannels to pullover/sansabelt stretch-knits. Note that this was the short-lived crewneck jersey, which was swapped out for a V-neck style in 1973 (from Bob Gassel). "¦ Also from Bob: Here's a similar photo, from 1972, showing the Cubs' then-new unis. "¦ Bob Kelly has a nice piece in his collection: a late-1980s Yankees grounds crew top. "¦ The Rockies have put a Cactus League spin on their Twitter avatar (from Ben Hendel). "¦ Reprinted from yesterday's comments: Cubbies wore "Let's Play Two" tees with Mr. Cub's number on the back the other day (from Jen Hayden). "¦ New uniforms for the Tacoma Rainiers. Additional images here. "¦ New sponsor for the Florence Freedom. "¦ Mets P Sean Gilmartin, who has no chance of making the team, wore stirrups yesterday. "¦ The Cubs' spring training stadium now has big signs based on beautiful old press pins. "¦ Star Wars jerseys this summer for the Clinton LumberKings.

Pro Football News: Reprinted from yesterday's comments: If you go to the 17:29 mark of this radio report, you'll hear some interesting things about Patriots DL Vince Wilfork's jersey modifications (from Tony C.). "¦ Former Steelers great Rod Woodson is selling off his personal memorabilia (thanks, Phil). "¦ Football players used to wear sannies and stirrups, just like baseball players, and then added white crew socks over them, as you can see in this shot of Earl Morrall and Johnny U (from Michael Clary). "¦ New helmet for the arena team Portland Thunder. "Definitely an upgrade over their previous helmet," says Jason Charles Franklin.

College Football News: Reader Munch Suchland found a 1983 video that shows Triumph's bassist wearing a Southern Cal Trojans T-shirt with a yellow helmet. Anyone know what that's about? "¦ Here's a college football helmet bracket. "¦ At least one observer disagrees with the NCAA's new rule banning crop-top jerseys.

Hockey News: Former Kings great Luc Robitaille wore a visor for most of his career, but the Kings' newly unveiled statue of him does not include a visor (from Brian Rowland, who also provided this database of NHL statues). "¦ A Sabres blog is holding a third jersey design contest (thanks, Phil).

NBA News: St. Paddy's Day came early in Chicago, where the Bulls wore sleeved green uniforms last night. Lots of additional photos here. "¦ Pure gold here: a bracket of Clyde Frazier's best off-court outfits (thanks, Mike). "¦ Also from Mike: Someone in Chicago set up a highway-underpass shrine for Derek Rose, which seems like a bit much. "¦ Yet another from Mike: "Mavs F Chandler Parsons has a $1 million endorsement deal with the Chinese shoe company Anta. But after returning from an ankle injury on Sunday night, he wore Jordan shoes with the logos blacked out because he and his trainer think the Anta shoes are too flexible and may have contributed to the injury." "¦ And still one more from Mike: "Celtics F Brandon Bass lost his shoe while on offense Monday night, so he picked it up, ran back to the other end, played some defense, and tried to grab a board one-handed." I think he's our Uni Watch hero of the day (or else Mike is, for providing nearly the entire NBA section).

College, High School, and International Hoops News: I knew Fidel Castro was big on baseball, but I didn't know he'd also played basketball. … Here are Kentucky's 31 defeated opponents, listed by jersey, although it appears that they got some of the designs wrong (from Jim, who didn't give his last name). … Jesse Gavin is covering the Iowa state high school basketball tourney and passes along the following observations: "Woodward Academy has co-opted the Michigan State logo, despite their mascot being the Knights, rather than the Spartans." "¦ "There are still teams wearing the old North Carolina knockoff argyle template. That's Nodaway Valley." "¦ "Earlham's red-on-grey look is kind of hard to read." "¦ "Black numbers on black jerseys for O'Brien."

Soccer News: New sponsor for the Chicago Fire. … New crest for Cardiff City. … Here's a ranking of MLS jerseys (thanks, Phil). "¦ "Nike has released a limited edition (of 3000) Francesco Totti Tiempo cleat," reports Roberto Zanzi. "It is different, as it has a tongue covering the laces. It was originally removed from model in the 2011 but Totti has been using custom tongue versions provided by Nike. They also gave him a personalized 'Gladiator' logo with a '10' integrated into the mask." "¦ Nike has released its new jersey templates for 2015-16. "¦ "National soccer teams wear stars above their national crest indicating the number of World Cups won," says Jim Howicz. "The Brazilian woman's team has never won a world cup, but they wear the crest of the men's team, which has won five." "¦ "Aston Villa's Fabian Delphi lost his captain's armband in the pitch invasion that followed Sunday's FA Cup victory against West Brom," from Yusuke Toyoda. "The lucky armband was returned after the club masseur offered a jersey in exchange, proving once again that crime pays."

Grab Bag: Can you draw the Apple logo from memory? Probably not. "¦ Old Dominion athletics has switched from Nike to Under Armour. "¦ Very cool-looking throwback paint schemes upcoming for NASCAR driver Brad Keselowski (from David Firestone). "¦ "Sad news out of Alberta, where Edmonton's city leaders want to tear down a beautiful 1970s 'Welcome to Edmonton, City of Champions' sign," says Aram Gyan. The key contention seems to be that the font is outdated. Like municipal politicians everywhere, they seem quick to want to discard anything with any history or age behind it." … Sanitation workers in Amman, Jordan, are getting new uniforms because the old ones looked too similar to the ones worn by ISIS's beheading victims.