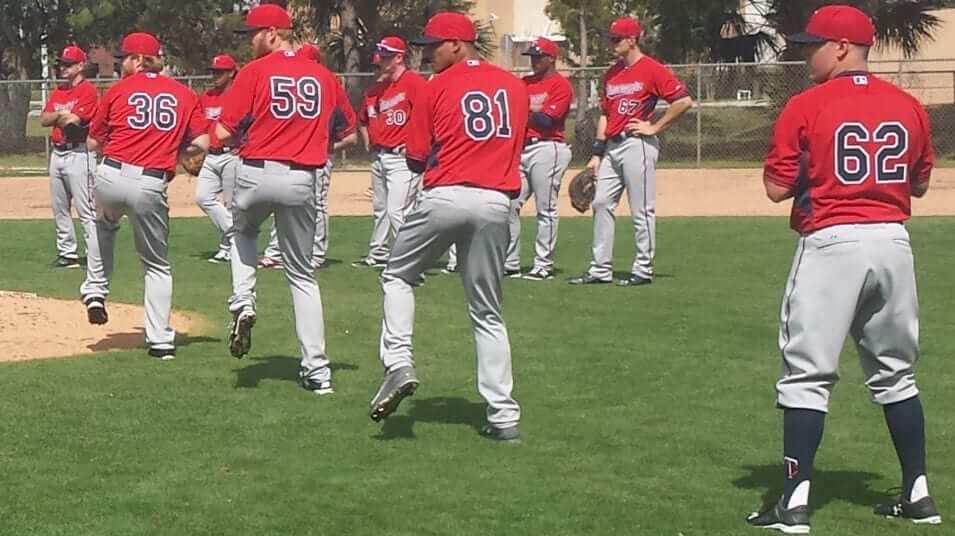 Photo by Tyler Mason; click to enlarge
Which one of these guys is not like the others? The stirrups-clad player at far-right is pitcher J.R. Graham, who's in Twins camp this spring after spending four years in the Braves' system. Minnesota picked him up in the Rule 5 draft, which means they have to keep him on their 25-man roster for the entire season or else offer him back to the Braves for nothing, so there's a good chance Graham will make the Twins' staff and wear those "TC"-emblazoned stirrups in the majors this year.
As it turns out, Graham is a longtime stirrups devotee, as you can see in these shots from his time in the Braves' farm system: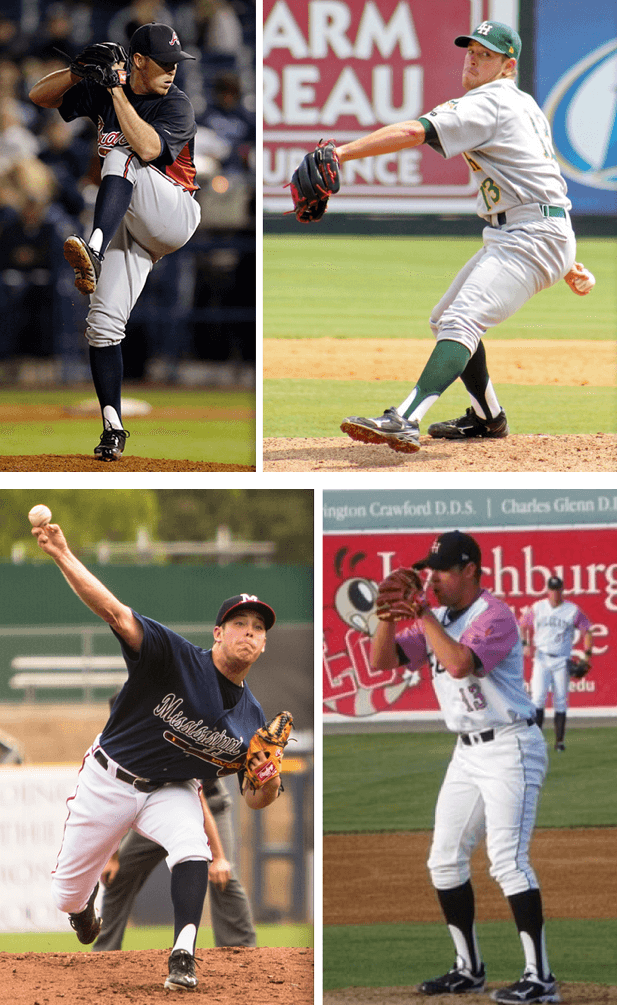 Graham has also worn solid socks, but he prefers to wear stirrups and always goes high-cuffed — and it isn't just because he likes the look. As Fox Sports North writer Tyler Mason wrote in this sensational story the other day, Graham goes out of his way to have a distinctive look so that his mom, who's legally blind, can have an easier time spotting him on the field:
Graham … has worn the stirrups since his Little League days. He also used to wear white cleats in high school "" all so his mother, Julie, could spot him on the field. … She was born with Best Disease, a rare retina disorder that has caused her vision to deteriorate through the years. …

That's where the stirrups come in. Fewer and fewer players are wearing them these days, with most players opting to let their pant legs stretch all the way to their shoes. Graham has always been a fan of the stirrups for how they look, but even more so because of how they look to his mom. …

[Graham's] mother has had vision problems all his life, ever since he was a Little League shortstop. Back then, as a position player, it was a bit more important for him to distinguish himself from the rest of his teammates, which is why he wore the white cleats. Now [that he's] a pitcher, Julie knows it's him once he's on the mound.
How great is that? I've often referred to Josh Outman and other stirrups-clad players as "hosiery heroes," but that term really fits for Graham. I strongly recommend reading the entire article, which is sensational. (As it turns out, I Ticker-linked to a similar article about a year ago, but that one was much shorter and didn't make as much of an impression on me at the time. Maybe it was just a hectic day and I was too busy to fully process how great this storyline is.)
The only problem with all of this is that Graham's will be harder to pick out in a crowd if other Twins players wear stirrups or go high-cuffed, which creates a conundrum: I'm usually in favor of as much high-cuffery as possible on any given team — but in this case I might make an exception.
(Big thanks to Brinke for sending the link to the Graham article, and to Phil for providing the inspiration for today's headline.)
•  •  •  •  •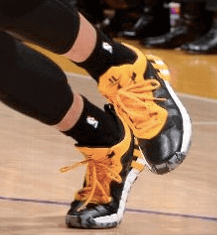 Sneaker Report
By Owen Dillon
All-star designs have dominated the sneaker landscape recently. But a less expected powerhouse in the world of shoes have been the Kyrie [Irving] 1. Demarcus Cousins was seen sporting an All-Star PE of the Kyrie 1 in a recent game against the Knicks. The Kyrie 1 has been so popular, in fact, that you can see three different players — Cousins, Langston Galloway, and Ray McCallum — wearing both the Kyrie 1 All-Star and a Nike iD version in this photo from that same game.
The Kyrie 1 is a very interesting, because it was obviously designed for a very quick guard, Kyrie Irving, but many different forwards and centers have been wearing the shoe, such as Cousins and Derrick Williams, suggesting that the shoe is very stable and provides plenty of support for a big man to bang it out in the post.
In other Nike news, J.R. Smith was seen wearing the new Kobe X (10) All-Star edition. Meanwhile, the Kevin Durant 7 has not been very popular, and even Durant himself has been spotted multiple times the KD 6 instead of the 7.
Moving on to Adidas, the splash provided by the releases of Damian Lillard's and John Wall's first shoes has dissipated a bit, but some players are still wearing the shoes. We can see Ben McLemore wearing the Lillard 1 here, and Wall, for obvious reasons, has been sporting the simply-named "Away" version of his first signature shoe.
Jeremy Lin was seen recently wearing the Adidas "CrazyQuick 2" low black and yellow edition. The CrazyQuick is not among many Adidas-sponsored athlete's rotations, but it is a staple for Lin.
Of course, Adidas has been dominating the sneaker world for some time now, and not because of their on-court product. Adidas partnered with Kanye West to create the Yeezy Boost 1, one of the most anticipated shoes to come out recently, after the success of West's Nike Air Yeezy 2, which was one of the most successful shoes of all time.
Under Armour has not caused many waves in sneaker culture recently, although the Curry 1 "Candy Reign," "inspired" by Stephen Curry's love of Sour Patch Kids, was released just over a week ago. Also, Kent Bazemore wore the Clutch Fit Drive, possibly Under Armour's most successful basketball shoe ever. He frequently wears the low-top version of the shoe and is one of the only players in the NBA who does so.
And we wrap up with my favorite shoe of the past few weeks: the KD 7 "Aunt Pearl,", which was worn by the University of Kentucky guards and has a feathered mid-sole strap.
•  •  •  •  •

Baseball News: What's even better than a baseball cap? A baseball cap styled like a baseball jersey. Too bad about mismatched placket piping colors, and the blue buttons are an odd choice, but it's still pretty cool seeing one uni element representing another uni element. The listing says it's from the 1990s, but I have no memory of that product line. "¦ Rutgers and New Mexico softball went red vs. red on Saturday. "¦ Spring training means it's time for the annual run of articles about players breaking in their gloves. "¦ In a related item, Mets 1B Lucas Duda is using a slightly larger mitt this spring. "¦ Oh, for fuck's sake: Two Alabama high schools went G.I. Joe vs. G.I. Joe. Sigh. "¦ Oklahoma State went mono-orange yesterday (from Vince Regan). "¦ The Blue Jays use their inlined jersey font for signage around their spring facility. "¦ No photo, but Rockies P Jorge Rondon apparently forgot his jersey yesterday and had to wear No. 95. "¦ Key quote from this article about Texas A&M baseball: "Texas A&M wore its black jerseys on Sunday at Minute Maid Park. The Aggies have been donning the uniforms this season when they're going for a series sweep."

NFL News: Here's a good look at the black memorial armband that the Vikings wore in 1978 for assistant coach Jocko Nelson (from Jeff Flynn). "¦ Not sure if we covered this at the time, but just in case: When the Jets played the Jags on Dec. 9, 2012, Tim Tebow's jersey didn't have the Jets logo patch. The other Jets had it (from Mike Engle).

College Football News: Remember all those crop-top jerseys that were showing up last year? You won't be seeing them in 2015, because the NCAA has banned them. … Air Force is using helmet sensor technology to track head impacts.

Hockey News: This is kinda bizarre: Looks like the Milwaukee Admirals' uni numbers are actually giant patches. "¦ Someone has devoted nearly 700 words to creating a guide to the do's and don'ts of buying a Canucks jersey. I can give much better in advice in less than 20 words: Don't conflate being a fan with being a consumer, and especially don't waste money on overpriced polyester shirts. "¦ Really good story + slideshow on the Islanders' ushers, who are preparing for the team's final games on Long Island. "¦ The Devils honored their 1995 Stanley Cup championship team by wearing white at home against the Flyers.

NBA News: The Thunder debuted their new sleeved alternates last night. "¦ The Lakers did the "Los" thing last night. "¦ How can you put together a gallery of NBA players who've worn masks and not even mention Rip Hamilton? "¦ Flag-desecration unis yesterday for the D-League's Erie BayHawks.

College and High School Hoops News: Oh baby, check out this amazing warm-up top with a chain-stitched polar bear! A little too big for me or else I'd be all over it. "¦ Cincinnati wore its red uniforms for the first time this season, creating a very nice color vs. color game against Memphis yesterday. "¦ Matthew Prigge was looking through UW-Milwaukee photo archives and spotted two interesting items. First, UW-M's uniforms in 1976-77 looked a lot like Marquette's untucked unis from that same season. Also, the 1976-77 UW-M women's team faced a school that wore button-front long-sleeved jerseys. Never seen anything like that before.

Soccer News: The 1971 compilation album Groovy Hits on the Music For Pleasure label featured a female footballer wearing an Arsenal kit (from Graham Clayton). "¦ A sportswear company that makes the jersey for an Indonesian soccer team apologized after including a tag with laundry instructions that said, "Give this shirt to a woman. It's her job." "¦ Bolton did a one-game sponsor swap yesterday. "¦ Orlando City and NYC FC went color vs. color yesterday. "¦ Sporting KC's home opener included a little shout-out to the NHL's old Kansasy City Scouts. "¦ More color vs. color, this time from the MASL playoffs: Monterrey and Dallas. "¦ These last three items are all from Yusuke Toyoda: Blackburn Rovers manager Gary Bowyer had a pin each lapel yesterday — a prostrate cancer pin on his right and a daffodil for the Marie Curie Fund on the left. "¦ During a game in Singapore, the officials had to change uniforms at halftime because their black jerseys clashed with the way team's dark blue tops. "¦ The latest leak of Liverpool's 2015-16 jersey looks a little different from what we've seen before.

Grab Bag: Uni Watch T-Shirt Club tees for March are starting to arrive in people's mailboxes. I'll preview the April design in a day or two, and it will go on sale next Tuesday. "¦ Oooh, check out this great slideshow of old U.S. Postal Service mail trucks. "¦ New helmet with extra protection in the back for Sri Lanka cricketer Kumar Sangakkara. "¦ Interesting story on how the Army green jacket has become a staple of civilian style. "¦ A Tennessee fan has taken out an ad calling on the university not to scrap the "Lady Vols" moniker for its women's teams (from Shawn Hairston). "¦ A woman in Wagga Wagga, Australia, was assaulted and robbed by two men wearing clothing "similar to police uniform." which I'm including here mainly because it's fun to say, "Wagga Wagga." "¦ Good story about the current state of Reebok's business (thanks, Brinke).