The most audacious uniform in NHL history made its triumphant return to the ice last night, as the Coyotes wore "Peyote Coyote" throwbacks against the Canucks.
I know what you're thinking: "There've been crazier uniforms than that." And sure, there's Wild Wing and Burger King, but those were both one-season alternate designs that were only worn for a handful of games. And yes, there's also the Fisherman, but the crest on that jersey was still very conventional (if not particularly attractive).
For sheer audacity, I'll stick with the Peyote Coyote, which was Phoenix's primary look for seven very strange-looking seasons. Let's start with the chest logo, which really deserves a closer look: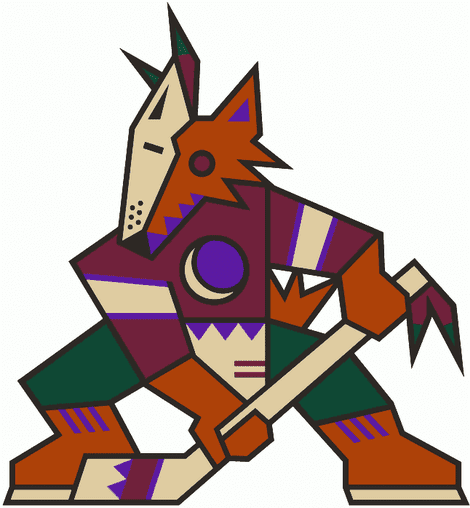 So many bizarre visual details there. How the hell did that get chosen as an NHL team's primary logo? And then there's all the crazy southwestern-style trim on the collar, sleeves, and abdomen, which was unlike anything that had ever appeared on an NHL jersey (click to enlarge):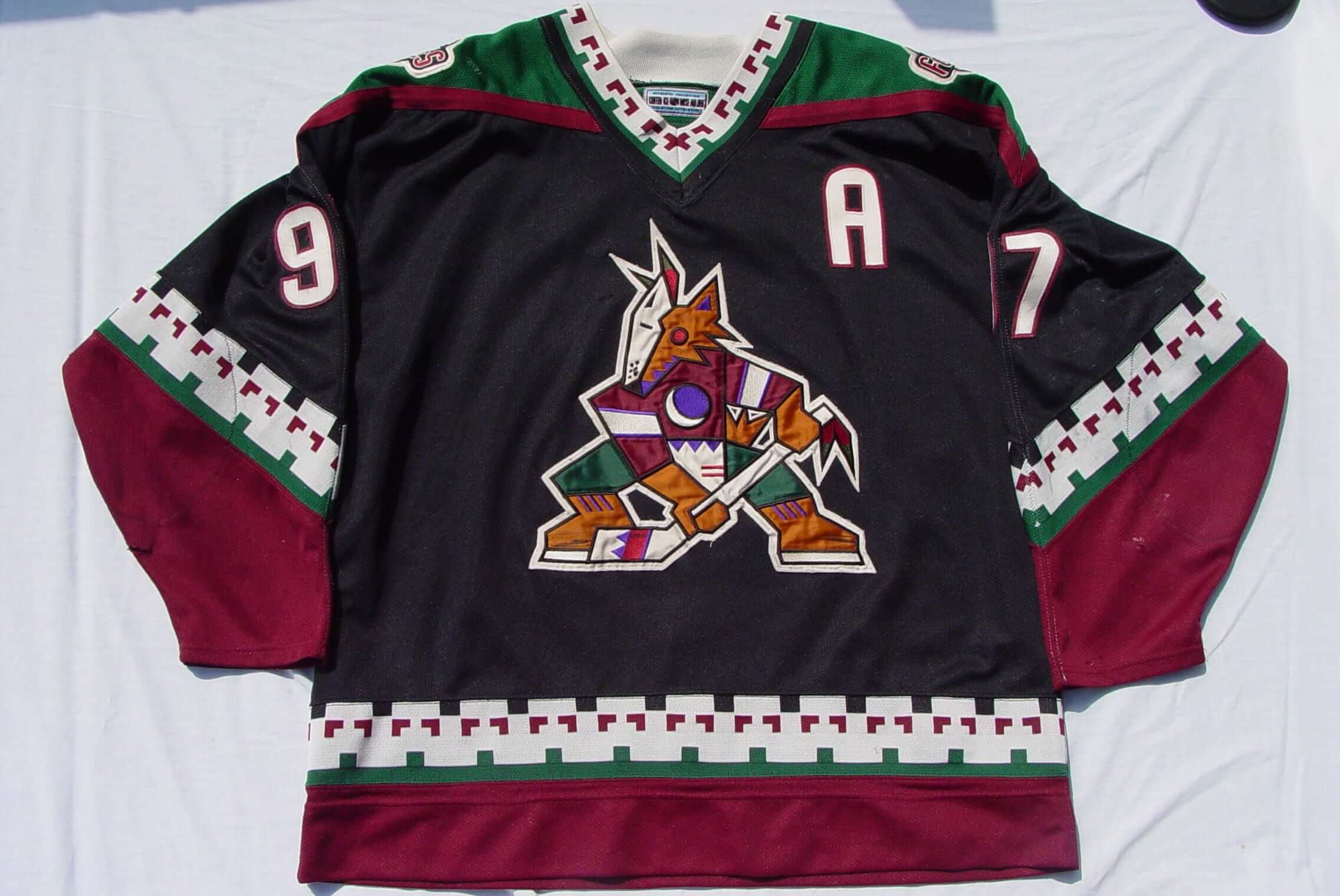 I never thought this was a "good" uniform, but it was certainly a ballsy one. And hey, the whole idea of playing hockey in the desert is absurd, so why not have an absurd-looking uniform? While I wouldn't want to see it return on a full-time basis, it's perfect for a throwback. I'm glad the Coyotes won while wearing it last night.
A few additional notes:
• This uniform was worn exclusively during the white-at-home era, so I would've preferred to see them going with a white throwback. But instead they went with black, which was the road uniform back in the day.
• They really cut back on the collar trim in order to shoehorn it into the Edge template. Boooo!
• For the first five seasons that this uniform was worn, there were two different shoulder patches: Coyotes on the right, Goals for Kids on the left (the latter was a carryover from the franchise's days in Winnipeg). Then, in 2001, they scrapped the Goals for Kids patch and replaced it with another Coyotes patch. I was hoping they'd wear Goals for Kids on the left shoulder last night, but alas, it was not to be.
• Goalie Mike Smith wore black pads and, oddly, a black stick, which kind of detracted from the colorfest effect. Disappointing.
• Smith also had a Peyote Coyote mask for the occasion, with an Alice Cooper backplate. Cooper, a longtime 'Yotes fan, was at the game and wore a throwback jersey.
One final note: Wild Wing, Burger King, the Fisherman, and the Peyote Coyote all debuted in a two-season span (1995-96 and 1996-97). Too bad Uni Watch didn't yet exist back then — it must have been a crazy time!
•  •  •  •  •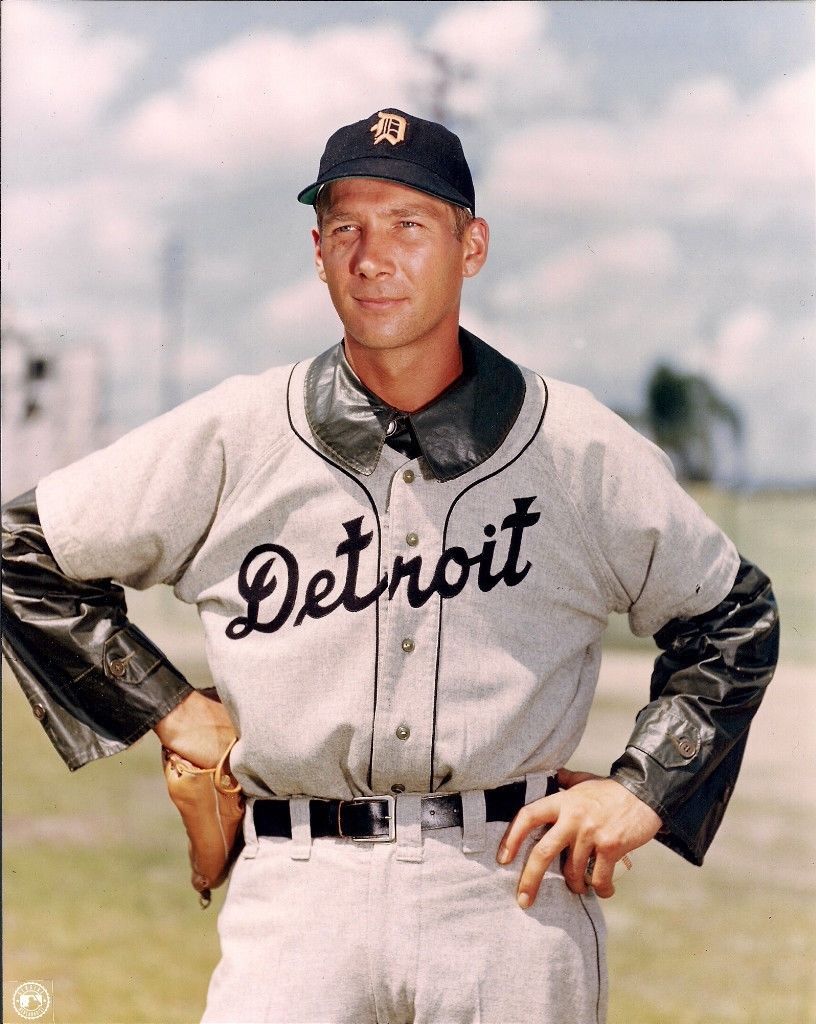 Click to enlarge
Too good for the Ticker: We've all seen players wearing windbreakers under their jerseys during spring training. But as you can see above, Tigers pitcher Hal Newhouser took things a step further by wearing a raincoat. Never seen that before. Here's an action shot of sorts.
(Major thanks to Michael Clary for this one.)
• • • • •

'Skins Watch: There was a packed public meeting earlier this week in Lancaster, New York, just outside of Buffalo, to discuss whether the local high school's teams should still be called the Redskins. … Meanwhile, the lacrosse team at a neighboring school may boycott its games against Lancaster (from Joe Pitzonka). … When legendary sportswriter Red Smith was describing the L.A. Angels' halo-inclusive caps in 1961, he made a joke that no editor would print today (amazing find by Todd Radom).

Baseball News: Looks like the Pirates will keep wearing their matte helmets in the regular season. "¦ The White Sox have added a Minnie Minoso memorial patch. Not yet clear whether it'll be worn just for the spring or for the regular season. "¦ We knew the Diamondbacks were going to be wearing purple throwback caps for Thursday home games this season, but we didn't know which jerseys they'd be paired with. Now we do: the cream vests. "¦ Check out some of the stirrup/sannie combos being worn this season by UGA softball (from Will Bramlett). … Seriously ugly camouflage for Central Michigan. … The Cubs honored Ernie Banks yesterday by wearing tribute caps and using a throwback logo on the lineup card. … Here's a new one: A Florida company is doing an Orioles hanger giveaway (from Mike Nessen). … Here's a gallery of the Twins in their new home uniforms. It's not a bad design, but it still makes no sense to add gold to the home design when there's no gold anywhere else in their visual program (from Nathan Gruber). … Someone connected with the A's doesn't know how to spell "inaugural" (rom David Gadd). "¦ Another MLBer who wore the plastic mask attachment: Glenn Hubbard (from Andy Chalifour). "¦ Cream throwbacks yesterday for BYU. "¦ Todd Radom has written a good piece on the surprisingly varied headwear of the 1965 Astros. "¦ Yesterday was the Marlins' Grapefruit League opener, so we got our first look at Giancarlo Stanton's mask in a game. "¦ Latest college team going G.I. Joe: Lakeland. "¦ "Next week there will be a baseball series between Europe and Japan, similar to the All-Star series in Japan," reports Niek Spangenberg. "Europe's logo and jersey were revealed the other day. More pictures at this Dutch site." … Lots of promotional jerseys on tap this season for the Round Rock Express. "¦ Throwbacks in the works this summer for the Reno Aces. "¦ Red Sox P Junichi Tazawa wore a personalized base-layer mock turtleneck yesterday (from Alex Melendez).

NFL News: Cowboys coach Jason Garrett used to play for Dallas, and at one point his brother Judd was also on the team, so Jason had a "J.C. Garrett" NOB. Also, note the logo creep — that's from the Cowboys' short-lived Apex period (nice find by Darren Rovell). "¦ Some serious uni number inconsistencies at the 1993 Pro Bowl. "That's Sean Jones and Howie Long with former Raiders d-line coach Earl Leggett," says Rudy Gutierrez. … One observer thinks the Browns are basically rebranding-proof. "¦ You've heard of the Terrible Towel? Check out the Terrible Truck. "That was taken at the 1979 AFC Divisional Playoff game against Miami," says Bill Kellick.

College and Amateur Football News: Check out the bizarre helmet in this 1950 Kansas/Oklahoma shot, sent my way by Paul Jake Jacobsen. I've asked Helmet Hut honcho Curtis Worrell about it, and he said, "It's a leather helmet with a bumper guard all the way around. I've seen other types of protection on leather helmets. Just something dreamed up in the equipment room so the leather wasn't taking full impact. Looks like they padded the top, too." "¦ Tony DiRubbo was watching an old episode of The $6 Million Man and took some screen shots of a football game that was featured. " Both teams had identical helmets," he notes. "Also, every player was wearing blue jeans, so was the referee."

Hockey News: Reader Dwyane White provided some decent action shots of Bobby Hull sporting that Dungard football facemask that he briefly wore. "¦ Star Wars Night upcoming for the Knoxville Ice Bears.

NBA News: Looks like Celtics G Isaiah Thomas slit the ends of his sleeves two nights ago (from Dirt McGirt). "¦ Thunder G DJ Augustin was wearing an old jersey with the NBA logo on the front last night.

College Hoops News: Northwestern's Karly Roser has been wearing a facemask (from Kenneth Traisman). … The NC State and Va. Tech women's teams went pink vs. pink the other day (from James Gilbert). .. Whole lotta uni-notable aspects to this Oregon/Oregon State photo. "¦ Here's a weird one: "Tops" on bottoms! (From Dustin.) "¦ 1988 throwbacks last night for the Nebraska women's team.

Soccer News: Celtic's new kit may have leaked (from Shawn Hairston). "¦ New kits for the Carolina RailHawks and FC Dallas. "¦ Here are this season's League of Ireland jerseys (thanks, Phil). "¦ New uniforms for the Korean team Seoul E-Land. "¦ New gold away jerseys for the Colorado Rapids. New kits for the Seattle Sounders, too (thanks, Phil).

Grab Bag: Interesting article about uni numbers in the World Surf League. "¦ Memorial patches and decals for former Notre Dame president the Rev. Theodore M. Hesburgh are rippling through the school's various sports teams. … "I just came across an article about the Nintendo Character Manual from 1993," writes Stefan Schubert. "Not exactly a uniform style guide, but it is pretty cool. It has detailed Info on the colors of Super Mario, Luigi, and all the others." … The Rugby Football League is keepings its pink referee jerseys after all (thanks, Phil). .. .Very positive review fot the GAA World Games jereys. … New logo for the Government Printing Office. "¦ Here's a list of history's 25 most stylish cyclists (from, of course, Sean Clancy). "¦ Nowadays, the GOP=red and the Dems=blue, but it didn't used to be that way, as you can see in this old shot of the Democratic Congressional basketball team (big thanks to Aaron Scholder). "¦ Here's more about that ridiculous trademark fight over the letter W. "¦ If you like 1970s team logos, you'll love this piece by Todd Radom. "¦ Yesterday I linked to this story about the growing problem of illegible uniform numbers in various college sports. That piece was based on a PowerPoint presentation by Ira Thor — check that out here. "¦ New logo and uniforms being unveiled by the University of Texas-Rio Grande Valley athletics department.