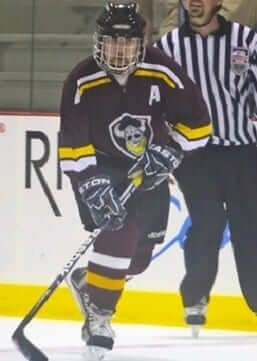 I recently received a note from a reader named Cole Vittetoe (that's him at right), as follows:
I just received my Master's degree in art from Texas A&M – Corpus Christi. All my artwork revolves around my love of hockey and hockey jerseys. For my thesis exhibition, the Corpus Christi IceRays (NAHL) allowed me to exhibit my show during two of their games on Dec. 11 and 12.

The show, called 12 Jerseys: A Celebration of Family, Friends, and Hockey, involved 12 jerseys of fictional teams that I had created based on my family and friends. I used woodblock prints to create logos, and I painted stripes, designs, and numbers onto fabric, which I then sewed onto blank jerseys. The jerseys were hung throughout the lobby during the games, along with my paintings, drawings, and prints.
It's a great project. As an example, here are the logo and jersey for one of Cole's fictitious teams, the Aberdeen Truckers, followed by his explanation of what the team is based on: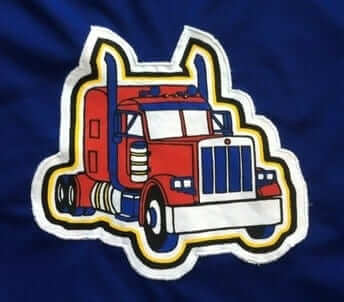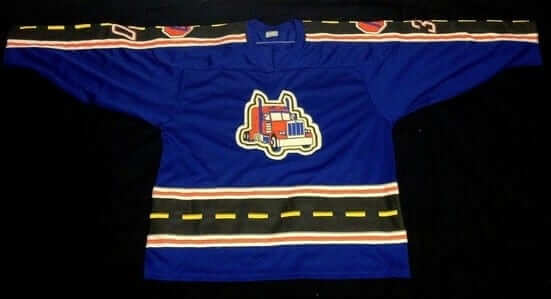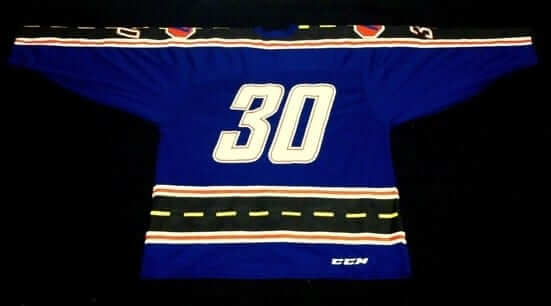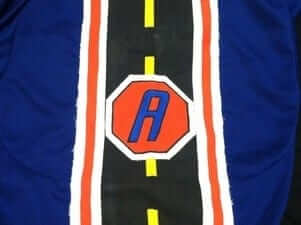 The Aberdeen Truckers are based on my father, Dean Vittetoe. For all of my life and many years before, my dad's profession has been a truck driver. The primary logo is based on a Peterbilt, the manufacturer of his preferred rig. As a kid, I would often go out on the road with him, driving all over the country. My love of travel developed as a result. Sports and travel have played large roles in our bonding time. He took me to my first sporting event, a St. Louis Cardinals game in 1993, and my first NHL game with the St. Louis Blues in 1997. "¦ The number 30 is for my dad's age when I was born.
And here's a shot of Cole and his dad posing with the Truckers jersey at the exhibit (click to enlarge):
Cole's other teams are dedicated to his wife, his mother, his brothers, his art professor, and several close friends. You can access all of the team designs here.
Gotta hand it to Corpus Christi IceRays GM Patt Dunn for having the imagination and vision to exhibit Cole's thesis at the team's arena. You can see lots of photos from the exhibition here, and there's a good video report from a local TV news station at the bottom of this page.
Cole graduated from art school the day after the exhibit opened. Big congrats to him, and here's hoping he continues making hockey-related art.
•  •  •  •  •
ESPN reminder: In case you missed it yesterday, my latest ESPN column is about MLB players who've worn football-style facemasks on their batting helmets. This is a fun one, with lots of good photos — enjoy.
• • • • •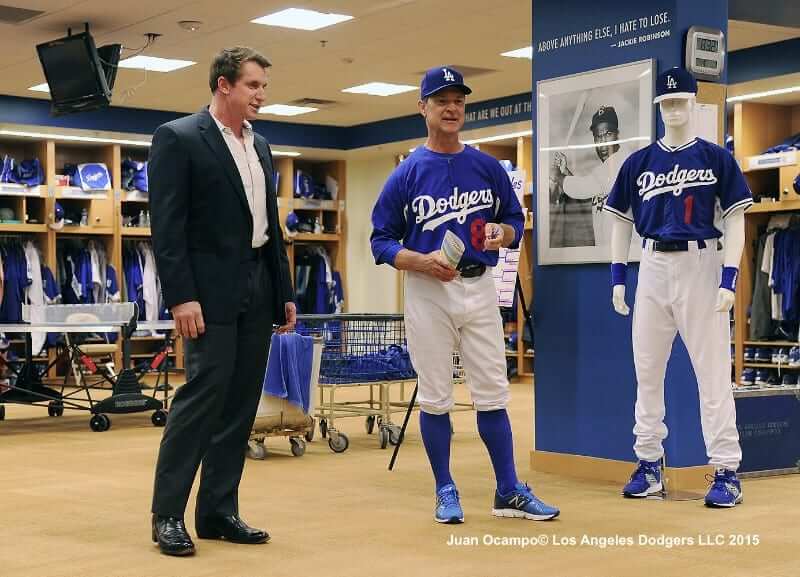 Click to enlarge
BP follies: I've previously reported that some Mets and Royals players have been spotted wearing newfangled BP tops with zip-front collars. As you can see above, Dodgers skipper Don Mattingly is the latest MLBer to wear one of these tops. (Plus the Dodgers also have a mannequin to show their players how to suit up — interesting.)
A source who prefers to remain unnamed has some interesting info regarding these zip-front BP tops:
Rumor has it that they're the prototypes for the next wave of MLB BP jerseys next year. But that would be breaking Majestic's usual three-year cycle (we are only in the second year of the current BP template).

Majestic has had players "test drive" other articles in the past, and some of them were never to be seen again. For instance, check out this prototype jersey that Majestic had a few guys test out during spring training in 2012 [click to enlarge]: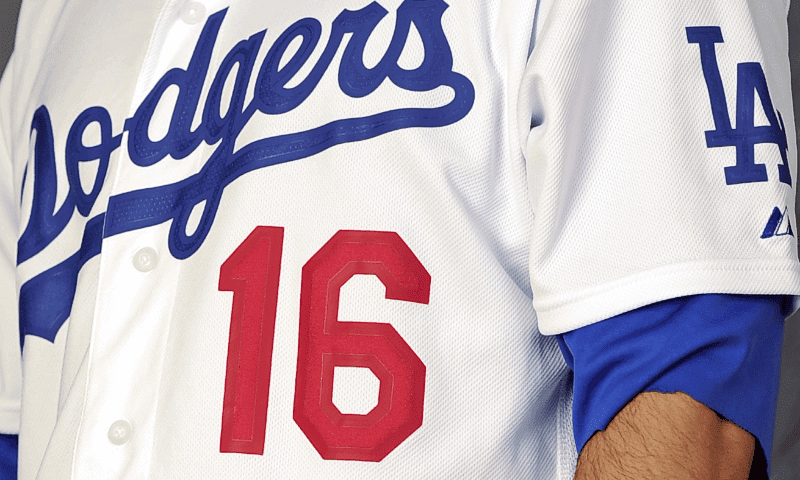 Notice the strange lettering and numbering — it was more like a glued-on, rubber-like appliqué, not the traditional sewn-on tackle twill.

They also tried weird "CoolBase" pants, which had a mesh gusset down the outer legs and in the crotch area, and zippers toward the bottom cuffs so players could flare out their pants more than usual. Unfortunately, I have no pictures of those.
Faaaaascinating. If anyone has photos of these pants, don't be shy. Thanks.
• • • • •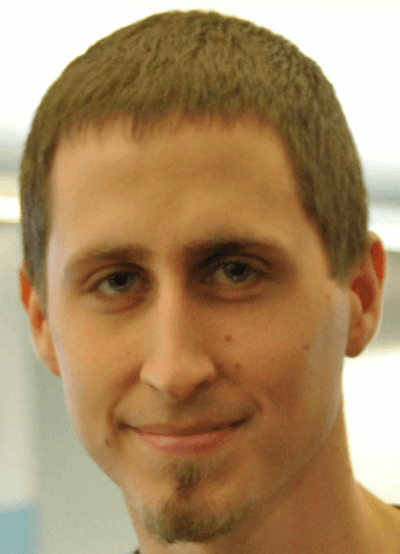 Mike's Question of the Week
By Mike Chamernik
I have a ton of trophies from my Little League days stored away at my mom's house, but one I still have on display at my apartment is this one, which I won when I was 10 after my baseball team won the league title. The trophy itself has sentimental value (it is the only championship I've ever won), but it also just looks cool. I like the eagles and the wooden backdrop.
What's your favorite trophy that you've ever won, and why? Also, what is your favorite trophy in pro or college sports? I've always been partial to the NBA's Larry O'Brien Trophy. As always, post your responses in today's comments.
• • • • •
Uni Watch News Ticker
By Mike Chamernik

Baseball News: Robinson Cano's NOB will have an accent mark this year (from Travis Knisley). … The Phillies will give away these awesome Philly Phanatic socks in late April (from Jon Solomonson). … New Grapefruit and Cactus League T-shirts from Tommy Bahama (from Pam Chvotkin). … The minor league Montreal Royals had some very plain unis in the 1940s (from Jonathan Daniel). … New alternate jersey and logo for the Albuquerque Isotopes (from Phil). … No photos, but new unis for the Syracuse Chiefs this season. … The Indians wore block-C caps yesterday, but skipper Terry Francona wore a Chief Wahoo hat. … New uniforms and promotional jerseys for the Salem Red Sox (from Phil). … The Binghamton Mets have a St. Patrick's Day logo (from Phil). … The Tri-City Valley Cats will wear Sons of Anarchy jerseys in September (from Craig Cochran). … The Bay Area Vintage Baseball League has some pretty nifty uniforms. … Southeastern Louisiana wore full camo last night (from Brandon Fran). … The Marlins logo isn't in alphabetical order on the MLB.com Shop, a holdover from when the team was the Florida Marlins well over three years ago (good spot by Nick Saint-Martin). … The Twins had an exhibition game yesterday against the U. of Minnesota, which led to an odd sight because college players can still wear No. 42. … A Utah company is getting noticed for its flashy batting grip tape (from Mike Nessen).

College Football News: With all the crazy jerseys in college football, uniform numbers are increasingly hard to read (from Phil). … Maryland LB Cavon Walker tweeted a photo of himself wearing a fang mouth guard (from Matt Shevin). … Seems that Notre Dame has a helmet memorial for long time school president Theodore Hesburgh, who died last week (from Joe Reimers). … A South Carolina grad's helmet concepts landed him a job (from David Staples).

Hockey News: According to an anonymous source, the Devils will honor the 20th anniversary of the team's first Stanley Cup by wearing white jerseys at home against Philadelphia on Sunday. Philly will wear orange, and the Devils will hold a pregame ceremony for the 1995 team. … After two injuries at goalie on Tuesday night, the Panthers dressed an emergency goaltender. Florida also considered putting center Derek MacKenzie in the position, which would have required an last-second jersey to be made (from Justin Foley). … New Rangers acquisition James Sheppard wore a Reebok helmet with a CCM logo on it last night. "This is definitely related to a Reebok-CCM merger," says Luke Rosnick. "I couldn't find any info online about why the branding is going across models though."

Soccer News: New jerseys for Sporting KC (from Phil). … Liverpool Instragrammed a photo of their locker room, and the pic showed a misspelled Mario Balotelli jersey (from Nile Smith). "¦ Tottenham Hotspur players wore black armbands yesterday in tribute to former Spurs player Dave Mackay, who died earlier this week (from Yusuke Toyoda). … Villarreal and Barca went higligher vs. highlighter yesterday (from @holycalamity).

NBA News: Here are a bunch of charts and graphs breaking down data regarding NBA players (from Andrew Powell-Morse). … Russell Westbrook wore a clear mask last night after suffering facial fractures this weekend. … Here's a cool shot of Chuck Taylor, the basketball player and shoe namesake, from 1921 (from Duncan Wilson).

College Hoops News: UMass will retire a jersey in honor of John Calipari, who coached the team to a Final Four appearance in 1996. But wait, weren't there only two Final Four teams that year? (From Phil.) … A photo of Prince from his high school basketball days has surfaced on the internet. … No photo, but UNC's Spenser Dalton, a call-up from the JV team, wore a NNOB jersey the other night against Georgia Tech (from Michael Rich). … Jake Keys found a great pic of Marshall's Mike D'Antoni and Russell Lee from 1971-72. … Illinois wore throwbacks for Senior Night yesterday (from Phil). … St. John's and Marquette went color vs. color (from Phil). … No game photos, but Zachary Haynes "noticed during the Kentucky-Georgia game that two officials were wearing the old shirts with just piping. The other official was wearing the current striped shirt with a bold panel on the side. Isn't it weird that 2 of them were wearing the old shirts?"

Grab Bag: New York is thinking of demolishing a surfing-themed bus shelter (from Alex Putelo). … David Firestone wrote a piece about the X-shaped drag racing parachute that, as he says, "led to the biggest revolution in auto racing safety ever." … Great news for those of us who write about sports: The AP will start using software to automatically generate game stories on college sports, starting with Division I baseball this spring. … After Footscray set the record for the highest score in Victorian Football League history in 1978, the Bulldogs took a team photo. Graham Clayton has picked it apart. "There are several uniform-related inconsistencies," he says. "Two player have no chest logos, six players have only one, while the rest of the team has two. The player fourth from the right on the front row appears to be wearing a short-sleeved jumper over the top of a long-sleeved jumper, and a player in the back row is wearing dark blue shorts. 1978 was the last year when Footscray wore red shorts as part of their primary uniform. They had changed to red shorts in 1975 to coincide with the introduction of colour TV into Australia, in order to make their uniform look more distinctive."