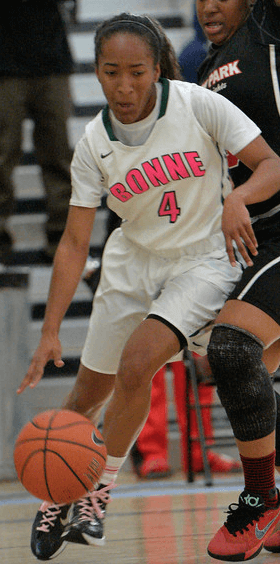 What you see at right is the uniform worn by the Narbonne High School girls' hoops team in California during last Saturday's city section playoff win over View Park Prep. As you can see, they wore pink letters and numbers — a nod to the Women's Basketball Coaches Association's "Play 4 Kay" initiative. They also wore pink ribbon socks and pink shoelaces. (There are lots of additional photos from the game here.)
But it turns out that Narbonne, whose regular colors are green and gold, didn't go through the proper channels regarding the pink-trimmed uniforms, and now a local commissioner has vacated Narbonne's victory and bounced them from the playoffs. Key quote from John Aguirre, the commissioner who made the call:
"Breast cancer awareness is in October, and there's a process for people to request color change. If they're going to blatantly disregard these rules and regulations, they're going to affect kids."
Just to make things more complicated, Narbonne had worn these same uniforms about a week earlier in a first-round playoff victory, but nobody complained or cared. (The team that lost that game now wants Narbonne's victory over them to be vacated as well, but they've been told that it's too late for them to file a protest.)
Some thoughts:
• It's tempting to say that this is a fitting comeuppance for all the pink overkill, but come on — these are kids. It would've been better to say, "You can't wear those again" or maybe assess them a technical foul at the start of their next game than to strip them of their win and bar them from the playoffs. Or, since the pink uniforms were the coach's idea, bar the coach from working the next game. But punishing the kids doesn't seem right.
• Aguirre's line about breast cancer awareness being in October sounds pretty tone-deaf to me. For better or worse, Play 4 Kay is a big thing in women's basketball (it helps raise money for the Kay Yow Cancer Fund for breast cancer research and is named after the former NC State women's basketball coach who died in 2009), and it takes place in February. Moreover, the high school basketball season doesn't start until late November, so the teams couldn't do the Pinktober thing even if they wanted to.
• That said, however, I have concerns about high school and youth programs modeling their uniform programs on what the pros and major colleges do. Pink, camouflage, stars/stripes — is this really about "raising awareness" for the various causes, or is it just about mimicking what the adults do because that feels more "official," more "grown-up"? Sometimes it's better to just let kids be kids.
• Finally, it has to be said: Green and gold are so good together. Why ruin them with pink?!
Additional coverage of this story can be found here and here.
• • • • •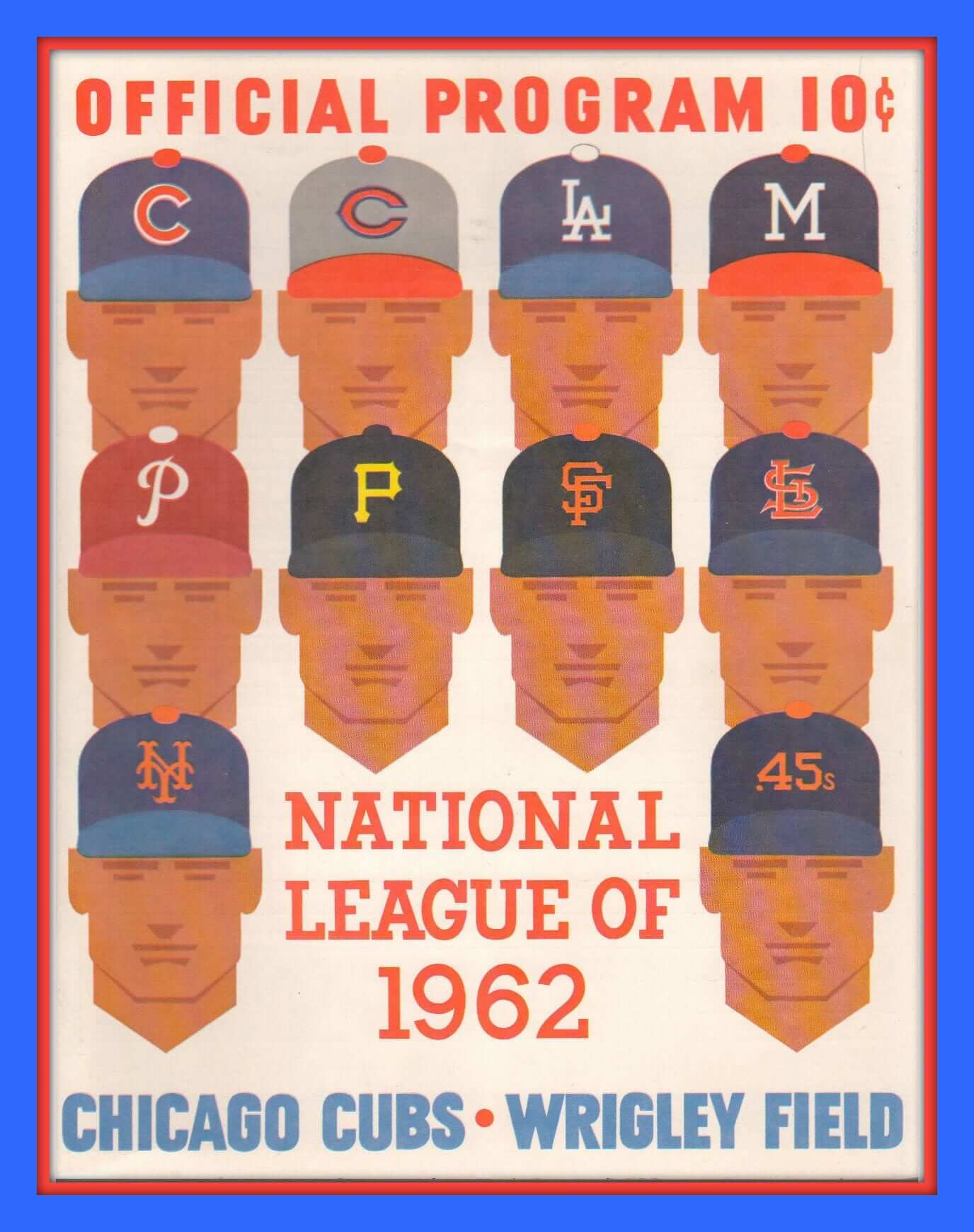 Click to enlarge
Collector's Corner
By Brinke Guthrie
Okay, we're into March, spring training games are about to start, and soon Opening Day will be within sight — a perfect opportunity to show off this 1962 Chicago Cubs scorecard with depictions of all then-current N.L. teams. But they got the Mets' squatchee color wrong — it's orange today, but back then it was blue! (Interesting to see how many teams still have the exact same cap logos, though.)
Here are the rest of this week's picks:
• Check out this 1970s San Francisco Giants bullpen buggy! I have one of these on my desk.
• Sensational artwork on this early-1970s Pittsburgh Pirates poster, featuring a brand-new Three Rivers Stadium. Nine total in the lot.
• Like the clean simplicity of this 1970s NBA referee jersey that belonged to Len Wirtz. (Made by Gerry Cosby Athletic Outfitters at The Garden.)
• Yes, sir, how 'bout this set of 1969 NFL throwback mini-helmets?
• Bambi on the loose in this early-1960s Chargers photo of Lance Alworth. See that decal on the front of his helmet? That's the "San Diego All-America City" logo, which the team wore in 1963 and '64.
• Like the font on the cover of this 1970s Toronto Maple Leafs program, eh? [Whoa "" don't think I've seen that before. Very cool! "" PL]
• Never seen a Phillies sticker before with the city name coming after (or in this case, below) the team name.
• Think they missed the mark with the logo on this Saints pennant. But they bounced back on this short-lived black helmet version.
•  Best name ever for a line of sneakers? Juicemobiles!
•  Here's a big batch of Dave Boss NFL posters. Can't quite tell what condition they're in, though. Are those creases?
•  You too can smell like a Chicago Bear with this 1980s "Soap & Wash Set," thankfully still new in the box.
• Wow, look at this 1960s KC Chiefs poster. A beauty!
•  And speaking of the Chiefs, someone put a lot of work into this amazing Len Dawson scrapbook.
•  And we conclude with one from Ethan Dillon: You can't do better than this Oregon basketball warm-up suit. Donald dunks!
Follow Brinke on Twitter: @brinkeguthrie
•  •  •  •  •
Uni Watch News Ticker
By Garrett McGrath

Baseball News: Here is a picture of our first in-action look at the Pirates' matte helmets, which they're experimenting with this spring (thanks, Paul). … Last year the Braves switched from nameplates to direct-sewn NOB lettering. Are they now going back to nameplate? Could be. Granted, that's a Photo Day shot, and players often wear old or generic jerseys for Photo Day — but not always (from Mike Nessen). … When the Red Sox play an exhibition game today against Boston College, both teams will be wearing No. 3 jerseys in support of Pete Frates, the former BC team captain who wore that number and later helped popularize the Ice Bucket Challenge while fighting ALS (thanks, Phil). … "I just saw this gallery of Giants players from photo day," Jameson Costello says. "About 80% of them wearing grey underbrims. Are they making a comeback or just using really old hats?" [The Giants do this every year. They have a bunch of old caps from the grey-underbrim era that they use for Photo Day shots. Think of it as a team-specific preseason quirk, like the Steelers' numberless helmets or the Red Wings' non-arched NOBs. "" PL] … The Tri-City ValleyCats are wearing motorcycle-themed jerseys on Sept. . … Here are the new logos for the Pulaski Yankees, the Yanks' new Rookie League affiliate (from Scott Peterson). "¦ Utility infielder Jeff McKnight, who wore five different uniform numbers during various tours of duty with the Mets, has passed away after a long fight with leukemia. Mets numerology expert Jon Springer has written a nice remembrance.

NFL and College Football News: "I was watching 1979 New York Giants game and noticed a big discrepancy players' NOB fonts," Bill Kellick says. "This wasn't just an isolated case either, I'd say it was about 50/50 across the team. Strange."… New spring practice helmet design for Oregon State (from Travis Rice).

Soccer News: There are leaked images circulating on the internet of the 2015-16 FC Barcelona home and away kits (thanks to Phil and Conrad Burry). … Chelsea's Nemanja Matic was suspended for Sunday's Capital One Cup Final but changed to his full uniform (shinguards and cleats included) for the post-game celebrations. His captain John Terry did the same when he was suspended for the Champions League Final in 2012 (from Yusuke Toyoda). … Here are a bunch of new uniform releases for MLS Jersey Week: The Chicago Fire have unveiled their secondary kit for the 2015 season (thanks, Phil). … The LA Galaxy released the team's Blue on Blue secondary kit (thanks, Phil). … Real Salt Lake unveiled a new-look white secondary kit (thanks, Phil). … The Houston Dynamo home and away kits have been leaked, as they will be officially unveiled later this week (from Trevor Williams).

Basketball News: The Los Suns played the El Heat last night (thanks, Phil). … Syracuse debuted new uniforms last night against Virginia in honor of their senior night (thanks, Phil). "¦ Erik Kissel spotted this pinstriped Michigan uni in the window of the M Den, the school's official merch shop. No word on whether it'll actually be worn on the court, though.

Grab Bag: Under Armour is planning an expansion, including a new HQ building and a campus (thanks, Paul). "¦ "For years, photos of a January 1944 ski jumping competition at Wrigley Field have perplexed me, the scoreboard looks virtually white in every shot," Bob Gassel says. "People who pointed this out to claimed it must have been a strong sun reflection causing the illusion, which I could never be convinced of. Luckily, I just came across an October 1943 Chicago Tribune article which explains all. The scoreboard had been repainted baby blue! It certainly didn't last long, and I'm trying to pinpoint when they repainted it again, but I wouldn't be surprised if it was before the 1944 Cubs season started." … Here's a good sotry on the history of the first signature sneaker, the Converse Chuck Taylor All Star (thanks, Brinke). … Dale Earnhardt Junior posted a picture on Twitter where he recently tried on a firesuit from Dale Earnhardt's 1979 rookie NASCAR season (from @makatski).