For all of today's photos, click to enlarge
As you know, it's physically impossible — impossible! — for a college basketball team to wear its normal uniform during the postseason. With that in mind, Adidas released a bunch of March Madness uniforms yesterday. As you can see above, the jerseys are fairly conventional, but the shorts all use two-tone color blocking and somewhat oversized logos.
Louisville has already been wearing this template all season long — here's how it looks on their home and road unis — and I kind of like it. Here's a closer look at the eight new designs:
A few thoughts:
• Obviously, the whole templating thing, creating a collective sense of "Team Adidas," is noxious. But as templates go, I like this one a lot better than, say, this one.
• While I'm cool with the color-blocking, I don't care for the big logos.
• One step forward: Only one school with sleeves!
• Two steps back: Two schools with grey home unis instead of white.
• I'm wondering if there'll be any mixing and matching, because I think a lot of the home shorts would probably look good, or at least interesting, with the road jerseys (and in a few cases vicey-versey). Would anyone like to mock up a few of these for us?
• Very keen to see the UCLA designs on the court — they look really nice.
• Odd that the Texas A&M jerseys still have the color-blocking on the shoulders. Never liked that look, and it definitely feels like too much when paired with the color-blocked shorts.
•  Finally, it's worth noting that Adidas also has new uniforms for Indiana, but not in the color-blocked template: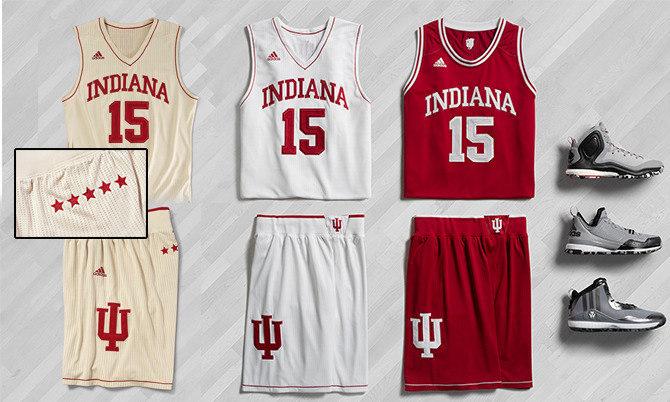 (My thanks to Phil for his assistance with this section.)
• • • • •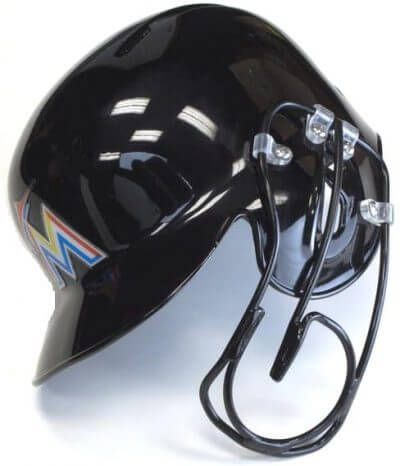 G-Man: It had previously been reported that Marlins outfielder Giancarlo Stanton, whose 2014 season was ended by a fastball to the face, would be wearing a facemask during spring training, and possibly during the regular season. It turns out that his mask stakes out some new territory in MLB headgear.
As you can see at right (and can click to enlarge), Stanton's mask is not the standard plastic extension that we're used to seeing. It's made of carbon steel, more like a football mask (Stanton was apparently concerned that a plastic guard might block his vision) and has a stylized "G" — Stanton's first initial. Further details are available here.
This is, to my knowledge, the first personalized batter's mask in MLB history. As a one-off, I'm cool with it — it's fun. But if it kicks off an arms race of players constantly upping the "Look at me" factor, as seems likely, then we'll look back at this mask as the launch pad for a whole new chapter of stupid.
Several emailers and tweeters noted yesterday that the NFL would never allow this; in fact, they've already banned it. It'll be interesting to see if MLB has anything to say about it.
• • • • •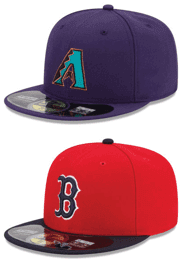 And speaking of MLB headwear: The two caps shown at left will apparently be making appearances during the upcoming MLB season — and it sounds like there are others on the way. One at a time:
• New Era Cap Talk reported yesterday that the Diamondbacks would be wearing that purple cap for Thursday home games. New Era's own website confirms this and adds the following: "The 2015 MLB Special Events Collection consists of fitted caps that will be worn by teams throughout the season to commemorate historic moments or unique promotions." This was all news to me, and it wasn't clear which Arizona throwback jersey would be paired with the cap (lots of options: cream vest, cream sleeves, purple alternate, etc.), so I contacted Dbacks media czar Casy Wilcox. His response: "At the moment, there's nothing we can confirm but we hope to have additional information within the next week or so."
• New Era's website says that the navy-brimmed Red Sox cap will be worn on May 5 (a home game against the Rays). The listing includes the same info about "the 2015 MLB Special Events Collection." It's not clear what this promotion is about, but May 5 is, of course, Cinco de Mayo, so maybe it has to do with that. (Update: Commenter Howard points out that the Sox are doing a Carlton Fisk bobblehead giveaway on May 5, so the cap is presumably part of a throwback uniform they'll be wearing.)
I'm assuming that anything referred to as a "collection" will involve more than just two teams, so there are probably more surprises still in store.
(My thanks to Brendan Hickey and Phil for their contributions to this section.)
• • • • •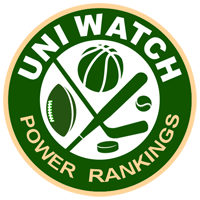 Power Rankings reminder: In case you missed it yesterday, the Uni Watch Power Rankings are back, with ratings of all 30 MLB teams' uniform sets, from first to worst. How did your favorite team do? Find out here.
• • • • •

'Skins Watch: The 'Skins have filed court papers arguing that the government's cancellation of the team's trademark protection constitutes a violation of free speech rights. "¦ Capitol Hill High School in Oklahoma, whose teams have been called the Redskins, has chosen four possible replacement names.

Baseball News: Matte red batting helmets for Houston. "¦ The double-A Binghamton Mets are selling team-branded yarmulkes (thanks, Phil). "¦ Remember that custom-designed bat I was raffling off last week? That same company is now making custom bats for six college programs. "¦ New uniforms, with a Teddy Roosevelt them, for the Frisco RoughRiders. Additional info and a video here. "¦ The A's have an ambidextrous pitcher in camp, and he has a really cool glove (from Chris Cruz). "¦ Here's our first look at a Padres player wearing the brown-pinstriped throwbacks that the team will be wearing for five Wednesday-afternoon games this season. "¦ Latest team to be wearing those new pullovers with the unusual collar: the Royals. We had previously seen two Mets players wearing this style (from Mike Vamosi). "¦ Interesting cross-sport promotion by the Fresno Grizzlies and Las Vegas 51s, both of whom will be wearing Jerry Tarkanian-themed jerseys on April 10. "¦ New custom spikes for Maine. "¦ European golfer Richard Sterne is playing the Joburg Open this week, and his caddie has been wearing a Mariners trident cap (screen shot by Douglas Ford). … New road uniforms for the Visalia Rawhide.

NFL News: Here's a look at NFL teams' color values (from @mauimattipus). "¦ Someone has ranked all 32 NFL helmets. "¦ Bills coach Rex Ryan has a new Bills-themed pickup truck, although it seems the buffalo is charging in the wrong direction.

Hockey News: The Russian hockey club Avangard Omsk wore brutal red/blue camouflage jerseys the other day (from Rob Yasinsac). "¦ Pure gold here: a Steve Nash combination hockey/basketball card! "¦ St. Paddy's Day jerseys on tap for the Chicago Wolves (from Steve Johnston). "¦ Utah Grizzlies going pink in the rink tomorrow.

NBA News: The Suns debuted their new sleeved grey alternates last night. Additional photos here. "¦ Kevin Garnett, now back with the Timberwolves, wore a Malik Sealy tribute armband on Wednesday night. "¦ The NBA — or, rather, la NBA — has announced this year's Latin Nights schedule. "¦ The Cavs wore their navy alts last night, which left Golden State wearing white on the road.

College Hoops News: Holy moly, look at these incredible two-tone Purdue road unis from the late 1960s (great stuff from Jeff Demerly). "¦ Here's a ranking of history's 20 worst college hoops unis. "¦ Why just do color vs. color when you can have sleeved color vs. color? That's Wofford vs. Mercer last night (from Derrick Light). "¦ And still more color vs. color: Murray State and Eastern Illinois. "¦ Pink-trimmed unis last night for the Iowa women's team (from Kary Klismet). "¦ Small note in this article about the Mt. St. Joseph's women's team: "The team wore special gray jerseys for the first game at Xavier's arena. The NCAA prohibits schools from giving gifts to players, so they bought them for $22."

Soccer News: New kit sponsor for Chelsea (from Yusuke Toyoda). "¦ Also from Yusuke: "The Italian club Parma is in deep debt, can't pay wages, and is now having its players wash their own uniforms because it can't afford to do laundry."

Grab Bag: Tonight I'll be going to see the "hockey rock" band the Zambonis, who'll be playing just a few blocks from my house. They've promised to "dig deep in the band wardrobe vaults and bring some odd/weird/cool jerseys" for me to see. "¦ This is cool: an old matchbook extolling the virtues of Durene. "¦ An art museum in Atlanta is celebrating the 100th anniversary of the Coca-Cola bottle by running an exhibition on the bottle's design. "¦ London's bike-share program has a new corporate sponsor.
•  •  •  •  •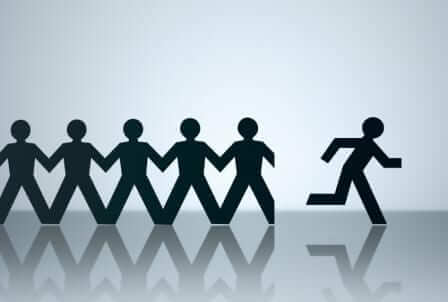 Emancipation Day: Nineteen years ago tomorrow (well, it was actually Feb. 29, but that date doesn't appear on the calendar this year), I walked out of my office at Billboard Books for the final time and began life as a full-time freelance writer. I'd been freelancing on the side for the previous two and a half years and had decided it was time to take the plunge. Haven't had a regular job since then. (Also haven't had employer-subsidized health insurance or most other job-related perks, but of course I knew what I was getting into in that regard.) At the time, I thought of going freelance as an experiment. I guess we could now say the experiment has been a success. Good thing, too "" after 19 years of working at home, I'm now pretty unemployable in any conventional sense of the term. The mere thought of going to an office gives me a rash.
Anyway, as I like to remind people each year on this date, the moral of the story is this: If you want to change your life or reinvent yourself, don't just sit around fantasizing about it "" go ahead and do it. Even if the experiment doesn't work out, at least you won't be wondering about what might have been.
Of course, maybe you already like your life just fine the way it is, in which case more power to ya. Either way, have a great weekend.