By Phil Hecken, with Jim Vilk
Last Saturday, Jim and I brought you the second in a short series of articles called Days of Yore, in which we argued for a number of uniforms that should, nay, need to return to the Major Leagues, even if just for one shining moment. We began the series a couple weeks ago with Part I, and last week we had Part II. Today we conclude.
For those not familiar, we broke the unis down into four categories: (1) A "one-shot," meaning a team would break out an old uniform and wear it once, then retire it again (similar to what the Cubs did in 2014 when they had their "decade" uniforms); (2) An "alternate," meaning the team should introduce a retro uniform into the uniform rotation, to be worn as an alternate (and hopefully sparingly); (3) "Sunday Home": A uniform to be worn on Sunday home games (the way the Mariners, Pirates and White Sox do); it would ONLY be worn on Sundays; and (4) "Just Go Back To This": A uniform that should replace a team's current uniform, and be worn as the standard home or road (or both). Click on any images below to enlarge.
As you may recall, I had more selections in Part II, so we're going a bit heavy on Jimmer's picks for this final post.
Here's Jimmer with a short intro, and then we're on to Part III:
My pullover craze continues, but fear not…there are some great neo-classic looks as well to round out this project.
. . . . .
1976 Baltimore Orioles (PH): For some reason, maybe because it was Reggie's one year with the O's, maybe something else — but for some reason I loved the O's orange pullover worn with the rare odd orange front panel cap. I shouldn't like this, but I do. But I only want to see it one more time. One and done.

. . .
1976 Minnesota Twins (JV): Actually, my dream set is the '76 homes and the '87 roads with the '76 road caps. But let's keep it simple for now. Alternate.

. . .
1977 Baltimore Orioles (JV): O, those stripes! Plus, the white-paneled cap is the only one they need. Just Go Back To This.

. . .
1977 Pittsburgh Pirates (PH): The Buccos really went crazy with their 1977 set, mixing and matching the bumblebees with abandon. And they've thrown back to these before. And I hate the fat pins. But, just one more time for each, I'd like to see the black/black, gold/gold, black/gold, and gold/black and black/black back. That's a fact, Jack. Then retire them for good. One and done.

. . .
1977 Toronto Blue Jays (JV): Their recently rebooted look is so good that I'll just ask for these on Sunday (with the roof open unless it's storming).

. . .
1978 Milwaukee Brewers (JV): So perfect, there's really nothing else to say, but Just Go Back To This.

. . .
1978 Minnesota Twins (PH): I was thinking about sending the Twins back to their 1961 unis, but I have (for some bizarre reason) a soft spot for the '78 homes with the red shoes and red caps. Might be fun to see these a dozen times a year, no? Sunday alt.

. . .
1978 New York Mets (JV): Phil (and I) thought I was going to pick the racing stripes. I like those two little buttons, though. One-shot.

. . .
1978 San Francisco Giants (PH): The orange jersey (which they've sort of gone back to) is great, but it's 100% better when paired with orange sanis, black stirrups and white shoes. And of course, white pants. That's a stellar look, and they can move their orange Friday alt. to Sunday. Sunday alt.

. . .
"1979" Tampa (Bay) Rays (JV): Sometimes a team just gets it right "the first time." Just Go Back To This.

. . .
Chicago White Sox: The set was actually introduced in 1976, but they changed stirr…er, socks in 1979 (these are better) and I'd swear the midnight blue became more royal at the time as well. Don't ever want to see the shorts return, but I'd like to see the white/white, white/blue, blue/white, and blue/blue each worn one more time. One and done.

. . .
1979 Philadelphia Phillies. The Saturday Night Special (all burgundy) was, I believe, intended to be worn every Saturday night. However, that plan was quickly jettisoned. It's a uni that needs to be seen one. more. time. For old times sake. One and done.

. . .
1980 Houston Astros (JV): You have a space-age name…dress the part! Just Go Back To This.

. . .
1981 Seattle Mariners (JV): I like their current look and this look, so let's make this a very frequent Alternate.

. . .
1983 Kansas City Royals (PH): KC needs to return to the powder blue road they wore so well — but not the pullover version. In 1983, they went to button front and all was right with the world. Just go back to this.

. . .
1984 Texas Rangers (JV): See my '78 Brewers comment. Just Go Back To This.

. . .
1985 San Diego Padres (JV): I picked this one, but I'd say the same thing for any of the previous brown uniforms – Just Go Back To This.

. . .
1993 Florida (Miami) Marlins (JV): Two choices, Miami: Move north, become the Expos 2.0 and let the Rays take over your new stadium. Or, Just Go Back To This.

. . .
1993 Colorado Rockies (JV): Not a fan of today's COLOORADO jerseys. Just Go Back To This.

. . .
2001 Arizona Diamondbacks (JV): Nestled between the original DIAMONDbacks jerseys and today's D-Backs, there was this winning look. Just Go Back To This.

. . . . .
And, thus concludes this little exercise. You'll note Jimmer likes a lot more of the more "modern" looks, while I have only a few — and those I do like, I don't want to see too often. You'll also note I left a few teams completely off my lists — either what they're wearing now is just fine, or there is nothing better in their past I'd prefer (or maybe Jim already covered those in his picks).
What say you readers? Do you agree with any of these choices? Do you have a uniform from the mid-70s to today you think you'd like to see brought back? Did we miss any? Are we nuts (you already know that). Let us know. Thanks for letting us indulge in this little exercise — it was a lot of fun!
Colorize This!
Occasionally, I will be featuring wonderful, high-quality black and white photographs that are just begging to be colorized.
Back today with our good friend and long-time colorization expert, George Chilvers, who has a beautiful one today — one that Terence Kearns will surely love.
Here's George (click to enlarge):
. . .
Hi Phil

This is the coin toss at the start of the 1913 league game between Chelsea and Tottenham Hotspur (Spurs). What of course is outstanding in this picture is the sheer sartorial elegance of the referee. Down even to wearing a bow-tie. I really really wish that officials now would wear this.

Of course they may just be saying "I say, old chap, looks like we're in for a spot of rain".

Best wishes

George
. . . . .
Thanks George — stupendous work as always!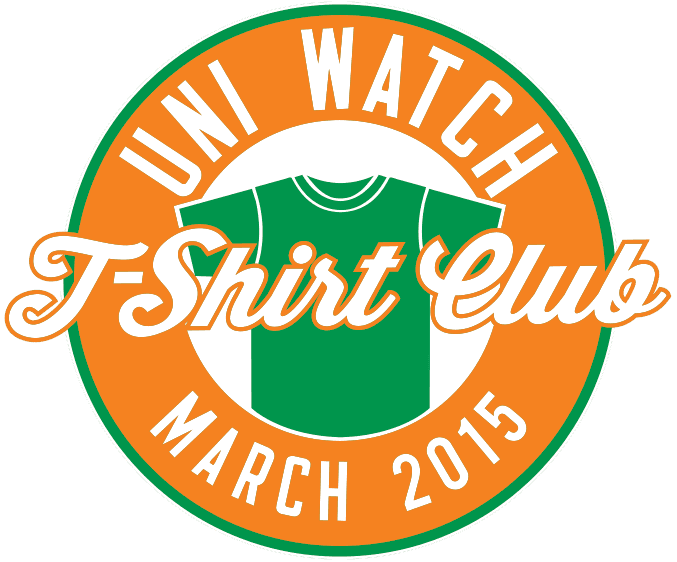 T-Shirt Club reminder: The Uni Watch T-Shirt Club's March design, inspired by St. Patrick's Day, remains available from now through Monday. Full details here, or just go straight to the ordering page.
Uni Watch News Ticker:

Baseball News: Here's our first look at the Ernie Banks "14" patch the Cubs will wear this season (h/t L. Gordon Camps). Here it is up close (from Carrie Muskat). And an extreme closeup (Chris Creamer). … I've seen this before (in fact just a couple days ago from Mark Anderson) but the MLB logo looks just like a bird when cropped (from Jeffrey Sak). … Pablo Sandoval was justifiably upset at this photo (and the resulting fat shaming), so he's firing back at the haters. … The Texas Rangers will be wearing these "Macko" patches this spring (for Joe Macko, their longtime clubhouse manager, who passed away on Boxing Day last year). Thanks to Timmy Westside for that. … Check out this very stylish Chicago Cubs Spring Training roster guide from 1938 (h/t Todd Radom). … Interesting collar on this Mets BP jersey (good spot by Nick Schiavo). Harvey may be wearing the old style BP jersey, or something along these lines. … Here's a look at the Steinbrenner Field anniversary logo (from Tyler Kepner). … New black tops for Iowa (thanks Paul). … Apparently the hot item (again?) this year at stadia will be bobbleheads (Paul). … Wow, here's a very early use of two-in-ones (thanks Paul). … Check out these gorgeous 1975 PCL Hawaiian Islanders unis! Or, even better, these 1977 Hawaii Islanders of the Pacific Coast League: New ballpark, new uniforms, new attitude! (from Dan Epstein). … The Great Lakes Loons will be wearing Star Wars themed jerseys on July 18th. How original (thanks to Matt DeVries). … It will take better eyes than mine to confirm this, but it looks like Buck Showalter has "24" on one shoe and "25" on the other (thanks to Sander Bryan). … Manny Pacquiao is apparently a big fan of the Giants. Or is it the Dodgers? Maybe he can throw a pitch to himself. … ASU, who busted out those copper/anthracite football unis I liked so much, wore copper numbers & names (can't tell if that's a black top) last night (thanks to Joe Farris). … Nice old school-looking matchup yesterday between Santa Clara and Cincinnati (h/t Paul). … Here's a good look at the decal the 1975 Redbirds wore on their helmets (Stirrups Now!).

NFL News: Our pal and new Sporting News contributor Todd Radom has his first piece on there advising the Browns to tread lightly when they reveal their new logo on Tuesday. Great job, Todd! … Here's Rex Ryan in the Super Bowl 25 Buffalo Bills Thurman Thomas jersey, entering the Combine with, yes, Bill Belichick (thanks, Paul and Brinke). Belichick's hoodie, of course, says "Bill Belichick". … If you want one, they're for sale (thanks, Paul). … Here's a few more interesting helmet designs from Deeyung Entertainment. … Check out the possible Los Angeles football stadium proposed for Carson (for the Chargers or Raiders or Rams, or some possible combination). Here's another view, and another, and an overhead. From Beto Duran. … In honor of the possible new stadium, Carson councilman Albert Robles modeled a custom Chargers-Raiders jersey (via Adam Stonema). For more on that new stadium, click here (thanks, Paul). … Of those new renderings, Kyle Teachman thinks this graphic "looks suspiciously close to Soldier Field (from the south endzone)." Hmmm. It does! … And speaking of football in Los Angeles, check out this 1947 Football Schedule for the 1947 Los Angeles Dons (from Todd Radom). … Check out this awesome shot of the Monday Night Football crew from 1974-76. That's Howard Cosell, Frank Gifford & Alex Karras for you younguns (h/t Super 70s Sports).

College/Other Football News: Here's a pretty cool photograph of Skydome (for an Argos game) taken by none other than Jim Vilk, who notes the turf has improved since that photo was taken (12 years or so ago). … Nebraska has added NOBs to practice jerseys for spring ball (via Joe Mueller). … If you scroll down a bit in this article, you'll see the Chick-Fil-A game for 2016 will be color vs. color (UGA in red and UNC in powder Carolina blue), with thanks to Harrison Wallace.

NBA News: At last night's game, the Philadelphia 76ers mascot, mascot Sixers Franklin was wearing Reebok Questions, one of Allen Iverson's signature shoes (h/t Dirt McGirt. … Speaking of the Sixers, apparently there is a leak of next year's new jersey out there (from Brian Sanford). … Last night, the Warriors wore their special Chinese New Year unis. Here's another look. And here's a close up (via CJ Fogler).

Hockey News: What's worse than having your youth hockey jerseys delivered late? Well, when they're in the wrong shade of purple and more than a few sizes too big, plenty (thanks to Adam Walter). … Here's a great shot of the Howe family as members of the WHA's Houston Aeros (h/t The Press Room). …"This is Habs' defenseman Jarred Tinordi," writes Mike Engle. "That looks like an upside-down visor. It's one thing when Teemu Selanne needed an upside-down visor to work with his old Jofa bucket, but Tinordi has a modern Bauer helmet, with seemingly a Bauer visor to boot. He must like the straight bottom and the feeling of a huge air vent on his forehead. Pretty unique." … The Stockton Thunder will be doing a pink in the rink thingy all weekend (thanks to Harrison Hamm). … Here's a good look at Antti Niemi in his retro pad/mask setup for the Stadium Series game (h/t Spencer Cooper). Also from Spencer, a look at the Sharks in their outdoor game gear. But man, are those numbers huge (that sound you heard was Jim Vilk screaming "YES" at the top of his lungs). … Meanwhile the Kings got a chance to break in their white breezers. I kinda like them in all white, but I can see how that would pose all kinds of problems. … Here's a closer look at the PSC patch the Bulldogs wore last night in honor of Organ Donation/PSC Awareness Night (via Paul).

Soccer News: Here's a pretty good article on the evolution of the New England Revolution kits (it's part I of II). … The San Antonio Scorpions, an NASL team, have a new logo (thanks to Matt Barbour). Matt also thought "this might be of interest to your readers as it's a bit unique within the world of sports."

College Hoops News: Apparently my (hopefully soon-to-be) alma mater Hofstra will be giving away or selling these camo t-shirts (I believe there will be a donation, maybe $5, involved). … Bunch of new Nike "Hyper Elite Disruption" (insert eye roll here) unis on tap: Florida to wear these against Tennessee (via David Roeder), Duke will wear these against Syracuse (Wil), and Arizona will wear these (from Brian Pace). And here's Kentucky's version (Martin Ballou). Syracuse will wear these against Virginia (Kevin Burchell). And Oregon. Here's a look at the full set of those. And it looks like some teams will get a home and road set (Chad Fields). That's a bit of a downgrade from last year's versions (via JHawkins). … Look like there will be some throwbacks on tap for Nebraska hoops. They'll wear them against Iowa (h/t Doug Hazard). … Colorado State will have a new look today.

Grab Bag: The University of Maryland broke out pink-tinged leotards and stuff for last nights meet (h/t Charley Collier). … You know how there are always old photos of kids playing stickball in city streets? Well, here's one of Londoners playing cricket (from Classic Pics), reportedly taken on April 25, 1930. … Carlos Ahmed Jalife Ruz writes, " Don't know if this has been done before in Mexico but it sure looks like shit. That's the kit Irapuato FC will be using in the cup match versus Guadalajara, next Tuesday and is to commemorate the club's anniversary and the army's anniversary here in México. Not only the design, also the jersey itself looks cheap but we have to keep in mind its a second tier division club." … There are a lot of things I miss about college, but here's one we didn't have when I was there: Curling. The Hamilton College curling team has qualified for the USA College Curling Nationals! Go You Conts! … Leo Strawn, Jr. writes, "Next week begins pre-season (NAB Cup) matches in AFL. While most squads are having intra-club matches this week as a final warmup, West Coast Eagles played a team of Indigenous AFL All-Stars. This special jumper worn by those All-Stars should raise the bar for some teams during this season's one-off Indigenous Round. Starting last season special jumpers were worn by all 18 AFL clubs during that round of matches."
And that's all for today. Thanks to Jimmer for the oh-so-fun Days Of Yore segments, and to George for his wonderful colo(u)rization. Everyone enjoy the day and the outdoor hockey game late this evening. Spring training is underway, so that means spring and baseball season are just around the corner.
My mom's 81st birthday is today, so I'll probably be spending a chunk of today helping her celebrate and off the grid. You kids play nice, ok? OK. Back with some more good stuff tomorrow (I think you'll really enjoy what's coming).
Follow me on Twitter @PhilHecken.
Peace.
.. … ..
"Certain flags (USA, Maryland, New Mexico) have a graphic integrity which lend themselves to wide application. I wouldn't make a uniform out of a Massachusetts or Oklahoma flag unless it were a soccer kit."
–Walter Helfer