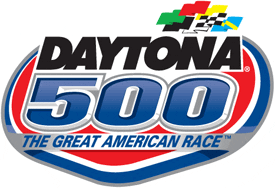 [Editor's Note: With the Daytona 500 taking place this weekend, we have a guest entry from Clark Ruhland, who's provided a rundown of all the car designs for the race. "" PL]
By Clark Ruhland
NASCAR drops the green flag on the 2015 season this Sunday with the Daytona 500. New sponsor changes and updated paint schemes are some of the more entertaining parts of the offseason. Here's a look at some notable changes for this year, listed by car number (in each case, click on the driver's name to see the car design):
1. Jamie McMurray
As with most teams, the No. 1 car has two primary sponsors that will run throughout the season. With Daytona being such a big race, both Cessna and McDonald's share the ride.
5. Kasey Kahne
Hendrick Motorsports and Farmers Insurance allowed fans to design the 2015 paint scheme and he result is a design that's much darker than last year's.
6. Trevor Bayne
The 2011 Daytona 500 winner makes a full-time move from NASCAR's secondary league of to the Cup level. He brings along his sponsor, so they decided to keep the 2014 look.
10. Danica Patrick
Danica's car continues to get less and less green with each successive year (compare the new design to 2014 and 2013). The obscure angles are a bit distracting, though.
11. Denny Hamlin
The FedEx racing team made a slight change this year, bringing in more of Paul's favorite color into the mix. Overall, it's not a bad change from 2014.
16. Greg Biffle
Ortho jumps onto the 16 car after 3M had been on since 2007. You can't go wrong with flames on a racecar.
17. Ricky Stenhouse Jr.
Fastenal moves Carl Edwards to the 17 car. Not a bad look with the blue and white.
18. Kyle Busch
After years of running a yellow peanut M&M's scheme, No. 18 switches to green crispy M&M's this season. The green color (if not the sponsor) is a throwback to when Joe Gibbs first started the team in 1992.
19. Carl Edwards
Joe Gibbs racing is starting a new team for this popular driver from Missouri. New sponsor Arris makes its NASCAR debut.
24. Jeff Gordon
AARP's Drive to End Hunger campaign returns for the four-time champion's final NASCAR season. It's a little different from 2014's design, including the full sponsor name, instead of just the logo, on the hood.
31. Ryan Newman
After finishing second in the point standings last season, Ryan Newman gets a new paint scheme with 31 team's long-time sponsor. Way more black than in 2014.
41- Kurt Busch
Red seems to be the popular color for the 41 team after a primarily black scheme in 2014. Great look.
42. Kyle Larson
The reigning Rookie of the Year has no changes on his car this season except for losing the yellow back-bumper stripe that signifies a rookie driver. The team even had a ceremony last week as he removed the rookie marking.
48. Jimmie Johnson
The six-time time champion wins my award for best upgrade from 2014. The whole design looks sharp, including the logo on the hood. Well done.
55. Michael Waltrip
Waltrip will be driving the 55 for the 500 while regular driver Brian Vickers recovers from heart surgery. Not much of a change from 2014, but the car has a cooler look thanks to the change from the gold accent to light blue.
78. Martin Truex Jr.
The solid black look returns for the Denver-based team for the seventh straight season. The plain look works well for the team, considering how bad it once was.
88. Dale Earnhardt Jr.
Former secondary series sponsor Nationwide has moved to sponsor the sport's most popular driver for 2015 and the car looks good. This design replaces the 2014 National Guard paint scheme, which was one of Junior's best.
•  •  •  •  •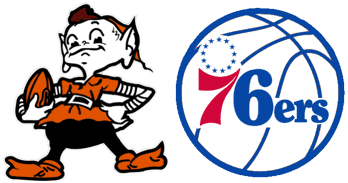 And so it begins: Big changes for a pair of Big Four teams were in the news yesterday. Here's the skinny:
• The Browns sent out an email announcing that they'll unveil their new logo next Tuesday. Further details here. That last link confirms that the uniforms will be unveiled in late March or April, which has been the plan all along, but doesn't mention whether the new helmet might be part of next week's unveiling.
• The 76ers announced via this teaser video that they'll have new uniforms in the fall:
As noted on this page, the video "features three different jerseys worn by Julius Erving, Billy Cunningham, and Wilt Chamberlain. The idea seems to be that the Sixers will take portions of each of those jerseys and combine them into a new but familiar look of sorts." No indication of when the unveiling might be, however — just that the team will have a new look for next season.
(Thanks to Phil for his assistance with the Browns news.)
• • • • •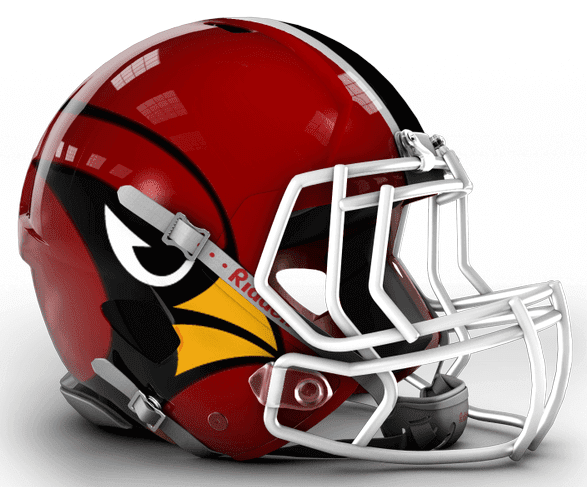 Talking to myself: Many, many people sent me the link for these NFL helmet concepts (including the one shown above), which apparently showed up on Reddit yesterday. At first I was just going to put the link in the Ticker, but then I started thinking a bit more about it, which led to a little conversation with the man in my head:
People seem to like these Photoshop concepts, but you never care about them. Why is that?
Well, for starters, most of the designs tend to suck.
Yeah, but you do like seeing hand-drawn uniform concepts, especially if they're done by kids, and a lot of those designs suck as well. So are you just being a Luddite here?
No, there's more to it than that. Hand-drawn concepts have a certain charm to them, maybe an innocence, that Photoshop concepts seem to lack.
Okay, but how do you know these NFL helmet designs weren't done by a kid? Would that make you like them more?
Actually, they were done by an operation called Deeyung Entertainment, which is actually just a guy named Dylan Young, who's a graphic designer and has a separate Twitter feed for his helmet concepts. All of which is fine — looks like he's obsessive about this stuff, which I totally respect.
Exactly, he's an obsessive, just like you! So why do these concepts, and others like them, leave you so cold?
Part of it, for sure, is that the Photoshop concepts floating around these days always seem to veer toward "extreme"-style designs. I mean, diamondplate for the Steelers (even on the facemask)? Lots of comically oversized logos? Come on. It all feels a little obvious and predictable.
Oh, so I suppose you could do better?
You've got me there — touché.
• • • • •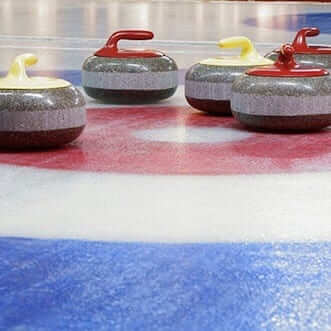 Very instructive: As many of you know, Phil and I participated in a six-week curling clinic in Brooklyn's Prospect Park last fall (plus Phil competed in a six-week league that began in early January and we'll both be part of a five week league that begins this weekend). One of the interesting things about this was seeing how the instructors responded to the challenge of teaching a class of beginners, many of whom weren't even clear on the rules of the sport when they showed up.
I've written a piece about this for the Village Voice's quarterly educational supplement. Long-timers among you may recall that Uni Watch originally ran as a monthly column in the Voice, but I hadn't written anything for them in many years until the education editor asked me to do this curling piece. Nice to be back where Uni Watch got its start.
• • • • •
Collector's Corner
By Brinke Guthrie
Ted ("Big Klu") Kluzewski is a longtime Uni Watch favorite, thanks to his cut-off sleeves and early uniform typo. But there's more to Klu thank his jerseys — here's his garment bag from the Big Red Machine era, when he was a coach in Cincinnati.
And speaking of the Big Red Machine, I had one of these: a big picture button of the 1975 team portrait. It had an easel stand on the back. Sat it on my desk. Bought it at the downtown "580 Building" gift shop — wore that place out. I did not, however, have one of these (and it's the first time I've ever seen it): a Cincinnati Post foot stool with the 1975 team on it. How did I miss that one?
Okay, so there's more to life than the Reds. Here are the rest of this week's eBay picks:
• You see the 1970s Chiquita Banana NFL helmet stickers on eBay on a regular basis. But the yellow Chiquita football is a lot harder to find.
(And if you want the stickers and the football in one shot, have at it.)
• From Paul: check out this set of authentic New Era throwback caps from the 1990s- have your checkbook handy, though.
• The cover of the 1969 California Angels Media Guide featured what was then the "New Look" American League West. [They had to leave out a few states in between Minnesota/Missouri and the west coast, eh? And it's funny that they included Oregon, which didn't have a team. "" PL]
• Take a look at the art on this 1963 New York Giants game program! Here's one for the same two teams from the season before.
• Ah, my first name brand pair of sneakers — the Americana, from Adidas. Official shoe of the ABA, no less.
• How 'bout this NFL Fun Book from 1978, including paper dolls?
• Wanna see a really, really ugly Dolphins/Marino shirt from Starter? Click here if you dare.
• One more Dolphins item for you: Apex made such great quality stuff, including this Dolphins polo shirt. I think this style was called "The Dart."
• Now this is a great-looking Bills poster from the early 1970s!
• Here's a deck of 1963 NFL playing cards. Note the Washington feather up the back of the helmet — rarely ever see a depiction of that helmet on eBay.
Follow Brinke on Twitter: @brinkeguthrie
• • • • •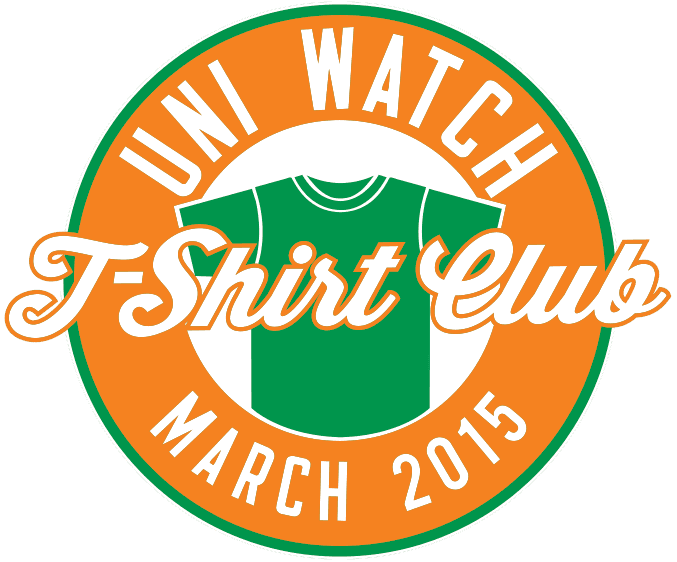 T-Shirt Club reminder: I was blown away by yesterday's response to the March design for the Uni Watch T-Shirt Club. Big thanks to all of you who ordered the shirt, which remains available from now through next Monday. Full details here, or just go straight to the ordering page.
Raffle reminder: I'm currently raffling off the chance to design your own custom baseball bat. Full details here.
• • • • •

Baseball News: New 50th-anniversary patch for the Astros. One interesting thing about it, as James Gilbert immediately noted, is that the drop-shadow falls to the left. As we've discussed before, that's highly unusual. "¦ Check this out: Shadow imitates logo! … Some of the Brewers' promotional giveaways for 2015 include a cowboy hat, team-themed Zubaz, and a Star Wars bobblehead (from John Okray). … This is so awesome: Jim "Mudcat" Grant had little kitty-cat heads drawn onto his glove (you made my day, Tristan Ridgeway). … LSU softball wore Mardi Gras colors yestserday (from Quinlan Duhon). "¦ New mono-charcoal look for Houston softball. Not my favorite look, but the contrasting sleeves definitely help. "¦ The Akron RubberDucks' 2015 promo schedule includes a Cleveland Force MISL replica jersey auction. "¦ Georgia Southern went stars/stripes yesterday because, you know, it was Feb. 17! … According to an old press release, the 1959 Portland Beavers squard wore "special large Oregon Centennial emblems on their uniforms." No photo to accompany the press release, alas, and the only photo of the '59 Beavers that I could find doesn't show the patch (although the park superintendent in the jump suit at far right is interesting). Of course, the Beavers had already become extremely uni-notable three seasons earlier, when they wore the coolest undersleeves in baseball history (press release courtesy of Michael Orr). "¦ It's 2015 and people are just now discovering that Pablo Sandoval is chubby (thanks, Phil). "¦ The Indians are having fans vote on the logo for their new outfield bar (from Troy Fowler). "¦ Coupla odd things about this new USC road design. First, I don't think I've ever seen a collar like that without a button. Also, why do "Tro" and "jans" look like two separate words? "¦ Faaaaascinating note from Jonee Eisen, who writes: "I was just watching The Italian Americans on PBS and saw this photo of men rebuilding after the 1906 San Francisco earthquake. The guy in front is clearly wearing a baseball jersey as a work shirt — it even has a shoulder patch. A pretty early example of a sports uni as everyday wear." Never seen anything like that from that era — very, very cool!

NFL News: The Jags have proposed some upgrades to their practice facility. That might not sound like much, but check out that link — what they're planning sounds pretty cool (thanks, Phil). … We may have seen this before, but just in case: Some great home movie footage from Super Bowl IX (from Bill Kellick).

College Football News: Kansas will be experimenting with tech-enhanced mouthguards to help with concussion monitoring this spring (from Phil).

Hockey News: Late-night host Jimmy Fallon wore a Rangers jersey with the NHL logo blacked out last night. Looks like the Reebok logo on the left sleeve was "blued out" as well. This comes just a couple of days after the NHL logo was missing from Mike Myers's Blackhawks jersey during the SNL 40th-anniversary show. Even odder, Fallon and SNL are both on NBC, which is the NHL's broadcast partner, so you wouldn't think the logo would be a problem. Odd (Fallon screen shot by Jeremy Posner). "¦ The 1980 Winter Olympics "Miracle on Ice" team is having a 35th-anniversary reunion this weekend, complete with an anniversary logo (from Mark Sencich). "¦ The Avs play particularly well when wearing their blue jerseys. … Reprinted from yesterday's comments: Purple tie-dye jerseys on tap this weekend for the USHL's Madison Capitols (from R. Scott Rogers). "¦ Blues D Barret Jackman moved into second place on the team's all-time games played list last night, so the team gave him a small inner-jersey patch to mark the occasion (from Erik Spoonmore). "¦ The U. of Minnesota hockey team has been emphasizing the gold in their color scheme lately. "¦ The Caps and Pens played a gorgeous throwback game last night. "¦ Here's a sneak peek at the Kings' white breezers for the upcoming stadium game. "¦ Multiple sources say that Islanders TV broadcaster Howie Rose — a longtime Uni Watch supporter — referred to the Hurricanes' black uniforms as "black for black's sake" during last night's Isles/'Canes game. That's a misuse of the term, of course, because black is a legit 'Canes color, but it's still interesting to see the term used on a broadcast.

NBA News: Blast from the past: Kobe Bryant wearing a Hornets cap at the 1996 draft. … The Bucks will be giving away a bunch of T-shirts with their original cartoon logo over the next month or so (from Robby Burmeister). "¦ Check out the photo of Jason Kidd at the top of this article. That's from the 1995 Rookie Game, which was part of the all-star festivities in Phoenix. "¦ Larry Brunt is down at Mardi Gras, where he saw someone wearing a Pistol Pete Jazz uni. "Best Mardi Gras costume!" he says. "¦ Wizards PG John Wall says he never liked the team's old blue/gold unis, which he wore when he was a rookie.

College Hoops News: New uniforms possibly in the works for Syracuse (from Tony DiRubbo). "¦ Looks like Vanderbilt has a neon design in the works. Greeaaaaaat. "¦ Michigan and Michigan State went color-on-color last night (from Ryan Brown). "¦ Pink vs. green last night at the Tulane/Temple women's game. … "Since coming to the University of Maine three years ago, women's basketball coach Richard Barron has issued an annual challenge for the fans to raise $10,000 for Play4Kay Day," says Paul Dillon. "If they do, he dyes his hair pink for the game and then has it shaved off afterward." In addition, the team wore pink uniforms, creating an unfortunate pink-vs.-red game.

Soccer News: Here's a more complete look at the U.S. men's national team kit. … Here's another gallery of vintage soccer ticket stubs (from Mark Coale). … Chinese New Year unis the other day for AS Roma (from Roberto Zanzi). "¦ Here's one designer's idea for how DC United's badge could be "refreshed." … New alternate jersey for Indy Eleven. "¦ "Blackburn Rovers' shirt sponsor for 2014-15 is Zebra Insurance Claims," says Graham Clayton. "Their logo is interesting, with the 'r' replaced by an image of a zebra."

Grab Bag: New logo for the nonprofit group that helps administer the magnificent park in my neighborhood (from Pete Woychick). "¦ A "boutique selling military-inspired clothing" is opening in Rochester. "This made my eyes roll so hard that they are stuck in the back of my head," says Rochester resident Rich Jurnack. … Fun article about the stories behind eight movie studio logos (from Kurt Esposito). … Tennis pro Roger Federer created a bit of an international incident when he was photographed while holding an Indian cricket jersey (from Mike Nessen). … Texas Tech has extended its agreement with Under Armour through 2020 (thanks, Phil). "¦ New package designs for Real Ale Brewing. … Tons — and I mean tons — of yearbook, media guide, and program covers, from all the major sports leagues and a few of the minor ones, here. Looks like a great resource (big thanks to Bennett McCall). "¦ Very interesting article about the familiar autism "puzzle piece" symbol. … New lacrosse helmets for Loyola. "¦ Prison-reform legislation is advancing in the Florida state legislature, and one of the issues being addressed is the prison uniform. Key quote, from Department of Corrections Secretary Julie Jones: "They hate the uniforms. The quality. How well they wear in the summer. They're not equipped for outside posts in the wintertime. The uniform piece is a quality-of-life issue." "¦ The neon green trend has spread to the Irish cricket team (from Callum Johnston).