The Blackhawks have two different tomahawk shoulder patches — green-topped for the white jerseys and white-topped for the red jerseys. That leads us to a communiqué from reader Charles Noerenberg, who writes:
My friend recently got me some packs of old hockey cards ranging from 1988-1991, and I opened I noticed something off about this Dave Manson card. That's the wrong tomahawk, the one from the white jersey! I had never seen this glitch on a 'Hawks uniform before, so I tried to see if I could find another shot of the jersey.

I ended up finding several other examples of the wrong tomahawks on the red jersey, all worn by guys who played for the 'Hawks between 1987 and 1989.

Finally, I hit the jackpot: an auction listing for a game-used 1987-88 Rik Wilson jersey, labeled "reverse tomahawks." Here's the key part of the auction listing:

"Best of all are the 'Reverse Tomahawks' that reside high atop both shoulders. The 1987-88 season saw the Hawks mistakenly wear home white Tomahawks on both their home white and road red game jerseys. This mistake has made these "error" jerseys highly desirable among Blackhawks and type style collectors alike."

So apparently this was a thing. I had no idea!
Neither did I. Fascinating! Did everyone (or anyone) else know about this? Big thanks to Charles for sharing this one.
•  •  •  •  •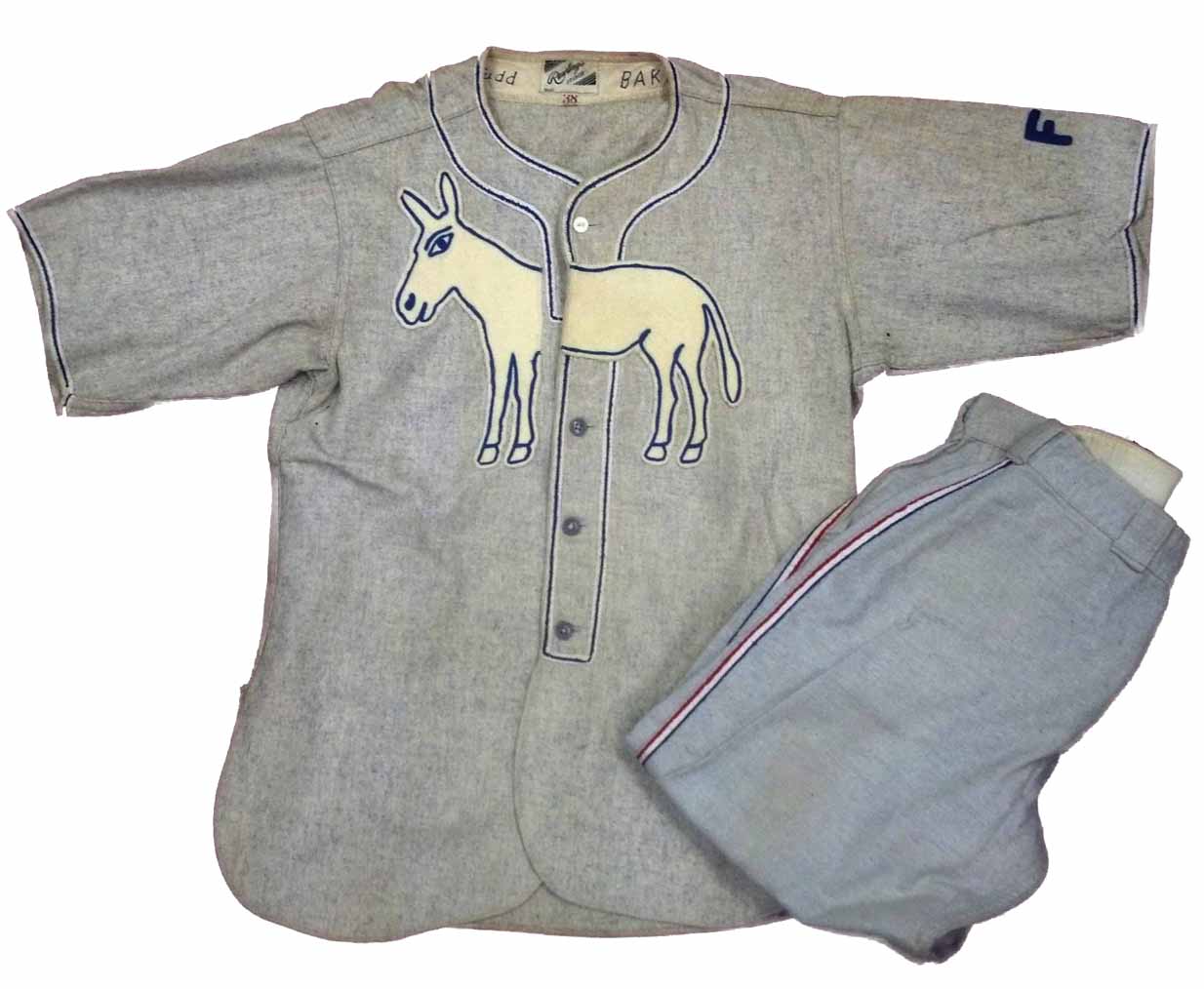 Click to enlarge
Oh. My. God. What have we here? It's a uniform from a World War II military baseball team called the Muleskinners. According to this page, which has additional photos and info, the team name was based on the following: "The three artillery battalions attached to the 10th [Mountain Division] — 604th, 605th and 616th — were all designated 'pack.' Each gun could be broken down and transported by mule. It required twelve mules per gun, three guns per battery and a dozen per battalion. So each battalion had something like 150 mules."
I've said it before and I'll keep saying it: If baseball really wants to honor the military, they'd be sooooo much better off wearing throwback designs based on old military baseball uniforms like this one. That way you're telling a story about baseball's very real and very honorable connection to the military, instead of playing dress-up soldier and pandering to the U!S!A! crowd. Plus it looks a fuck of a lot better than camouflage.
(Big thanks to Jay Sullivan for letting me know about this one.)
• • • • •
Still going strong: If you have a spare 39 minutes, you could do much, much worse than to watch this promotional video for Ripon Athletic, the uniform manufacturer based in Berlin, Wisconsin. The video tells the story the company's roots (it's a hybrid of two earlier companies: Sand Knit and Ripon Award Jackets) and also provides a good overview of Ripon's uniform factory, with focuses on sublimation, cutting, sewing, knitting, and a lot more. A good document of how an American company is still doing its thing in an industry where most of the business have moved overseas. Recommended.
• • • • •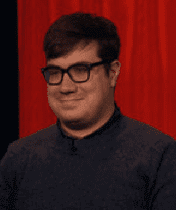 And now a quick word from Garrett: Uni Watch intern Garrett McGrath (that's him at right) is a frequent contributor to the excellent website Narratively, and he has some cool stuff going on there this week. I'll let him explain:
Last June, Isaiah Austin was expecting to be selected in the first round of the NBA Draft. Days before the event, however, he found out that he had Marfan syndrome — a genetic disorder that affects the body's connective tissue — ending his NBA career before it even began. I interviewed Isaiah about what he's doing now and what his plans for the future are. Please check it out and share.

That piece is part of a week's worth of basketball stories that I helped produce as a collaboration between SLAM and Narratively. Yesterday, we covered the FIBA ban of hijabs worn by Muslim women basketball players, and on Monday we covered Toni Kukoc and his current obsession with golf. Tomorrow we have several NBA players (including José Juan Barea, Dante Exum, Brandon Jennings, and Shaun Livingston) talking about what they miss most about the simple life.
• • • • •
T-Shirt Club Update: Thanks to everyone who voted yesterday on the St. Paddy's Day design choices for the Uni Watch T-Shirt Club. The orange script was the clear winner, so that's the design that will be made available for sale starting next Tuesday.
• • • • •

Baseball News: I think we've linked to this before, but once more won't hurt: Ballplayers' faces as old-school scoreboard art (thanks, Phil). "¦ Powder blues apparently in the works for Tulane. "¦ The Braves unveiled their "feather" uniforms 43 years ago this week, to decidedly mixed reviews (from Todd Radom). "¦ Mr. and Mrs. Met are still wearing the snow whites, even though that uni has been removed from the team's uniform program. I suspect that will be rectified by the start of the season (thanks, Phil). "¦ Here's another writer, this time from USA Today, calling for the Padres to bring back the brown. "¦ Solons in shorts! That's the Sacramento Solons from 1975. A bit of additional info here (from Gregg Tiernan). "¦ I knew that the three NYC teams all wore the trylon and perisphere logo patch in 1938 to promote the 1939 New York World's Fair. What I didn't know was that it was the first time anything other than a team logo had appeared on a big league uniform (characteristically awesome find by Todd Radom). "¦ This has always bugged me, but for some reason I've never written about it before: Why did the Mets' original 1973 N.L. championship banner, which flew over Shea Stadium for years, have oranged-filled negative space on the "e" and "s"? They later swapped it out for a new banner with white negative space. "¦ New 125th-anniversary caps for Luther College. "¦ Check out Tommy Lasorda on an old episode of CHiPs, in full uniform and a Fernando Valenzuela jacket. "¦ Very cool 1969 Mets press passes here and here. They were used by Frank McGuigan's grandfather back in the day (thanks for the tip, Phil). "¦ Buried within this Nats article is the following: "[T]he Nats will be providing a Nationals jersey to every Little Leaguer in the District of Columbia this Spring, providing Nats gear in different themes and colors for different local teams. [Team exec Mike] Camillo also committed to doing the same for Little Leagues in Northern Virginia in 2016, and those parts of Maryland that wish to participate in 2017. The program appears to be very similar to the one in San Diego conducted by the Padres, which has won the Padres some additional fans in a crowded Southern California market" (from William Yurasko).

NFL News: I think we've seen this before, but just in case: Check out the Eagles' basketball team, which plays during the summer. Saw that in an article about which Eagles would be good on the Sixers. "¦ Speaking of the Iggles, Steve Cook came across this cool Eagles sweater at a shop in New Hope, Pennsylvania. Here's a close-up of the chest logo. "¦ The NFL Network used an outdated Chargers jersey, with the plain white NOB lettering, on their "Locker Room" set yesterday (screen shot by Charles Noerenberg).

College Football News: "It appears that Upper Deck was very cautious in trying to avoid any sense of 'sponsorship' with collegiate teams," says Andrew McKillop, "to the point that they changed the numbers on Alonzo Spellman's Ohio State jersey from red to blue." "¦ Players at Oregon State's offseason conditioning program are wearing T-shirts that say, "Respect the Process." "¦ An old West Point jersey once worn by Vince Lombardi was recently purchased at a thrift shop for 58 ¢ and might be worth $20,000 (from Chris Flinn).

Hockey News: A 1938 Blackhawks jersey was recently appraised on Antiques Roadshow (from John Annino). "¦ Lots of great hockey uniforms shown in this slideshow of old photos from the Hershey Sports Arena (from Matthew Scher). "¦ New uniforms for the Mid-Ice Crisis. "¦ New Stadium Series mask design for Sharks goalie Antti Niemi. "¦ Predators players are wearing their uni numbers as part of the team's "guitar pick" logo on their caps. "¦ Small note within this article about last night's Rangers/Leafs game: "Last week, [Toronto coach Peter] Horachek took [Phil] Kessel, Tyler Bozak, and James van Riemsdyk out of their traditional white practice jerseys that denoted the first line and put them in red to take them out of their comfort zone." "¦ Pink uniforms upcoming this Friday for the Hamilton Bulldogs.

NBA News: Hawks F Al Horford has been wearing a black compression shirt under his white jersey. "I think this look is terrible," says Allan Chandler. "Black isn't part of their color scheme. Couldn't he get one in another color? I'm pretty surprised the NBA hasn't forbidden this." "¦ The Canadian media outlet TSN has tried its hand at some Raptors redesign concepts (from Marc Hammill). "¦ Knicks and Heat went blue vs. black two nights ago (from Pete Carges). "¦ Also from two nights ago: With the Jazz in New Orleans to play the Pelicans, Utah wore their old colors for Mardi Gras (from Trevor Wilson Patton). "¦ NBA commish Adam Silver was on David Letterman's show the other night and explained why he allowed players to wear the "I Can't Breathe" tees (thanks, Phil). "¦ Also from Phil: Mouthguard use in the NBA is increasing. "¦ The Bucks have a new sponsorship arrangement with the Orthopaedic Hospital of Wisconsin, which will include ads on the team's practice jerseys. "¦ Very inconsistent all-star patch placement for the 1997 East team (from Jeff Shirley). "¦ Jordi Kodrinky, who we've featured before for his NBA court renderings, is now working on some really detailed NBA uni database renderings (thanks, Mike).

College and High School Hoops News: From this article: "Air Force had been playing short-handed this season not only when it comes to injured players, but also in uniform options. The Falcons had ordered white and blue jerseys before the season, but for whatever reason they had not arrived until prior to last week's game against New Mexico." And which company is it that, "for whatever reason," couldn't fill Air Force's uniform order? The same one that couldn't produce the Eagles' green jerseys for most of the recent NFL season. … "In Monday's game versus Georgia Tech, Virginia Tech coach Buzz Williams started the game in a traditional dress shirt and tie," says Andrew Cosentino. "But by halftime he was sweating so much that he had to change into this argyle sweater. It was a custom design by menswear design Scott Barber, who's a friend of Buzz's. It was such a hit that it's now being offered for sale." "¦ Boston College's throwbacks for tonight's game against Syracuse are endearingly clunky. "¦ Xavier and Marquette went black and blue last night (from Jim Clair and Phil). "¦ Key quote from this article about Michigan State's game last night against Northwestern: "Michigan State wore white for the second straight road game as Northwestern donned alternate black uniforms for the game. The Spartans also wore white last week in their game at Rutgers." "¦ Small note in this article: "The [Huntland High School] Hornets [in Tennessee] have played their past five games in their home uniforms after the school's road uniforms and basketball shoes were stolen from the team bus in Manchester prior to a game with MTCS. The TSSAA gave the school permission to play the rest of the season in their home white uniforms." "¦ The Fresno State women's team will be wearing bright pink uniforms for tonight's game against UNLV. "¦ Pink-trimmed uniforms for Superior High School in Wisconsin. "¦ Here's a new one: grey vs. grey. That's Dominican vs. Notre Dame de Namur (from@dominicansports). "¦ I know some of you don't think it counts as color-vs.-color if one team is wearing yellow, but I say it still counts if yellow isn't the team's normal home color. That's Kentucky and LSU from last night (from @RebelNutt18).

Soccer News: The USL Pro league is dropping the "Pro" from its name (from Phillip Foose). "¦ Interesting historical discovery by George Chilvers, who writes: "At the 1904 Football League Annual Meeting, there was a proposal from Liverpool FC (which had only been in existence 12 years) that home teams should wear red — Liverpool's colors! — and visitors should wear white." "¦ Look at the inconsistently placed jersey striping and shorts logos in this shot (thanks, Phil). "¦ One-time uni yesterday for Liverpool, to promote a charity supported by Standard Chartered (Liverpool's shirt sponsor). "¦ New uniforms for Grand Rapids FC (from PK Richardson). "¦ New Champions League name and logo for CONCACAF. "¦ Here's our first photo — not mock-up — of the new Columbus Crew uni. Further info here.

Grab Bag: Latest sighting of neon green: big-time skiing. That's Tina Maze, who won the alpine combined at the recent World Ski Championships. "¦ Bit of a controversy surrounding Urban Outfitters, which is selling a tapestry that looks a lot like the uniforms worn by gay Holocaust victims. "¦ Great interview with longtime Uni Watch pal Todd Radom. Highly recommended. "¦ Cool feature on custom-painted lacrosse gloves (from Connor Wilson). "¦ Post-release restrictions being imposed on a sex offender in Surrey, British Columbia, include a stipulation that he not wear any uniforms, "including but not limited to firemen's uniforms, corrections uniforms, search/rescue uniforms, police uniforms, security guard uniforms, or scrubs." "¦ The "energy" drink Red Bull is claiming that a Virginia brewery is infringing on its trademark. "¦ A Russian airport's new logo is a pretty adorable flying bear. "¦ Dodge County, Wisconsin, is getting new logos on its police squad cars. "¦ In the past week, there have been two great articles Chinese food condiments: one on soy sauce packet design and another on what exactly qualifies as duck sauce. Both highly recommended. "¦ What would it be like if Nike sold fruit and Apple sold milk? Maybe something like this (from Mike Engle). "¦ A new logo may be in the works for Sprint (from Jason Johnson). "¦ An Ohio school district is the latest one to face a controversy over the question of school uniforms. "¦ During the 1950 and '51 NASCAR seasons, driver Bill Blair sometimes raced in a No. 41-1/2 car (from Graham Clayton). "¦ Here's a ranking of Super Rugby jerseys. "¦ Indonesia is being accused of misusing the Olympic logo.