I was recently interviewed by a guy from the San Diego Chargers' website, who was working on a story about the team's uniforms. We talked about various aspects of Chargers uni history, and at one point he said, "Of course, we were the first football team to wear outlined uniform numbers. That's why they're called 'San Diego numbers.'" When I asked him to clarify, he explained that he meant numbers with a "floating" outline (as shown above), which the Chargers first wore in 1974.
This was all news to me. I'd heard of UCLA stripes and Northwestern stripes, but "San Diego numbers"? That was a new one. So I Googled it and found a small California-based uniform outfitter that uses the term, but nothing else.
I was curious, so I contacted Todd Radom, Scott Turner, and Joe Hilseberg, each of whom has worked with uniform numbers in some capacity. They all said they'd never heard of "San Diego numbers" before. "To me it's just a standard three-color application," said Joe. "Making the middle layer the same color as the jersey to give it the 'floating' effect has been around for a while. I'm not saying the Chargers weren't the first team to do it, but lots of others have done so in various sports, including the Dolphins, Cowboys, Braves [who were wearing this style two years before the Chargers "" PL], and others."
Then, at Scott Turner's suggestion, I contacted sporting goods maven Terry Proctor. He pointed me toward this online catalog. If you go to page 18, there's a fairly detailed description of what the catalog refers to as the "San Diego Style." But Terry also pointed out that page 15 of another company's catalog refers to this same number style as "Dallas."
It's worth noting that several Big Four teams currently wear this style, including the Patriots, Canadiens, Bulls, and others. And it appears that at least some outfitters refer to this style as San Diego numbers. Should we all start using this term as well? Should I add it to the Uni Watch Glossary? Discuss.
• • • • •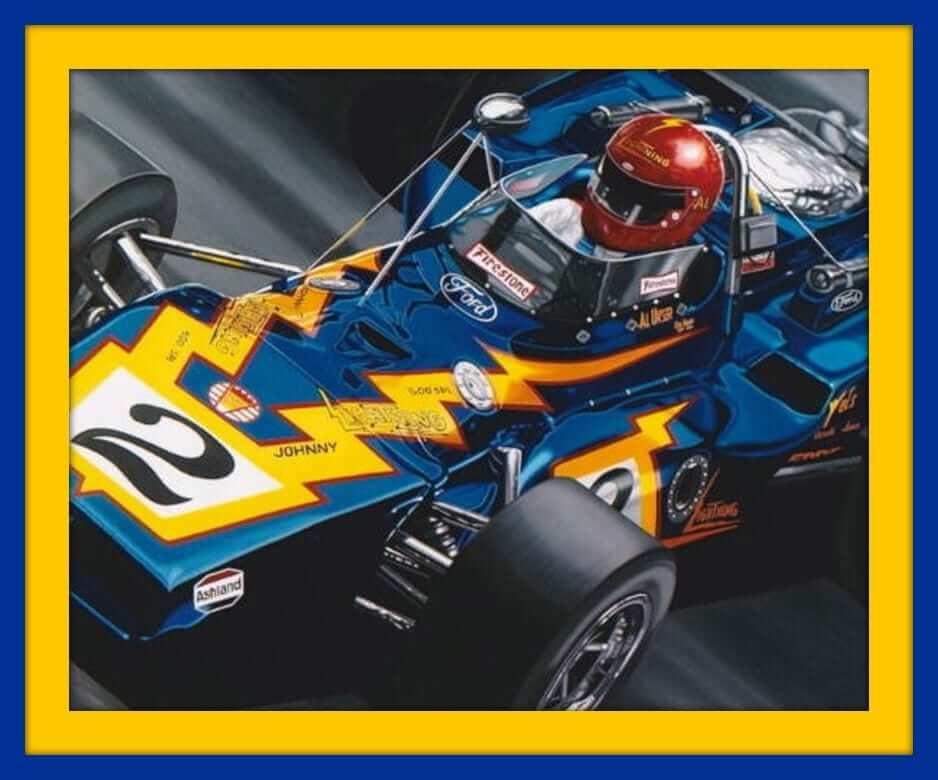 Click to enlarge
Collector's Corner
By Brinke Guthrie
Indy racing as the lead! Shocking, I know. Before we moved to Dallas, we would drive over to Indy from Louisville for the 500 time trials. I remember this Al Unser Johnny Lighting design quite well. This Super Mario car stands out, too. Raise your hands, everyone who had an STP sticker on your blue fabric notebook binder.
Okay, here are the rest of this week's eBay picks:
• Here's another United Air Lines 1960s promo poster, this one showing NBA and ABA teams together — before the merger! Hurry, this auction ends today.
• If you have about 400 friends who are Tampa Bay Bucs fans, you can send 'em each a Bucs mini-helmet. That's right, almost 400 Bucs helmets in this lot. Reminds me of that great Bucs joke — beat writer to Coach McKay in 1976: "What do you think of your team's execution?" Coach: "I'm in favor of it."
• Great cover artwork on this 1970-71 Atlanta Hawks program cover. Is it me, or does No. 62 (!) look like Malloy from Adam 12?
If you're like me, you were totally into baseball cards back in the day. After trying to collect them a pack at a time, I saw the futility of that chase and just bought the entire set at once from Renata Galasso in Brooklyn. And I would've loved to have this MLB carrying case. [But if you're buying the whole set at once, you're no longer collecting; you're just acquiring. "" PL]
• Here's a huge lot of Dave Boss NFL posters — with an equally huge price tag.
• Love this — "Bob Trumpy of the Cincinnati Bengals" on a Topps pin-up poster. Can't really see the scale of it, but it can't be too large, right? Check the "84" on his helmet, and the obvious Patriots unis.
• Great "TR Rangers" logo on this Maxwell House promo thermal coffee mug.
• Eight NHL greats grace this 1970s NHLPA pencil case.
• Check out this Cowboys poster. I mentioned recently how a Dallas store called Sanger-Harris was my one-stop Cowboys shop, they had a full-size version of this poster hanging on the wall. And speaking of the Cowboys…
• The Danderoo, with three sleeve stripes, and no chinstrap!
• Never seen the Detroit Tigers logo munching a baseball bat in two before, as seen on this 1970s promo glass.
• Simple, great cover to the 1967 NFL Pro Bowl press guide. Also from the same year, this Bears media guide, with period appropriate Spot-bilt cleats.
• • • • •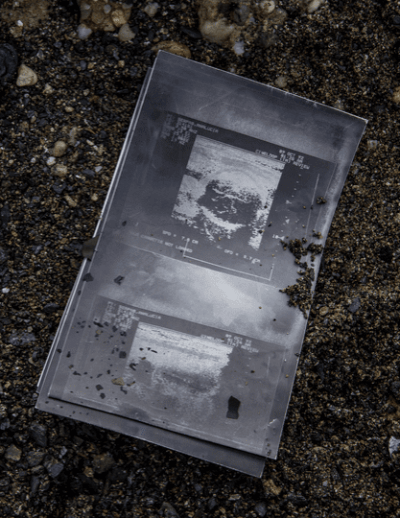 PermaRec update: The sonogram shown at right is part of a huge trail of medical, financial, and legal records (and, oddly, some Richard Avedon photos) that have been strewn along the Brooklyn waterfront in the wake of a massive fire that took place at a municipal storage facility a few days ago. Get the full story over on Permanent Record.
• • • • •
Uni Watch News Ticker
By Garrett McGrath

Baseball News: The Fresno Grizzlies are going to wear California state flag uniforms in April. … The Washington Nationals will supply uniform shirts and caps to all Capitol Hill Little League players this season (thanks, Phil). … The Louisville Bats will wear camouflage jerseys at each of their 2015 Sunday home games (thanks, Phil). "¦ The Chunichi Dragons have a developmental player — in other words, a guy who probably won't make the team — who's wearing No. 202! (From Kevin Kleinhans.) "¦ This is pretty great: 1930s home movie footage of Wrigley Field! (Thanks, Phil.) "¦ Looks like Rockies SS Troy Tulowitzki once played while wearing a belt that still had the MLB hologram sticker (good spot by Tyler Maun).

NFL News: Patriots owner Robert Kraft wore the same suit at the Super Bowl that he wore at the MLS Championship this past year. He's just like all of us, except he owns two professional sports franchises (thanks, Phil). … Wait, Kraft isn't like us after all: He wears bedazzled sneakers (thanks, Brinke). "¦ Texans RB Arian Foster took wishes that the team would tweak their uniforms (thanks, Phil). … Someone found a Vince Lombardi jacket from his West Point days in a Goodwill for around 50 cents (from Jeff Ash). … Are the Patriots the first Super Bowl winners to have a championship ugly sweaters? "¦ Late-breaking Super Bowl note: The Nike logo on Darrelle Revis's right sleeve was backwards (good spot by Travis DeMarco).

College Football News: Here's how to spot counterfeit Oregon merch (thanks, Phil). … It looks like UNLV is getting new uniforms for the 2015 season (thanks, Phil). "¦ Kansas is the latest school to sign a deal with a concussion-management company.

Hockey News: The South Carolina Stingrays will wear pink on Feb. 21 (thanks, Phil). "¦ NHL ref Tim Peel was suspended for meeting up for drinks with Yahoo Sports writer Greg "Puck Daddy" Wyshynski. Key line: "[NHL refs] only have two jerseys that are both worn in a game, and therefore they must personally wash them in each new city" (from Chris Flinn).

College Hoops News: Division II team Drury will retire two uniform numbers at an upcoming game (thanks, Paul). … "I know you discussed the phenomenon of NCAA men's basketball players rolling the waist bands of their pants to make them shorter/be more fashionable," Nik Streng says. "It seems that the trend in women's basketball is to tuck the bottom of your shorts into your undershorts/biker shorts." … The Northern Iowa Panthers are going BFBS (from Aaron Wigg). "¦ Pitt will go BFBS this Saturday. "¦ New Mexico went GFGS the other day, and G Hugh Greenword wore a black memorial band due to his friend's mother passing away. Nobody else wore the memorial (from Jason Johnson).

Grab Bag: Here's why it's impossible to design the perfect spacesuit (thanks, Paul). … "It seems that neon has reached the shores of Ireland," Michael Clary says. "County Mayo's Gaelic Football squad unveiled a new away jersey that incorporates neon green." … Here is a picture of a 1990 Indy 500 showing the not so subtle way of indicating which tires are supposed to go where on the car (from David Firestone). … During a 1984 South Australian National Football League game between Sturt and Port Adelaide, Sturt player Rick Davies played on after his jersey had been ripped off (from Graham Clayton).