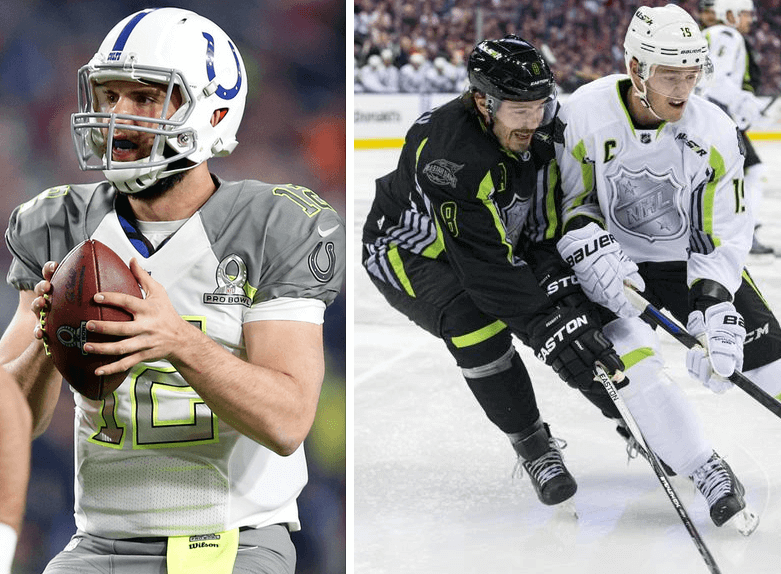 Click to enlarge
It was neon/higlighter kind of day yesterday, as the NFL and NHL both dressed their best players in garishly bold colors for their respective all-star games. Here's a look at some of the games' finer uni-related nuances, beginning with the Pro Bowl:
• All Chiefs players in the game wore a "29" nose bumper for Eric Berry. I can't recall any kind of similar gesture ever taking place in a Pro Bowl. Anyone else..?
• Bears tight end Martellus Bennett's Pro Bowl jersey patch was coming loose. Ditto for Panthers linebacker Luke Kuechly.
• One of the players from the Dolphins — I think it was offensive lineman Mike Pouncey — wore a blue visor.
• Speaking of the Dolphins, cornerback Brent Grimes went with biker shorts and bare legs — a brutal combination.
• Instead of wearing the usual white towels, the players wore — of course — higlighter-colored towels.
• In the "You've got to be fucking kidding me" department, the balls had neon laces — or maybe the laces just picked up some tint from the players gloves and jerseys.
• The uniform mock-ups released last week had indicated that both teams would wear white shoes, but quite a few players wore other colors.
• Someone — not sure who — was wearing some bizarre-patterned tights. (Update: I'm now told that the player in question was Cardinals defensive back Antonio Cromartie.)
• As you can also see in that last photo, Giants wide receiver Odell Beckham Jr. had the hashtag "#Royal" on his cleats. Not sure what that's about (and I suspect I'd rather not know), but I see the word "royal" does appear quite a bit on his Facebook page.
• Here's something I didn't know: The cheerleaders were drawn from teams throughout the league, just like the players. But they got to wear their usual uniforms instead of being forced to wear ugly Pro Bowl uniforms.
• One interesting note: The officials used iPads tablets for instant replays. I wouldn't mind seeing this become the go-to replay format, instead of having the ref go under the hood.
• Turning to the NHL All-Star Game: Frankly, I couldn't find anything particularly uni-notable about that game, except that it looked awful. It's worth noting, howver, that all-star jerseys for sale at the NHL Shop in Manhattan had cheapo iron-on nameplates, instead of the sewn-on 'plates used in the game. Lame.
• For the more historically minded, here's a look at some key moments in NHL All-Star Game uniform history.
(My thanks to all contributors, including Alan Kreit, Jerry Lawless, Jon Saddler, Jeff Shirley, @TJN3, J. Walker, and of course Phil.)
•  •  •  •  •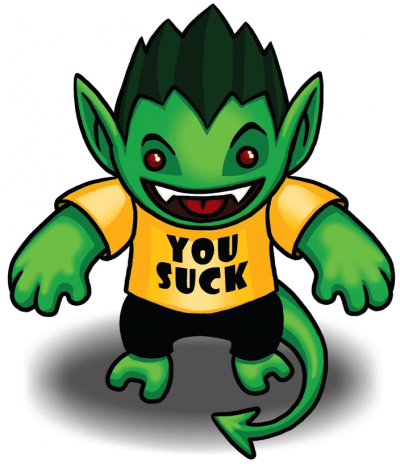 Busy fella: There's been a lot of activity on my other websites over the past few days. Let me bring you up to date:
• It's been nearly a year since I posted anything on My Pet Troll (which, for latecomers, is the site I created last winter to document the Big Cock Johnson episode that originally took place here on Uni Watch). But now another writer has confronted and her troll — a troll who was a lot more belligerent and hateful toward her than Big Cock Johnson was toward me — with fascinating results. Get the full scoop here.
• Over on Permanent Record: a New York City woman was poking around in her building's basemenet and found an old ledger that showed who'd been living in her apartment 55 years ago. She became obsessed with her home's former occupant and began researching everything she could find about her — including, as it turns out, a story about a botched illegal abortion. Get the full story here.
• Also on PermaRec, the story of an 1880s rifle that was recently found leaning against a tree in a national park — and may have been sitting there for over a century. Details here.
• • • • •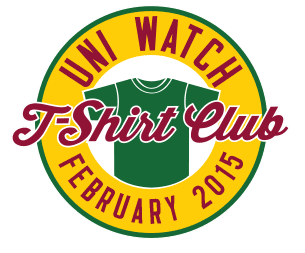 LAST CALL for the February shirt: Today is the last day for ordering the February offering from the Uni Watch T-Shirt Club. The shirt will be available until 11pm Eastern tonight. After that it's gone for good. Full details here, or just go straight to the ordering page.
• • • • •

Baseball News: Excellent news from new MLB commish Robert Manfred, who says he doesn't foresee advertising on MLB unis. Key quote: "There was more chatter about that in the game 10 years ago than there is now. It's just not a hot issue for us. I think people have great respect for the way our uniforms look. I don't foresee that one; I really don't." Kudos to Tyler Kepner for asking the new commish about this. Maybe Manfred should go have a heart-to-heart with Adam Silver. "¦ Gotta love this: The Brewers now have a live Barrel Man mascot (thanks, Phil). "¦ Here's an hour-long film that the Astros put together back in the 1980s to celebrate their 25th anniversary. "It features some stadium goodness (like a home run over the scoreboard at Crosley Field) as well as uniforms, from Colt .45s jackets to, of course, tequila sunrises," says Jerry Wolper. "¦ Jack Krabbe's son Max knows the first rule of a good uniform: Don't forget the stirrups! "¦ Little-known fact: The Giants always honor their New York roots by bringing the World Series trophy to NYC. Robert Brashear went to check it out and wore New York Giants gear for the occasion. "¦ Whoa, look at the size of the chest insignia on this jersey. Huge numerals on the back, too. "¦ The Cubs have begun flying an Ernie Banks memorial banner above Wrigley Field. "¦ Good news from John Kimmerlein, who attended the Mariners' fanfest event over the weekend and was told by a store manager that the team's new striped socks will be available for sale (although it's not clear when). "No idea if they will offer stirrups as well as normal socks," says John. "¦ "Check out Al Bundy's jersey from a 1994 episode of Married"¦With Children," writes Tristan Ridgeway. "His team is the Chicago Cleavage, which is part of a league sponsored by NO MA'AM (National Organization of Men Against Amazonian Masterhood), formed in the wake of the 1994 MLB strike. On the back he had the NOB 'Birdie' (which a reporter carelessly used instead of 'Bundy') and No. 38DD."

NFL News: Intentionally deflated footballs or just some old balloons? Either way, this is pretty funny (from Duncan Wilson). "¦ And here's a similar display from an Indianapolis shop (from Colin Short). "¦ Hmmm, Pro Bowl or Pro Bowow? Pretty weak job of glove alignment there (from Chris Flinn). "¦ The Madame Tussaud's outlet in Orlando now has a wax figure of Dan Marino. But they botched the uniform — that jersey was never worn with those pants or that belt. "¦ Oooh, check out this old Nut Bar ad featuring Red Grange (big thanks to my pal Karen McBurnie, who knows what I like). "¦ Is this a hint of the Browns' new uni? If only. "¦ I didn't watch The Simpsons last night, but Tyler Kepner did and said that Homer said (incorrectly) that the dolphin on the Dolphins' helmet is also wearing a helmet, which hasn't been true for several years. "¦ Fans didn't wear jerseys to games back in 1970 — or did they? That's a shot of the Kezar Stadium scoreboard at the 49ers/Saints game on Oct. 18, 1970. There are clearly two fans in the back row wearing jerseys! "They're either wearing game-worn jerseys or they're time travelers!" says Jeff Flynn.

College Football News: "Many people jokingly ask if Auburn University is the Tigers or the War Eagles, but of course we all know 'War Eagle' is just their battle cry," says Dustin Semore. "But West Carroll High School in Tennessee really does call its teams the War Eagles." "¦ Hmmm, is UTSA getting orange turf? (From Bob Johnson.) "¦ I've mentioned a few times that I'm seriously underwhelmed by the design of the College Football Playoff trophy, and I don't think much of the logo either. What I didn't know until now is that they were both designed by the high-end NYC design firm Pentagram, which usually does outstanding work. Very surprised to learn they were the ones behind this. There's a good backgrounder on the designs here (big thanks to Greg Franklin).

Hockey News: Here's more on those computer tracking chips that were embedded in the players' jerseys during the All-Star skills competition. … Always fun to see the Sabres-inspired design worn by the Cincinnati Swords, back when they were a Sabers affiliate in the early 1970s (from Terry Proctor).

NBA News: The Bulls wore sleeved black jerseys at home against the Heat yesterday. They also had different black shorts than the ones they'd worn a few days earlier, because everyone knows you can't have just one pair of black shorts, wheeeee!

College and Other Non-Pro Hoops News: Pink gear yesterday for Virginia Tech. "It's really odd that it's not even their normal uniform template," says Andrew Cosentino. "Different font, different side striping. It's a completely 'built from scratch' uniform with no ties to their normal template. I'm sure other teams will wear the same design, just with a different university name on the front. It's just a strange uniform from top to bottom." "¦ Kentucky State Policemen traded in their police uniforms for basketball uniforms the other day for a charity basketball tourney. "¦ Duke players wore "1K" caps and T-shirts to mark Coach K's 1000th win. "¦ Pitt is going BFBS on Feb. 7.

Grab Bag: "During the recent Adelaide Strikers versus Sydney Sixers Big Bash T20 cricket match, Adelaide player Craig Simmons snapped his bat in half when playing a shot," reports Graham Clayton. "¦ Longtime Uni Watch pal David Frost is selling tons of old jerseys from his extensive collection. "¦ David Firestone has written about the uniforms in the video game Team Fortress 2. "¦ Also from David: "During the coverage of the Rolex 24, Fox Sports mentioned that their pit reporter firesuits were provided by OMP. I don't know if this will cross over to NASCAR, but it wouldn't surprise me because their pit reporters wear no fire protection at all, which is odd, since fires on pit road are a common occurance. NBC has their pit crew uniforms made by Alpine Stars, and ESPN uses Impact, which also created what I think is history's first maternity firesuit for Jamie Little." "¦ Tennis pro Andy Murray's been wearing Under Armour apparel but Adidas footwear at the Aussie Open. Word I hear is that his new UA shoes are still in development (from Noah Crouch). "¦ "KLM Royal Dutch Airlines employee Cliff Muskiet has a collection of nearly 1,000 different air hostess uniforms," says Graham Clayton. "Here is a selection of approximately 100 uniforms from his collection."
• • • • •

What Paul did last night yesterday afternoon: There's a new documentary out called The Search for General Tso (see trailer above), which is all about the ubiquitous Chinese restaurant dish General Tso's chicken. Part of it is about trying to determine who created the dish and how it spread across America; part of it is about trying to find out who General Tso was and how this dish was named after him; and part of it is about the history of Chinese immigration and assimilation in America.
The movie recently had a short theatrical run here in NYC, but it's also available on demand. So yesterday some friends and I convened at my friend Howard's house to watch the movie. We each picked up an order of General Tso takeout on the way, all from different restaurants — you know, just to get into the spirit of the occasion. We also wanted to see if there were any significant differences between the various restaurants' versions of the dish, see if we liked one version better than the others, etc. — a Tso-off, as it were (click to enlarge):
It's a little hard to see in that first photo, but all the restaurants served the chicken on a bed of broccoli, which seems to be the default format. All of the renditions tasted pretty much the same — one was a bit sweeter than the others, but not radically. It really does seem to be a very standardized dish.
After chowing down, we watched the movie, which is really good. Smart, funny, informative, and with some really good graphics and animations. Definitely worth seeing, if your cable system offers it on demand.