The NFL is taking a very odd approach to the Pro Bowl this year. The uniforms for last season's Pro Bowl were announced with a lot of fanfare way back in October of 2013, nearly four months before the game itself. This time around, with the game coming up this weekend, there's been no news about the unis, but the league was selling merch with the same highlighter colors used in last year's uniforms, so I assumed they were sticking with the same uni designs.
As it turns out, they've kept the same color scheme but essentially flipped the home and road designations. Here's a comparison of last season's designs and this season's, which were released yesterday (click to enlarge):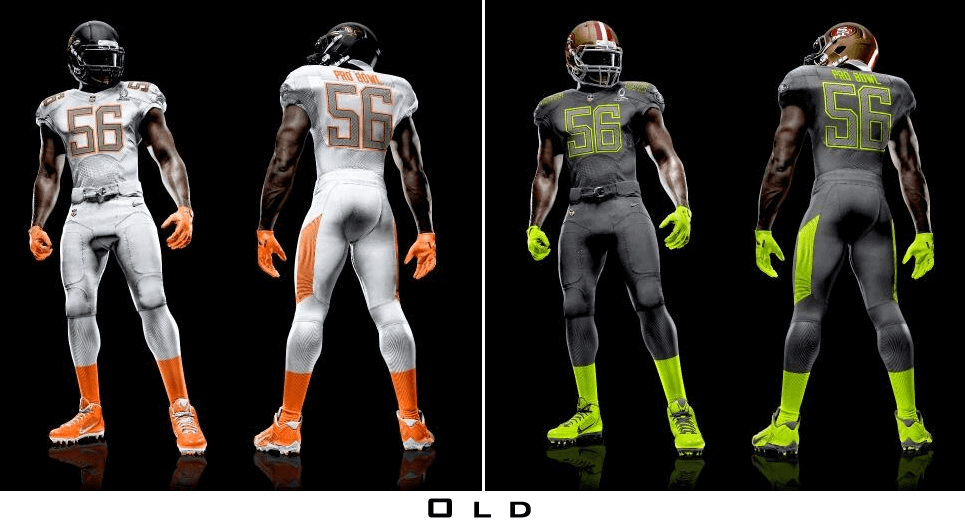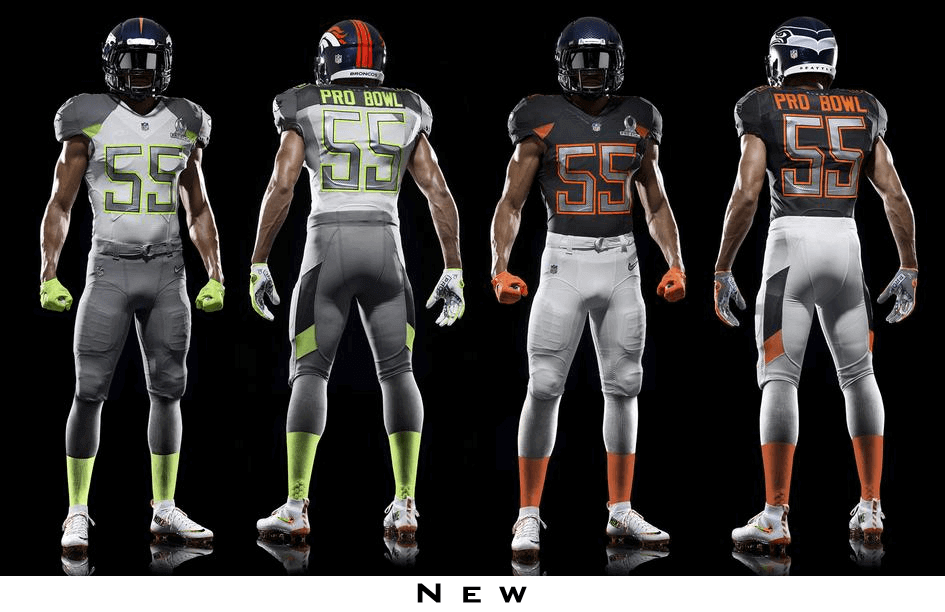 As you can see, they've made small adjustments to the pants striping, the panels just above the armpits, and a few other details, but for the most part it's just a home/road flip of the previous year. Which is to say, it's still really fucking ugly, although the lack of mono-charcoal makes it an improvement over last year's.
One interesting thing about the two sets of mock-ups: They both show helmets from the previous year's Super Bowl teams — 49ers and Ravens for last year's mock-ups, Seahawks and Broncos for this year's. Ah, but why did the uni numbers in the mock-ups change from 56 to 55? Those Swooshkateers — so inscrutable!
They're once again indicating the player's number of Pro Bowl selections (or maybe how many players had to beg out of the game for this player to get his roster spot) by putting stars above the NOBs. They also did this last year.
Meanwhile, take a look at the cleats — is that a neon camo pattern inside the Nike logo? Sigh (click to enlarge):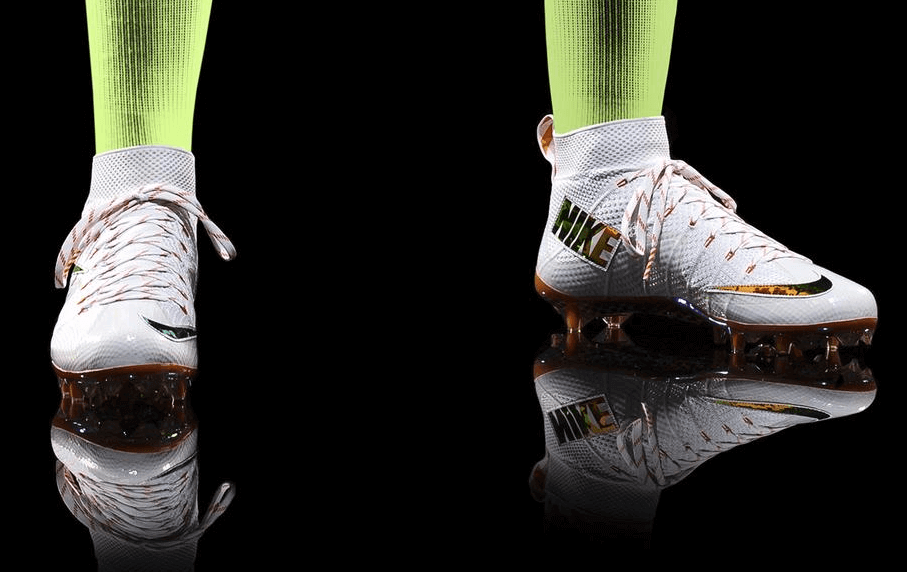 Whatever you think about the designs, it's odd that they didn't unveil them until a few days before the game. Similarly, as I noted in yesterday's Ticker, they also waited until this week to announce that they're narrowing the Pro Bowl goalposts. Almost feels like someone in the league office suddenly snapped to attention this week and said, "Holy shit — totally forgot that the Pro Bowl's this Sunday! Quick, issue all the press releases!!"
(My thanks to Phil for his assistance with this piece.)
•  •  •  •  •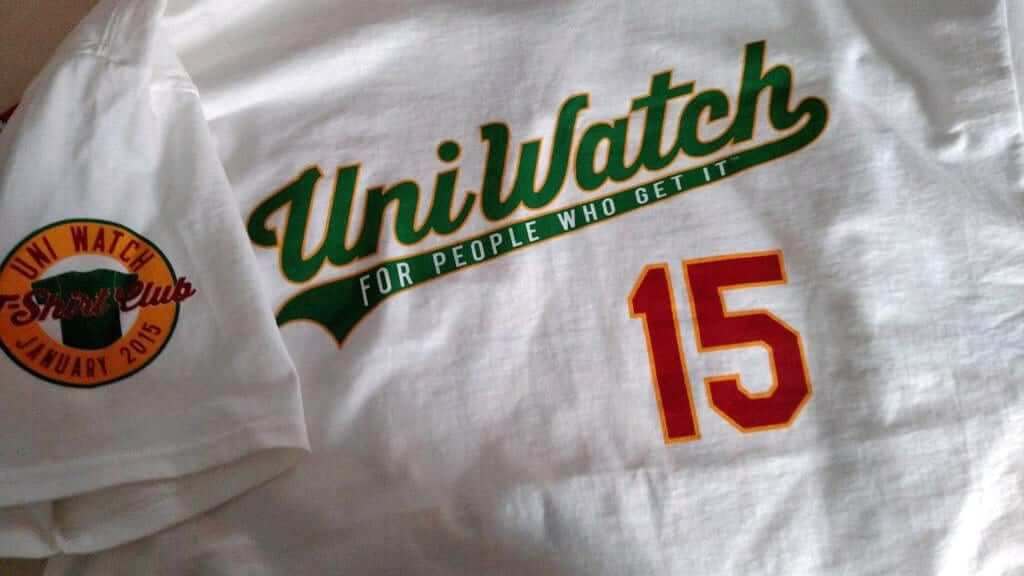 Click to enlarge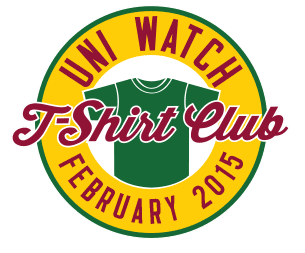 T-Shirt Club update: Quite a few people emailed or tweeted yesterday to say that they'd received their January shirts from the Uni Watch T-Shirt Club (including Jeff Stumm, who took the photo shown above and says the shirt "looks even better in person" than he'd expected). If you want to share photos of yourself wearing your shirt, let's have 'em.
Meanwhile, in case you missed it earlier this week, the February design is now available for purchase. Full details here, or just go straight to the ordering page.
• • • • •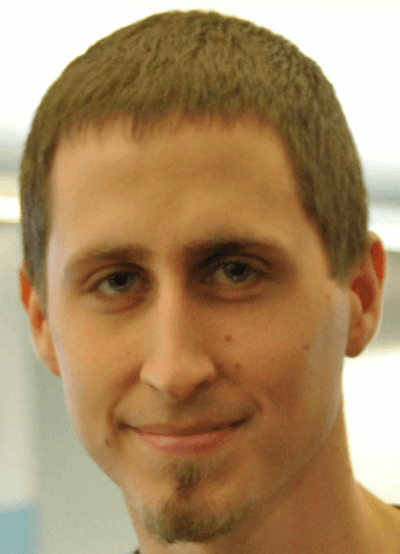 Mike's Question of the Week
By Mike Chamernik
With Paul writing about the Pro Bowl today, I thought I'd ask you folks about that. Do you watch the Pro Bowl? If so, do you watch the entire game or just check in for a quick peek? Do you make any pools, games, or other side activities to create a vested interest in the game? Ever attended in person?
My favorite Pro Bowl memory is when Sean Taylor lit up that punter. Other than that, I've never watched the game myself, other than brief snippets while changing channels. It's really weird seeing all the players other than Taylor perform at quarter-speed.
• • • • •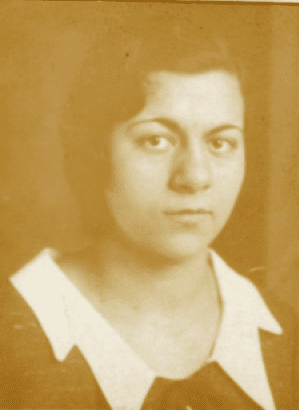 PermaRec update: The teen-aged Manhattan Trade School student shown at right was advised to take legal action against a former employer who refused to pay her a week's wages. Get the full story on Permanent Record.
• • • • •
Uni Watch News Ticker
By Mike Chamernik

Baseball News: A few new number assignments for the Mariners (from Tim Dunn). … Pete Rose wore a pocketed BP jersey and a mesh cap on the cover of Sports Illustrated in 1989 (from Patrick O'Neill). … New uniforms for the Nashville Sounds. … We'd previously seen the Nationals' 10th-anniversary patch, but here's our first look at it on a jersey. … Max Scherzer will wear No. 31 for the Nats (from David Goodfriend). … The Cardinals released their promotional schedule (from Sean Kautzman).

NFL News: These NFL helmet space heaters are pretty neat (from Jon Solomonson). … The restaurant Tilted Kilt found a way to get around the copyright restrictions of advertising for their Super Bowl parties (from Dane Drutis). … Not only did Brad Johnson alter footballs prior to Super Bowl XXVII, but he also, according to the second paragraph of this story, "changed his socks and shoes every quarter, and over the course of a game he replaced everything but his pants. Johnson always sweated profusely, and he liked the clean, dry feeling." … Markus Kamp lives outside of Seattle and near a skate park that has graffiti walls. Before the NFC championship game on Sunday, he painted a 12th Man flag in Seahawks colors on one of the walls. "Painting 8′ x 11′ concrete walls with any degree of detail or accuracy is trickier than it may seem, especially with no available power near the walls, meaning images can't simply be projected and traced," he says. "It ends up involving a mix of freehand (e.g., the green stripes in my 12 flag this year) and homemade stencils (my 12)." His neighbors made this Seahawks logo, and Markus and his neighbors had a similar project last year. … The Bears say they will not wear mono orange (thanks, Michael Hersh). … A Seattle-area woman received a Seahawks bag for Christmas, but it had a Patriots logo on it, too. … A Boston bakery is selling Deflategate cookies.

Hockey News: During the NHL all-star festivities this weekend, team mascots will face off in a hockey game along with broomball, dodgeball and other competitions. … The Islanders will wear 1972 throwbacks for their last game at Nassau Coliseum on April 11 (from Phil). … New Atlanta Flames-inspired jerseys for the Gwinnett Gladiators. … Here's a ranking of the worst to best NHL All-Star jerseys throughout history (from Phil). … Lakeville North high school in Minnesota has a very Nordiques-esque logo (from Tris Wykes). "¦ Here's a rare sight: Cooperalls vs. Cooperalls! That's from a 1980s game between the Hamilton Steelhawks and the Sault Ste. Marie Greyhounds (from Leo Strawn Jr.). "¦ Pink in the Rink jerseys upcoming for the Toledo Walleye. "¦ Anyone know why the Sharks wore white at home last night against the Kings? Interestingly, the band Metallica was on hand for the game, and the Sharks gave the band members custom jerseys, but those jerseys were black.

NBA News: Rapper Wale said he and Kanye West may be designing a new Wizards uniform (from Phil). … Here's another piece on what NBA jerseys would look like with corporate sponsors on them. … An Oregon supermarket has a really cool Blazers soda display (from Rick Rutherford). … When I was in grade school, my friend showed me a video game he got from the Philippines. All I remember was that it was an American video game that was reproduced by some Filipino company, and that the company's logo was the Indiana Pacers' logo with "Players" as the wordmark. I haven't been able to find which company this is, if they still exist, or why they chose the Pacers' logo, though.

College and High School Hoops News: Fordham will wear throwbacks tonight to celebrate the 90th anniversary of the school's Rose Hill Gym (from Phil). … The Walsh (Colo.) Eagles have purple jerseys, but not in the way you might think (from Jeff Braun). … North Carolina wore white-and-pink shoes last night, and coach Roy Williams and his staff wore sneakers with their suits (from Phil). … From yesterday's comments: St. John's and Marquette went gray-versus-blue last night.

Grab Bag: Italian club S.S. Lazio has a retro kit (from Phil). … Cincinnati will become an Under Armour school this summer (from Phil). … Press conferences in Hong Kong can be ad-filled events (from Chris Wheeler). … Here's a history of Mazda's logo. … "In a recent NTFL women's match between Nightcliff and Waratah, the umpires wore different colours," says Graham Clayton. "The field umpires wore orange and grey, while the boundary and goal umpires wore lime green and black uniforms." … Have you ever noticed that Google Maps displays a shadow behind the pop-up bubble in satellite view? "¦ Tennis player Varvara Lepchenko was spotted wearing Nike and Under Armour simultaneously at the Australian Open (from Kyle Ferramola).