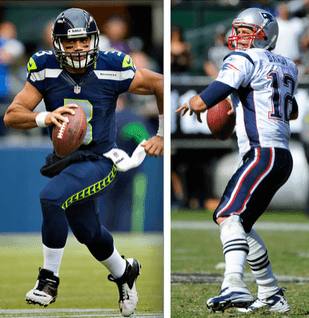 [Editor's Note: Today we have a guest entry from Super Bowl savant Jay Braiman, who's checking in with his annual summary of insanely detailed uni-based trivia for the big game. Enjoy. "" PL]
By Jay Braiman
The NFC is the designated home team for this year's Super Bowl. So assuming the Seahawks will wear their solid-blue home uniforms, with the Patriots wearing their white-over-blue road uniforms, here's a breakdown of uni-centric Super Bowl trivia:
•  The Seahawks are already the only team to have played in the Super Bowl wearing a uniform whose helmet, jersey, and pants were all the same color other than white. They did that in SB XL, which they lost. (The Colts, Dolphins, and Jets have worn white-white-white in Super Bowls, going a combined 4-1.) Seattle will also be the first to have done this with two different uniform designs and two different shades of the non-white color. And it will be the second Super Bowl played between a team whose helmet, jersey and pants are the same color and one whose helmet, jersey and pants are three different colors, the other being, again, SB XL.
•  This will be the first Super Bowl between two teams wearing navy pants and, for that matter, the first between two teams wearing dark-colored pants. We've previously seen games in which the pants worn by both teams were white (six times), silver/grey (five, if you count Bucs' pewter pants as grey when they faced the silver-pantsed Raiders in SB XXXVII), and yellow (twice).
•  Super Bowl teams whose helmets were the same color as their jerseys (including white, and including different shades of the same color family) are 8-9 against teams whose helmet and jersey were different colors.
•  Teams whose jersey and pants worn in the Super Bowl were the same color (again, including white and including related color shades) are 6-9 against teams wearing different-colored jersey/pants combinations.
•  Teams whose helmet, jersey and pants worn in the Super Bowl are three different colors are 8-9 against teams with at least two of these elements being the same color. (Note: This statistic considers the Cowboys' helmet and pants worn with the white jerseys to be the same color, even though they really aren't. If we consider the Cowboys' current helmet and pants to be different colors, but still allow that the helmet and pants they wore with the blue jerseys in SB V were the same color, then the record becomes 10-8 for three-color helmet/jersey/pants combos against one- and two-color combos, and three-color combos have played each other three times. That includes SB XXIX, when the 49ers wore a throwback uniform with gold helmets, red jerseys, and white pants.)
•  This is the 11th Super Bowl in which both teams' primary jersey color is blue (albeit different shades). Blue is the only color family for which this has occurred. In the previous 10 such games, the team wearing its white jerseys in the Super Bowl has won eight times.
•  Seattle is the fourth team to appear in consecutive Super Bowls wearing its white jersey in the first and its colored jersey in the second. Seattle is only the second team to win the first in its white jersey and come back to play in its colored jersey the following year; the only other team to do that, the Steelers, won both (SBs IX and X).
(Six teams have done the opposite, wearing color in the first and white in the second, including the Packers, who did that twice. Three teams have worn the same jersey in both, including the Cowboys who did that twice. Three teams (Steelers, Cowboys, Broncos) are in more than one of these categories. Two teams, the Dolphins and Bills, have appeared in more than two consecutive Super Bowls; these stats reflect just the first two only.)
•  This will be the seventh Super Bowl in which the digits of one starting quarterback's uniform number will add up to the other starting quarterback's number: Tom Brady wears No. 12; 1 + 2 = 3, which is Russell Wilson's number. In such games, the QBs with the 2-digit numbers are 4-2 against the single-digit QBs. The full list (winning QB in italics):
SB XV: Jim Plunkett, 16; 1 + 6 = 7, Ron Jaworski
SB XVII: David Woodley, 16; 1 + 6 = 7, Joe Theismann
SB XVIII: Jim Plunkett, 16; 1 + 6 = 7, Joe Theismann
SB XXIII: Joe Montana, 16; 1 + 6 = 7, Boomer Esiason
SB XXIV: Joe Montana, 16; 1 + 6 = 7, John Elway
SB XLIV: Peyton Manning 18; 1 + 8 = 9, Drew Brees
———
That there is some serious trivia, am I right? Thanks, Jay!
• • • • •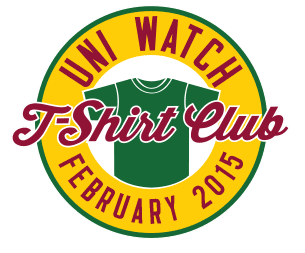 February shirt lauch: The February design for the Uni Watch T-Shirt Club is now available. (Yes, I realize we just finished selling the January design, but we got a late start on that one. From now on, all designs will launch on the third Tuesday of the preceding month, so they'll deliver early in their designated month.)
In case you missed the discussion last week: February is when spring training starts. And what do players wear during spring training? Batting practice jerseys, of course. That's the inspiration for our February design (click to enlarge):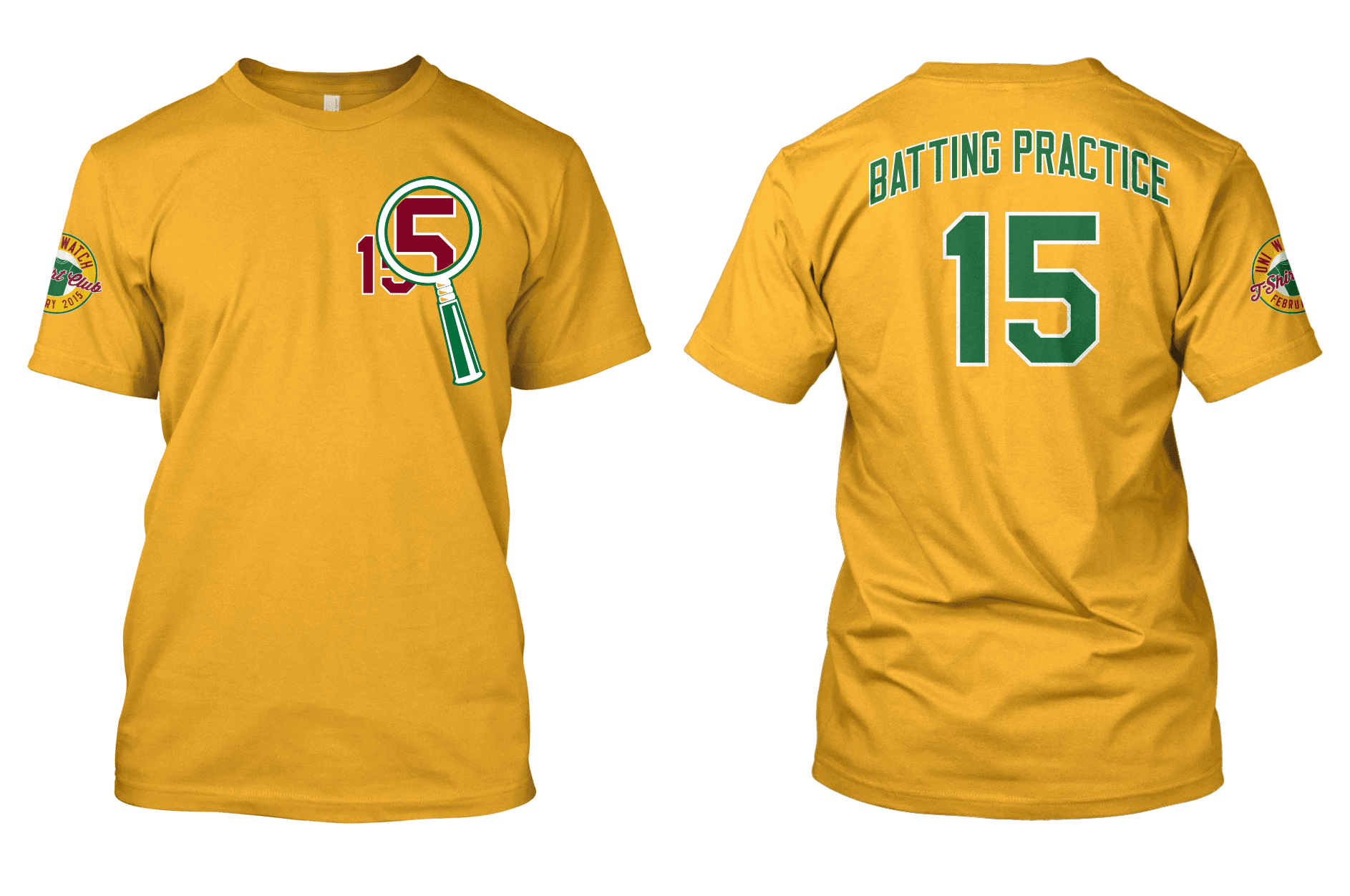 Thanks for the all the feedback last week regarding the NOB. As you can see, we stuck with the single-line format, which was the most popular option among those who expressed an opinion. We did tweak the NOB font slightly (thanks, Scott), so I think it looks a bit better now.
Here's everything you need to know about ordering the shirt:
1. You can purchase the shirt on this page. (Ignore the bits about "reaching our goal" and the "hitting our minimum" — that's for Teespring clients who use T-shirt sales as fundraisers.)
2. As you'll see, there's a choice of Hanes ($22.50) or American Apparel ($24.50). Their tailoring and sizing are slightly different, and the Hanes shade of gold is a smidge darker than American Apparel's, so use the "View Sizing Chart" link and compare the colors to be sure you get the shirt that's best for you. Domestic shipping is $3.85 for the first shirt, $1 for each additional shirt; international shipping is $9.50 to Canada, $12.50 elsewhere.
3. This shirt will only be available through next Monday, Jan. 26, 11pm Eastern. After that date, the shirt will not be offered for sale. All shirts ordered by then should be delivered by Feb. 10.
4. The March design will go on sale on Feb. 17. I'll preview it here on the site during the week prior to its launch.
5. People who purchase all 12 shirts (collect 'em all!) will be eligible for a bonus prize at the end of the year. I haven't yet decided what this prize will be, although I have some ideas. It may depend somewhat on how many people stay on board for all 12 shirts, and we won't have a sense of how many people that might be until the summer, so I'll likely wait a while before settling on the prize. But I assure you it'll be something good.
I think that's it. Again, the February shirt can be purchased here. If you have any questions, give a holler. Thanks for listening.
•  •  •  •  •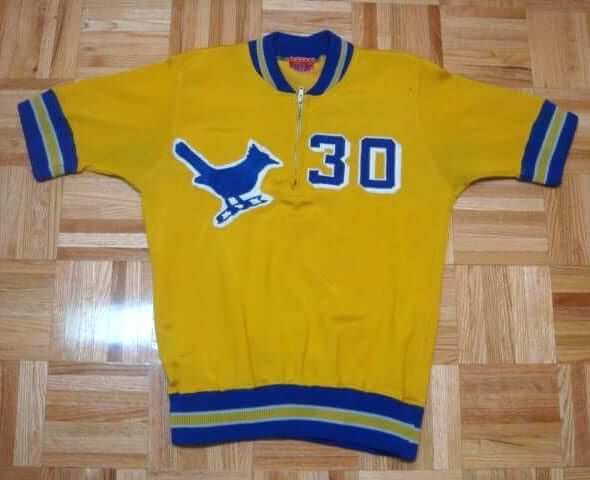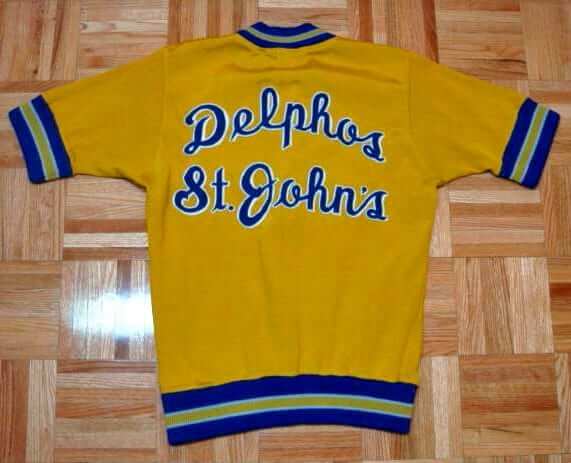 Put a bird on it! There are few things I like better than a vintage Durene basketball warm-up top, and yesterday I scored a really nice one. Ain't it a beauty? Cost a bit more than I normally like to pay ($70 + shipping), but I think it'll be worth it. The lettering on the back is chain-stitched, and so is the blue jay on the front. Nice King-O'Shea tagging, too.
This top was worn by a member of the Delphos St. John's Blue Jays, a Catholic school near Toledo that, according to Wikipedia, "is very well known for being successful in its sports." More photos to follow when the package arrives from the seller.
•  •  •  •  •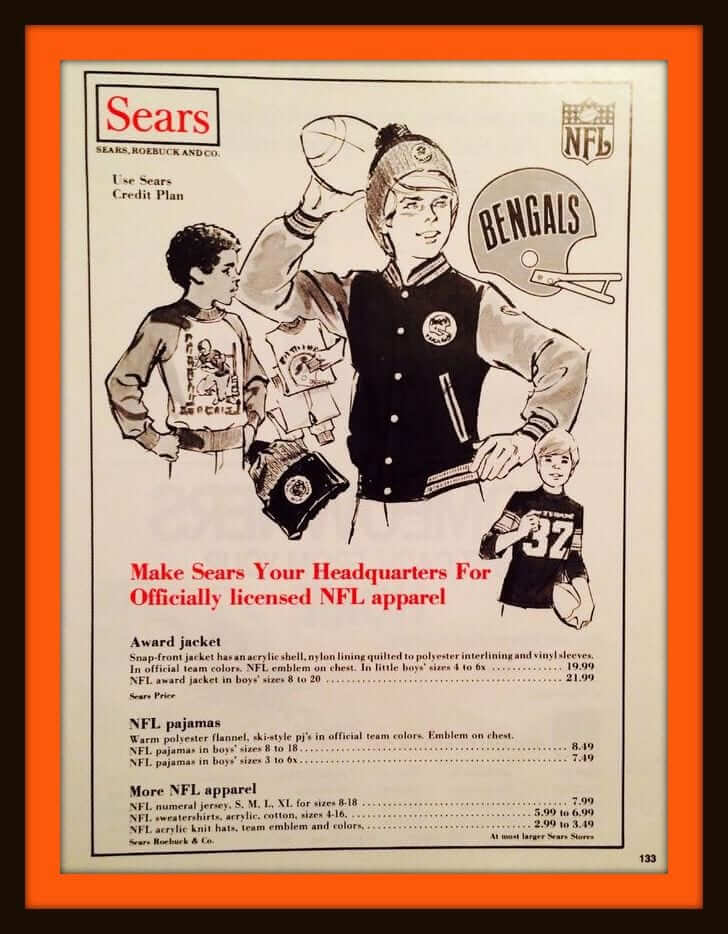 Click to enlarge
Collector's Corner
By Brinke Guthrie
As we all know, I have a soft spot for anything NFL from Sears in the 1970s. So when I saw this ad, I was immediately transported back in time and space to the St. Matthews Sears in Louisville. (My go-to spot in Dallas was a department store known as Sanger-Harris, and McAlpins was my store of choice for this kinda gear in Cincinnati. Shopping the online Nike store just isn't the same.)
Here are the rest of this week's vintage picks:
• One more ad for you: You think Adidas had a problem with this "NBA Pro" sneaker ad? Those are just Adidas Superstars — with one more stripe!
• Not vintage, but this set of Pocket Pro Helmets shows the AFL helmets from the 1969 season.
• This St. Louis Rams jacket from Starter sure has a busy design.
• Couple of NFL Russell Athletic items here: Giants fans will make a bold statement wearing this crewneck sweatshirt, and will ya look at this NFL Films T-shirt! Too bad (for me, at least) it's a small.
• Take a look at this 1960s Montreal Canadiens kids wool sweater. Nice!
• Obviously not an officially licensed item; but this old snapback cap caught my eye, as it features a Bengals helmet with a center stripe, which they've never had.
• They didn't quite get the horseshoe right on this 1960s Colts bank, did they?
• I guess Topps considered selling these plastic baseball cap plaques back in the day but never followed through. This SF Giants one is called a "test product."
Bring back Bucco Bruce with this vintage 1970s Buccaneers helmet AM radio.
• Don't recall ever seeing OJ Simpson on the cover of 1970s NFL helmet kit before.
• Here's a set of 1960s NFL playing cards. Note the 'Skins helmet at lower right — it's the one with the feather up the back that you rarely see.
• Here's something else you don't often see: a mini-sized Techigraph NFL helmet plaque — this one for the 49ers. The same seller also has the Falcons and Chiefs in the same size.
•  And from reader Brian Mazmanian, check out these pattern booklet to make your own NBA sweatshirts. ["I'm 99% sure that's former Massachusetts Sen. Scott Brown on the cover," says Brian, and I think he's right! "" PL]
•  •  •  •  •
Uni Watch News Ticker
By Garrett McGrath

Baseball News: Jason Heyward made his first public appearance as a Cardinal yesterday and received the uniform number 22 from manager Mike Matheny. Heyward gave him No. 26 in return. Matheny has always worn 22 as a Cardinal (from Chase Martin).

Pro and College Football News: A woman with a great New England accent went bonkers during a TV interview while buying Patriots "AFC Champion" merch. … "The aftermath of the Seahawks' fake field goal on Sunday revealed a Seattle fan in the first row behind the end zone wearing a No. 9 Seahawks jersey," Clint Wrede says. "Number 9 belongs to Seattle punter Jon Ryan, who threw the TD pass on the fake. How many fans wear the punter's jersey?" … Reader question: "Do you know why the Colts logo was in a red shield in the end zone of Super Bowl III?" asks John Limato. "The Jets logo was their regular logo in white." … The University of Texas at San Antonio Roadrunners unveiled new helmet designs (thanks, Phil). "¦ The NFL Shop was selling a Patriots jersey with the wrong Super Bowl logo. "¦ Kurt Esposito loves this shot of Ditka wearing Ditka.

Hockey News: "The Penn State Nittany Lions are going to wear special jerseys on Saturday with auction proceeds benefiting THON," William F. Yurasko. "THON is short for Dance Marathon, a student philanthropy that raises several million dollars to support children with cancer and their families. When my wife Erica was a student, she danced in consecutive years." "¦ Sharks goalie Alex Stalock has a new mask but hasn't yet gotten it painted, so he went with plain white for yesterday's game against the Devils.

Soccer News: Here is a confirmed leaked photo of the 2015 USA away kit as seen on Alex Morgan of United States Women's National Team (from Conrad Burry).

NBA News: Here is Dwyane Wade modeling the best look we've had so far of the Heat's "Black Tie" uni, which will debut tonight. Here is a video the team made promoting the uniform (thanks, Phil). … Most teams wore wore this logo on their shooting shirts yesterday, for Martin Luther King Jr. Day. It will also be worn on Feb. 1-12 for Black History Month (thanks, Phil). "¦ Speaking of MLK Day, look at this great design that the Hawks projected on their court (thanks, Phil). "¦ Check out what Stuart Friedel and his girlfriend wore to yesterday's Celtics/Clippers game. "It's a Chris Paul/Matt Barnes Star Wars mash up: CP3-O and M2-B2," he says. "¦ The Bulls wore their BFBS alternate uniforms yesterday for the first time this season. But as many readers noticed, the color sequence from the collar and armhole trim has been reversed. "It's even weirder given the video that surfaced prior to the season, showing the trim unchanged but with pinstripes added," notes Tom Juettner. Also, the old color sequence matched the sequence on the waistband of the shorts, but the new version does not. "¦ Two of the refs in last night's Kings/Blazers game wore the same uni number. A check of the NBA officiating roster shows only one guy wearing No. 35 — Kane Fitzgerald. So maybe one of the other refs lost his jersey and one of Fitzgerald's spares (from Malcolm Byers).

College Hoops News: Loyola Marymount went BFBS the other day (from Dennis Ittner). … Waistband watch: "Look at this picture of a rolled up waistband in the process of unrolling itself," Derek Linn. "That player is being guarded by someone who looks to have his waistband rolled up as well." … "The trend of basketball players rolling up their waistbands has made it to the middle school ranks," says Kyle Martinek. "I was at an eighth-grade game in the south suburbs of Chicago and there were a few players doing this. One was small and looked like he did it because the shorts were too big, but the others looked like they were doing it just for the style."

Grab Bag: Reprinted from yesterday's comments: Brigham Young University has adjusted its anti-beard policies. … A mud bath caused confusion in a rugby game in the UK when it was difficult to tell which side players were on (from Tom V.). … This is why I love the internet: David Firestone has written an analysis of the logos and uniforms in Beavis and Butt-head. … We have shared some of these before but here is a list of the ten biggest rebrands of 2014 (from Adam Vitcavage). "¦ "When rookie driver Ralph Jones had a huge crash and fire at Darlington Raceway in 1977, members of many different teams jumped the fence to help put out the fire and remove Jones from the car, which showed a wide variety of the pit crew uniforms that were being worn by various teams," says Graham Clayton.