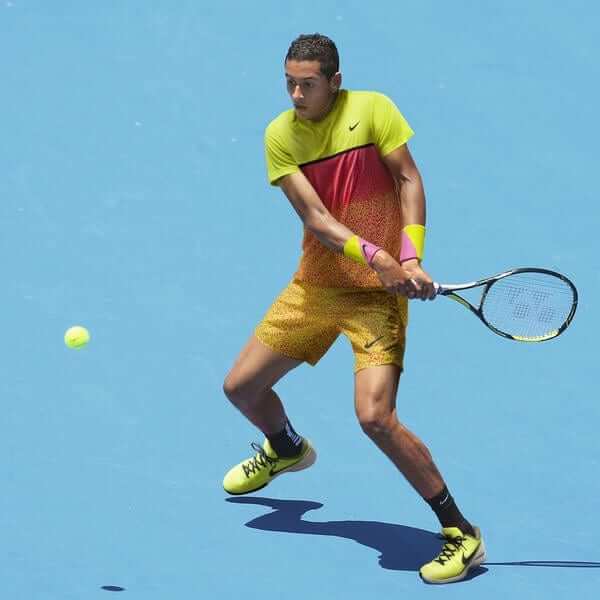 What you see above is the attire that most Nike-outfitted men's tennis players will be wearing at the Australian Open, which kicks off next week. The interesting thing about it (aside from the fact that it looks like shit, duh) is the use of that "Volt" neon/highlighter tone. In fact, all of Nike's Australian Open designs feature that color in varying degrees. Most of the other designs aren't as godawful as the one shown above (which, in Nike's words, "makes an unapologetic visual statement" — uh, right), but it would be fair to say that all of them would be better without the neon.
As most of you are aware (and as Phil capably deconstructed last Saturday), neon tones also figure prominently in the new NHL all-star uniforms that were unveiled last week.
My latest ESPN column takes a closer look at those NHL all-star unis, and at the history of neon/highlighter tones in uniform design. It was a fun piece to work on — definitely one of those "How come I never thought of writing about this before?" topics. Check it out here.
•  •  •  •  •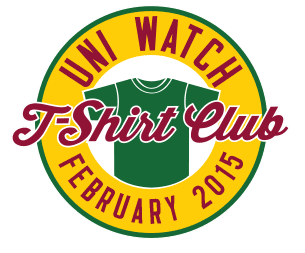 T-Shirt Club update: My thanks to the 200+ readers who ordered the January "Home" design from the Uni Watch T-Shirt Club. Your shirts should be arriving later this month.
We got a late start on the January design, but our plan is to schedule things so that each month's shirt will deliver by the 10th of that month (and often sooner than that). That means we're going to launch each month's shirt on the third Tuesday of the preceding month. And that means the February shirt will go on sale next Tuesday, Jan. 20. And that means it's already time for me to give you a sneak peek at it.
February, of course, is when baseball players report to spring training. And what do players wear during spring training? Batting practice jerseys — so that's the concept for the February design. Dig (click to enlarge):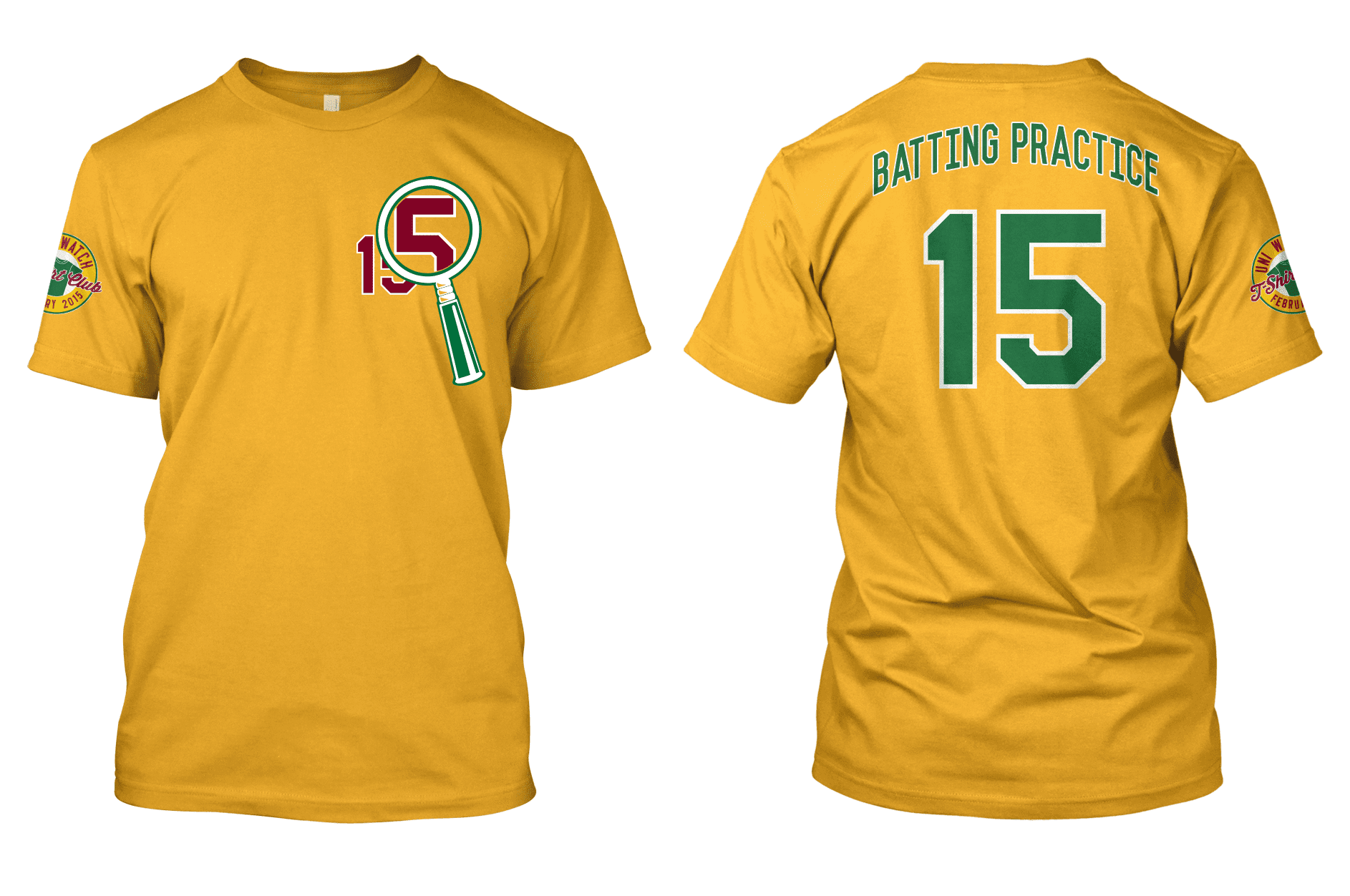 I really like it — hope you do too. But there's one area where we could use some feedback: As you can see, "Batting Practice" makes for a really long NOB, so I'm wondering if we might be better off going double-decker, like this:
What say ye — stacked or non-stacked? Personally, I'm leaning toward the stacked, but I'm willing to defer if the sentiment is running strongly the other way.
Let me anticipate a few questions you may have:
Why not use "Spring Training" as the NOB?
Because nobody calls them "spring training jerseys." They're always called "batting practice jerseys" or "BP jerseys," even during spring training.
Then why not use "BP Jersey" as the NOB? That would be fewer letters, so you wouldn't have choose between stacked or non-stacked.
Because the word "Jersey" is already implicit in all of the NOBs for this project. For the first shirt, we didn't have "Home Jersey"; we just had "Home." And when we eventually do the black design, we won't have "BFBS Jersey"; we'll just have "BFBS."
Like all the other designs, this one will only be available for one week. Full ordering details to follow next Tuesday.
•  •  •  •  •
Membership update: Some new designs have been added to the membership card gallery (including Alex Giobbi's card, shown at right, which is based on the Fort Wayne TinCaps' uniforms and reaffirms my long-held belief that the worst uniforms often make the best membership cards). The print/laminated versions of these cards will mail out either this weekend or, at the latest, next Monday.
As always, you can sign up for your own custom-designed membership card here, you can see all the cards we've designed so far here, and you can see how we produce the cards here.
• • • • •

Baseball News: Here are some of the fan-submitted designs for the Wisconsin Timber Rattlers' BP jersey design contest (from Jeff Ash). "¦ The deep-dish pizza chain Giordano's has come up with a Cubs logo pizza (from Jim Walaitis). "¦ I love the Mets and I love my cats, but I would never commingle them like this. Let the kitties have their dignity! (Thanks, Phil.) … New uniforms for Bethany College. "¦ Check out Tommy Lasorda wearing a Rock n' Jock softball jersey back in 1993. That's Darryl Strawberry posing with him, of course (from Chris Cruz). "¦ If you're one of those who lament the move from cardstock tickets to e-tickets, the Brewers have just the thing for you: a $1,000 "timeless ticket," redeemable for any game in the future, and it's made out of bronze. Mark Rybczyk, ever the mature one, notes that the American League West's caps, when arranged in a particular sequence, spell out "Asshat" (or, as someone on Twitter pointed out, "A's Shat").

NFL News: If you go to this page and search on the word "Vaseline," you'll learn some interesting stuff about how the NFL checks for banned substances on jerseys. "¦ Now that Jack Del Rio has another head coaching job, will he once again wear a suit, as he often (but not always) did with Jacksonville? "¦ The Falcons' new stadium, set to open in 2017, looks like it's gonna be pretty damn cool, or at least interesting (thanks, Phil). "¦ The Bills welcomed Rex Ryan with a kinda gross-looking pizza (thanks, Brinke). "¦ Also: When Ryan met the press yesterday, he had a bottle of "Bills Water" (from Seth Shaw). "¦ Yesterday I wondered if the NFL would be sticking with the same Pro Bowl unis from last year. As several readers quickly noted, it looks like they'll at least be sticking with the same colors. "¦ There's a guy in Seattle who has a Seahawks-branded prosthetic leg.

College Football News: Here are the uniforms for next Saturday's Senior Bowl. But shouldn't the team names be Chocolate and Peanut Butter, instead of North and South? (Thanks, Phil.) "¦ What would it look like if Big 12 rivals swapped colors? Like this. "I showed that to a buddy," says Britton Thomas, "and he said, 'Don't show this to Nike. Their next gimmick might be Color Swap Saturdayâ"¢.'" "¦ Turns out there was also a Big Ten version of that same concept (from Kevin Kielczewski). … Does Troy have a new chrome helmet in the works? Shmaybe, although I suspect it's just a shiny trinket to entice the recruits. "¦ New uniform for South Carolina? Could be.

Hockey News: "This Friday — Hockey Day in Minnesota Eve — a Minnesota National Guard amateur hockey team is facing off against a team from the 38th Canadian Brigade Group that's traveling down from Winnipeg," writes Scott Ingalsbe, who works for the Minnesota Nat'l Guard. "Our goaltender, Darrin Janisch, has been presented with a personalized mask for the game, courtesy of Todd Miska. As I am sure he does for each goaltender he is outfitting, Todd dug a little deeper for the personalized aspects of the design. Janisch currently represents the 34th Infantry Division, so the front left side of the mask includes that division's red bull patch logo, and the right side incorporates the emblem of the 82nd Airborne Division, where Janisch previously served as an infantryman. Janisch is also a purple heart recipient, and Todd has incorporated that on the backplate" (photos by Tech Sgt. Paul Santikko). "¦ Flames rookie Johnny Gaudreau is looking to trademark the term "Johnny Hockey." "¦ The Coyotes will wear Cubist-style throwbacks on March 5 (thanks, Phil). … "The Ontario Hockey League's Plymouth Whalers are moving to Flint and it creates an interesting naming situation," says Eric Romain. "Flint had teams called the Flint Generals from 1969-1985 (IHL) and 1993-2010 (CoHL/UHL/IHL), making that the obvious choice for the team name. The new ownership has even registered that name already. However the OHL already has the Oshawa Generals, who have been using that name since 1932." There's a poll on possible team names here. "¦ Pink in the Rink uniforms for the Utica Comets (thanks, Phil). "¦ The Penguins have an interesting color-coded system for their water bottles. "¦ Jeff Barak has put together a retrospective of every jersey and patch that Dominik Hasek wore with the Sabres.

NBA News: The Nets' long-threatened sleeved fauxbacks will supposedly be released later this month. "¦ Here's the logo for the D-League All-Star Game. "¦ Here's a countdown of the best NBA replica jerseys from the 1990s (thanks, Mike). "¦ NBA commish Adam Silver has been saying for years now that uniform ads are "inevitable," so it's no surprise that he just said it again. And hey, you have to hand it to him, uni ads are so good at being inevitable that they've been inevitable for three or four years running! As I've mentioned before, one gets the feeling that a Venn diagram of the things Adam Silver decrees to be "inevitable" and the things that are good for Adam Silver would basically be two overlapping circles. … Trail Blazers G Damian Lillard has a new signature sneaker that pays tribute to his alma mater, Weber State. "¦ The Spurs and Hornets went color-vs.-color last night. "¦ With the Knicks slated to play in London today, Carmelo Anthony presented a jersey to Prince Harry.

College Hoops News: New look last night for Dayton's "Rudy Flyer" mascot. … Air Force wore grey camouflage uniforms last night (thanks, Phil).

Soccer News: Liverpool's new kits have leaked (from Todd Gaines). "¦ Nike is rolling out a line of "pre-match" shirts. "¦ New kits for Paris St Germain, AS Roma, and Barca. … Turkish soccer teams are having a hard time finding jersey sponsors. "¦ Looks like Brazilian legend Ronaldo once wore a wedding band while playing (from Mike Engle).

Grab Bag: The "Uni Watch Fans" group on Facebook is running a design contest. If you haven't already joined the group, you can do so here, and the details on the contest are here. Just to clarify, I have no involvement in the group or the contest — just passing along the link for those who might be interested. "¦ There's some controversy about the Rugby Football Union releasing too many England kits in an attempt to cash in on merch sales. … UniFirst, a Massachusetts company that makes work uniforms, has won an award for its polo shirt. … New logo for the Cleveland-based Great Lakes Brewing Company. … The Cyprus Airways logo is up for sale. "¦ Stop what you're doing right now and watch this chameleon bowling video. Trust me (bit thanks to Eric Bangeman). … A Kansas school district is ending its agreement to use Georgia Tech's logo and will instead come up with a logo of its own.