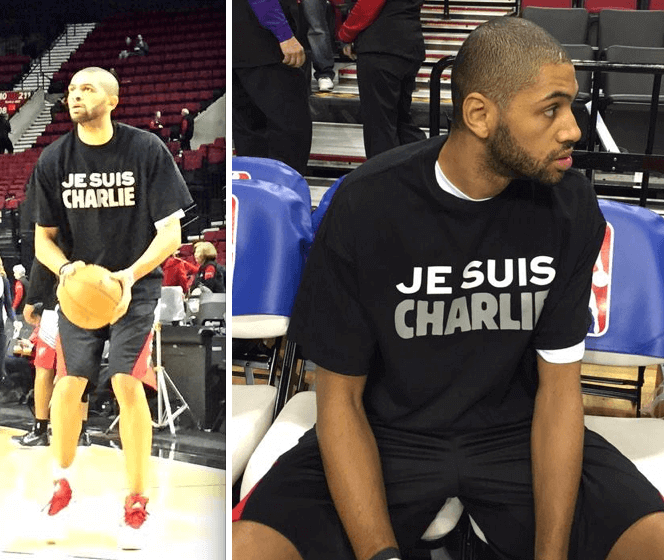 The continuing transformation of pregame warm-ups into a forum for social commentary on current events took an interesting turn last night in Portland, as Trail Blazers forward Nicolas Batum "" a native of France "" wore a "Je Suis Charlie" T-shirt prior to the Blazers' game against the Heat. The shirt's message translates to "I Am Charlie," which has become the global statement of mourning and outrage after Wednesday's massacre by Islamist gunmen that left 12 people dead in the offices of the French satirical newspaper Charlie Hebdo.
There are some obvious parallels here to the "I Can't Breathe" T-shirts. For starters, it was easy to see why the NBA execs grudgingly tolerated "I Can't Breathe" — the symbolism of white league officials telling a predominantly black group of players to stop expressing themselves on an issue of huge importance to the black community would have had, as they say, terrible optics. Given that precedent, it's hard to imagine anyone telling Batum, who is French, that he can't wear a message connected to a French tragedy.
And much like the "I Can't Breathe" tees, this gesture is likely to spread, because Batum is not the only French player in the league. Others include Jazz center Rudy Gobert; Wizards center Kevin Seraphin; Spurs guard Tony Parker; Spurs center Boris Diaw; and Pacers center Ian Mahinmi (plus we could also include Bulls center Joakim Noah, who holds American, Swedish, and French citizenship). None of those players' teams had games last night, but most of them will be playing tonight, so it'll be interesting to see if those players wear T-shirts similar to the one Batum wore (I suspect they will), and if their non-French teammates wear the T-shirts as a gesture of solidarity (I bet this happens for at least one of the teams).
Of course, one big difference between "I Can't Breathe" and "Je Suis Charlie" is that the former was controversial (at least in some quarters) while the latter is not — or at least I hope it isn't. Then again, even if you support the basic message, you might think pregame warm-ups are the wrong place for it, which is certainly a defensible position, although I don't happen to agree with it in this case.
And what about the rest of the sports world? There have been at least two other gestures that I'm aware of:
• In the NHL, Stars left wing Antoine Roussel (who I believe is the only French player currently in the league check that, there are two other French players: Xavier Ouellet of the Red Wings and Pierre-Édouard Bellemare of the Flyers) memorialized the victims last night by writing "RIP Charlie Hebdo" on his stick: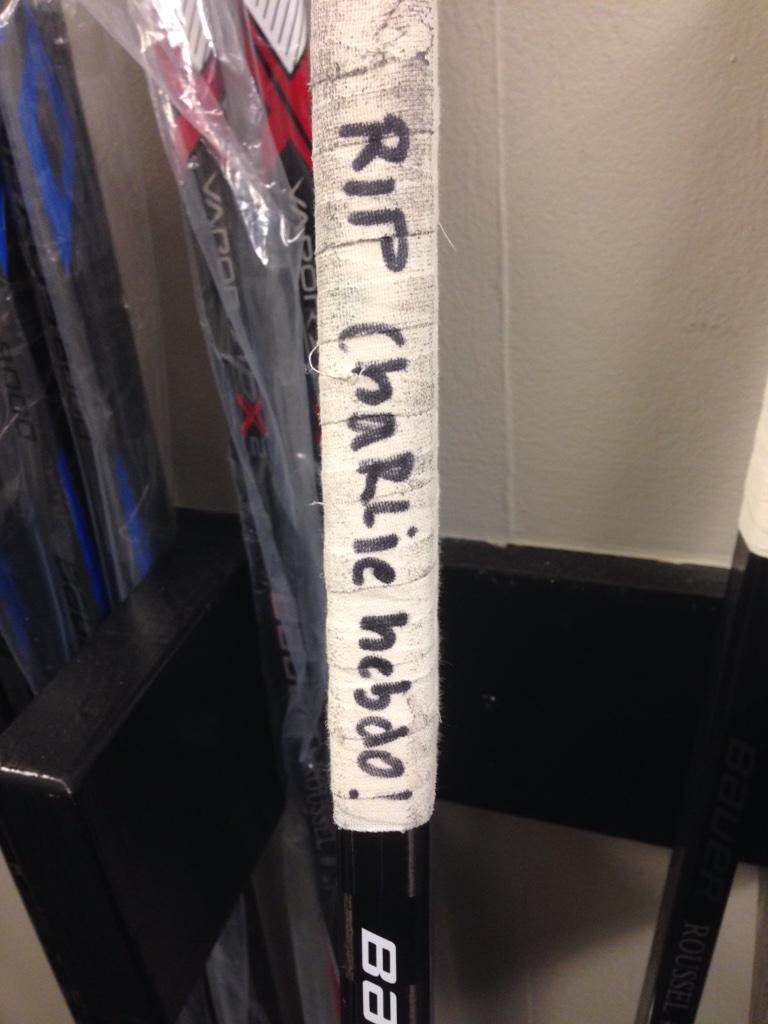 • And French tennis player Alizé Cornet put a "Je Suis Charlie" sign on her bag last night while playing in the Hopman Cup tournament: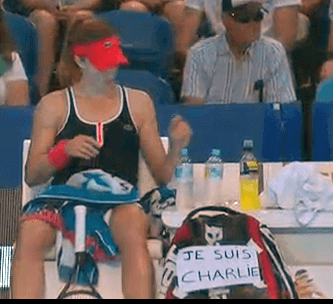 I'm sure there have been other athletes making similar gestures but those are the only two I'm aware of so far.
(My thanks to Phil for his assistance with this piece.)
•  •  •  •  •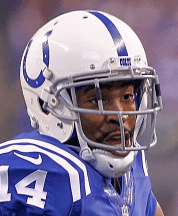 Another mystery solved: For the second time this week, one of my ESPN.com colleagues has helped answer a vexing uni-related question. This time it involves the black tape that Colts wideout Hakeem Nicks has been wearing on the sides of his facemask for the past five weeks. Is it a memorial for someone who recently passed way? A facemask version of eye black? Something else?
When the team didn't respond to my inquiries on this oh-so-weighty matter (I tell ya, it's hard to get any respect covering the uniform beat), I turned to ESPN's Colts beat reporter, Mike Wells, who graciously agreed to ask Nicks directly.
Mike's report: "Hakeem said he started wearing the stripes again because it reminded him when he wore them as a kid and had the hunger to reach to the NFL."
The interesting thing about this explanation is that, as I mentioned back on Monday, someone on Twitter had described Nicks's tape job as "Pop Warner style." After hearing that Nicks used to tape up his facemask when he was a kid, I went back to the person who posted the Pop Warner tweet, Dylan McNamara, and asked him what he meant by that. You can see our exchange here. Interesting!
• • • • •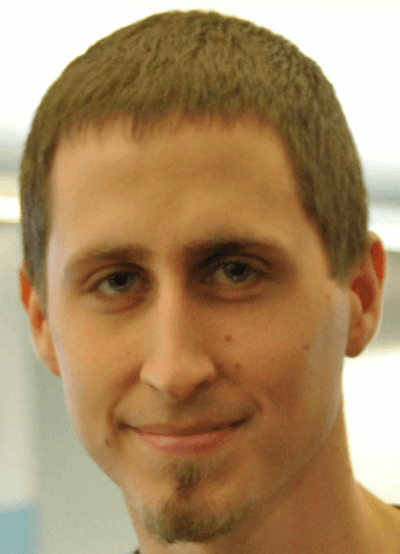 Mike's Question of the Week
By Mike Chamernik
What sports-related movie or TV prop, if it were to pop up on eBay and price wasn't an issue, would you most want to own? For example, I'd like one of Dr. J's uniforms from The Fish That Saved Pittsburgh. [I can't wait to hear how many people want to have the garter from Bull Durham. "" PL]
As always, post your answers in today's comments.
•  •  •  •  •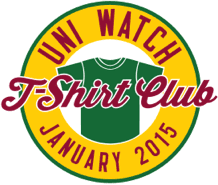 T-Shirt Club reminder: In case you missed it earlier this week, the Uni Watch T-Shirt Club is now up and running. Full details here.
ESPN reminder: In case you missed it yesterday, my latest ESPN column is about next Monday's Oregon/Ohio State title game.
• • • • •

'Skins Watch: An Illinois high school was planning to revive Chief Illiniwek for a halftime performance at a basketball game but then caved in to political correctness changed its mind. "¦ A school board in Colorado has voted to keep "Redskins" as a team name, and you won't believe the painting on the wall of the school's gym. Wow. "¦ This is pretty fascinating: Use of the 'Skins name during NFL broadcasts was down 27% during the past season (from Yusuke Toyoda). "¦ A high school in Maine is using a new student-created logo to replace the school's old Native American mascot imagery (thanks, Phil).
•  •  •  •  •
Uni Watch News Ticker
By Mike Chamernik

Baseball News: I walked by a Chicago art gallery yesterday and saw a painting of Wrigley Field. The ballpark's marquee delights me to no end. If you're going to use artistic license, go all the way and call them World Series champs. … The Cubs' spring training facility will be named after a toilet flush valve company (from Brinke). … Here's the latest entry in the Padres' "Bring Back the Brown" movement (from Brady Phelps). … The Mets will give away a Jacob deGrom gnome on May 2 (from Phil). … North Carolina's library posted some photos of the 1894 Tar Heels baseball team (from Ryan Frazer).

NFL News: In this photo from October, it looks like Seahawks WR Percy Harvin was either wearing no socks or no-show socks (from Carlos Ahmed Jalife Ruz). … A Seattle-area publication ranked the Seahawks' uniforms used over the years (from Phil). … A fanfic novella about Pats TE Rob Gronkowski is being pulled from Amazon because someone with some authority didn't like that the cover showed Gronk wearing the "MHK" memorial patch on his jersey (thanks, Mike Styczen). … Jeff Ash sends along the cover of the program from the Ice Bowl and an Coke ad with vintage NFL logos from inside the program.

College Football News: Nike is a big factor in recruiting for both Oregon and Ohio State (from Phil). … Babies born from Jan. 2 to Jan. 12 at Ohio State's medical center will get this blanket (from Phil). … Here's Adidas's press release on their new partnership with Miami (from Phil). … Illinois State will wear its standard white, red and red for the FCS Championship on Saturday (from Ryan Lindemann).

Hockey News: Wild players wore No. 11 decals on their helmets last night to honor J.P. Parise, who died of lung cancer this week. Parise was a North Star and the father of the Wild's Zach Parise. Both wear No. 11 (from Barry Brite). … New third jersey for the Lehigh Valley Phantoms (from Phil). … Ducks' goalie Frederik Andersen has a tribute mask for Teemu Selanne. Hopefully this won't be Teemu's response (from Phil). … No pics, but the Florida Everblades will wear superhero jerseys tonight and tomorrow (from Phil).

Soccer News: "Here's a close-up look at the flags and jersey insignia for the opening match of the 2015 AFC Asian Cup in Australia," says Gareth Askham.

Pro Basketball News: Last night I found a pic of former Knicks guard John Starks wearing a mask without any transparent plastic. … Canada's Windsor Express will wear these nice throwback unis. I want to hear the backstory to them. … Dion Waiters was traded from Cleveland to Oklahoma City this week. Because his usual No. 3 is taken, Waiters will wear No. 23 instead of No. 13 because OKC is hesitant giving away James Harden's old number. … The Bulls asked fans to incorporate Chicago's temperature into the team's jersey design over Snapchat. Can't wait until we get a Rodman day. … The Hawks are finding new ways to promote the team to different demographics. One idea floated by a focus group was "New team uniforms that look like a cross between something a Marvel superhero would wear and the Oregon football unis (which the research said millennials are nuts about, even if your dad thinks they're hideous)" (from Robert Silverman). … The Timberwolves tweeted a photo of their new practice facility, and the Wolves logo pictured has a different font than their current logo. Potential update? (Good spot by Luke Gagnon). … The first 10,000 adult fans at tonight's Bucks game get a "Fear the Deer" scarf in throwback team colors. … Here's an interactive photo gallery that shows how some NBA players have aged over the years.

College Hoops News: Ohio State changed its logo in 2013, but the school's old logo still appears on its basketball court and on TV. "Also, for about the first half of the season ESPN still had the old logo on their website, which is now updated to the new one," says Tyler Dresbach. "I attended a few games this past year and there are still signs inside the stadium that have the old logo, which I wish I had gotten pictures of now. Wondering if this bugs anyone else as much as it bugs me, especially being a Buckeye fan." … Western Kentucky will retire Courtney Lee's number (from Phil). … Vanderbilt's Riley LaChance wore a mask Tuesday night and made some key shots in the team's win over Auburn (from Matt Larsen).

Grab Bag: When he first started in NASCAR, Jeff Gordon was originally going to race with the number 46 (from Chris H). … Someone has gone through a bunch of user manuals to compile recommendations on how to load a dishwasher (from Laurence Holland). … USA Swimming has a new logo portfolio for championship meets. … The pro cycling team Cannondale-Garmin has a new argyle-patterned kit for 2015 (from Sean Clancy). … A Connecticut website is running a poll to determine the state's coolest high school logo (from Kels Dayton). … WWE uses a lot of â"¢ and ® logos in its press releases (from Brendan Hickey). … Unless this is some sort of elaborate joke, Nike is planning to produce Power Lace shoes, like the ones seen in Back to the Future II, later this year. … Yesterday Paul mentioned that rapper Rick Ross has the Miami Heat's logo tattooed on his face. Today I found out he has a chain of himself wearing a chain of himself. Whoa.
•  •  •  •  •
Paul here. Remember, Phil and I will be on the uniform panel tomorrow at the Queens Baseball Convention. Hope to see some of you NYC folks there. Have a great weekend!