Photo by Preston C; click to enlarge
Black isn't a school color of either Oregon or Ohio State, but it nonetheless appears that that's going to be color for the end zones in Monday night's national championship game.
That's one of the things mentioned in my latest ESPN column, which looks at the uni-related aspects of the Oregon/OSU match-up — check it out here.
Also: If you look closely at that photo, you can see that the stadium includes a Miller Lite ad, and that raises a question: Most colleges — including, I'm pretty sure, Oregon and Ohio State — don't sell beer at football games (although that is slowly changing). But will be beer be sold at the title game? Is it typically sold at bowl games in general?
•  •  •  •  •
Even Cowboys get the blues: For weeks now we've been chronicling the ongoing saga of Cowboys' Nikelaces, some of which (but not all!) have been turning blue. As I've told many people via email and on Twitter, I've believed all along that this was a laundry issue — I figured some of the blue dye from the numbers was running in the wash, and that for some reason the material in the Nikelace was more susceptible to picking up the stray dye. But that was just speculation on my part. And when I asked the team about it, they never responded.
So I said, "Fuck the Cowboys" (which comes naturally, because I've pretty much been saying it ever since I was seven years old) and came up with a better approach: I asked ESPN.com's Cowboys beat reporter, Todd Archer, who's in the team's locker room pretty much every day, if he could try to get an answer from the Dallas equipment staff.
And sure enough, here's what Todd came back with: "I was told the blue from the numbers has run on a few uniforms. [The collar] is not supposed to be blue."
So there you have it, just like I thought all along.
But hey, this isn't just about me getting to say, "Toldja so." It's also another triumph for Nike, which has managed to introduce yet another shade of blue into the Cowboys' color scheme (and they said it couldn't be done!). Good thing the Cowboys don't wear midnight green, or else we might never have lived to see this amazing feat.
• • • • •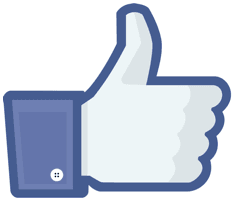 New way to waste time at work Facebook group: Want to talk about uniforms with other people who Get Itâ"¢? Need a new avenue for your Facebook addiction? Looking for a new way to get even less accomplished each day? Want to do all those things without me butting in and getting the last word like I always do on this site?
Then have I got the page for you: Uni Watch Fans, a new Facebook group set up by reader Mike Charlie III. In Mike's words, the page is "a place for Uni Watch fans to discuss anything sports uniforms and or logos — that's it" (although I suspect it'll also be okay with him if you talk about the general state of Uni Watch, or about how that Lukas guy always butts in and gets the last word, etc.). I'm technically a member of the group, but I plan to stay out of the discussion — I already have enough places to express myself. This group is for you folks.
I suggest you all talk about the Washington football team's name and logo — what could go wrong? Have fun!
•  •  •  •  •
PermaRec update: The Manhattan Trade School report cards that I've been writing about for the past several years date back to the 1910s and '20s, so it's not surprising that they're filled with small comments that would surely get an educator fired today. Case in point: The girl shown at right is described in her student record as "not Jewish looking." Can you imagine? Get the full scoop over on Permanent Record.
•  •  •  • •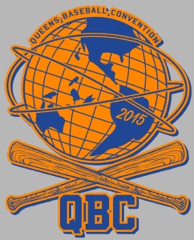 Queens Baseball Convention this weekend: I should have mentioned this a long time ago, but this Saturday, Jan. 10, is the second annual Queens Baseball Convention, which is sort of a Mets fan-fest thing organized by Mets Police blogger Shannon Shark (because the Mets aren't smart enough to put together a fan-fest themselves). I'll once again be chairing a discussion panel on the subject of Mets uniforms. The other panelists are Mets stitcher Russ Gompers, uniform designer Todd Radom, uniform collector/historian Bill Henderson, Mets game-used uniform expert Nick DiSalvo, Mets uniform number expert Jon Springer, and our own Phil Hecken.
The QBC is taking place at McFadden's, which is attached to the northeast side of Citi Field. Doors open at 11:30am; our discussion panel starts at 4pm, but there are plenty of other panels, presentations, and activities that should be of interesting to Mets fans. Full details here.
• • • • •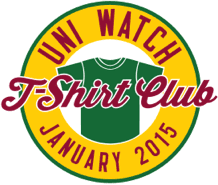 T-Shirt Club reminder: In case you missed it earlier this week, the Uni Watch T-Shirt Club is now up and running (with over 100 shirts already sold, whoop-whoop). Full details here.
• • • • •

Baseball News: Randy Johnson had a little trouble with his Hall of Fame jersey, but the Diamondbacks are going to retire his number anyway (from Andrew Cosentino and Phil, respectively). "¦ Speaking of the Big Unit, this 1993 Seattle Times article mentions two occasions when he changed his uniform number for one game: for the final game at the Kingdome in 1993, when he changed to No. 34 as a tribute to Nolan Ryan, and in July of 1992, when he flipped his No. 51 to 15 as a slump-buster move. Interestingly, Johnson's baseball-reference.com page lists the 34 but not the 15 (from John Sheehan). … Getting back to those Hall of Fame jerseys, I've thought for years that they look way too rinky-dink, and apparently I'm not the only one. "¦ New cleats for UNC. "¦ Check out all these late-1950s MLBers in full uniforms and sneakers at an indoor baseball clinic from January of 1957 (great find from BSmile). … The Asheville Tourists, celebrating their 100th anniversary this year, are planning six throwback jersey giveaways. Note that the 1984 design has the front jersey number on the right side, a rarely seen format that I usually associate with the late-1990s Reds (thanks, Phil). … George Brett was clowning around in a Richard Nixon mask before a game in 1976. … Outmania update: Josh Outman just signed with the Braves. Let's hope they get him a pair of this striped stirrups (thanks, Phil). "¦ Did you know yesterday was National Bobblehead Day? Apparently it was (from David Balke). "¦ Are bullpen buggies poised for a minor league comeback? Could be (thanks, Phil).

NFL News: Deep within this Q&A with a Colts beat writer is the news that the team has had "early discussions" about a possible throwback for next season. "¦ Riddell is suing Rawlings for patent infringement on several helmet and shoulder pad designs. "¦ Ravens fans in Baltimore lined up yesteday to get the team's logo stenciled onto their cars. "¦ Here's a story+video on how the Panthers' equipment staff is preparing for Saturday's playoff game in Seattle (from James Gilbert).

College Football News: Here's a Dr. Pepper display gearing up for next Monday's title game. And another (both from Alan Beam). … Here's why Jim Harbaugh always wears the same outfit (thanks, Brinke). … Shy Tuttle, one of Tennessee's top new recruits, posed for a photo in an out-of-date Vols jersey (from Charley Collier). "¦ Illinois is already pimping next season's footwear. "¦ Good question from Dan Lewis, who wants to know why Steve Spurrier is shown wearing an orange jersey in his Heisman portrait. "To my knowledge, Florida never wore orange uniforms when Spurrier was the quarterback in the 1960s — they only wore blue andwhite." Anyone..? "¦ Here's a gallery of all of Oregon's uniforms from this season (thanks, Phil).

Hockey News: There have been rumblings about advertising coming to NHL jerseys, and now it's finally happened: Red Wings LW Henrik Zetterberg got part of an ad from the boards stuck in his jersey the other night (from Jerry Wolper). "¦ Hospice-benefit warm-up jerseys for the Sarnia Legionnaires. "¦ No photo, but this press release says the Corpus Christi IceRays will wear "special oil-themed jerseys" this Saturday. Can't wait until a rival team answers that with fracking-themed jerseys. … The New York City Fire Department has a new 150th-anniversary logo, one element of which appears to have been directly poached from the Rangers' Liberty head logo (from Matt Harris). … This video of NHL players playing with sledge hockey players includes a shot of Flyers captain Claude Giroux with an orange captain's "C." "Looks so much better than the white-on-white "C" they've been using," says Scott Lederer. … The Kalamazoo Wings are the latest team to do the "Let's have the kids paint the ice" thing (from Tony Anderson). "¦ Bryan Prouse notes that the Ducks have a little "TM" symbol on their center ice logo. I did some quick photo research on about one-third of the NHL's teams and couldn't find another example of this (and then I got lazy and stopped). Are the Ducks the only ones?

Basketball News: Rapper Rick Ross has gotten the Heat's logo tattooed onto his face. … New white college hoops unis for South Carolina.

Grab Bag: Our own Phil Hecken is featured in this video about the new curling leagues here in Brooklyn. "¦ New cycling kit for Team Giant Alpecin (from Sean Clancy). "¦ A bad batch of Ecstasy, shaped like the Superman logo, has hit the streets in the UK. "¦ Yesterday I Ticker-mentioned that a new duckpins alley was opening in Rhode Island. Unfortunately, an old ducks facility in Maryland may be closing (from Mike Williams). "¦ A Connecticut man who suffered a head injury while riding a bike-share bike in NYC is now suing the city for not forcing him to wear a helmet. … The University of Calgary is policing the names of its intramural sports teams (thanks, Phil). "¦ Big pink-out in the world of cricket (from George Chilvers). … One soccer item today: New back-of-jersey sponsor for Atlético Madrid.